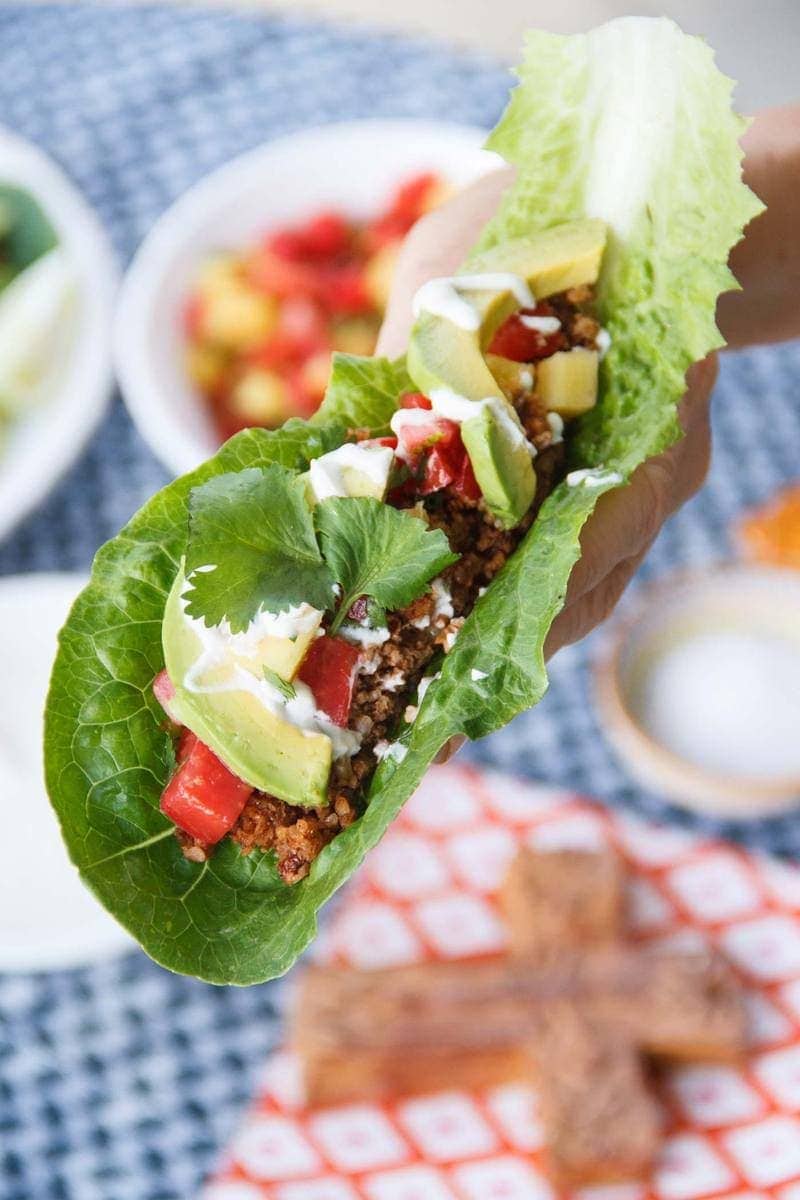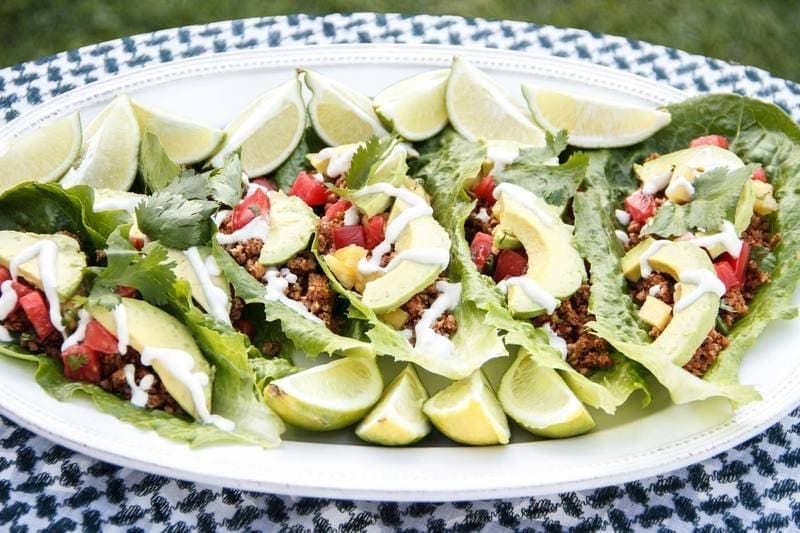 Now that my dad has gone mostly plant based for health reasons, he occasionally feels like he misses meat. So I decided to make this for him for dinner, and let me tell you, it rocks. It's tacos, but minus the meat, and minus the shell. Sound a bit weird? Trust me it works. Here's how it's done and why it's awesome…
Swap the beef mince for walnut mince
Who would have thought you can make walnuts taste like mince? Well you most definitely can. This is great news, because the latest studies show that people who consume the most red and processed meat are at higher risk for a premature death [1]. The European Prospective Investigation into Cancer and Nutrition made the morning news here in Sydney last week with their findings. They found that eating red meat and processed meat increased the risk of dying by 14 and 44 percent, respectively, compared to those who ate the least amount [2].
Which brings me to this simple mince recipe – it literally takes a minute to make and is a super yummy plant based alternative. Best yet, its base is the clever walnut – a fabulous source of heart-healthy monounsaturated fats and the essential omega-3 fatty acids. These omega-3's keep bad cholesterol levels in check whilst raising the good cholesterol in the body. Plus girls, they're also an excellent source of biotin – for super strong hair. Yes Please! By lightly processing them with sun dried tomatoes, nama shoyu (raw, unpasteurised soy sauce) and spices, they turn into a ridiculously tasty mince.
Swap the corn taco shells for lettuce
Genius idea! Yes you can create a raw, dehydrated corn taco shell, but the humble lettuce leaf is far lighter and summer-friendly. Plus, just a cup of leafy greens (such as cos/romaine lettuce) a day, is enough to give you all the Vitamin K you need for healthy bones. I'll take that.
Swap the dairy sour cream for cashew sour cream
This tastes just like the real thing. That is all.

Tacos For Long Life

RAW • VEGAN • REFINED SUGAR FREE
| serves 4 |
The meat
2 cups walnuts (preferably soaked then dehydrated)
¼ cup oil-free sun dried tomatoes, soaked till soft (about 30 mins)
2 tablespoons of nama shoyu (raw soy sauce)
2 tablespoons olive oil
2 teaspoons ground cumin
1 teaspoon onion powder
A pinch of cayenne pepper, or to taste
METHOD:
Chop up the tomatoes, then whizz everything in a food processer till the walnuts are crumbly and resemble mince.
Be careful not to over-whizz or you'll get walnut butter!
The salsa
2 large roma tomatoes, diced
¾ cup pineapple, diced
½ cup coriander (U.S Cilantro), chopped
1 tablespoon of red onion, diced fine
1 fresh lime
Flaky sea salt & cracked black pepper to season
METHOD:
Combine everything in a bowl
Squeeze the lime juice over the top
Season with salt and freshly cracked pepper
The Sour cream
This is a standard, basic recipe, but it works a treat
½ cup soaked cashews
Juice of half a lemon
1 teaspoon of apple cider vinegar (use a little extra lemon if you can't find this)
5 tablespoons of water
1 pinch of flaky sea salt
METHOD:
Blend everything till nice and creamy.
The Extras
10 cos lettuce leaves
1 avocado, sliced
Chopped coriander
Lime wedges
assembly:
Use your lettuce leaves as taco shells
Spoon a few tablespoons or more of walnut mix into the centre
Spoon some salsa over the top
Top with sliced avocado
Drizzle with sour cream
Decorate with coriander leaves
Devour!