These gluten free blueberry muffins are entirely vegan, made with the nutrient-dense whole grain, teff. Soft and moist, with lemon and coconut.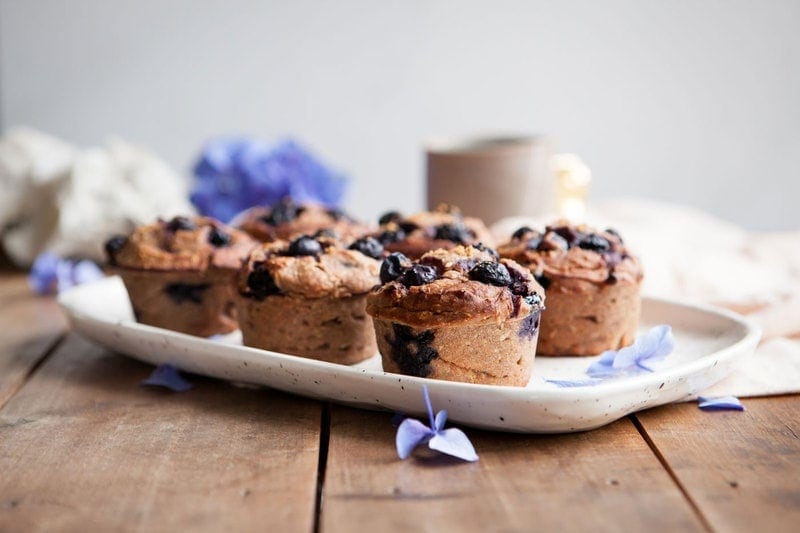 Oh the poor Elements – they're so confused – it's meant to be summer, yet – all this rain! I have to admit though, I'll take a rainy day just as quick as I'll take a clear summer's day. Rain is just so cozy, it calls for building couch-nests, reading tarot cards by a scented candle, soft gypsy music and freshly baked muffins. Don't you think?
I've made several batches of these this week, and have found the recipe quite forgiving, which is great news for those of you that are creative free-style cooks.
I'm quite happy with the muffins not only because they are super natural, gluten-free and entirely plant-based, but because they have been a happy experiment with some recently acquired organic teff flour.
[bctt tweet="Healthy, gluten-free Blueberry Muffins made with teff. Vegan, no added sugar. Recipe here!" username="laurenglucina"]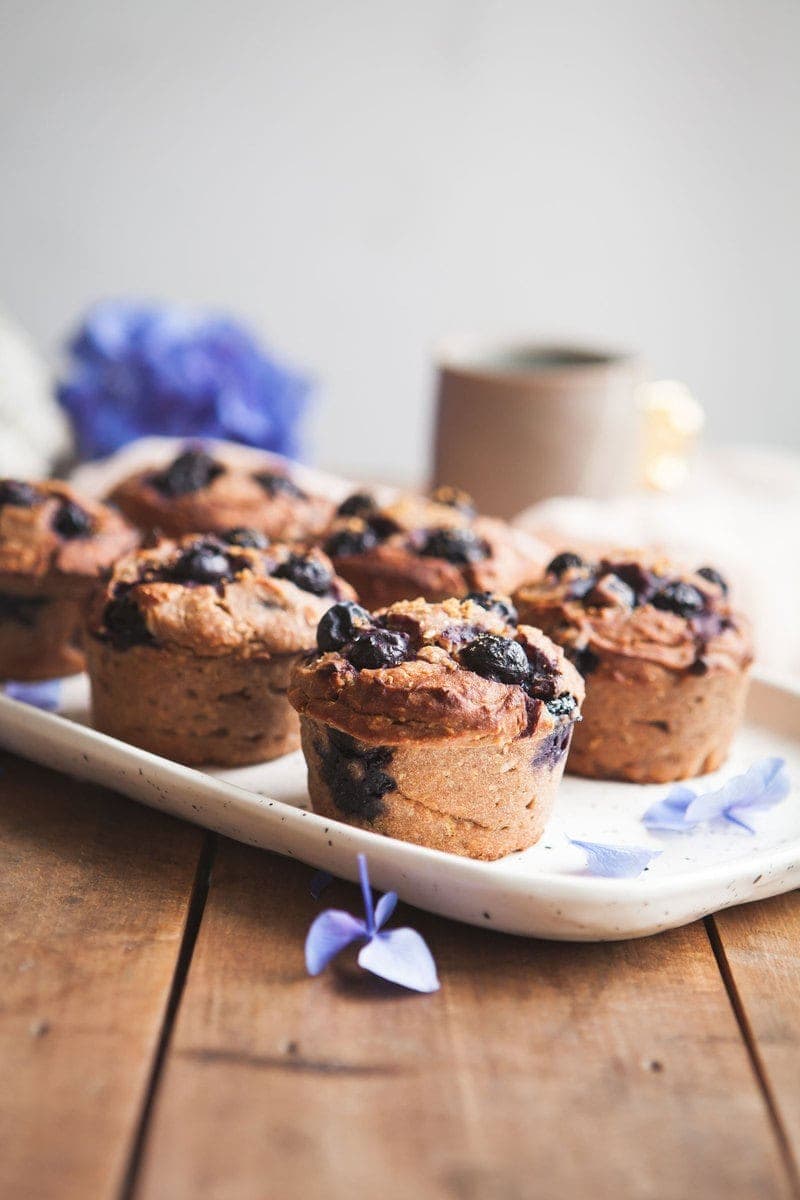 Teff is a particularly nutritious, tiny gluten-free grain hailing from Ethiopia (apparently, it takes about 100 grains of teff to make up the size of a kernel of wheat). It is relatively new on the shelves here, but has been farmed in Ethiopia for over 3,000 years.
It comes in many varieties however the flour I purchased was a lovely brown colour. It has a pleasant, slightly sweet, nutty, caramel taste.
It seems to have gained superfood status fairly quickly due it being a nutrient-dense alternative to wheat for those with celiac's disease. It is particularly rich in iron and calcium - more so than most other grains.
Nutritionally, teff is:
A complex carbohydrate with slowly digestible starch
Gluten free, suitable for celiacs and those with gluten sensitivities
High in protein (8-10%)

[1],

containing all nine essential amino acids
High in dietary fibre (8g fibre per 100g teff)

[2]

Particularly high in iron and calcium

[1]:

100g of teff provides 42% of the RDI of iron for adult women, and 18% of the RDI of calcium

[2]

A good source of a range of other minerals

[2],

however, mineral content varies across varieties. Generally speaking red teff is richer in iron and calcium than white or mixed teff

[3].
[bctt tweet="Try teff for its iron content - 100g provides 42% of the RDI of iron for women. More here." username="laurenglucina"]
Fair Trade Teff
I always seek out organic and fair trade when purchasing products such as teff. Fair trade ensures the farmers are paid a living wage, creating a positive knock-on effect throughout the community, as too often they are exploited in the market.
Do you remember all the articles that came to surface during the quinoa boom? The sharp increase in price driven by Western demand left Bolivian locals unable to afford their own staple, which is extremely heart-wrenching to hear.
In fact, the Ethiopian government has only recently lifted a ban on raw teff export, issued to protect against food insecurity, as teff is indeed their staple and main source of nutrition.
In fact, a large single piece of their fermented sourdough flatbread, injera, is thought to supply enough amino acids to sustain life without any other protein source [3].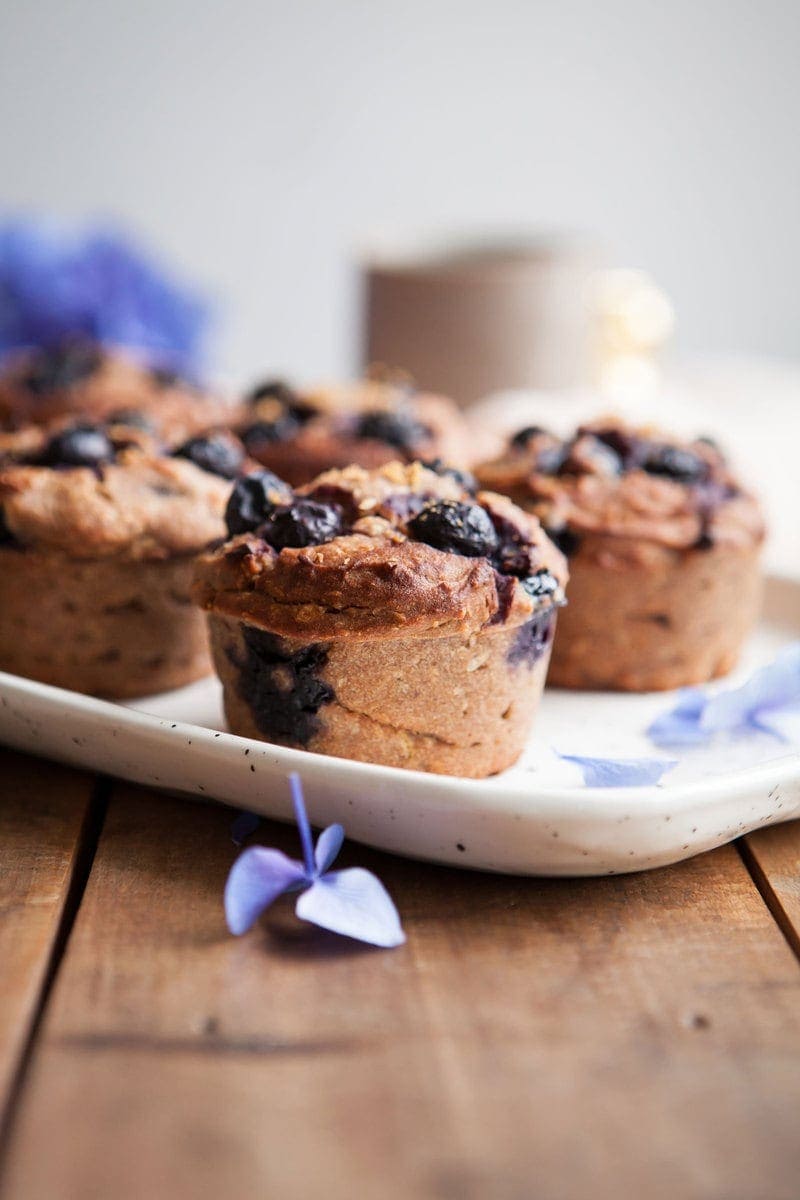 Back to the recipe.
As mentioned, the recipe for these healthy muffins is accommodating and you can easily interchange the whole grain flours. I recommend keeping in the coconut however as it adds a lovely flavour.
The apples I used were stewed. Every Sunday, we have a family dinner, and inevitably take home a goodie bag filled with left overs. Mum has been stocking up on the new season organic apples from the markets – and stewing them to serve with coconut yoghurt for dessert (simple and delicious).
Apples actually make for a great binder, so no need for eggs or egg substitutes such as psyllium husks, chia or flax.
Ripe banana would be a great option also. If you were to use tinned apple puree however, you may find the muffin batter is a bit on the thin side, in which case I suggest adding in a tablespoon of psyllium/chia/flax meal to thicken and bind.
These are delicious warm from the oven with a smear of coconut butter, or simply with a sprinkle of coconut sugar over the top.
I hope you enjoy – if it's going to rain, let's cozy up in style!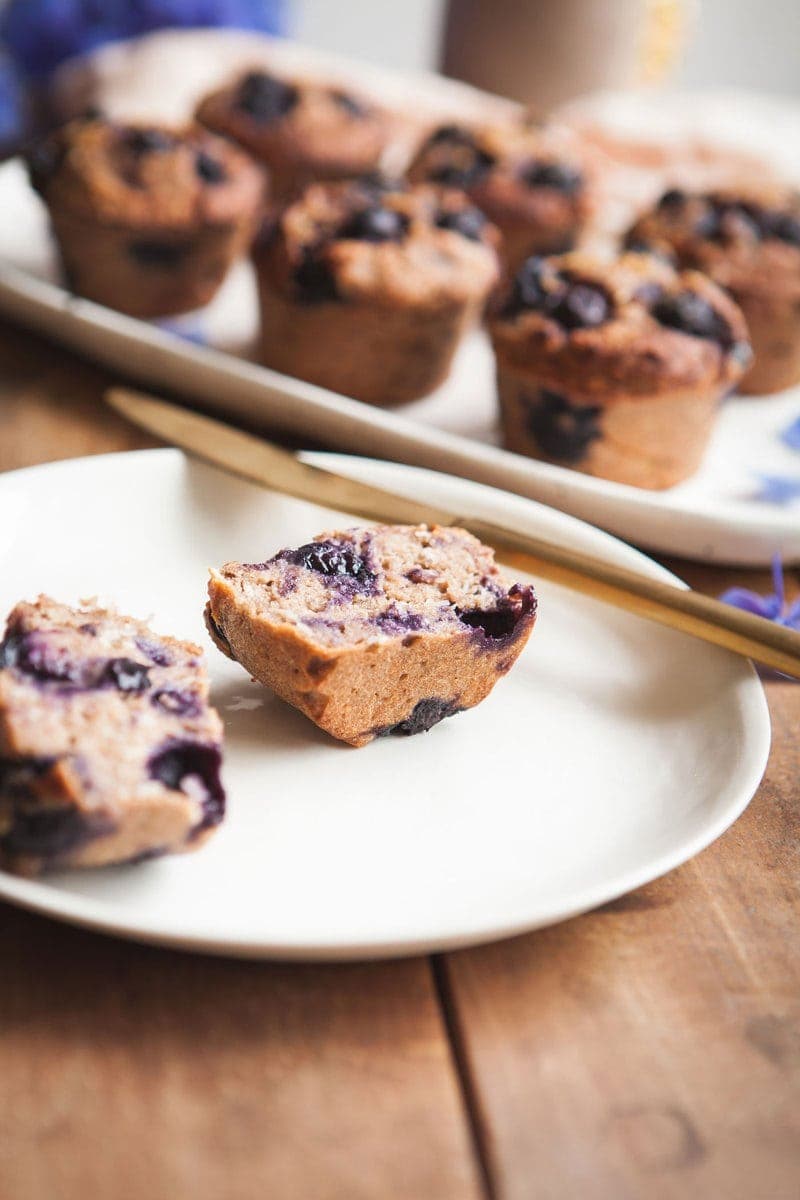 If you make and enjoy this recipe, please leave a rating below. And better yet – leave me a comment to tell me how you got on, or just say hi – I LOVE hearing from you. Follow me on Instagram, Facebook or Pinterest to see more of my everyday recipes and wellness tips.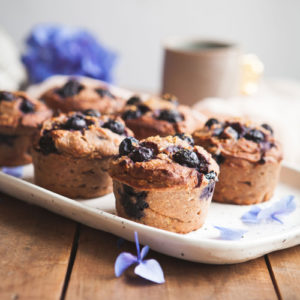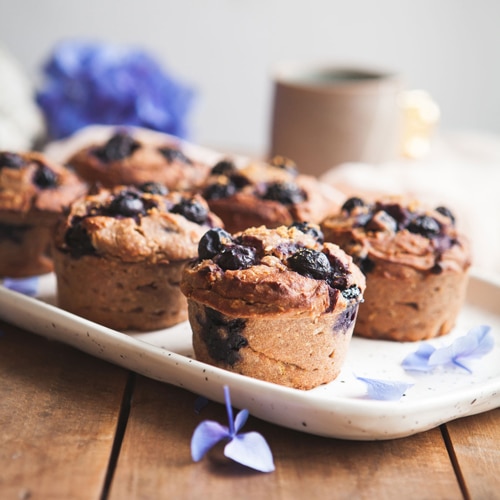 Gluten Free Teff Muffins with Blueberries
These gluten free blueberry muffins are entirely vegan, made with the Ethiopian whole grain, teff. Soft and moist, with lemon and coconut. You will need a blender for this recipe.
Ingredients
Dry ingredients:
½

cup

teff flour

½

cup

buckwheat flour

½

cup

coconut

fine, desiccated

½

teaspoon

baking soda

Pinch

of fine sea salt
Wet ingredients:
2

tablespoons

coconut oil

1

cup

coconut milk

I used tinned, as it is far creamier

200

g

stewed apples

about a cup

90

g

Medjool dates

pitted (about a heaped 1/3 cup)

Juice of half a lemon
To fold through:
1

heaped cup blueberries

Zest of one lemon
To decorate:
Extra blueberries

Sprinkle of coconut sugar
Instructions
Pre-heat the oven at 180˚C (356˚F).

Lightly coat the interior of 8 muffin moulds with coconut oil for easy removal once baked, or line with a paper muffin case/baking paper.

Mix all dry ingredients together in a large bowl.

In a blender, whiz all wet ingredients till smooth then pour over the dry ingredients, mix with a spatula to combine.

Fold through the blueberries (if frozen, thaw first) and lemon zest.

Spoon into muffin moulds – right to the very top, then press in three or four small blueberries into each.

Bake (force fan) for up to 20 minutes, or until a skewer comes out clean. Once cooked, let sit in the muffin tin for 10-15 minutes before turning out onto a wire rack. Serve once cooled, perhaps with a sprinkle of coconut sugar over the top.
Notes
Teff and buckwheat flour can of course be used interchangeably – in fact, you may even want to try all of one, or replace one of them with sorghum flour – which also works really nicely.
Ripe bananas would be a good swap for the apples. Stewed apples are best, as they retain some texture.
Tinned apple puree is quite thin in contrast (not ideal to use this), and will create a thin batter. If this is the case, try a tablespoon of psyllium husks or ground chia to thicken it up again and help bind.
Nutrition panel is an estimate only.
Nutrition
Calories:
256
kcal
Carbohydrates:
30
g
Protein:
4
g
Fat:
15
g
Sodium:
114
mg
Fiber:
5
g
Sugar:
13
g
Calcium:
30
mg
Iron:
2.2
mg
Nutrition Facts
Gluten Free Teff Muffins with Blueberries
Amount Per Serving
Calories 256
Calories from Fat 135
% Daily Value*
Fat 15g23%
Sodium 114mg5%
Carbohydrates 30g10%
Protein 4g8%
Calcium 30mg3%
Iron 2.2mg12%
* Percent Daily Values are based on a 2000 calorie diet.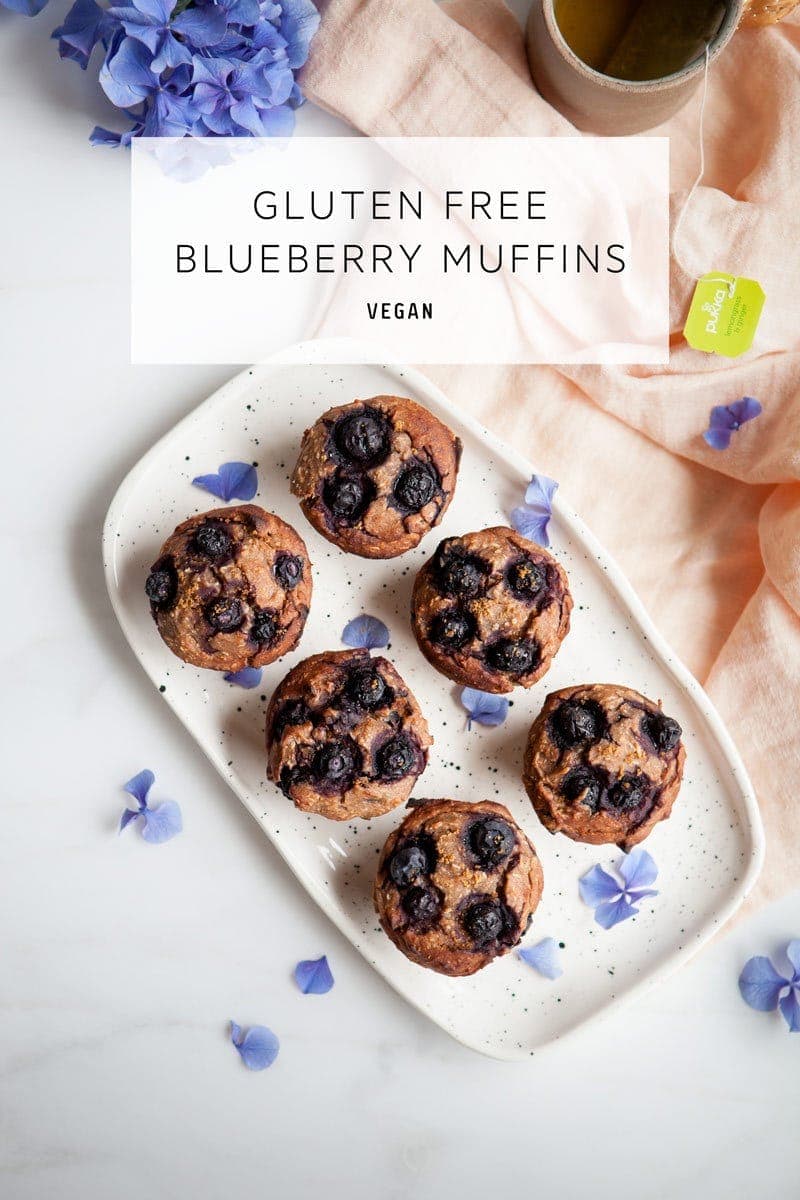 References: