Introducing the ultimate food as medicine – Lauren's Herbal Healing Broth! Supportive of the digestive, nervous and immune systems.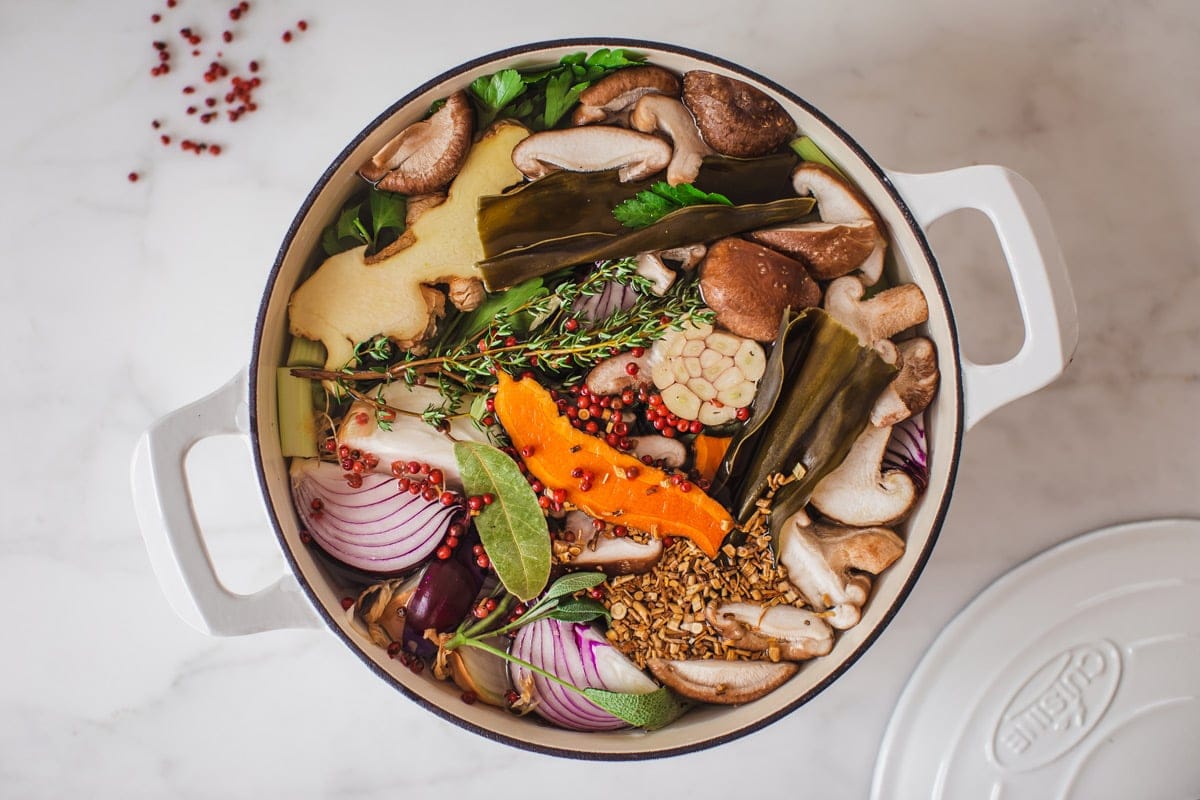 This vegan broth is soothing to the nervous system, super nourishing, immune-modulating, and alkalizing to the body. Made with organic vegetables, medicinal herbs, turmeric and ginger root.
Homemade broth truly is the best food as medicine, and a great way to incorporate herbs with water-soluble constituents. I've been enjoying this recipe either plain in a mug, or with a teaspoon of white miso stirred in, for additional flavour and beneficial bacteria.
You can of course use this as a base for your homemade soups and stews (like this Turkish Lentil Soup, or Mushroom Stew).
It's also a lovely alternative to bone broth. I'll bust a few myths and share my musings on this towards the end of the post for you. But for now, let's get cooking!
Jump to: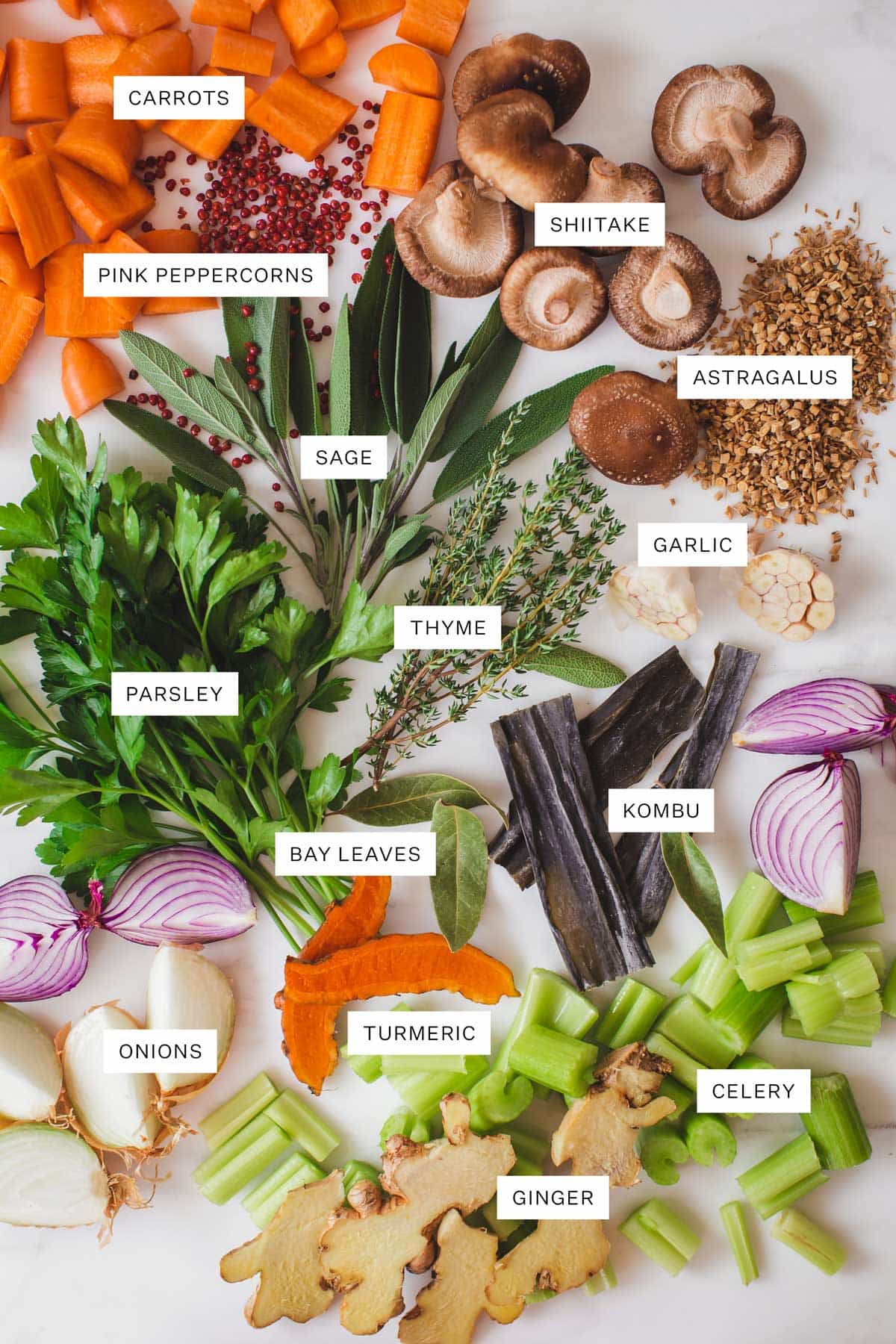 🌿 Ingredients and their benefits
The basic ingredients in this healing broth include onions, garlic, carrots, celery, peppercorns, fresh herbs and bay leaves.
Onions: packed with quercetin, an antioxidant, anti-inflammatory polyphenol, helps reduce allergies and lowers histamine
Carrots: contain carotenes – precursor to vitamin A (key immune nutrient)
Celery: good source of vitamin K, B2, B6, vit C, contains the antioxidants apigenin and luteolin, which may relieve inflammation (including joint pain), allergies
Bay leaves: digestive stimulant, traditionally, an infusion of bay leaves was used to bring relief from coughs, colds, chest infections and fever, the essential oil can be massaged into joints to relieve pain and inflammation
Parsley: nutritive – contains chlorophyll, flavonoids, carotenes, minerals, a very good source of vitamin C, folate, iron
Thyme: antibacterial, antifungal, expectorant (improves clearing of mucous from the lungs)
Sage: antimicrobial, antioxidant, astringent, ally for sore throats/mouth/tongue, useful as a tea for excessive sweating
Garlic: nature's antibiotic, prebiotic
Peppercorns: digestive stimulant, warming, nature's circulatory stimulant, contains piperine – promotes absorption of certain nutrients
Immune-boosting, gut and nervous-system nourishing magic really happens when we add medicinal mushrooms, astragalus root, turmeric, ginger and kombu.
Shiitake: potent immune-modulators, enhancers of innate immunity, anti-viral
Astragalus: an immune-modulating herb with anti-viral, anti-inflammatory, expectorant and antioxidant actions. The constituents in astragalus are water-soluble, so a broth like this is the perfect medium in which to extract them (same goes for mushrooms like shiitake, above)
Turmeric: an antioxidant, anti-inflammatory, liver-protective herb
Ginger: anti-inflammatory, digestive stimulant, warms and thins mucous, drives fresh blood to the peripheries – carrying nutrients and other therapeutic compounds with it
Kombu (a type of kelp): minerals from the sea to alkalize the body and support enzymatic activity, supports thyroid function due to iodine content, improves digestion – helps break down tough starches in beans/legumes, which is why it's often added to Macrobiotic style dishes
🛒 Sourcing the ingredients
While most the ingredients can be found at your Farmer's Market (or supermarket – but this is a healing broth – so organic is best if possible!), some you'll likely need to order in.
Kombu is a type of salty, mineral-rich seaweed that lends an umami taste. Try a natural foods store, Mitoku is the brand I use
Shiitake are easy enough to source, but if you'd like to include other types of medicinal mushrooms (reishi for example), try an organic herb supplier, such as Austral Herbs (Aus) or Mountain Rose Herbs (US)
Similarly, astragalus root can be found at the above suppliers, or via Cottage Hill Herbs here in NZ
🥔 What not to put in vegetable broth
Avoid starchy vegetables like potatoes, sweet potatoes, turnips, swedes – they tend to make the broth cloudy
Beets discolour the broth and dominate the flavor, in a bad way
Similarly, fresh garden herbs can be overpowering, so stick to a small handful of each (trust me, I've tried a mega-dose of fresh parsley, sage, rosemary, thyme – bleh! Waaaay too strong!)
🥕 What to do with leftover vegetables after making broth
Usually I would say, leave them in if you're going to consume right away – but this recipe contains astragalus root, which isn't edible. You'd need to pick it out and that's just too tedious.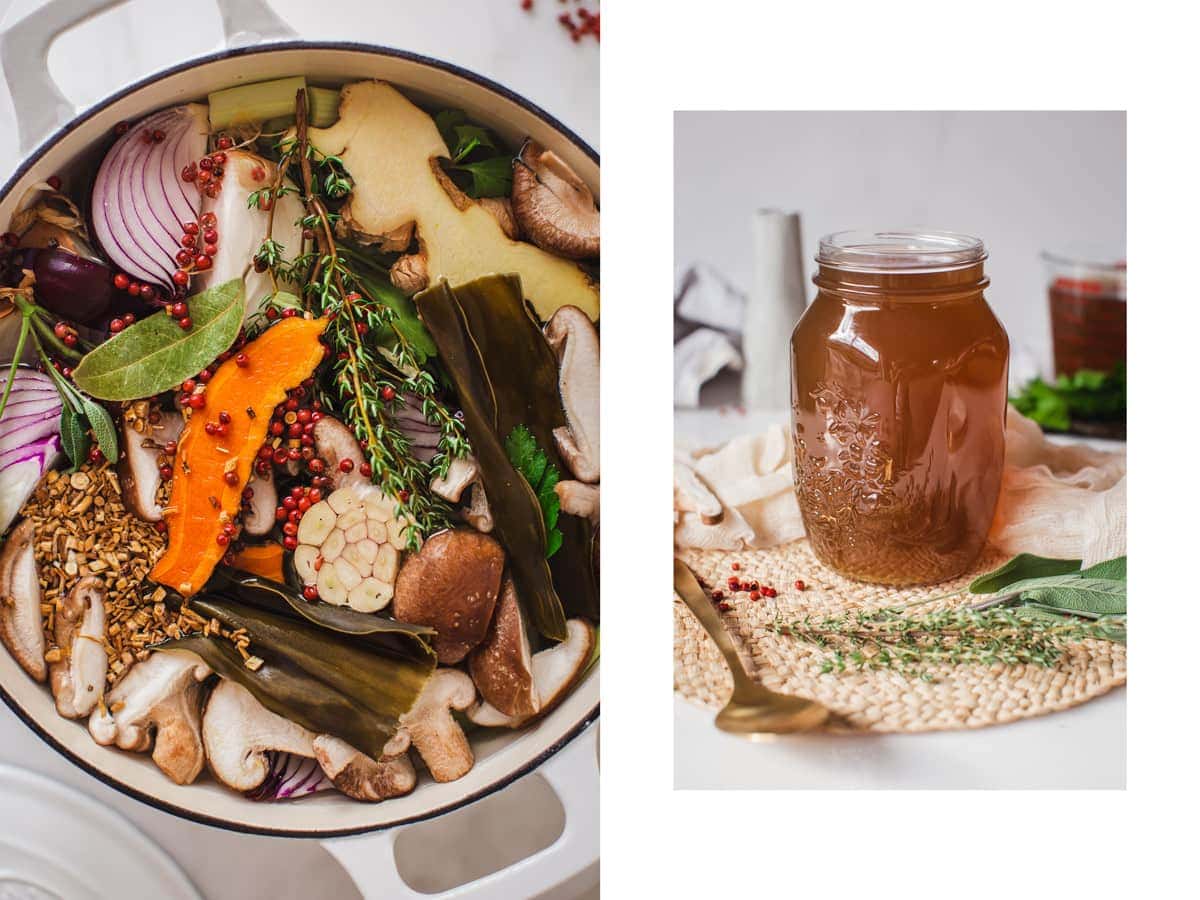 🦴 Better than bone broth
This is a freakin' awesome alternative to bone broth. In fact, I have quite a bit of beef with bone broth, here's why…
Bone broth is a traditional food made from simmering the bones, tendons, cartilage and skin of any animal.
Folks seem to love it due to its purported ability to 'heal and seal' the gut wall, stimulate gastric acid secretion, promote good sleep, support the immune system, enhance detoxification pathways, and promote bone and joint health [1].
This is supposedly due to the gelatin it contains, which results from the breakdown of collagen from the bones and connective tissues upon cooking. Gelatin is 84-90% protein.
The most notable of the thousands of protein building blocks it contains are the amino acids proline, glycine, alanine and glutamine. It also contains protein sugars called glycosaminoglycans (GAGs).
Unfortunately most of the claims made regarding bone broth are nothing more than myths.
Firstly, while collagen itself does have strong evidence in favour of supporting gut and joint health [2, 3, 4], the gelatin in bone broth does not contain therapeutic amounts of these amino acids! [5].
You'd be far better off consuming a collagen powder than taking bone broth, or ensuring your diet is rich in collagen and procollagen pre-cursors and co-factors: protein, vitamin C, chlorophyll, beta-carotenes for example [6, 7].
As for the GAGs, again, they haven't been studied in the context of bone broth, yet studies on the GAGs themselves show they attach to the mucin layer of the gut and help form a protective barrier to separate pathogenic bacteria from the intestinal epithelium [8].
Unfortunately it appears they prevent adhesion of friendly bacteria to the gut wall too [9], so long term – not a helpful intervention.
Another false claim is that bone broth is high in minerals. Calcium and other minerals in bone hydroxyapatite remain bound no matter how long you boil them, and no matter how acidic you make the broth.
If you look at the nutritional panel on commercial bone broths, you'll see the mineral content is negligible.
Lastly, bone broth can be relatively high in histamine, due to the long cooking time.
If you have mast cell activation syndrome or are sensitive to histamines, then you may find it aggravates your symptoms, driving inflammation, particularly so in the gut. This is why some people report bad reactions (bloating, rashes, anxiety) after taking it.
Yes, I know, I have my own bias here, having been plant-based for close to 15 years now. But hey, the evidence just isn't there – and there are much better ways to support your gut than a bone broth.
Shall we get on with making our delicious healing broth then?
📒 How to make Lauren's Herbal Healing Broth
This is a wonderfully simple recipe, but I'm going to give you two ways to prepare it. The first is the quickest, and just as nutritious. The second will give a slightly richer flavor, if you have the time.
To start, scrub your vegetables clean and cut the larger vege into chunks. I leave the skin on the onions and don't bother to peel the garlic cloves – I just slice the whole bulb in half, easy.
Add all ingredients to a large stock pot (I've used a 6 litre/quart pot), then add 4 litres/quarts of water.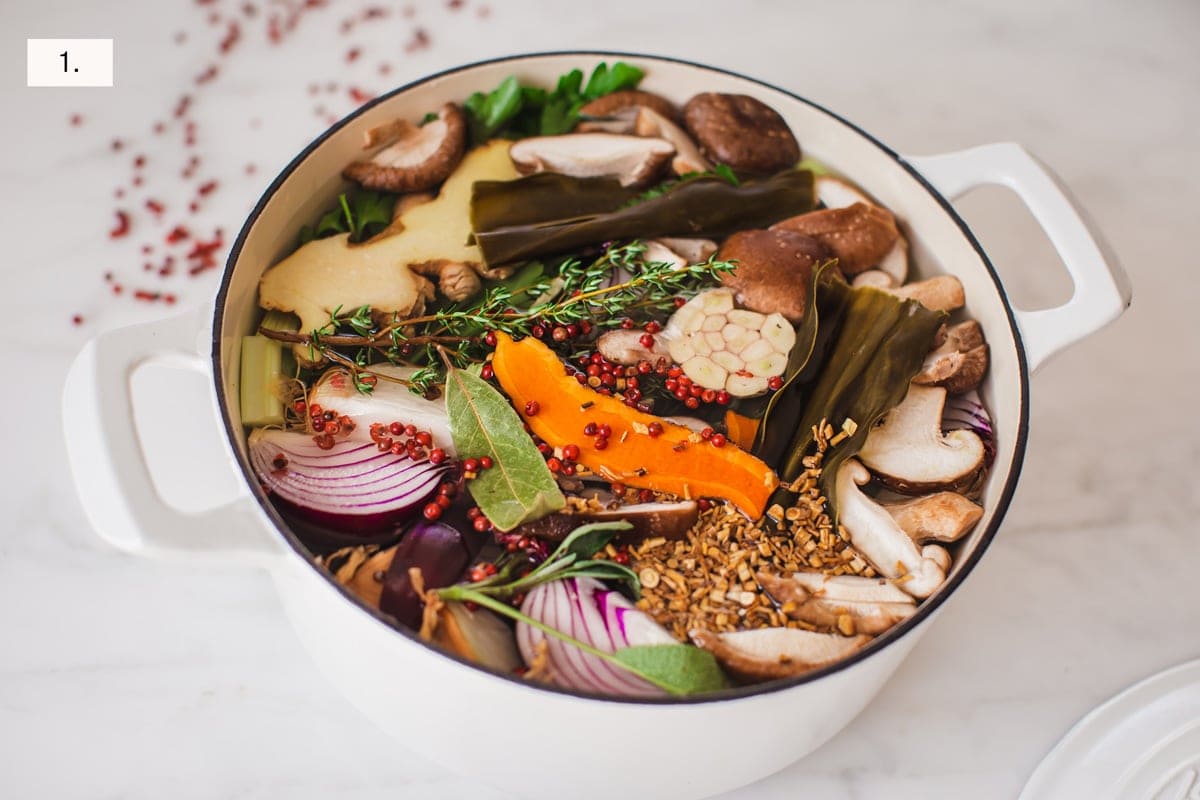 Cover and bring to a boil, then slide the lid off halfway. Simmer for about an hour, reducing the liquid down by half.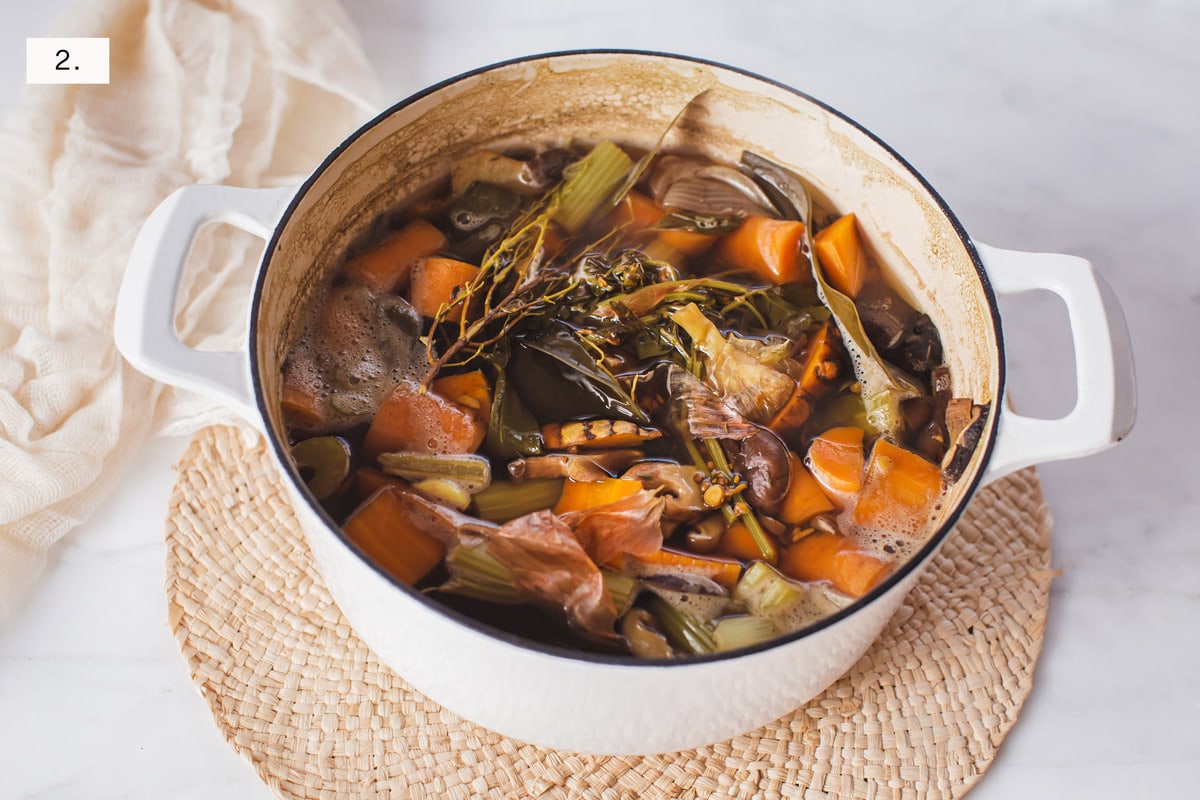 Once done, remove from the stove top and let cool, then pour the contents into another large stock pot, using a sieve to filter out all the ingredients.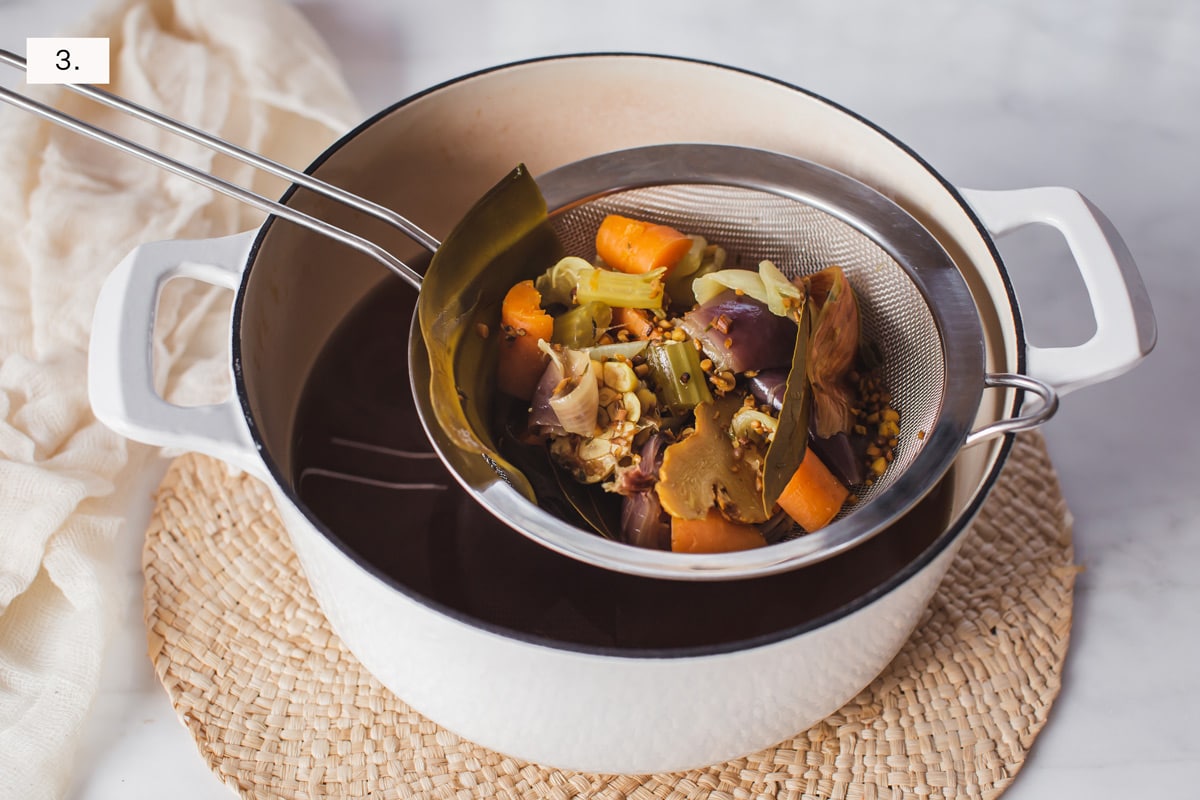 I don't bother straining through a cheesecloth as I've found the broth relatively free from sediment.
Done! Ready to bottle and store!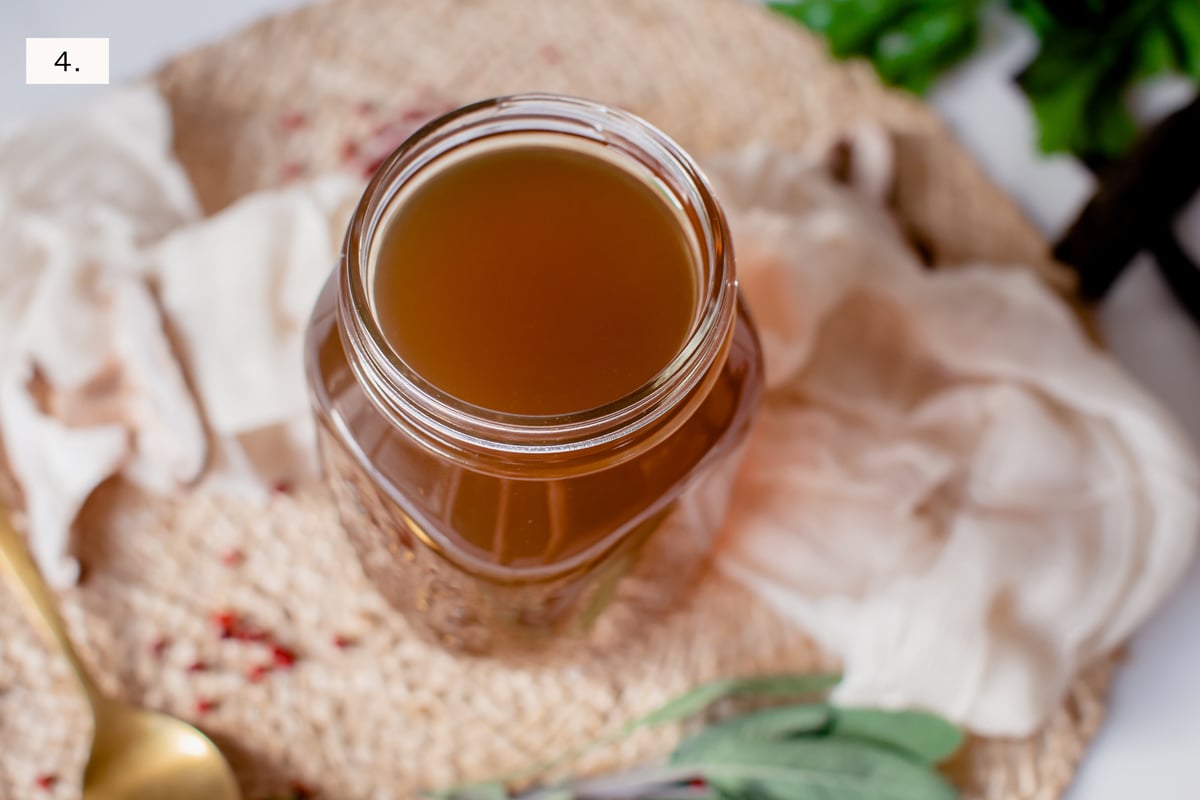 The second method involves an extra step – heat a glug of olive oil in the stock pot then cook the carrots, celery, mushrooms, garlic and onion till softened, at which point you can add the other ingredients.
This obviously will intensify the flavour, but to be honest, I like it mild – I can add salt if I need to use this as a base for my soups, or I can add miso paste if I'm drinking it plain.
🥣 Storing leftovers
Refrigerate for up to 3 days
Freezes well – I recommend filling glass jars ¾ full, to allow for expansion, otherwise you may end up with fractured glass
That's it my loves, I hope very much that you enjoy!
🌿Enjoyed this recipe? Leave a comment below, better yet - share a snap with me on instagram @ascensionkitchen. If you're after personalised health and nutrition advice, contact my clinic, I'd be happy to work with you.
📖Recipe
Lauren's Herbal Healing Broth
An immune-boosting broth made from organic vegetables, medicinal herbs and spices.
Ingredients
2

onions

1

head of garlic

sliced in half

3

carrots

4

large celery sticks

1

tablespoon

pink peppercorns

small handful

fresh parsley

small handful

fresh thyme

small handful

fresh sage

3

bay leaves

100

g

shiitake mushrooms

about 1 punnet

1/3

cup

astragalus root, slices or chopped

1

small piece

turmeric

sliced in half

3

inch

piece of ginger root

sliced thin

2-3

pieces

kombu seaweed

5 inches in length

4

litres/quarts water
Optional
2

tablespoons

extra virgin olive oil

if following method 2
Instructions
Method 1 (quicker):
Scrub vegetables clean, cut the carrots and celery into small chunks, halve the onions (skin on is ok), slice the garlic bulb in half, slice mushrooms thin.

Add all ingredients to stock pot and cover with 4 litres/quarts water. Cover, bring to a boil, slide lid half off, and simmer for 1 hour.

Remove from stove top, let cool, strain through a sieve into a second large pot.

Pour into sterilised glass jars, cap and refrigerate. If freezing, fill glass jars 3/4 full to avoid the glass breaking.
Method 2 (more flavour):
Peel and dice onions, chop the carrots and celery into small pieces, peel and slice the garlic cloves, slice mushrooms thin.

Add a glug of extra virgin olive oil to the stock pot, then cook onions, carrots, celery, garlic, mushrooms until softened.

Add all other ingredients to stock pot and cover with 4 litres/quarts water. Cover, bring to a boil, slide lid half off, and simmer for 1 hour.

Remove from stove top, let cool, strain through a sieve into a second large pot.

Pour into sterilised glass jars, cap and refrigerate. If freezing, fill glass jars 3/4 full to avoid the glass breaking.
Notes
I haven't included a nutrition panel (other than guesstimating the calories per cup) due to the difficulty calculating the recipe, being strained of solids and all
Feel free to add salt to taste, particularly if you want to go on and use this as a base for your soups and stews
The two methods described are just as nutritious as each other, though the second method will impart more flavour
Keep an eye on the broth as it simmers, you want to reduce the liquid by half - you may need to add a little more water as it cooks
Other fabulous, medicinal additions include reishi mushroom slices, a scant handful of goji berries, a cup or so of spring nettles
If you'd love a richer flavour-flave, you can't go past a couple of tablespoons of nutritional yeast, perhaps even a splash of tamari (I've used both in my quick pho broth here)
This recipe is best stored in sterilised glass jars, in the fridge for up to 3 days, or in the freezer for up to 3 months
If freezing, I find it easier to freeze two cups's worth per jar, filling them 3/4 way full, allowing for expansion of liquid as it freezes (otherwise the glass may crack)
I reckon silicon food-grade pouches would be great to freeze in, but haven't tried this myself yet
Highly recommend enjoying a cup of warmed broth daily, with a teaspoon of miso paste for additional flavour and gut-friendly bacteria
Nutrition
Serving:
1
cup
Calories:
20
kcal