5 herbs to boost the immune system leading into winter, and how to incorporate them into your wellness practice.
Today I'm sharing 5 immune-boosting herbs you can turn to, to build resilience and vitality as we descend into winter.
Before we begin - these aren't specific remedies or recommendations for COVID-19, there are no interventions yet that have been trialled and found effective. These are however well researched herbs on boosting the immune system to protect against winter colds and flu in general.
This isn't an exhaustive list obviously – but they are my favourites, and they are herbs that can also be enjoyed as foods or teas, easily incorporated into your cooking.
Jump to: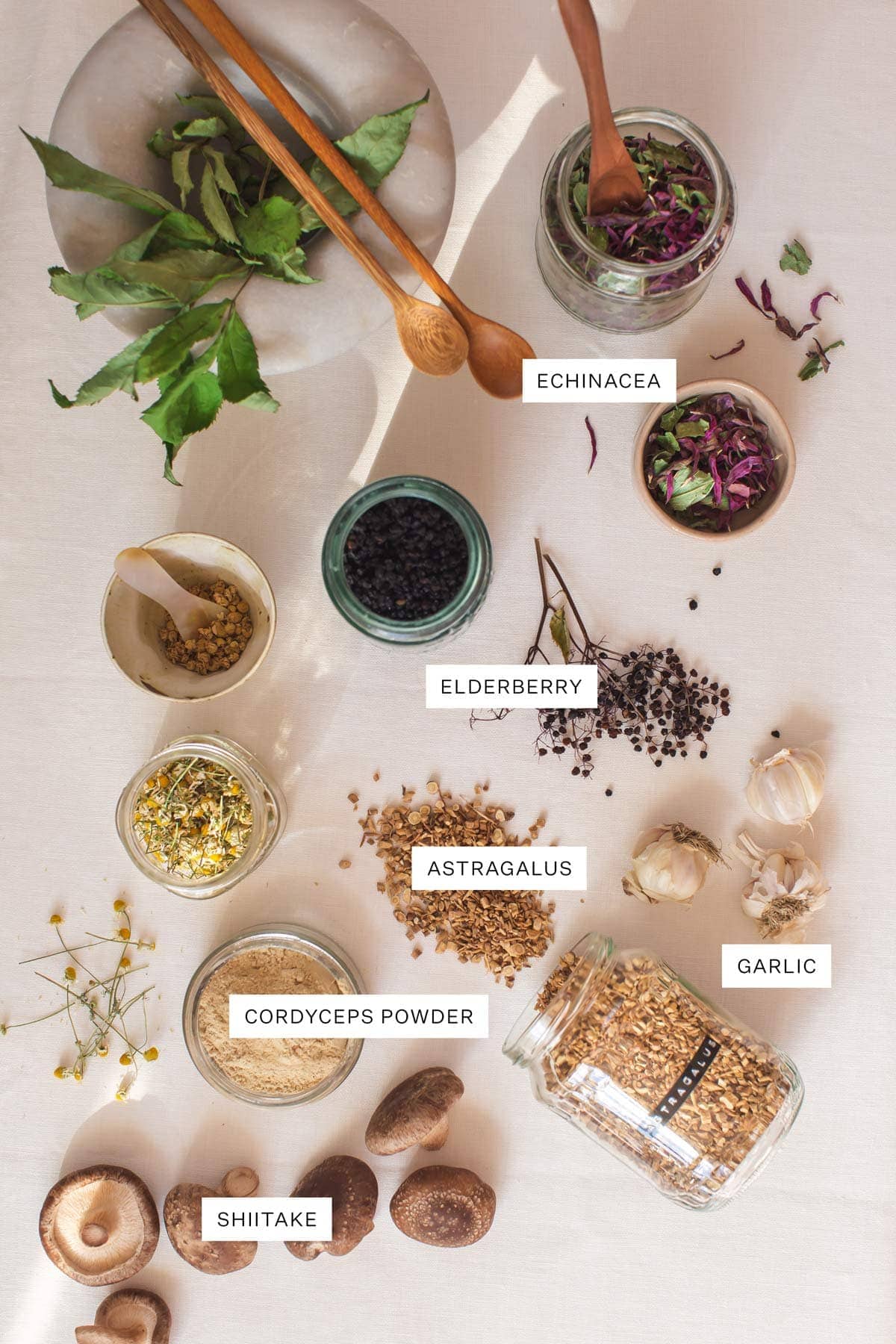 🌸 Echinacea: Immune stimulant
Echinacea is native to North America, and is commonly known as purple coneflower. The species used medicinally are Echinacea angustifolia and Echinacea purpurea. It is the root of both that we prefer to use in Herbalism, though you can use the aerial parts of E.purpurea to make a tea.
The traditional use of this herb largely focused on treating infection and venomous bites/stings – for example, snake bites, septicaemia, wound healing, ulceration, abscesses, mastitis and swollen glands [1].
While most will think of this herb as your go-to at the first sign of a sniffle – the evidence is actually quite mixed when it comes to echinacea's ability to treat upper respiratory tract infections. Further, as mentioned – this was not one of the main traditional uses of this herb.
However – it's worth noting that the validity of many of these studies is questionable, given there is so much variance in the part of the plant used, and therefore, the phytochemical profile (not to mention the often inadequate dosage!).
Instead, I like to think of echinacea as a herb to take prophylactically for infection prevention [2].
Echinacea is an immune stimulant. The main actives in the plant are alkylamides – which give a characteristic tingle on the tongue while making your mouth water – a great indicator of potency!
These actives have been shown to increase phagocyte activity and enhance natural killer cell production – both are part of the innate immune system, responsible for engulfing and digesting bacteria and targeting viral-infected cells, respectively (Bone & Mills, 2013).
Aside from its immune enhancing effects, echinacea can be used to treat infections (such as bladder infection), support wound healing (for example, in skin conditions like eczema), support connective tissue regeneration, reduce inflammation, support lymphatic health and aid in the detoxification and elimination of accumulated wastes.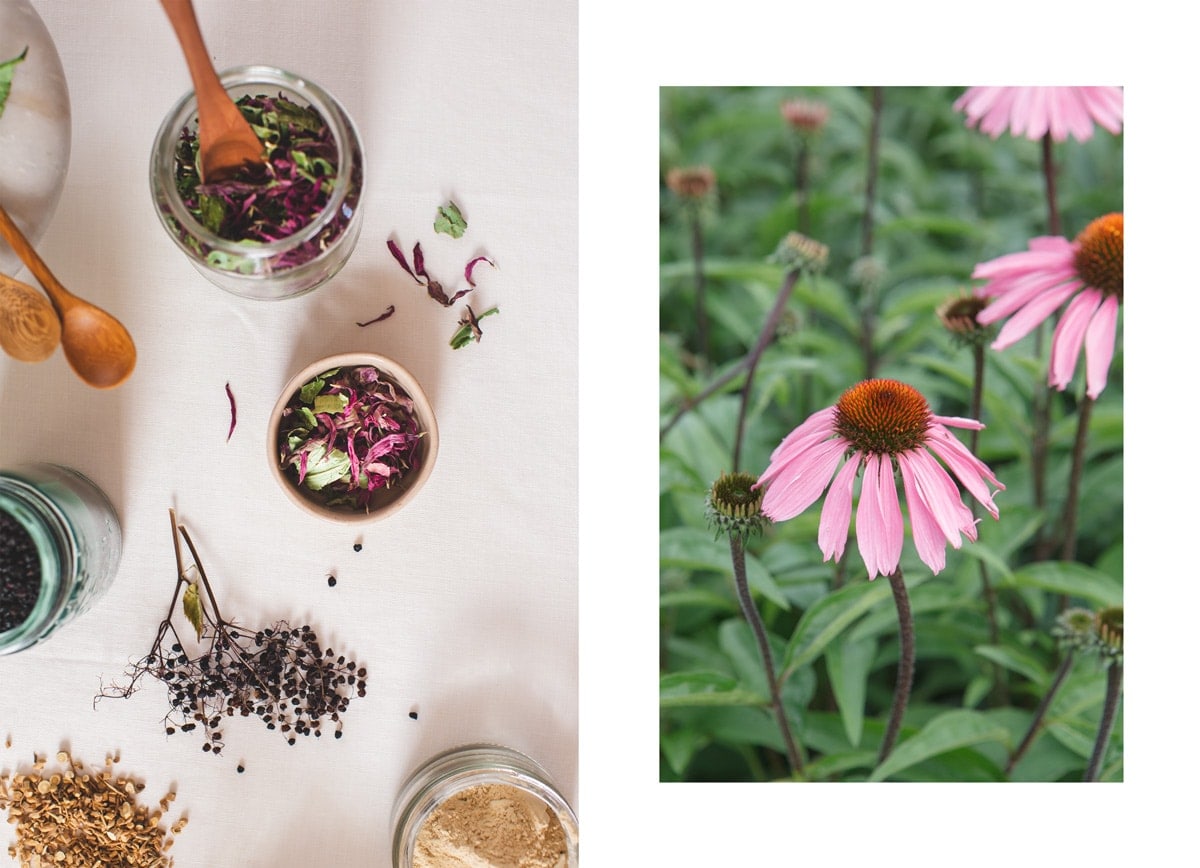 Echinacea is a surprisingly easy (and beautiful!) herb to grow at home – just ensure you're planting the medicinal species.
I suggest starting with E. purpurea – it's the easier of the two to cultivate, and the whole plant can be used in medicine making – the leaf, flower, seed and root. The roots however shouldn't be harvested until the plant is at least two years old.
Echinacea has a great safety profile and can be taken as a tincture or capsule. You can also enjoy E. purpurea as a carefully dried tea, to preserve the alkylamides.
If you have an auto-immune disease or are on immune-suppressants, check in with your Medical Herbalist before taking echinacea. Avoid if you have a known allergy to plants in the compositae (daisy) family.
🌿 Astragalus: Deep immune booster
Astragalus (Astragalus spp.) is a "Qi tonifying" adaptogenic herb from the Chinese Materia Medica, prescribed for centuries for general weakness, chronic illness and to increase vitality [3]. This herb is also used as a general tonic in the elderly and may be helpful as an adjunct in cancer treatment.
In Western Herbal Medicine, it is highly regarded as an immune tonic. It restores, strengthens and balances the body's immune response whilst increasing vitality and resistance to both physical and emotional stressors. It is a specific remedy for those with chronically depleted immunity.
It is also a known cardiotonic, a liver protector and anti-viral agent [4].
Research shows it has favourable effects on immune response, increasing white blood cell counts – the cells of the immune system that are involved in protecting against infection and foreign invaders [5].
This is one of my favourite herbs to put in post-viral fatigue formulas for my clients, a great herb to take while convalescing.
We use the root – and because the main actives are water soluble, it is effective simply taken as a decoction.
Traditionally, the root is also cooked into soups, stews, porridge and the like. I wouldn't say it's delicious – but definitely not bad. Earthy, a little sweet, very easy to disguise in a vegetable broth, a pot of chai or miso soup.
If you're taking this as a food in the preparations mentioned above, rather than as a capsule or herbal tincture, stick to 10-30g of the root, decocted, daily (Bone & Mills, 2013).
Astragalus has a great safety profile however is traditionally avoided during acute infection, unless there is a chi (vitality) deficiency.
🍄 Medicinal mushrooms: Immune-modulators, anti-viral
Medicinal mushrooms that support the immune system include reishi (Ganoderma lucidum), cordyceps (Cordyceps sinensis), coriolus (Coriolus versicolor), chaga (Inonotus obliquus), maitake (Grifola frondosa), and shiitake (Lentinula edodes).
Medicinal mushrooms are immune-modulators with anti-viral properties. They have a long history of use in Asia, Europe and Russia.
The main constituent responsible for these effects are polysaccharides called beta-glucans. Polysaccharides have a non-specific effect on the immune system, stimulating macrophages, natural killer cells, T cells, and the production of cytokines (Pizzorno & Murray, 2013).
Out of all the various types mentioned, cordyceps is probably the most specific to the respiratory system, acting as a bronchial dilator, while shiitake and reishi are the stronger anti-virals.
Medicinal mushrooms are also consumed as food and are considered safe for regular consumption. Polysaccharides are water soluble so again these are great to take in powder form in liquids, or to cook into broths, soups and stews.
Whilst most are a little more exotic, shiitake is readily available, most supermarkets will stock them. I include shiitake in my cooking as often as I can to enjoy the immune supportive benefits.
Here's a recent recipe I shared for a nourishing Vegetable and Lentil Soup – it contains shiitake but go ahead and add some reishi slices if you can source them.
🌳 Elderberry: Immuno-modulator and anti-viral
Elderberry is the dark blue/black berry from the Sambucus nigra shrub.
It has a history of use in preventing and treating symptoms of influenza, colds and sinusitis, with anti-viral activity against influenza virus and herpes simplex.
A meta-analysis of four randomised, controlled clinical trials (with a total of 180 participants between them) found that supplementation with elderberry substantially reduced upper respiratory symptoms such as cough, nasal congestion and discharge, sore throat and fever, when compared to a placebo group.
They also found that elderberry was more effective at reducing the severity and duration of upper respiratory symptoms from the influenza virus than the common cold [6].
No adverse effects have been reported in clinical trials, and it is a safe remedy for all ages. It is after all a berry – food as medicine, and a lot milder than the leaf or bark.
Elderberry syrup is a popular home remedy as it's very easy to make, but please don't eat the berries raw. They contain cyanogenic glycosides that are hydrolysed to hydrogen cyanide in the gut.
This new compound is poisonous, though neutralised when exposed to heat and allowed to evaporate off [7].
If you're going to wild harvest elderberry – please be up to speed with your plant identification. If in doubt, get an immune tonic made up with elderberry from your herbalist.
I've got a lovely Elderberry Syrup recipe here if you'd like to make a batch up for winter.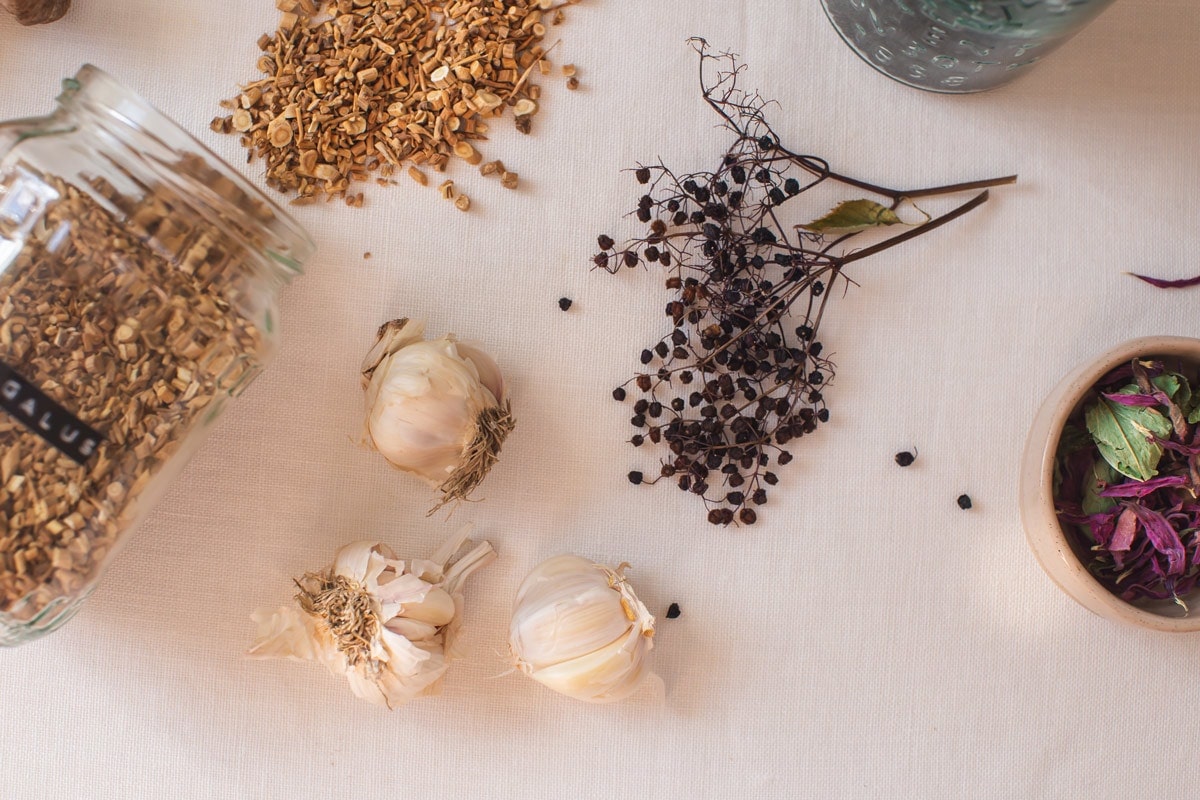 🧄 Garlic: Poor man's penicillin
Garlic is possibly the ultimate food as medicine. It has potent antioxidant effects, is supportive of the cardiovascular system, and is a powerful antimicrobial and liver protector.
When used as an anti-microbial agent (for gut dysbiosis, parasites, candida), it is entirely selective in its effects, which means it does not harm beneficial microflora as antibiotics and to a lesser extent, herbs do. When you consider the interaction between the immune system and gut microbes – garlic really is the perfect ally!
Garlic can also be employed as a preventative to the common cold. It has been shown to reduce the incidence of colds by 63%, decrease severity of symptoms and accelerate recovery time when compared with a placebo [8].
Similar results were seen in another study using an aged garlic supplement. The authors found that garlic improves natural killer cell function, while reducing inflammatory cytokines [9].
There is also some in vitro evidence to suggest it has anti-viral activity against influenza A and B, cytomegalovirus, rhinovirus, HIV, herpes, viral pneumonia and rotavirus [10].
How to take it? 1 large clove (about 5g) daily, crushed, bruised or chewed – this step is important as it activates the medicinal compound, allicin.
If that sounds unpalatable – mince and add raw to salad dressings, or try making this fermented garlic honey, which is far milder in taste.
👩‍⚕️ When to see a Medical Herbalist or Naturopath
You can very easily enjoy echinacea as a tea, add some astragalus to your broth, cook often with mushrooms, make an elder berry syrup and knock back a clove of garlic daily – but what if you need something more potent?
As practitioners we are supported by suppliers with stringent quality standards to ensure of purity, potency and consistency.
Further – you can rest assured that the herbal medicines you receive fit your constitution, are the appropriate dose for your age, weight, vitality and stage of life, aren't contraindicated in any way and don't interact with prescribed medications.
In a nutshell – it's our job to deliver you treatments that are both safe and efficacious. If you'd like some extra support and are local to me here in New Zealand then do make a booking to come and see me.
Stay well guys! Hope you enjoyed my 5 favourite herbs to boost the immune system.
Lauren.