A rich and hearty Creamy Mushroom Lentil Stew, made with immune supportive shiitake and an abundance of fresh herbs (chives, chervil and parsley). The perfect, protein-packed meal to cozy up with on a moody, rainy evening.
So this was my exciting news for the morning: Disney are bringing out a new DuckTales series! Ole' Scrooge McDuck! Launchpad McQuack! Fenton Crackshell! The nostalgia! My partner and I were watching the shorts on his phone this morning, while I was sipping coffee and he was slurping Weetbix with Milo (yes, big kid). It took us right back the '80s, although he wasn't so much a fan of the new animation style (a bit too 'Ren and Stimpy' for his liking).
Anyway. I don't want that new announcement to distract from today's recipe, because it is all kinds of awesome.
My poor love has been working 15 hour days the last week. So this recipe was for him. A big, creamy, warm bowl of comfort food to enjoy hot off the stove with fresh quinoa sourdough.
What I love about this dish, is that it's all whipped up in one pot, it fills the house with heaven's scent itself while it bubbles away, it makes a large enough batch to freeze in smaller portions for nights where you just can't deal with cooking from scratch, it is equally as satisfying the next morning – piled on top of toast, and, best yet, it is a nutritional powerhouse.
[bctt tweet="One-pot Cozy Creamy Mushroom + Lentil Stew - with immune-boosting shiitake. Recipe here!" username="laurenglucina"]
Cozy Creamy Mushroom Lentil Stew
So what have we got in this big pot of awesomeness? Lentils make up the hearty, protein component, providing a great amount of fibre, folate and minerals such as iron, zinc, copper, manganese and phosphorus.
Red lentils tend to go quite soft once cooked (as in this Nourishing Red Lentil Rosemary Soup), whereas green and brown lentils hold their shape well – making them perfect for a hearty, chunky stew. I chose French Green lentils, pre-soaking them to reduce the cooking time.
Mushrooms, but particularly shiitake mushrooms, are full of compounds that support the immune system. In fact, shiitake, along with others such as chaga, reishi and maitake, are functional foods that are so potent they have a rich history of medicinal use for stimulating both immunity and vitality. Shiitake have a wonderful, rich and earthy taste with a chewy texture. I think they really make this dish.
A recent study found that daily consumption of cooked shiitake mushrooms over four weeks improved human immunity and decreased inflammation. Blood tests taken after the four weeks showed up-regulated immune cell function and decreases in inflammatory proteins [1]. The immune-modulating effects may be due to the mushroom's polysaccharide (complex carbohydrate) content (specifically, glucans) [2, 3].
Other nutritional highlights include a good amount of B vitamins, and the mineral selenium.
Finally, although it is true that mushrooms contain some vitamin D, it is the in the form of ergocalciferol (D2) – much less bioavailable than cholecaciferol (D3) and thus not a reliable dietary source.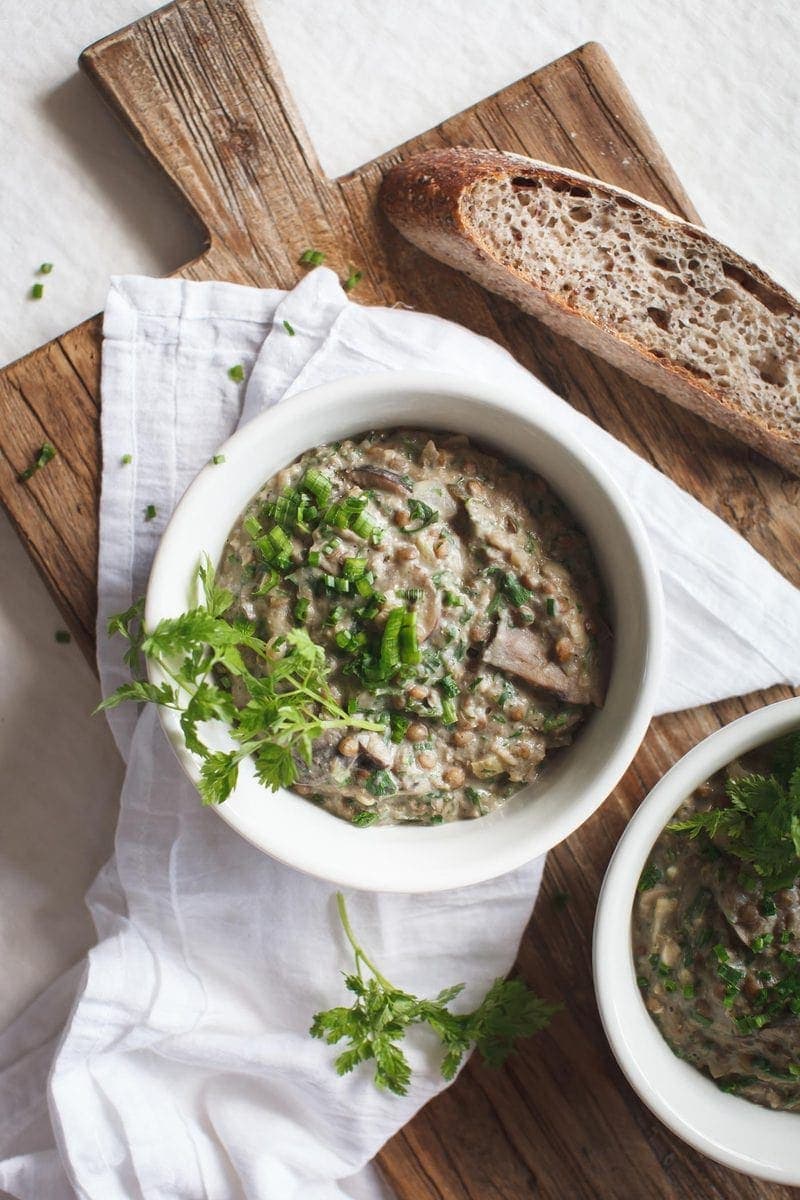 This stew is also jam-packed with fresh herbs: chives, chervil and parsley. I nearly went down the classic mushrooms-with-sage-and-thyme combo, but the fennel, chives, chervil and parsley seemed a bit more interesting. Fennel and the feathery chervil (French parsley) both have light aniseedy tastes. Chervil is a super delicate herb, so you need to add it fresh, right at the end of cooking, to ensure you get a hint of its subtle flavour.
Parsley – of which there is a decent amount of in this recipe – is a favourite of mine as it is so common and readily available, yet so nutrient-dense: think vitamin K, vitamin C (twice the amount of oranges!), beta-carotene (the pre-cursor to vitamin A in the body), folate, iron and potassium [4]. It is naturally packed full of antioxidants and of course, the plant pigment, chlorophyll. Fun tip: chew on parsley at the end of a meal to reduce bad breath!
So. Much. Goodness.
I hope you love the recipe, these are my favourite kinds of dishes, these nourishing one-pot wonders.
If you make and enjoy this recipe, please leave a rating below. And better yet – leave me a comment to tell me how you got on, or just say hi – I LOVE hearing from you. Follow me on Instagram, Facebook or Pinterest to see more of my everyday recipes and wellness tips.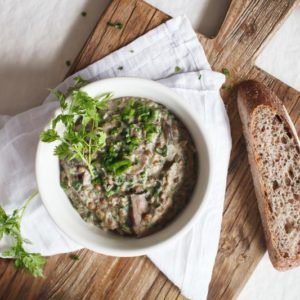 Cozy Creamy Mushroom Lentil Stew
A cozy creamy mushroom lentil stew, made with immune supportive shiitake and an abundance of fresh herbs. Serves 4.
Ingredients
¾

cup

lentils

I used French green as they hold they shape nicely

300

g

mushrooms

a super heaped breakfast bowl full – I used white, brown and shiitake

2

tablespoons

coconut or olive oil

1

large

shallot

1

fennel bulb

medium

1

leek

green tips discarded

8

cloves

garlic

1

stick

celery

Generous grind of freshly cracked black pepper

2

bay leaves

1

tablespoon

white wine vinegar

1

litre

vegetable stock

low sodium (4 cups/1 quart)

1

cup

coconut milk

full fat, tinned

Small bunch fresh chives

Bunch of chervil

Large bunch parsley

flat leaf
Instructions
The night before you are ready to cook (or even, the morning of), soak the lentils in ample water, then drain and rinse, and set aside.

Prep your vegetables: finely slice the shallot, fennel and leek. Peel and roughly chop the garlic. Chop the celery fine. Wash and slice the mushrooms, you may like to trim the woody ends off the shiitake.

In a large pot, heat 2 tablespoons oil, then add shallot, fennel and leek, cooking till soft and a little golden.

Add celery, mushrooms, lentils, pepper, bay leaves, white wine vinegar and vegetable stock. Cover and bring to a boil, then reduce to a simmer, and cook till lentils are soft, about 20-25 minutes. Remove lid, add coconut milk, and stir to combine. Turn the heat up and let the stew reduce down for another 10 minutes.

Once done, remove from heat, fish out the bay leaves and discard. Measure out 2½ cups of the stew – blend then re-combine (or, use an immersion stick-blender).

Wash the fresh herbs, finely chop the chives and roughly chop the chervil and parsley. Fold through the stew and serve.
Notes
• Save some extra chervil to decorate - pretty!
• Freeze leftovers for an easy meal when you're too tired to cook
• Have on toast for breakfast
• Use whatever herbs are in your garden - you don't have to stick with the chives/chervil/parsley combo (though I recommend) - sage and thyme will do just fine
Nutrition
Calories:
405
kcal
Carbohydrates:
44
g
Protein:
15
g
Fat:
21
g
Sodium:
203
mg
Fiber:
12
g
Sugar:
7
g
Calcium:
120
mg
Iron:
7.2
mg
Nutrition Facts
Cozy Creamy Mushroom Lentil Stew
Amount Per Serving
Calories 405
Calories from Fat 189
% Daily Value*
Fat 21g32%
Sodium 203mg9%
Carbohydrates 44g15%
Protein 15g30%
Calcium 120mg12%
Iron 7.2mg40%
* Percent Daily Values are based on a 2000 calorie diet.
References:
Dai, X., Stanilka, J.M., Rowe, C.A., Esteves, E.A., Nieves, C., Spaiser, S.J., … & Percival, S.S. (2015). Consuming Lentinula edodes (Shiitake) mushrooms daily improves human immunity: A randomized dietary intervention in healthy young adults. The Journal of the American College of Nutrition, 34(6), 478-487.

Ramberg, J.E., Nelson, E.D., & Sinnot, R.A. (2010). Immunomodulatory dietary polysaccharides: A systemic review of the literature. Nutrition Journal, 9(54).

Vetvicka, V., & Vetvickova, J. (2014). Immune-enhancing effects of maitake (Grifola frondosa) and shiitake (Lentinula edodes) extracts. Annals of Translational Medicine, 2(2), 14.