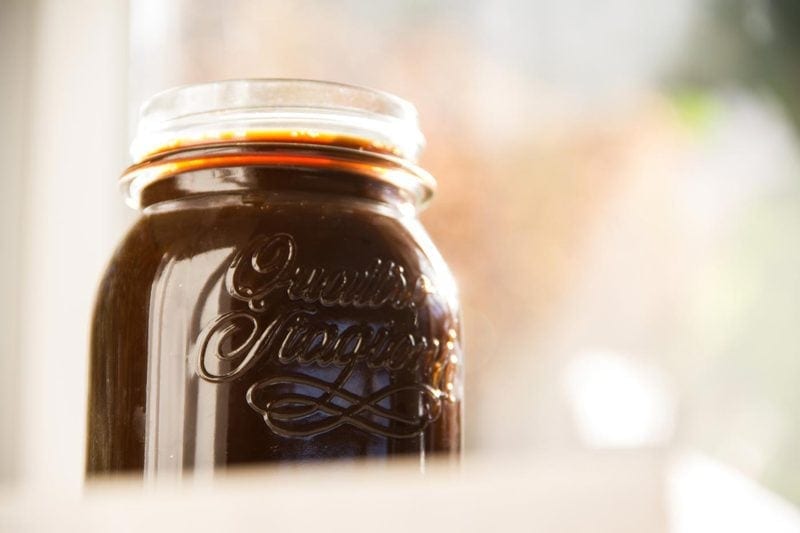 Do you remember taking Folradix as a kid? That lovely tasting iron tonic? I have been experimenting with my own version at home so thought I would share the recipe. The three herbs I have used are Yellow dock, Nettle and Dandelion, all considered weeds – I have written some detail on each of them here.
I decided to add some kombu to the pot whilst making the decoction. This is actually an old Macrobiotic trick – kombu is a type of seaweed and is incredibly mineral rich and high in iron. I have also added a little warming spice in the form of ginger, peppercorns and cinnamon to give warmth and boost the circulation.
Blackstrap molasses gives thickness to the mixture whilst also being very high in iron – in fact – if you wanted to, and didn't mind the taste so much, you could simply spoon a tablespoon into your mouth every so often for an iron boost (it has 3mg per 15ml).
Pomegranate molasses also adds thickness and an interesting flavour to pair with the ginger and cinnamon. Honey adds a little sweetness though add this last and only use what you desire – the mixture may be sweet enough for you already. Brandy is used as a preservative so your tonic can sit in the pantry.
Interestingly, there has just been a new study [1] revealing that the iron found in meat (which is the heam version, as opposed to plant based sources which are non-haem), may increase your risk of heart disease. Researchers analysed data from 21 international studies, which included some 290,000 participants for an average of ten years. They found that haem iron (from meat) increased the risk of heart disease by 57%. Well, just as well we have an abundance of plant based alternatives!
Enjoy the recipe,
Lauren
1. http://jn.nutrition.org/content/early/2014/01/07/jn.113.185124.abstract
Homemade Iron Tonic
15g Yellow Dock
15g Nettle leaf
15g Dandelion root
1 inch fresh ginger, sliced
5g kombu (seaweed)
1 tablespoon black peppercorns
1 teaspoon freshly ground cinnamon
500ml water
+
1/4 cup blackstrap molasses
1 tablespoon pomegranate molasses
2 scant tablespoons raw, wild honey
2 tablespoons brandy (or vodka) to preserve
METHOD:
Bring 500ml of water to the boil, and add the herbs, ginger, kombu, peppercorns and cinnamon, reduce to a simmer, pop a lid over the top leaving a small gap, and remove from the heat once the decoction has reduced to 250ml
Pour the mixture through a fine mesh bag (a nut milk bag would be ideal), collecting the residue and wringing out the herbs tightly
Add the blackstrap and pomegranate molasses, as well as the brandy, and stir till combined (if you do this over a low again, the mixture will thicken more)
Add the honey last once the decoction has cooled (this is to help preserve the nutritional benefits of the honey)
Pour into a sterilised glass jar, label and date, and take a tablespoon daily as an iron tonic.