Plantain is a first aid hero worth getting to know, particularly as it's so widely available across the globe. This is a recipe for a simple plantain salve – to heal and sooth minor cuts and scrapes, insect bites, bee stings and splinters. A must-have for your home apothecary.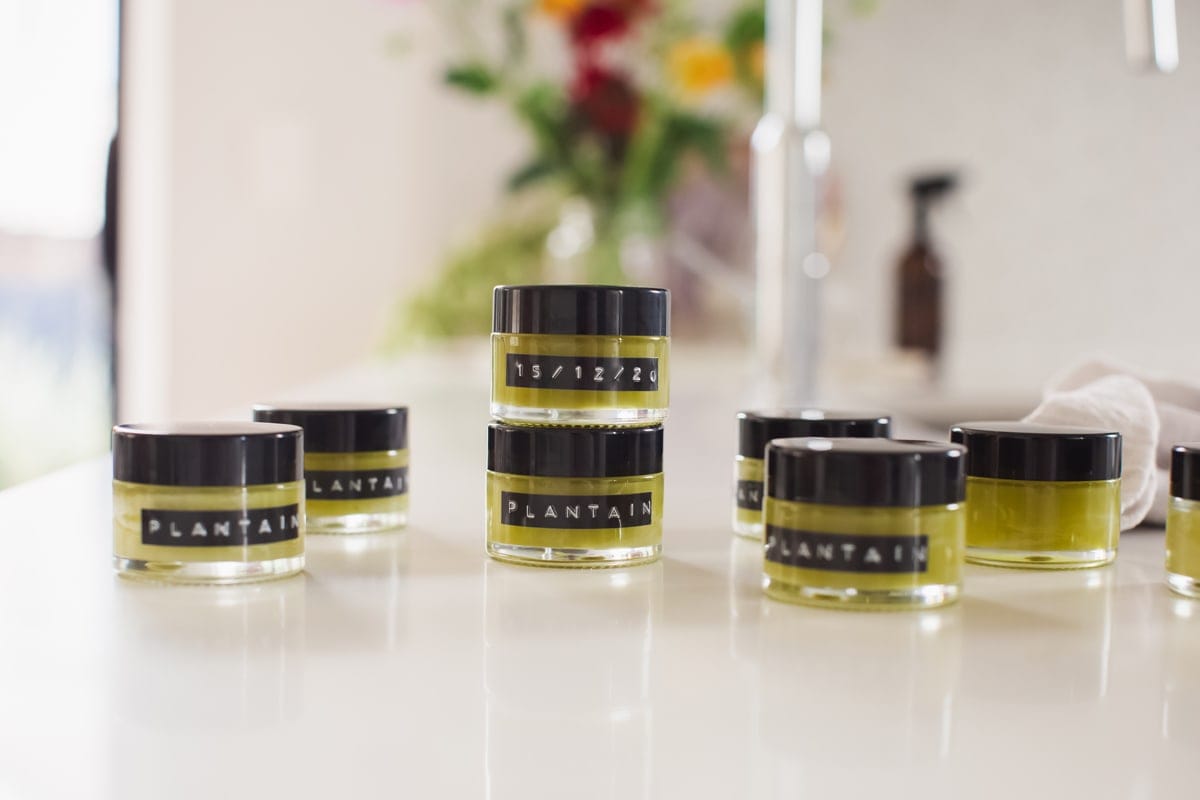 There's a little pocket of wild around home, despite us living in the city. A paved cycle way weaves for kilometers around the shores of an estuary, the coast on one side, a reserve on the other. It's quiet – no cars, but rich with bird sounds – the gargling Tui and purring Barberry dove.
If you know what to look for, you'll see an abundance of medicinal herbs and weeds like hawthorn, chamomile, dandelion, nasturtium, red clover, yarrow, cleavers… and our friend plantain.
The plantain is easy to spot – lance-like stalks dancing in the breeze with soft heads wrapped in a tiny flower tutu.
Often overlooked, it's a medicinal weed worth becoming acquainted with, deserving of a place in your home apothecary.
Today I'll show you how to prepare it as a first aid salve, a deeply therapeutic topical remedy for:
Minor cuts and scrapes (must be clean - a salve will form a protective layer and trap in dirt)
Minor burns (once cooled adequately under running water, otherwise you will trap the heat in and worsen the burn)
Insect bites
Mosquito bites
Bee stings
Slivers/splinters
Hot, dry, irritated skin conditions
Jump to:
👩‍🌾How to identify
There are two main varieties of plantain, P. lanceolata (commonly known as narrow-leaf plantain) and P. major (commonly known as broad-leaf plantain).
Narrow-leafed plantain is more abundant in my neck of the woods, it has long and slender leaves with a tall flowering stem, which is bare but for a ring of tiny flowers that remind me of a ballerina's tutu.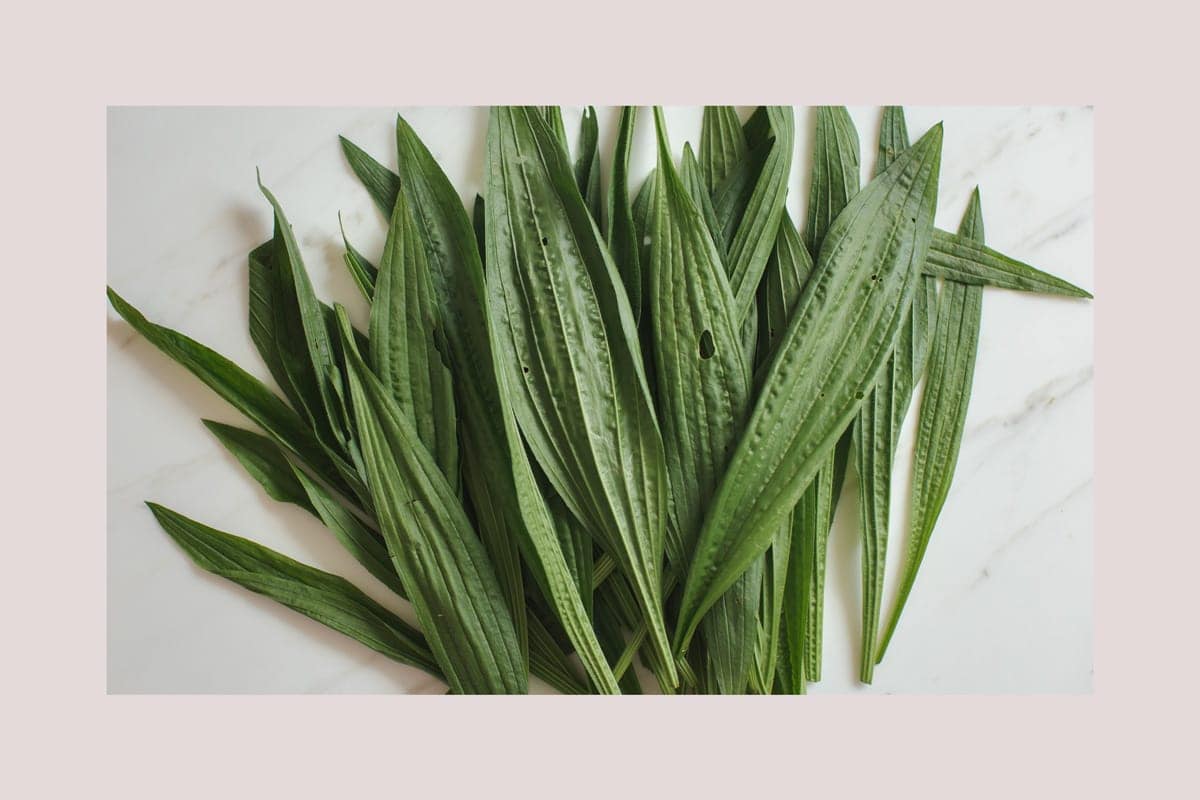 The leaves of the broadleaf variety form basal rosettes, with a tall but flowerless stalk.
As with any wild harvesting of medicinal herbs, ensure the area is free from sprays and chemicals, and, if you're not 100% confident with your identification, opt to source the dried herb from a reputable source instead.
🐝Topical benefits
Plantain is first and foremost a first aid hero. Topically, it really is an all-in-one:
An effective drawing agent, pulling out splinters, stingers, venom, pus, infection and inflammation from the skin. This really is plantain's superpower. I've heard some herbalists liken its drawing effect to that of charcoal, its reputation as a drawing herb is like none other. This quality sets it apart from other wound-healing herbs like calendula and comfrey
Though a salve is always handy to have on hand, if you're out in the garden and get stung by a bee or graze your skin, you can make a spit poultice by chewing a few of the leaves up, applying topically for fast relief.
The water content of your saliva mixes with a substance in the plantain leaf called mucilage, creating a gel. The gel will dry with a slight adhesive quality, which is why it makes for such an effective impromptu bandage [9].
Plantain's mucilage content is also a wonderful demulcent and emollient, which is why you will see the herb featured in creams to moisten and soften dry and inflamed skin conditions like eczema, psoriasis and dermatitis [10].
A medicated clay is another application – particularly indicated if a drawing action is required. This bentonite clay poultice looks well worth a try if you'd like to experiment.
🧪Other uses
Plantain is also used medicinally, internally, in tea or tincture form to support the health of the mucous membranes in the mouth, throat, lungs, gut and bladder.
Some of its indications therefore include mouth ulcers, sore throats, tonsilitis, cough, respiratory infections, leaky gut, diarrhea and bladder infections [11]. In these instances, it is best to use the herb under the guidance of a qualified Herbalist.
Finally, plantain is an edible weed! Rich in vitamin C and carotenoids [12], you can harvest a bunch and add liberally to your cooking.
Here's a great recipe for a plantain soup:
Fry leek, onion, garlic and ginger, add plantain – lots and lots and lots – add turmeric powder, vegetable stock, a little quinoa and lentils, seaweed, and a splash of vinegar to help pull the minerals out into the soup, sometimes a little coconut milk or cream to finish.
Herby deliciousness!
🍃Plantain infused oil
As always, making a medicinal salve starts with a quality herbal infused oil.
Cover the dried leaf with oil, and heat over low temperature using a double boiler. You can use a thermometer to check the heat, which should fall around 40˚C (104˚F) if the water it is resting in is just barely simmering.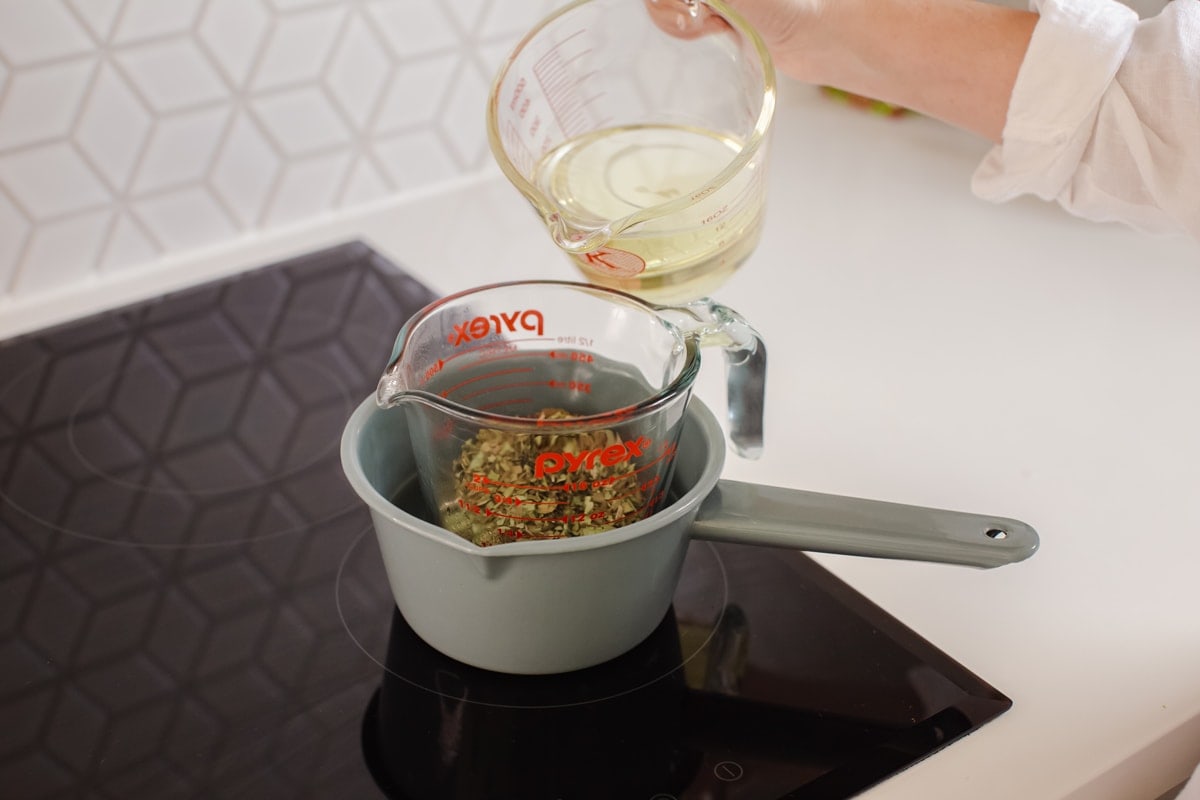 Stir occasionally, and after a good three hours, you'll be ready to strain the herbs out using a muslin cloth or nut milk bag, composting the herbs once finished.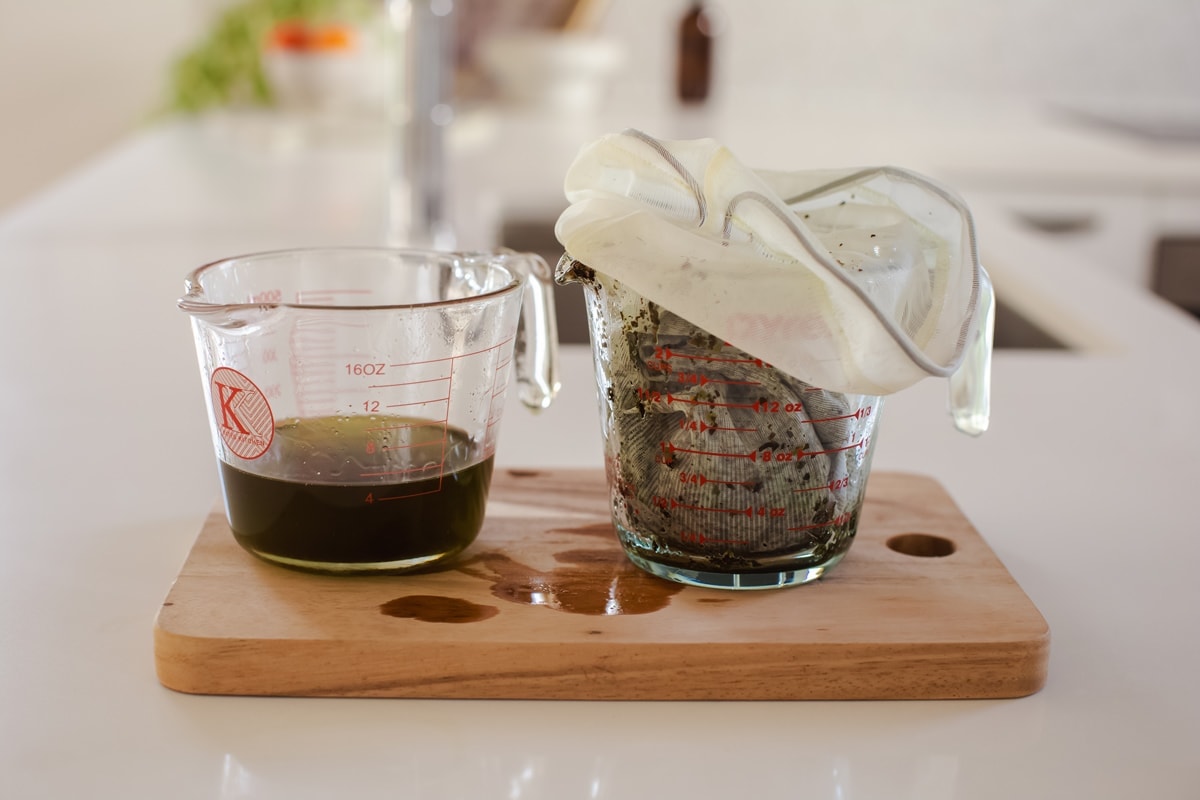 There will always be some wastage preparing infused oils – so best to make a larger quantity than you need for a recipe, storing leftovers in an amber jar out of the sun for later use. I recommend using a scant two cups' worth of dried herb to 500ml / ½ quart of oil.
⚗️Making plantain salve
Take your infused oil and measure out one cups' worth (250ml). To this, add 28g (1oz) of beeswax.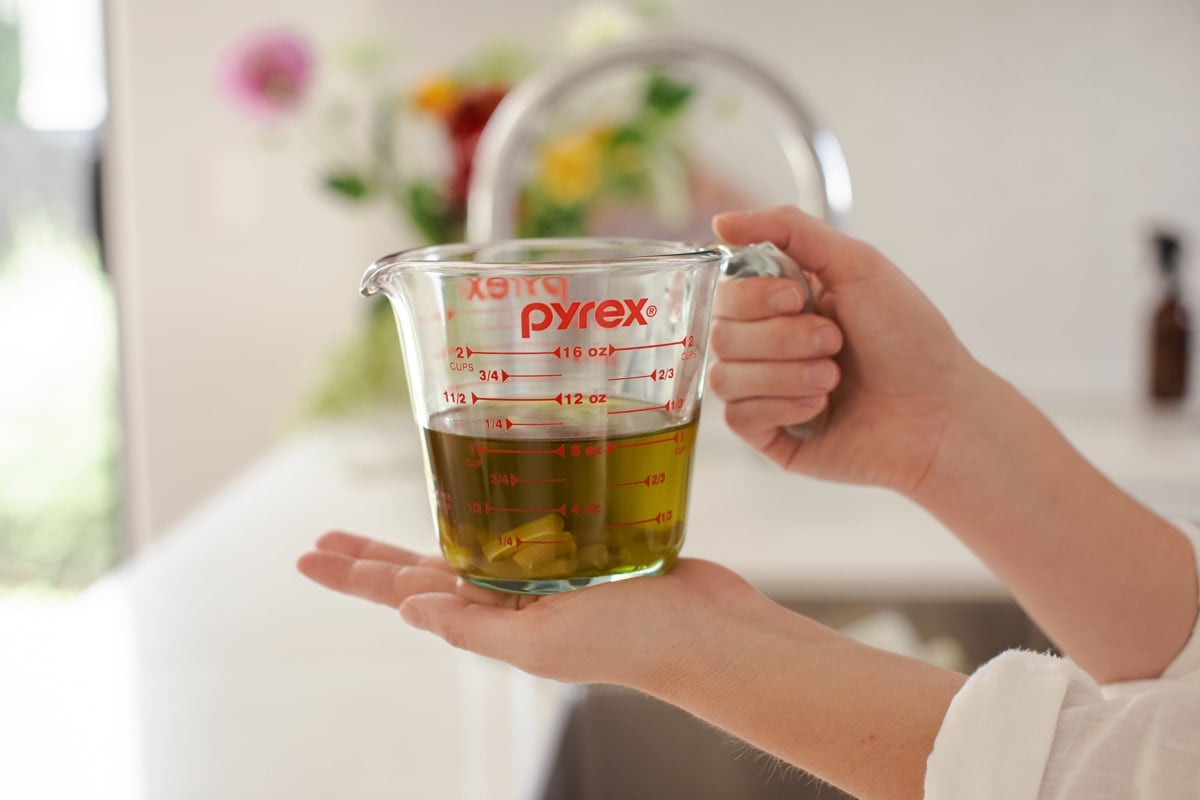 Rest this mixture over a saucepan gently simmering with water, or use a double boiler. Over low heat, we want to melt the wax entirely.
Once this is done, remove from the stove top and add essential oils to your liking. I love pairing tea tree or manuka with plantain for their additional healing, antiseptic, antimicrobial effects.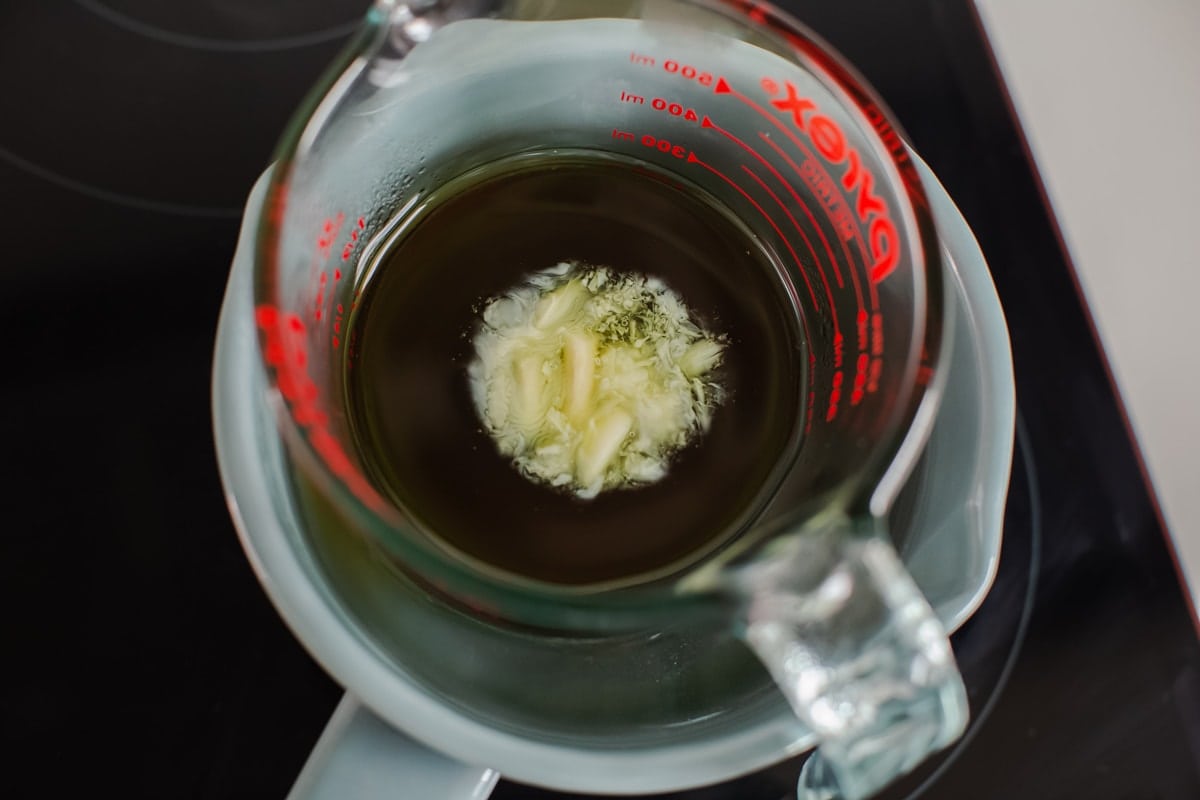 Be sure to stir the essentials oils in well, a good utensil to use here is a glass stirring wand like this one.
From here, work quickly to pour the liquid salve into pre-sterilised glass jars, then allow to cool before capping, labelling and dating.
🌿FAQ's
Can you make plantain salve without beeswax?
If you wish to keep it vegan, in this instance, use carnauba wax. Because carnauba is exceptionally hard, you'll need to blend it with a soft butter, something like mango or shea butter.
Can you make plantain salve with coconut oil?
Yes – but be aware the end salve will be quite hard. A better option is fractionated coconut oil, as it remains in a liquid state.
How long will the salve last for?
A year or more - salves made from dried herbs have zero water content so are quite shelf stable.
Lastly, remember that this a home remedy for minor cuts and abrasions only, seek medical attention for anything deeper.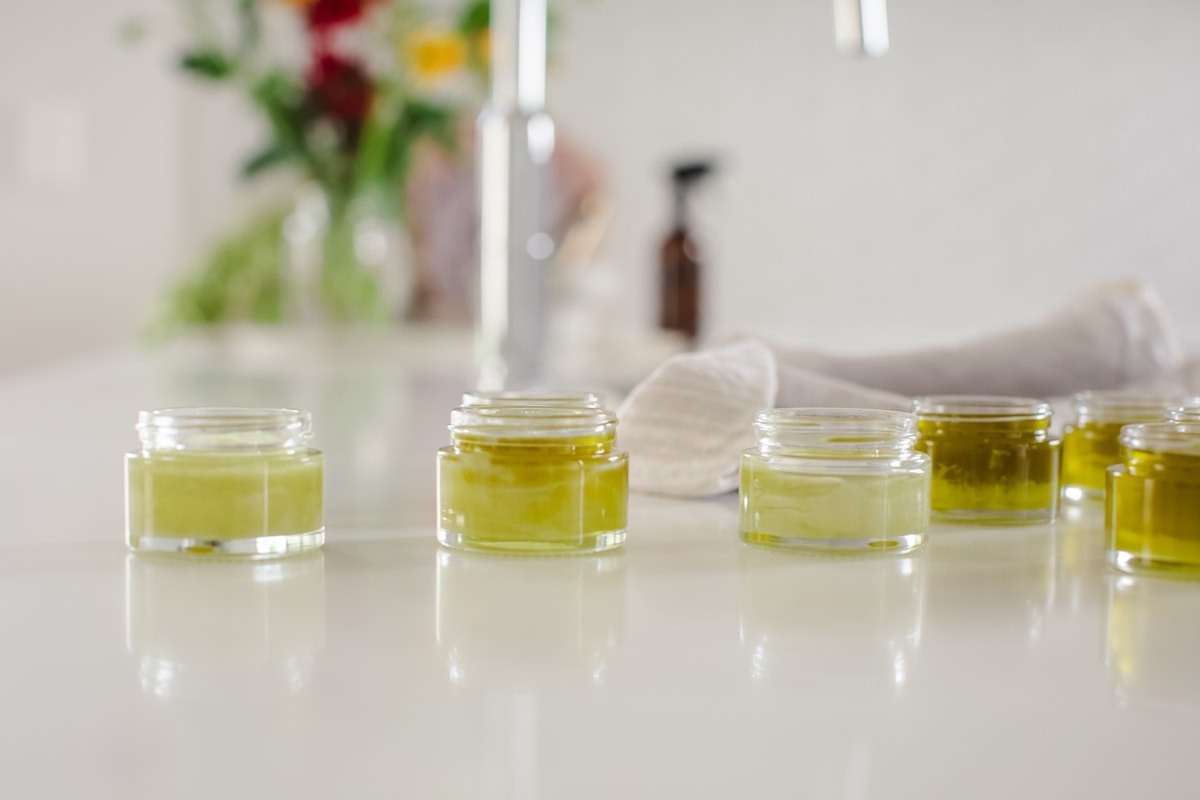 Enjoy herbies – this is a great staple for your home apothecary! For my Kiwi readers, you might also like to experiment with Kawakawa Balm, a gorgeous all-rounder.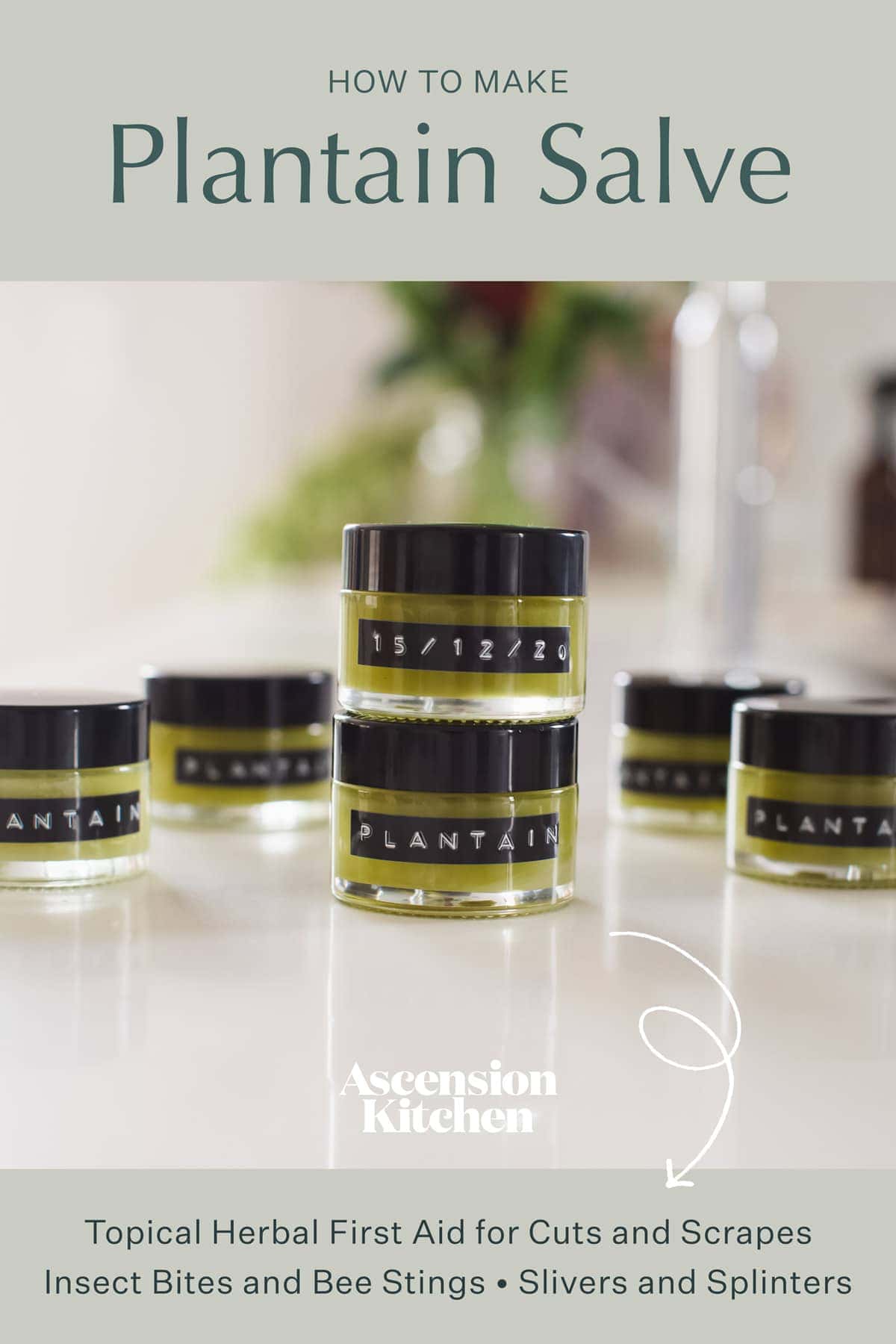 Enjoyed this recipe? Leave a comment below, better yet - share a snap with me on instagram @ascensionkitchen. If you're after personalised health and nutrition advice, contact my clinic, I'd be happy to work with you.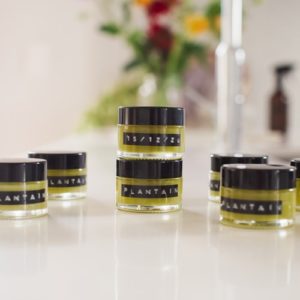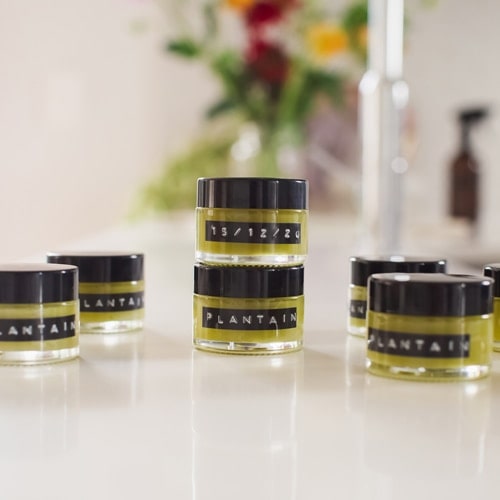 Plantain Salve
A simple salve made from dried plantain leaf, a herbal first aid hero to soothe a range of minor skin complaints such as cuts and scrapes, insect bites and stings, slivers/splinters, and hot, dry or irritated skin. Yields 240ml / 8oz total.
Equipment
Small saucepan and a Pyrex jug OR double boiler

Sieve, muslin or a nut milk bag to strain herbs

500ml / 16oz glass jar with tight fitting lid (to store infused oil)

8x 30ml / 1oz glass jars with screw top lids (for the salve)

Thermometer

Glass stirring rod (if using essential oils)
Ingredients
500ml / 16oz

sweet almond or olive oil

2

scant cups

dried plantain leaf

Plantago major or Plantago lanceolata

28g / 1oz

beeswax pastilles

plus a little extra is handy in order to adjust consistency to your liking

75 drops total

lavender, tea tree or manuka essential oils

optional
Instructions
Plantain infused oil
Add dried plantain leaf to a pyrex jug and stand over a saucepan of barely simmering water. Cover with oil and leave to heat for 3 hours. Use the thermometer to ensure the temperature is kept low, around 40˚C (104˚F).

Remove from heat and strain the mixture through muslin, keeping the dark green infused oil and composting the remaining herbs. Your infused oil is now ready for use.
Plantain salve
Measure out 250ml / 8.5oz of the prepared plantain oil, and pour back into the pyrex jug. Stand the jug in a saucepan of barely simmering water again on the stovetop. Once the oil is warm, add beeswax and let melt entirely.

Remove from heat and add essential oils if using, stirring with a glass rod to evenly disperse them.

Work quickly and pour the liquid salve into pre-sterilised individual glass jars, then allow to cool before capping, labelling and dating.

To apply, rub a small amount into the affected area with clean hands 2-3 times daily. Important - this is for minor cuts and scrapes, splinters, insect bites and stings, dry and irritated skin. If applying to broken skin, the wound must be thoroughly cleaned before applying, as a salve will form a protective layer, trapping in dirt.
Notes
You can alter the consistency of the salve if you prefer - the additional beeswax is for this purpose. Once you have melted the wax into the infused oil, take out a teaspoon full and pop in the freezer. Once cold, test the consistency - if you want something a little firmer, add more wax to the double boiler, if you'd like it softer, add more of the infused oil. It's an art not a science!
Alternatives to sweet almond oil include olive oil and fractionated coconut oil.
Carnauba wax can be used in place of beeswax for a vegan option. Because carnauba is exceptionally hard, you'll need to blend it with a soft butter, something like mango or shea butter.
The essential oils are optional, but those listed are particularly indicated for skin support.
This salve will last for 12 months.
Recipe has been costed using sweet almond oil. Olive oil will bring the price down further. Excludes the optional essential oils and glass jars which can be up-cycled as long as sterile. Also assumes you are able to wild harvest plantain leaf (quite do-able!), otherwise you'll need to account a little more to purchase the dried herb.
This a home remedy for minor cuts and abrasions only, seek medical attention for anything deeper.