A luminous Mermaid-blue DIY toner to tighten pores and hydrate the skin. Made with four simple ingredients: witch hazel, green tea, aloe vera and essential oils.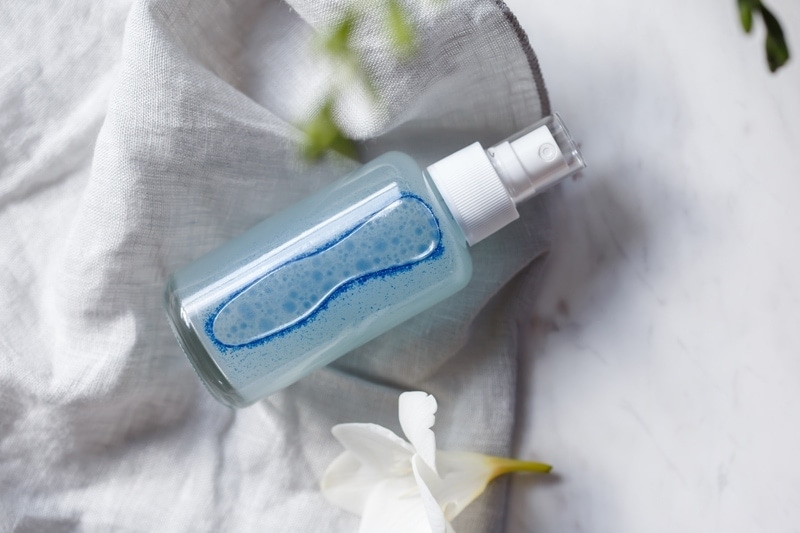 I'm having so much fun making my own skin care. When you go through the process of re-creating your daily non-negotiables with no-tox ingredients, you inevitably end up educating yourself along the way on what really goes into those chemical-laden products.
So here is an all-natural facial toner recipe – made with just 4 simple ingredients (you'll whip it up in minutes!).
[bctt tweet="Make your own all-natural facial toner with these 4 simple ingredients!" username="laurenglucina"]
Facial toners are designed to tighten the pores of the skin after cleansing, so it needs to have astringent properties. Astringent simply means that it causes a tightening of soft tissues. It comes from the Latin word 'adstringere' – 'to bind together'.
You know when your mouth gets that funny feeling after a mouthful of green bananas, pomegranate or tea? That.
We actually use astringent herbs in Herbal Medicine to help heal wounds and draw tissue together to stop bleeding in the gums, gastrointestinal tract and uterus as a few examples. It is a group of chemicals called tannins that are responsible for this tightening action.
In skin care however, we're using plants with an astringent action to firm up the skin. And for this recipe, I've chosen witch hazel and green tea. The other ingredients include aloe vera to hydrate and soothe, and essential oils to add anti-ageing compounds.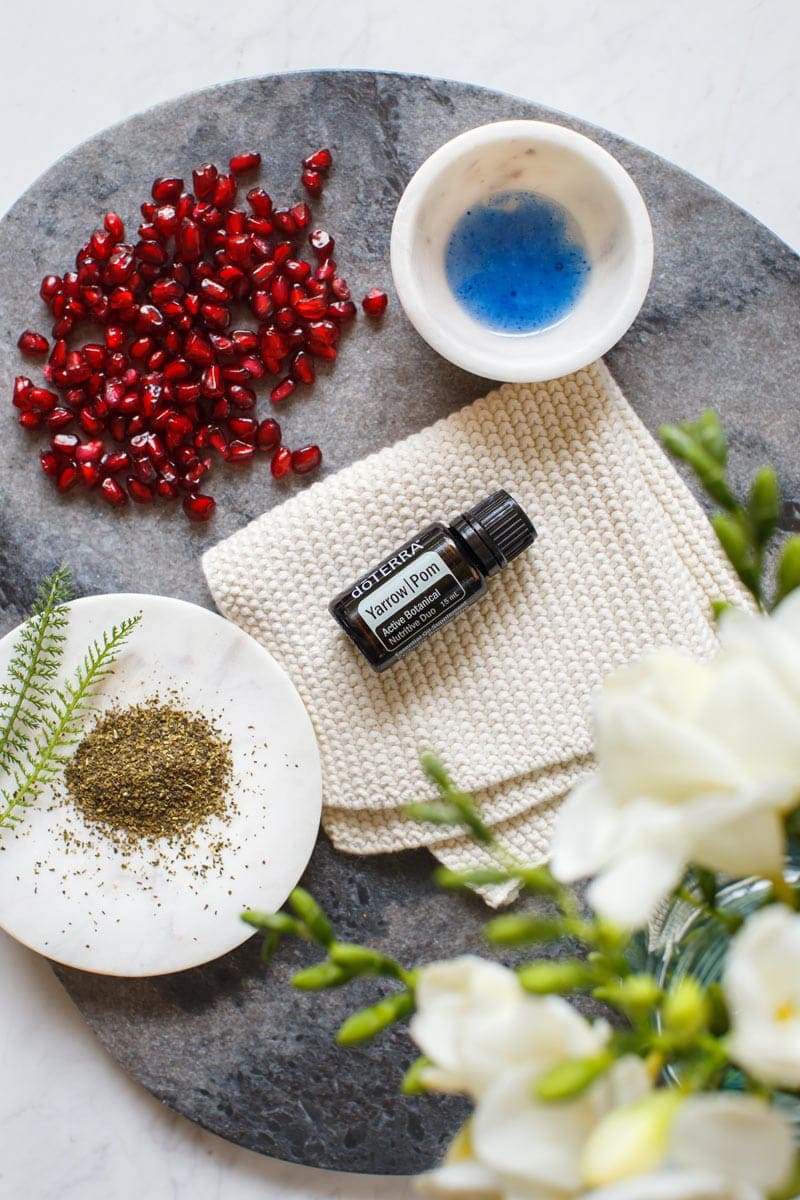 Witch hazel (Hamamelis virginiana) is a tree native to North America. It is probably most well-known for its application as a remedy for haemorrhoids – as it is extremely efficacious at reducing inflammation, relieving swelling, irritation and itching.
Lovely I know – but, if it can shrink a haemorrhoid, imagine what it can do for those pores!
It is possible to source an alcohol-free witch hazel extract – try a natural foods store as your first port of call.
Green tea is naturally astringent thanks to its tannins. It is also high in antioxidants, something we want more of on our skin to prevent free radical damage, and therefore, signs of ageing.
Aloe vera gel as you know is incredibly hydrating, soothing and healing to the skin. It also happens to make a great carrier for the essential oils.
Lastly, the super special ingredient here responsible for its luminous mermaid-like glow, is a new essential oil blend from doTERRA called Yarrow Pom.
Yarrow Pom is made from yarrow essential oil, with cold-pressed pomegranate seed oil.
Yarrow is a common weed (a medicinal weed, actually!). It has soft feathery leaves and a cluster of tiny white flowers at the end of long delicate stalks.
The vivid mermaid-blue pigment is due to the chamazulene content – found to be a stronger antioxidant than vitamin's C or E.
This blend is one that will make your skin absolutely glow!
If you don't have this on hand, myrrh or juniper berry essential oils would be a great alternative.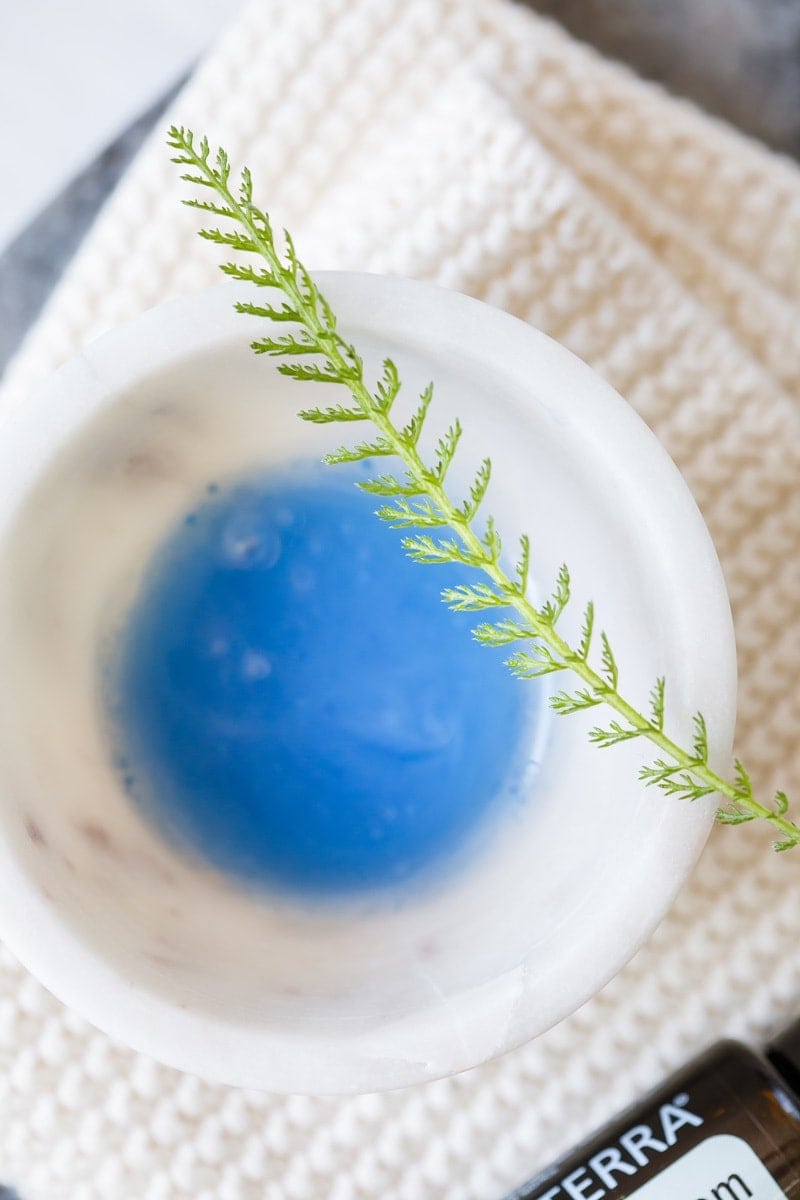 How to make a DIY Facial Toner
Ingredients:
100ml glass bottle with mister
Green tea bag
Water
50ml witch hazel extract, alcohol free
2 teaspoon aloe vera gel
30 drops doTERRA Yarrow Pom (or myrrh, juniper berry essential oils)
Directions:
Boil the jug and make a cup of green tea, let steep for 15 minutes then cool.
In a small dish, combine the aloe vera gel and essential oils, mix well till combined.
Transfer the aloe vera and essential oil mixture to a 100ml glass bottle.
Add witch hazel, and top up with green tea.
Screw the mister on.
To use, shake well, then spritz over your face after cleansing and before moisturising.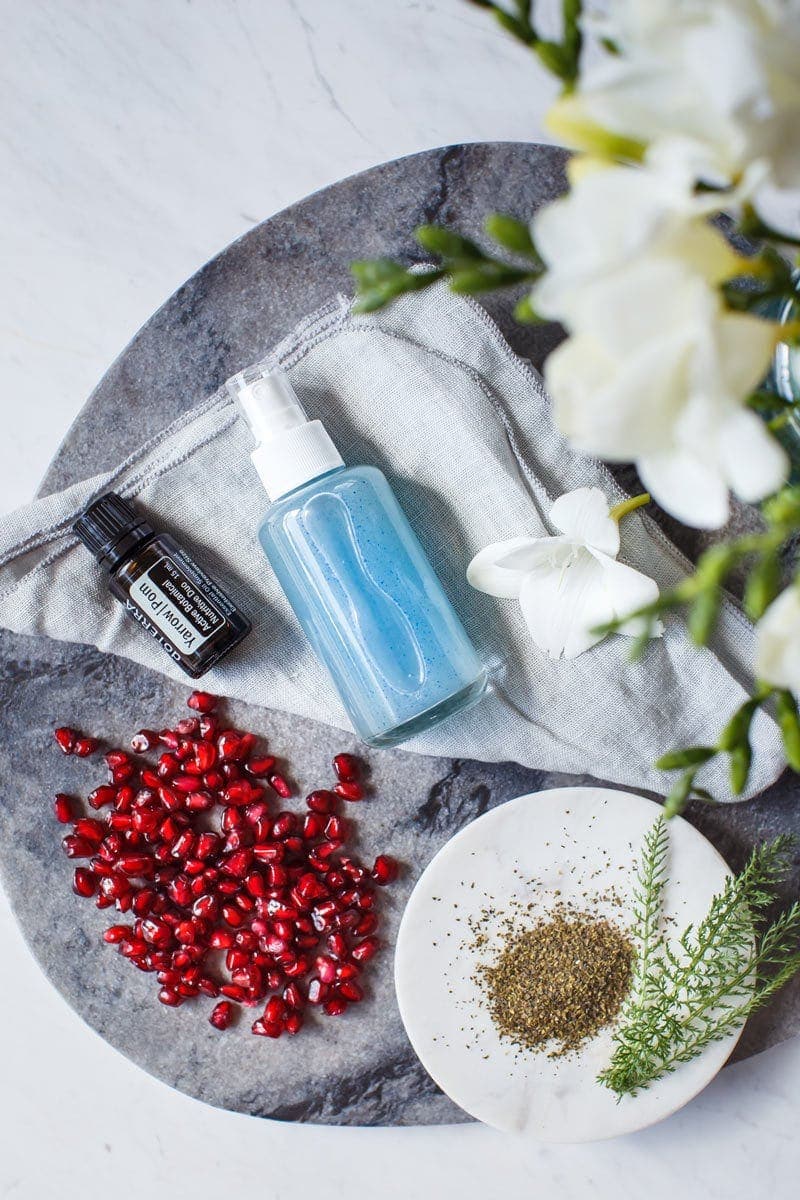 How easy is that!
To pre-empt a few of your questions, here are a few helpful notes:
Try sage tea in place of green tea.
Over time the essential oils will separate out, so shake it vigorously before each use.
You could add a few drops of vitamin E oil to help preserve it, however, if you are going through it quite quickly, it should be just fine.
Always use clean, sterilised utensils and bottles, to avoid contamination and bacteria growth.
SOURCING THE ESSENTIAL OILS
The essential oils I use are doTERRA, because quite simply, they are the absolute best quality. If you'd like to get started with your own account, you can either book a complementary consult with me to learn more first, or join with doTERRA right away.
If you know you'd love to get on them right away,
I'll guide you through how to purchase them here.
If you'd like to chat further,
you can book a free consult with me here.
And if you're local to me in Auckland and would like to come along to a class,
have a look at my timetable here.
Thanks for reading - would love to see pictures of your own concoctions!
See you again next week,
Lauren.