An invigorating homemade sugar scrub infused with grapefruit, ginger and peppermint essential oils. Whip it up in minutes and you'll be on your way to smooth skin in no time.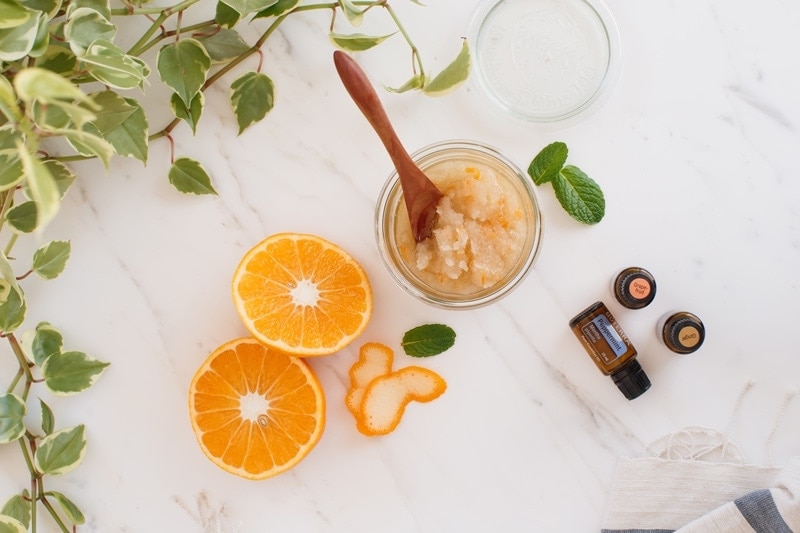 I was utterly disappointed when I went to cut my beautiful organic grapefruit only to discover this variety was orange inside, not pink! That aside, I'm very much in love with today's recipe as it smells just divine and has some rather awesome benefits.
This Homemade Sugar Scrub is:
Made with simple ingredients
100% natural, no-tox, no endocrine disrupting chemicals
Exfoliates and softens skin
Promotes circulation and reduces cellutlite
Stimulates the lymphatic system, enhancing detox
When I say sugar scrub, I'm sure the first thing that will pop to mind is the sloughing off of dead skin as the sugar granules gently exfoliate the body, leaving you with silky soft skin once you're all rinsed off. As an added bonus, the boost in circulation to the skin's surface may also help reduce cellulite.
However, the even cooler thing, is that the action of rubbing or massaging this over yourself head to toe, also stimulates your lymphatic system – a network of tissues and organs that carry white blood cells around the body, clearing infection and ridding toxins, waste and other debris.
Finally – the number one benefit that trumps them all is the fact that this is a 100% natural, toxin free recipe for your skin containing zero endocrine disrupting chemicals (EDC's).
This matters hugely – as EDC's are a key factor when you consider women's hormones.
Our environment is saturated with these chemicals. They are associated with a wide array of hormonal conditions such as early puberty, irregular cycles, infertility, endometriosis, PCOS and others.
They are so potent, that they can bind to oestrogen receptors, increasing cell proliferation (we really don't want this) and inflammation (or this).
This is why it is so important to start making conscious choices where we can – we can't do much about the wider environment and the pollution we're exposed to, but we can start choosing natural cleaning and personal care products.
So we in fact have a self-care ritual that looks after us on the inside and the outside!
[bctt tweet="Invigorating Homemade Sugar Scrub with Grapefruit, Ginger + Peppermint Essential Oils. Recipe here! " username="laurenglucina"]
Key ingredients in our homemade sugar scrub
Grapefruit essential oil
Grapefruit is a light and invigorating oil – known as the Oil of Honouring the Body. I can't think of a more perfect thing than to be using it as part of a self-care ritual such as this body scrub.
From an emotional perspective, it supports anyone in need of a bit of self-love.
If you tend to judge your body, have a distorted body image, or a difficult relationship with food and dieting, then grapefruit is your oil. It can help encourage a positive relationship with your physical body, and cultivate a healthy relationship with food.
Grapefruit is purifying and can help promote clear skin.
Grapefruit essential, photosensitivity and phototoxicity
Photosensitisation is where a certain substance reacts with ultra violet light, increasing its DNA-damaging effects.
Some essential oils, such as bergamot, grapefruit, tangerine, mandarin, cumin and expressed lemon and lime (as opposed to distilled) contain furocoumarins, a constituent that has such an effect.
For this reason, it's best to avoid going out in the sun after applying this for about 12 hours.
Ginger essential oil
Ginger and citrus are so perfect together. doTERRA's ginger is sourced from Madagascar.
It is a warming oil and promotes circulation and blood flow - a great one to have on hand for muscle aches and tension (in fact, I have a great recipe for a rosemary, ginger and basil infused massage oil here).
Emotionally, ginger is the Oil of Empowerment, helping address and shift deep patterns of victim mentality.
Peppermint essential oil
Contrary to what you might think – peppermint and citrus are a fabulous combination!
Both are invigorating, uplifting and energising. Peppermint is also incredibly soothing to the gut – so if you need some support there, spend a bit of extra time massaging your abdomen.
Peppermint is the Oil of a Buoyant Heart, and can lift a heavy heart, filling you with optimism instead.
Diluting your essential oils
Grapefruit essential oil can be used up to a 4% dilution, while peppermint's maximum dermal use is 5.4% [Tisserand and Young, 2014].
This homemade sugar scrub uses a conservative 1.5% dilution, particularly when you consider this is a wash-off product.
The carrier oil I have used is fractionated coconut oil – which unlike regular coconut oil, has no coco-nutty scent. Despite it being a lower dilution, it still smells ah-mazing!
What is fractionated coconut oil?
Fractionated coconut oil is coconut oil than has undergone fractionation – the fatty acids have been removed from its glycerol backbone, and separated out.
From here the caprylic and capric fatty acid fractions are brought back together again.
The resulting liquid oil is neutral in scent, light, softening and non-greasy to the skin. It can also be called MCT oil, as the remaining fatty acids are all medium chains.
How to Make your Homemade Sugar Scrub
It's so easy! You literally combine all ingredients, give it a good stir, and done! Store your scrub in a glass jar if you're after something eco friendly, and in plastic if you are concerned about having glass in the bathroom for safety purposes.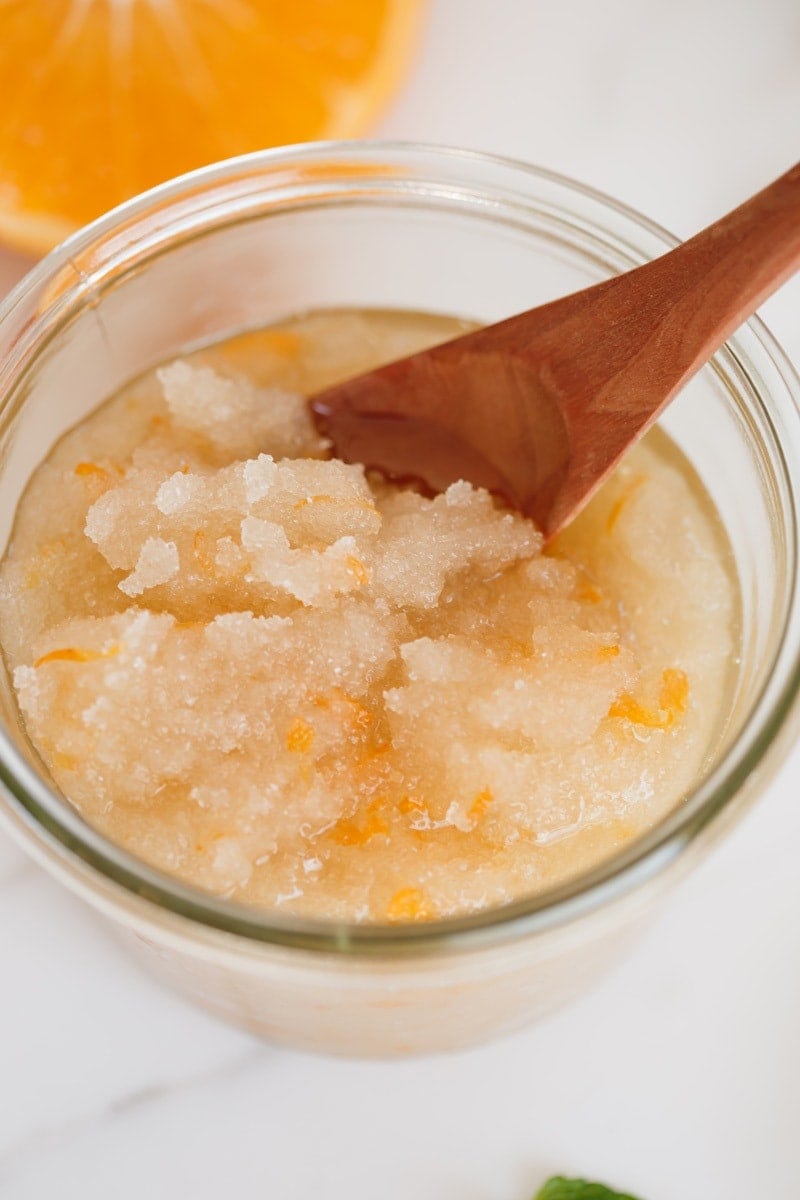 More DIY Recipes
Here are a few of my favourite natural, toxin-free DIY beauty recipes:
SOURCING ESSENTIAL OILS
The essential oils I use are doTERRA, because quite simply, they are the absolute best quality. If you'd like to get started with your own account, you can either book a complementary consult with me to learn more first, or join with doTERRA right away.
If you know you'd love to get on them right away,
I'll guide you through how to purchase them here.
If you'd like to chat further,
you can book a free consult with me here.
And if you're local to me in Auckland and would like to come along to a class,
have a look at my timetable here.
Thank you for reading, I hope this makes its way into your weekly self-care ritual,
See you again next week,
Lauren.
If you make and enjoy this recipe, please leave a rating below. And better yet – leave me a comment to tell me how you got on, or just say hi – I LOVE hearing from you. Follow me on Instagram, Facebook or Pinterest to see more of my everyday recipes and wellness tips.
If you'd like to chat with me about essential oils, or book in a class, you can do that here. If you're after a Naturopathic consult, read more here.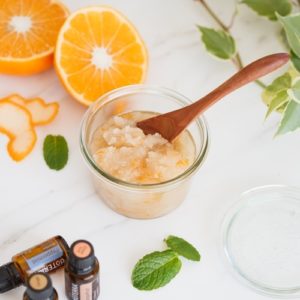 Homemade Sugar Scrub
A fresh and invigorating homemade sugar scrub for soft skin. Note: grapefruit essential oil may cause photosensitivity and phototoxicity when applied topically. Avoid going in the sun for up to 12 hours after use.
Equipment
12oz/375ml glass jar or plastic container
Ingredients
1

cup

organic sugar

½

cup

fractionated coconut oil

125ml

30

drops grapefruit essential oil

15

drops ginger essential oil

10

drops peppermint essential oil

1

tablespoon

grapefruit zest

1-2

drops vitamin E
Instructions
Combine all ingredients and mix together!

Use about a tablespoon at most in one application, apply to damp skin, massage gently then rinse off.
Notes
You can experiment with other carrier oils – jojoba, apricot oil, sweet almond and macadamia are all options. Don't use regular coconut oil – it will have a strong smell, and harden once it cools.
This recipe uses essential oils at a 1.5% dilution (56 drops per 125ml carrier oil).
I used vitamin E, a natural preservative, because the grapefruit zest will contain some water, and even though it is a small amount, I want to prevent bacterial growth. You could omit and leave in the fridge to keep this fresh.