A quick and easy, Creamy Spinach Buckwheat Risotto. Gluten free, dairy free, rich in protein and minerals.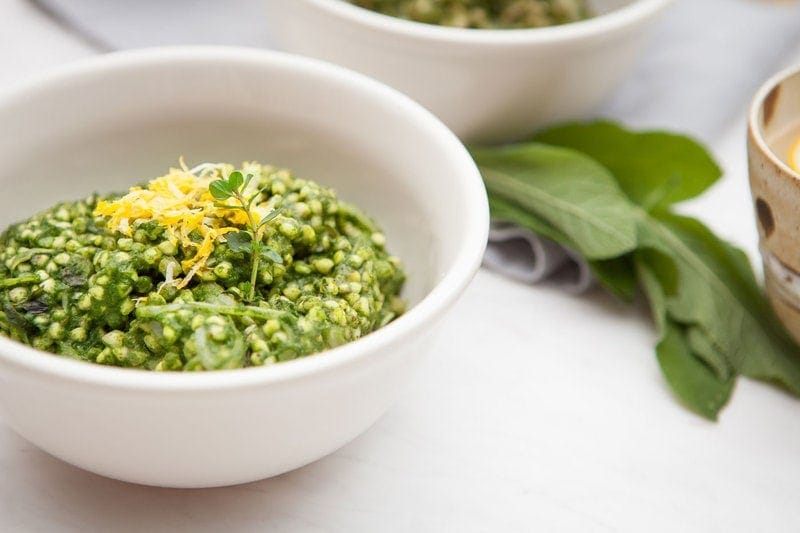 This dinner was a bit of a happy accident – it was a throw-it-all-in-the-pot kinda affair – using up odd things in the fridge, making use of the herb garden to add flavour. 25 minutes later, I had a delicious, creamy bowl of Spinach and Buckwheat Risotto ready to eat – it was such a treat!
An incredibly simple recipe to make, it's also nutrient-dense. A single serve has approximately 16g of protein (from the buckwheat and nutritional yeast), and two full cups of spinach – such an easy way to amp up the leafy green content of your diet!
[bctt tweet="Easy, Creamy Spinach & Buckwheat Risotto - dairy free + protein packed. Find it here!"]
I've written a detailed post on the nutrition and health benefits of buckwheat here, but in a nutshell, here's why it's so great:
Gluten free
Low GI
High quality, well balanced source of protein
Good source of minerals (particularly magnesium, manganese and phosphorus – all required for bone health)
Great source of fibre
Great source of the phytonutrients rutin (anti-inflammatory, supportive of cardiovascular health), and quercetin (antioxidant, anti-inflammatory, supportive of cardiovascular health, anti-allergic)
I also tried this recipe out using fresh spring nettles (above – aren't they beautiful!) – delicious though a little more time consuming. Nettles need care when handling as they sting you – though boiling water will neutralise their ouchy-barbs.
If you'd like to give them a whirl – here is a brief how-to:
Using gloves, pick a large colander full of fresh nettles (4+ cups) – preferably leaves
Back in the kitchen, with gloves still on, snip off any stray stems
Blanch in hot water for a couple of minutes, drain, then immerse in a pot full of iced water (this helps retain the bright green colour), and drain again
Place nettles in a clean tea towel, roll the towel lengthways, and wring out excess water
Coarsely chop and fold through the buckwheat risotto toward the end of the cooking time
Nettles (commonly seen as a mere weed), are enjoyed as a nutritious leafy green in many cultures around the world. They are particularly rich in the minerals calcium (approximately 440mg per 100gm) and iron (approximately 1.8mg per 100g).
They have also been shown to provide up to 100% of your daily beta-carotene needs (which then go on to be converted to vitamin A in the body), and contain about 12g protein per 100g [1].
I'm most excited about their calcium content – 440mg per 100g is a great source – considering there are only 120mg per 100g in standard milk (see my table of plant based sources of calcium here).
Anyway – I've shared the spinach version of this recipe as it will be more accessible to most people. I topped it with a little freshly grated lemon zest, and a sprinkle of home made raw 'parmesan' – it was just delicious.
More quick plant-based meal ideas:
That's all today. Enjoy and see you again next week!
If you make and enjoy this recipe, please leave a rating below. And better yet – leave me a comment to tell me how you got on, or just say hi – I LOVE hearing from you. Follow me on Instagram, Facebook or Pinterest to see more of my everyday recipes and wellness tips.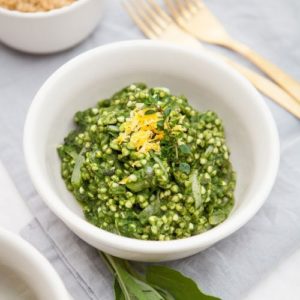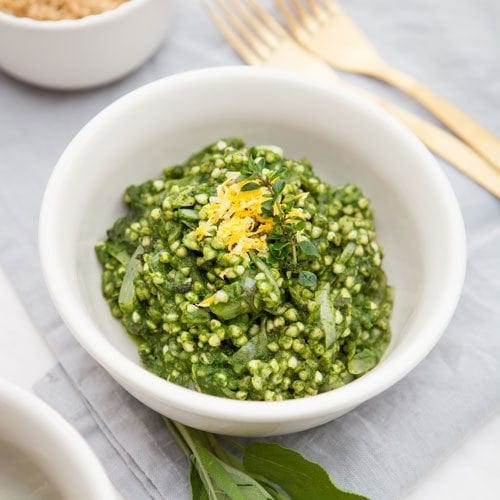 Creamy Spinach Buckwheat Risotto
A quick and nutritious meal packed full of greens. Serves 3 (2 + some leftovers). Note: prep time excludes two hours of soaking required for the buckwheat in advance of cooking.
Ingredients
1

cup

buckwheat groats

1¼

cups

vegetable stock

1-2

tablespoons

coconut oil

1

large onion

4

cloves

garlic

Large handful fresh sage

Few large sprigs of thyme

2

tablespoons

coconut cream

1

tablespoon

nutritional yeast

1

large bunch of spinach

or about 4 tightly packed cups

½

cup

oat/nut milk
TO SERVE:
Sea salt

Black pepper

Lemon zest

Raw parmesan cheese
Instructions
Soak the buckwheat in water for 2-3 hours then drain ready for use (you can skip this part, but the soaking softens the buckwheat and makes for a nicer end result).

Finely slice the onion and garlic, and roughly chop the sage. Heat coconut oil in a saucepan, then fry the onions till golden. Add garlic, sage, and the leaves from the thyme sprigs, and cook another minute or two.

Add buckwheat and stir to coat, cooking for another minute. Add nutritional yeast, and vegetable stock. Cook uncovered on medium heat till the buckwheat has absorbed the stock.

Meanwhile, wash spinach and remove any large stems. Blend with ½ cup of oat/nut milk – you may have to stop and pack the spinach down. Pour spinach mixture into the saucepan, and add coconut cream.

Cook till the fluid has just about absorbed (you want it to be a little 'saucy'), then remove from heat, dress with raw parmesan, lemon zest, salt and pepper, and serve.

If you have leftovers for the next day, you may like to add a tablespoon of water, give it a mix, then re-heat.
Notes
Nutrition panel is an estimate only
Nutrition
Calories:
346
kcal
Carbohydrates:
59
g
Protein:
13
g
Fat:
10
g
Saturated Fat:
7
g
Sodium:
180
mg
Fiber:
9
g
Sugar:
4
g
Calcium:
200
mg
Iron:
5
mg
Nutrition Facts
Creamy Spinach Buckwheat Risotto
Amount Per Serving
Calories 346
Calories from Fat 90
% Daily Value*
Fat 10g15%
Sodium 180mg8%
Carbohydrates 59g20%
Protein 13g26%
Calcium 200mg20%
Iron 5mg28%
* Percent Daily Values are based on a 2000 calorie diet.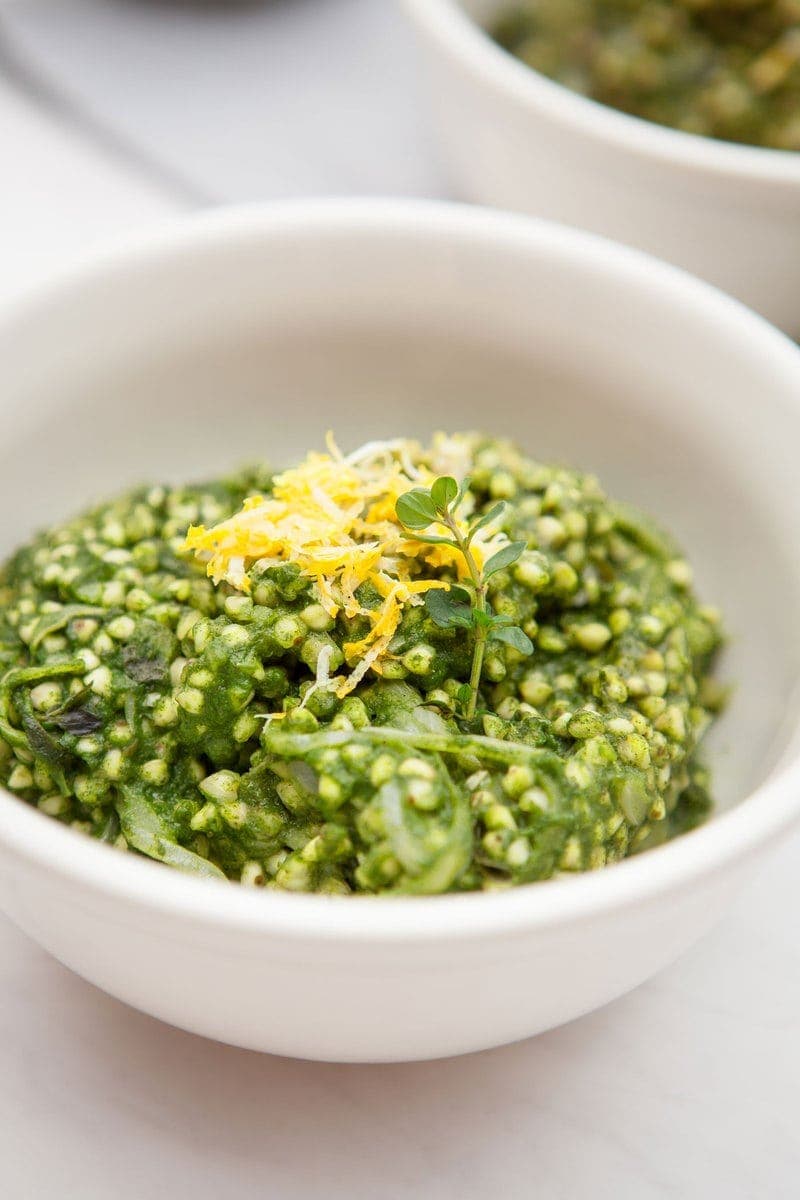 References:
Rutto, L.K., Xu, Y., Ramirez, E., & Brandt, M. (2013). Mineral properties and dietary value of raw and processed stinging nettle (Urtica dioica L.). International Journal of Food Sceince, 2013. http://dx.doi.org/10.1155/2013/857120