There's nothing much traditional about this recipe – it's an entirely vegan (no shrimp paste/fish sauce!) green curry paste whipped up in no time using a food processor. Once you've made it a few times to get the spice to your liking, you can double or triple the recipe, then spoon it into ice cube cavities to freeze for later use. Did I mention this was super speedy?!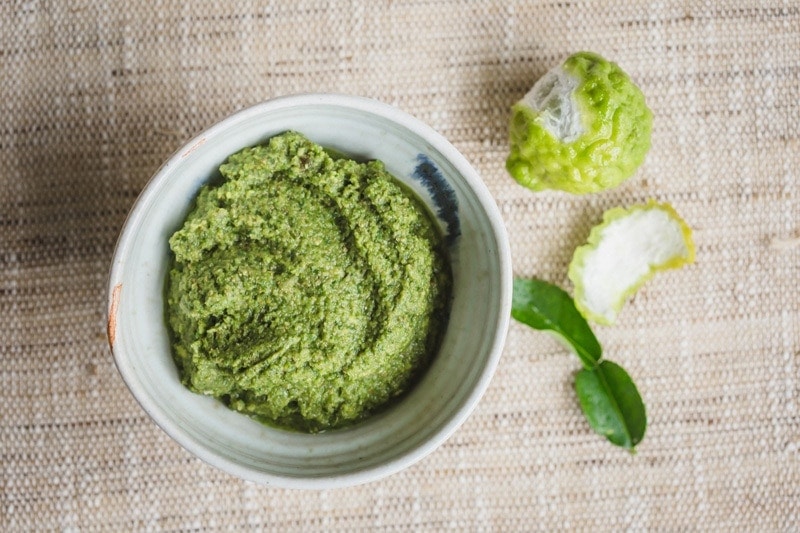 Homemade green curry paste for the win today! A warning for the purists – turn away now, because this is certainly not an authentic recipe. It is however an incredibly fragrant, zingy, gingery, spicy and all-round delicious one that you'll be able to whip up in 10-15 minutes flat.
Before we kick things off, this is a recipe you'll need to make at least once or twice – adjusting it to your liking along the way. For this reason, it's a small-ish sized batch, but you can scale that bad boy up once you've got it just-so.
The great thing about making this up on a larger scale, is that you can freeze it in smaller portions then thaw and enjoy for a ridiculously quick mid-week meal.
You'll love this because it's:
Super speedy
No need for mortar, pestle and elbow grease
Made without shrimp paste/fish sauce
Packed with flavour
[bctt tweet="Super speedy Thai Green Curry Paste made without shrimp paste/fish sauce. Find it here!" username="laurenglucina"]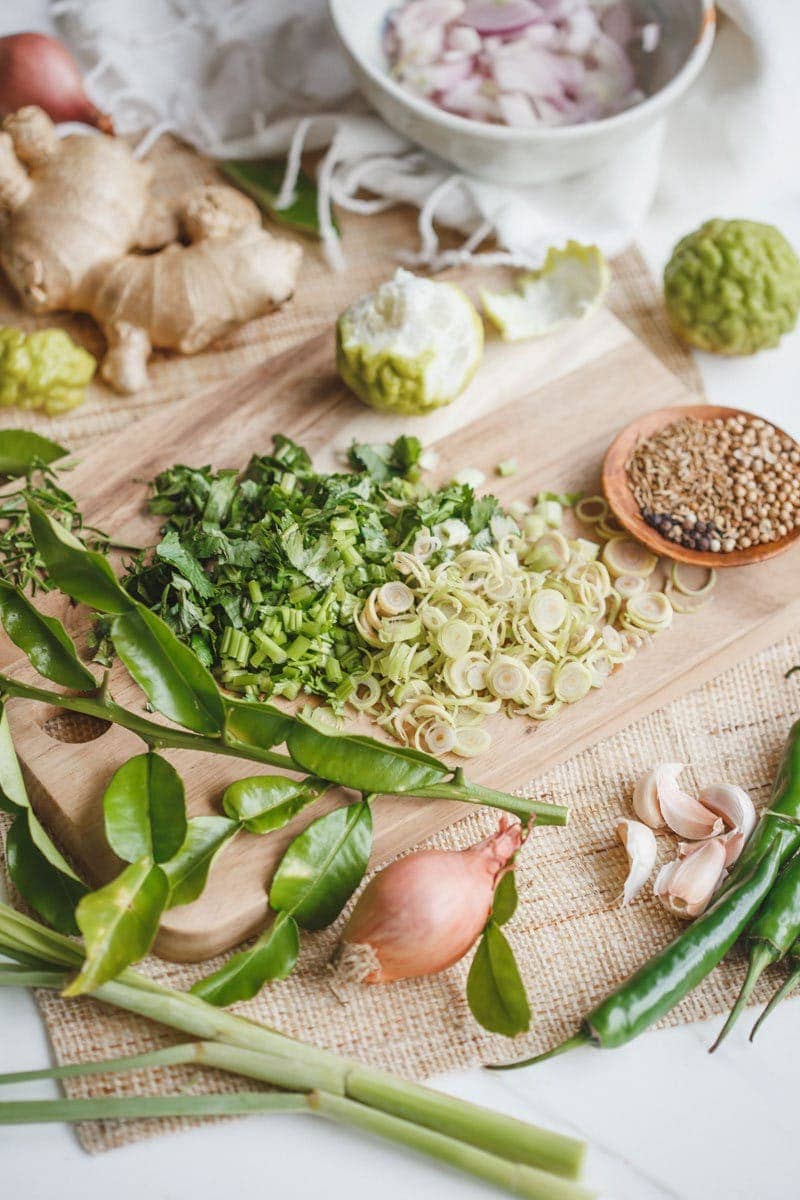 Sourcing Green Curry Paste Ingredients
There are a few more exotic ingredients here that need to be sourced, however some can be substituted.
Perhaps the most tricky to find are the whole kaffir limes and galangal. You'll likely need to head to a Farmer's Market for this – I picked up a few fresh kaffir limes from the Sunday Avondale Markets, but couldn't for the life of me find a galangal.
The kaffir lime leaves are a bit easier to come by, like lemongrass, I've often seen them packaged up in the fresh herb section of stores like Farro.
Hot tip: If you come by any of these ingredients then I suggest stocking up, wrapping them well and freezing. That way you can thaw them out again when you're ready to use them.
Thai green chilies can also be tricky to source – again, local markets or Asian supermarkets are your best bet.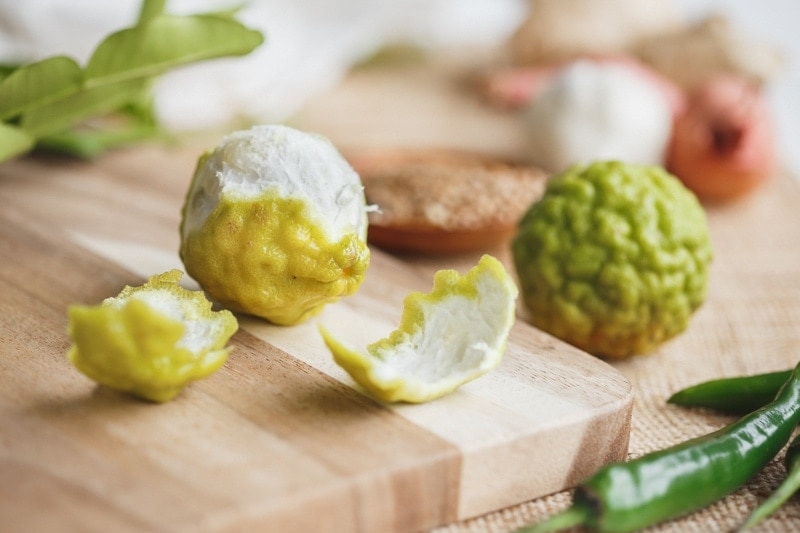 Curry Paste Ingredient Substitutes
Usually curry paste is made with shrimp paste and or fish sauce. I've used coconut aminos instead – I think this is as close as you'll get for an entirely vegan version. Coconut aminos is made from the sap of coconut flowers. It is a seasoning used as an alternative to soy. Typically it contains a few other ingredients – hot pepper, garlic, onion and salt for example.
The other adjustment I've made, it to go for whole dates over sugar. A little sweetness can help balance the heat out.
Now, depending on what you can source, here are some alternatives:
Kaffir lime peel: use regular lime peel
Kaffir lime leaf: use an extra lime peel
Galangal: use regular ginger
Shallots: use onions
Lemongrass: sorry! Can't help you there!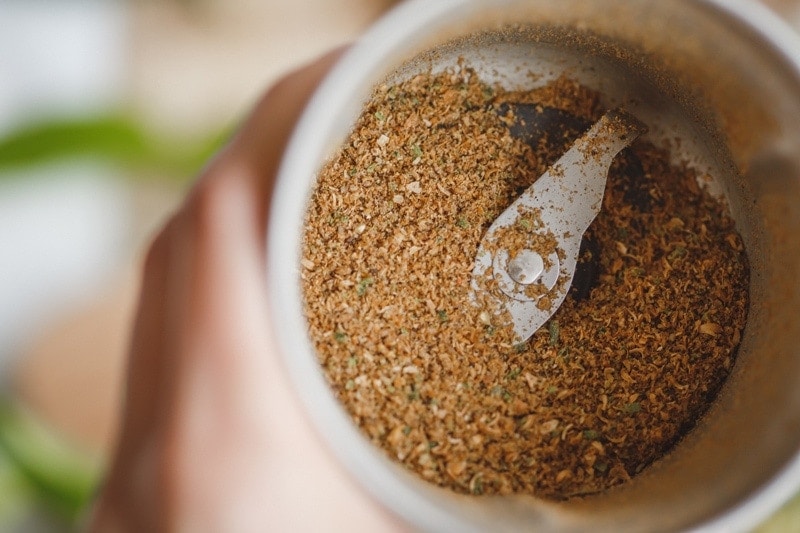 Thai Green Curry Paste Step-by-Step
Start by dry toasting your aromatic spices in a pan until fragrant, but keep an eye on them so they don't burn. Next, because we're cheating and making this in a food processor, I highly recommend you give them a quick whiz in a spice grinder – otherwise you'll likely end up with whole spices in your finished paste. If you do this – add the kaffir lime leaf in there too, as it's a relatively tough one to break down.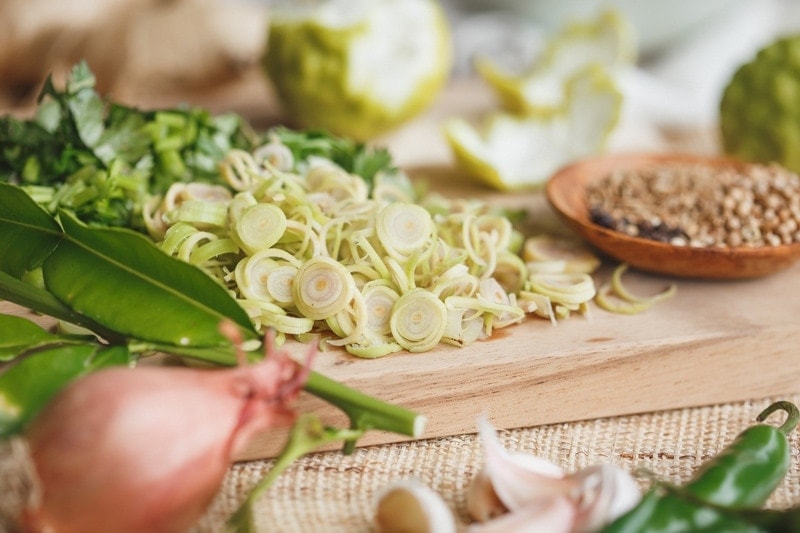 Now we need to get all our fresh ingredients prepped – you don't need to be too fussy about slicing and dicing the softer ingredients like your shallots/garlic/chilies, but do take the time to finely slice the tougher guys like your lemongrass, kaffir lime peel and ginger.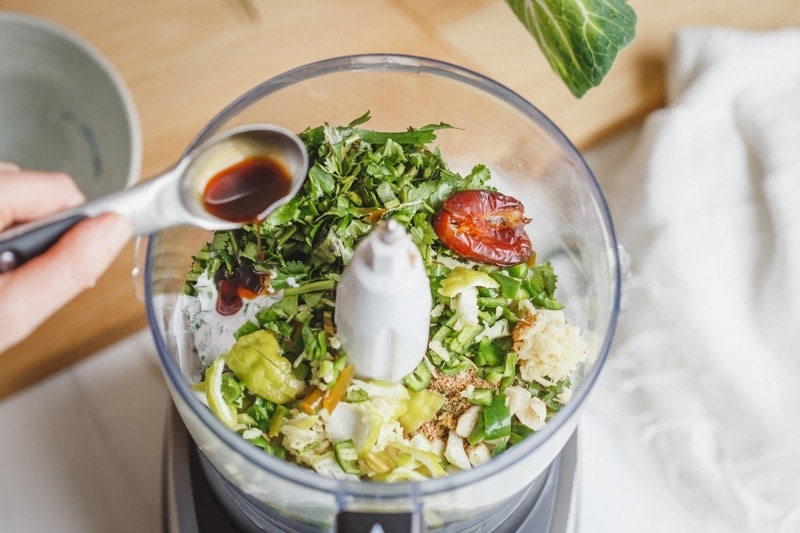 Add everything to a food processor and blend till well combined. Give it a bit of a scrape-down as you go. Inhale the lovely fresh aromas. Done!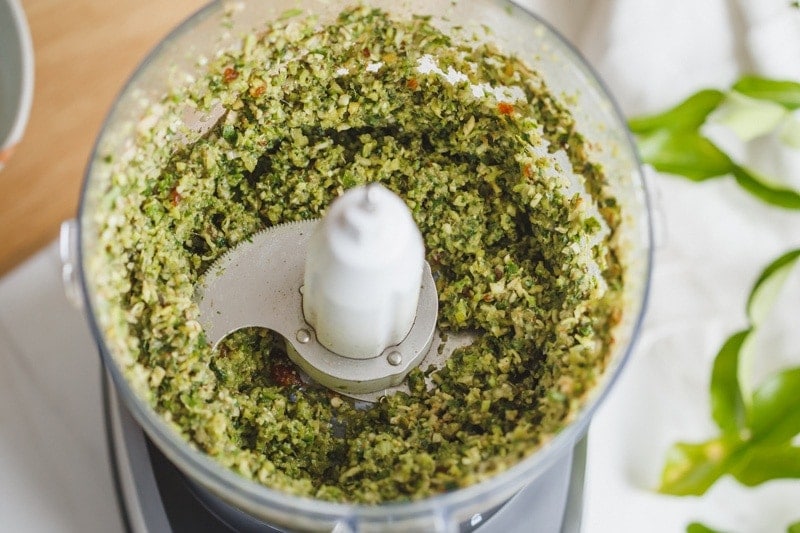 From here, I recommend testing out a curry recipe next, and see how you find the heat. This is a relatively small batch, so you may want to add or use less chilli next time. Once you find your own sweet spot (hot spot?), triple the batch, then spoon the mixture into the cavities of an ice cube tray to freeze for later use.
I found that each cavity takes a rounded tablespoon of paste. You may find one tablespoon of paste per serve is spot on, but I've been using just over that.
MORE DELICIOUS Kitchen Staples
Some more handy recipes to keep you well stocked:
That's it my friends! Enjoy and see you next week with a fragrant curry, of course.
Lauren.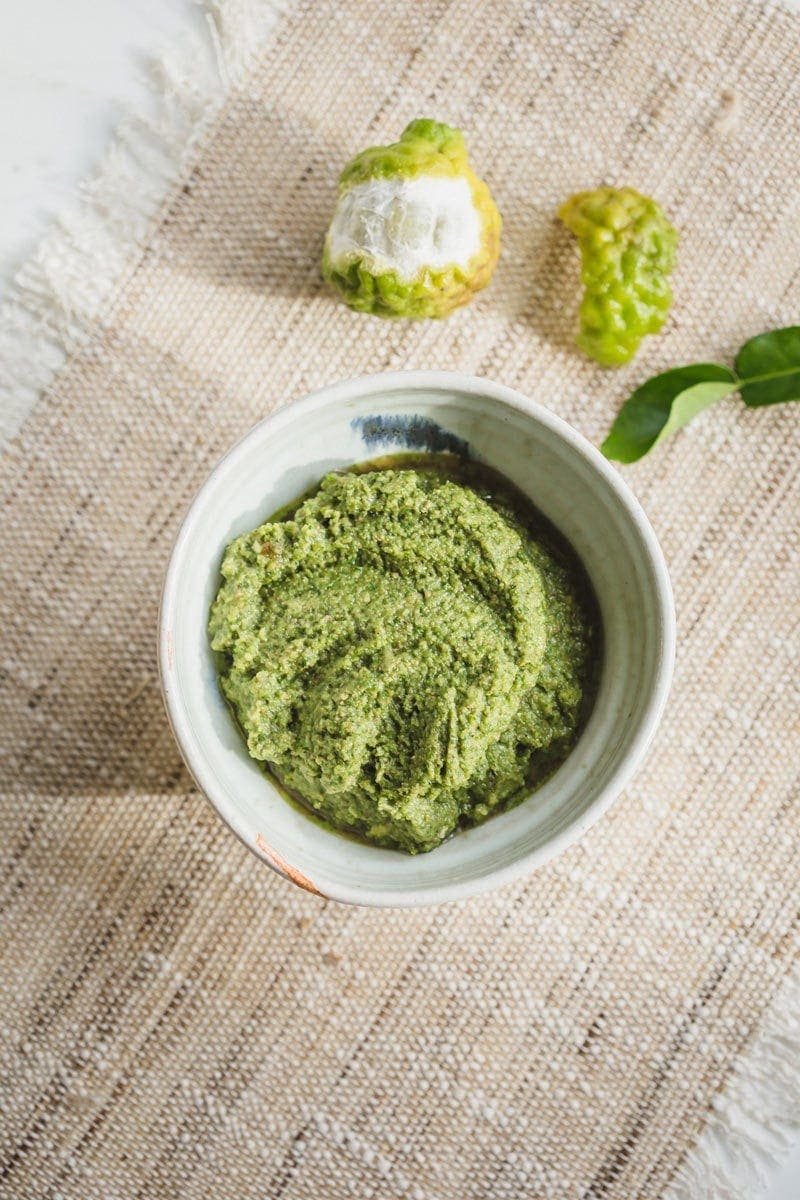 If you make and enjoy this recipe, please leave a rating below. And better yet – leave me a comment to tell me how you got on, or just say hi – I LOVE hearing from you. Follow me on Instagram, Facebook or Pinterest to see more of my everyday recipes and wellness tips.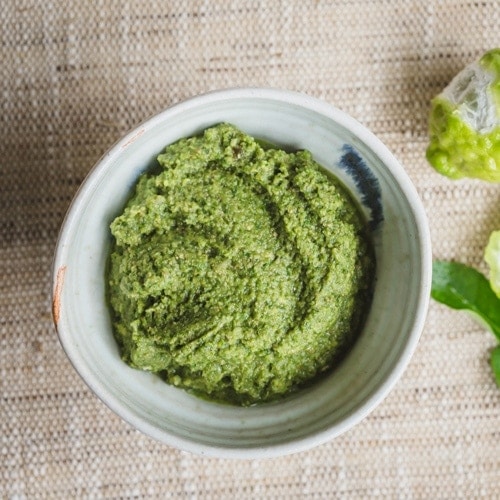 Thai Green Curry Paste Recipe
There's nothing much traditional about this recipe – it's an entirely vegan (no shrimp paste/fish sauce!) green curry paste whipped up in no time using a food processor. Yield 1 1/4 cups - 20 tablespoons.
Ingredients
4

small thai green chilies (hot)

deseeded, chopped*

5-6

cloves

garlic

sliced

2

inch piece

galangal or ginger

peeled, minced

5

coriander roots

chopped

1/2

cup

coriander leaves

1

kaffir lime

peel only

2

kaffir lime leaves

finely shredded

3

tablespoons

lemongrass stalks

about 2 stalks

1

tablespoon

white peppercorns

3

teaspoons

coriander seeds

1

teaspoon

cumin seeds

1

teaspoon

coarse sea salt

1

tablespoon

+ 1 teaspoon coconut aminos

2

tablespoons

coconut milk

2

Medjool dates

pitted
Instructions
First, dry toast the spices (pepper corns, coriander and cumin) in a skillet till fragrant (careful not to burn them), then, give them a quick pulse in a spice grinder with the shredded kaffir lime leaves (optional – however your food processor may not break the spices down adequately).

Add all ingredients to a food processor and blitz until a paste forms.

Spoon the mixture into the cavities of an ice cube tray and freeze for later use. You'll get around 6 serves out of this recipe – 1-2 tablespoons/cubes of paste per serve (in a curry for two people I used 3 cubes as an example).
Notes
By the time I went to photograph the recipe, I'd run out of the small green chilies I used (I think they're also called Bird's eye – hotter than jalapenos but not as much as a habanero. They're small and thin). Pictured are the jalapeno's from the supermarket – if you use these, you'll probably want to keep the seeds in to give it a bit of heat.
This makes a relatively small batch – make it, try it, and see how you go spice-wise. You may want to adjust the quantity of chilli for your next batch – once you've nailed it, make double or triple the recipe, then freeze in ice cube cavities for later use. Hello quick and easy mid-week curry.
Don't stress if you can't source some of the ingredients – get creative, make some substitutes - you can't go wrong.
Nutrition panel is an estimate only.
Nutrition
Calories:
24
kcal
Carbohydrates:
4
g
Fat:
0.6
g
Sodium:
79
mg
Fiber:
0.5
g
Sugar:
3
g
Vitamin C:
33
mg
Calcium:
7
mg
Iron:
0.3
mg
Nutrition Facts
Thai Green Curry Paste Recipe
Amount Per Serving
Calories 24
Calories from Fat 5
% Daily Value*
Fat 0.6g1%
Sodium 79mg3%
Carbohydrates 4g1%
Vitamin C 33mg40%
Calcium 7mg1%
Iron 0.3mg2%
* Percent Daily Values are based on a 2000 calorie diet.