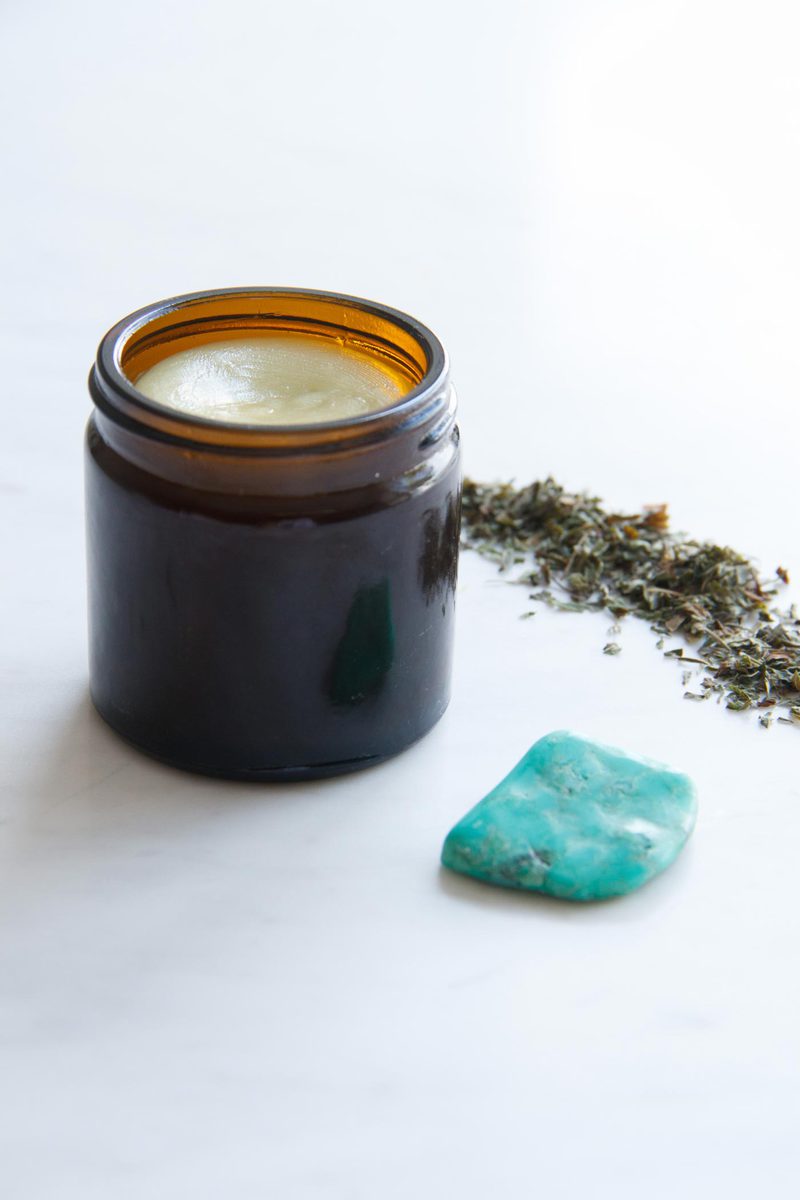 Today's recipe is a simple herbal salve for cold sores. They are one of those annoying things that seems to strike at the most inconvenient of times, always when you least need them! (Which is always, always when you are stressed!). Before we begin, if you find you are feeling rather stressed lately, I wrote a lovely meditation to help you unwind and release tension here. Practising this meditation may also help in the prevention of nasty cold sore outbreaks. Ok, let's get started!
Herbs and Oils to heal Cold Sores
I chose the following herbs and oils to use in this healing salve:
Coconut oil: Olive oil is traditionally used as a base in herbal infused oils and in salve making, but I chose coconut for its strong anti-viral properties.
Lemon Balm (Melissa officinalis): Lemon balm is a fantastic calming, soothing herb to aid to stress and tension (cold sores are often triggered by stress). Additionally, it is an effective anti-viral that is safe to use topically. I have used both the dried herb and the oil in this remedy.
Peppermint Essential Oil: In this study, it was found that peppermint oil was extremely effective at inhibiting the herpes virus and can also be used therapeutically, topically. Add to this – it is cooling and has both a pleasant taste and scent.
Tee Tree Essential Oil: Also a known anti-viral, tee tree has the added benefit of being antiseptic and antibacterial. This is useful once those painful blisters have broken and start to heal, to keep it free from any chance of an infection.
St John's wort (Hypericum perforatum): I used the dried herb in the infusion of the base oil. St John's wort is both anti-viral and incredibly beneficial for stress and anxiety. Used externally it is a great anti-inflammatory.
Clove Essential Oil: Clove is a dear friend of mine, I once had 'dry sockets' – a complication after having my wisdom teeth removed (the blood clots dislodge prematurely from the sockets, exposing the raw nerves). An emergency trip to the dentist saw him stuff the sockets with clove buds and the pain relief was instant. Clove is what we call an analgesic – a pain reliever. I put a tiny bit in the salve to aid in that horrible aching tingling feeling you get. Be warned though - please don't use more than suggested - it is quite strong!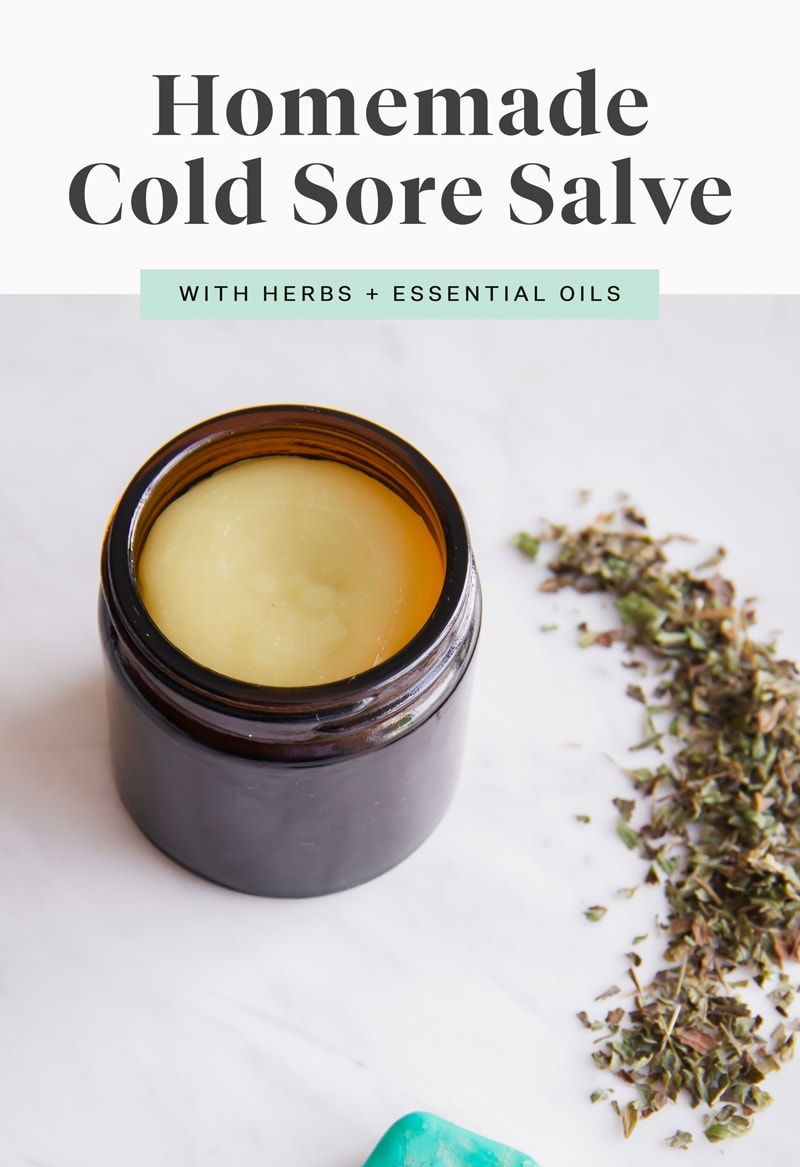 If you make and enjoy this recipe, please leave a rating below. And better yet – leave me a comment to tell me how you got on, or just say hi – I LOVE hearing from you. Follow me on Instagram, Facebook or Pinterest to see more of my everyday recipes and wellness tips.
If you're after a Naturopathic consult, read more here.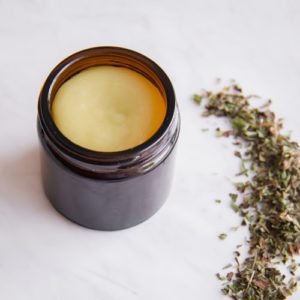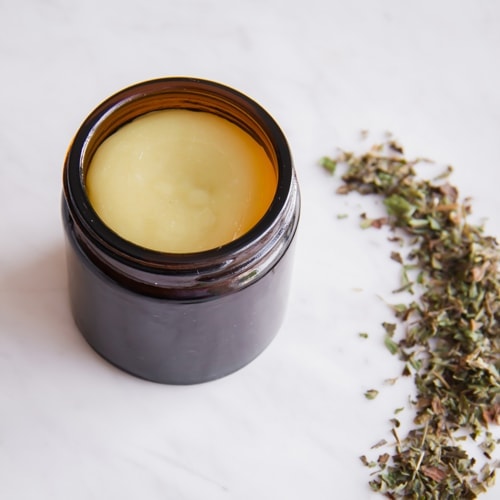 Homemade Cold Sore Salve
A home remedy for cold sores with lemon balm, St John's wort, tea tree, clove, peppermint and coconut.
This recipe starts by making a herbal infused oil to use as a base for the salve - it takes two hours to prepare this. You can purchase a herbal infused oil if you'd like to speed the process up.
Ingredients
Herb Infused Oil:
1

cup

coconut oil

15

g

St John's wort

dried herb

15

g

Lemon Balm

dried herb
Salve:
60

ml

of the above herbal oil

2

tablespoons

finely chopped/grated organic beeswax

about 15g (deeply moisturising, soothing, creates a protective layer over the skin)

2

tablespoons

finely grated cacao butter

a rich moisturizer, rich source of fatty acids to aid in emulsification, gives firmness

10

drops

Melissa essential oil

common name, lemon balm
Optional:
2

drops

clove essential oil

pain relief

4

drops

peppermint essential oil

anti-viral, cooling, pleasant scent

2

drops

tea tree essential oil

anti-viral
Instructions
Herb Infused oil:
Melt coconut oil in a double boiler/in a glass bowl over water that has only JUST reached a simmer, add herbs and mix well, leave for two hours, checking regularly to ensure there is enough water in the pan still as it simmers away. If after two hours the oil has taken on the colour and scent of the herbs, perfect, if not, leave for another couple of hours.

The longer you can leave your herbs to extract, the better. Just ensure the temperature is low.

Strain through cheesecloth/nut milk bag, wring out the herbs to get every little magical last drop of goodness out. Compost the herbs when done and save the strained oil for the salve.
Salve:
In a double boiler, combine the herbal oil with the beeswax and cacao butter and let the water simmer till everything has melted and combined, stir frequently.

At this point, you may want to test the consistency of the salve. Spoon a little into a container and set in the freezer for a few minutes. If it is too soft, add more beeswax, if it is too firm, add more oil.

Remove from heat, let cool a little, add the essential oils (they are heat sensitive so adding them to a hot mixture will see the volatile oils evaporate and escape), pour into little lip containers or small pots, set in the fridge. Make sure you label and date them so you remember what they are and when you made them!
Where to find…
Herbs: Try your local health food store, alternatively, you can source them from Austral Herbs.
Jars/droppers: Perfect potion
Skin care/bases/wax: Body Temple, Australia
REFERENCES:
HOLISTIC HERBAL. DAVID HOFFMAN. 1990.