This is a staple around my place – delicious roasted cauliflower with fennel and chilli. Cauliflower florets are drizzled with olive oil and coated in cumin and chilli flakes, then roasted till golden. And to top it off, shallots and fennel fried with ample garlic. Equally as yum made with Brussel's sprouts when in season.
Last week I had a few days in Sydney with my partner, a much needed mini-break. It's been a good three years now since we left, and it was so nostalgic walking around our own hood. It still feels like home! And that weather! What winter?! I don't think there's much I haven't missed about Aus (with the exception perhaps of the creepy crawlies, Ibis birds (super weird little foragers they are) and having to walk past the fish markets on the way to work).
We had family time, and foodie time, of course. I finally tried the divine little raw chocolates by Loco Love (who I've admittedly been stalking on Instagram for a fair while), popped into Orchard St to smell all the pretty things (in love with the Ayu's scented oils) and devoured vegan eggs benedict (a genius coconut meat 'egg' filled with a sweet potato 'yolk') at Sadhana Kitchen.
I totally disengaged from both emails and social media over those few days – bliss! And it is so much nicer to really be in the present moment on holiday, without checking your phone or getting lost in scrollsville. Sometimes I feel like the internet is this wonderful nervous system connecting the entire world, and others, a black hole or vortex that pulls you in and swallows you whole.
Anyway. Onto today's recipe, shall we?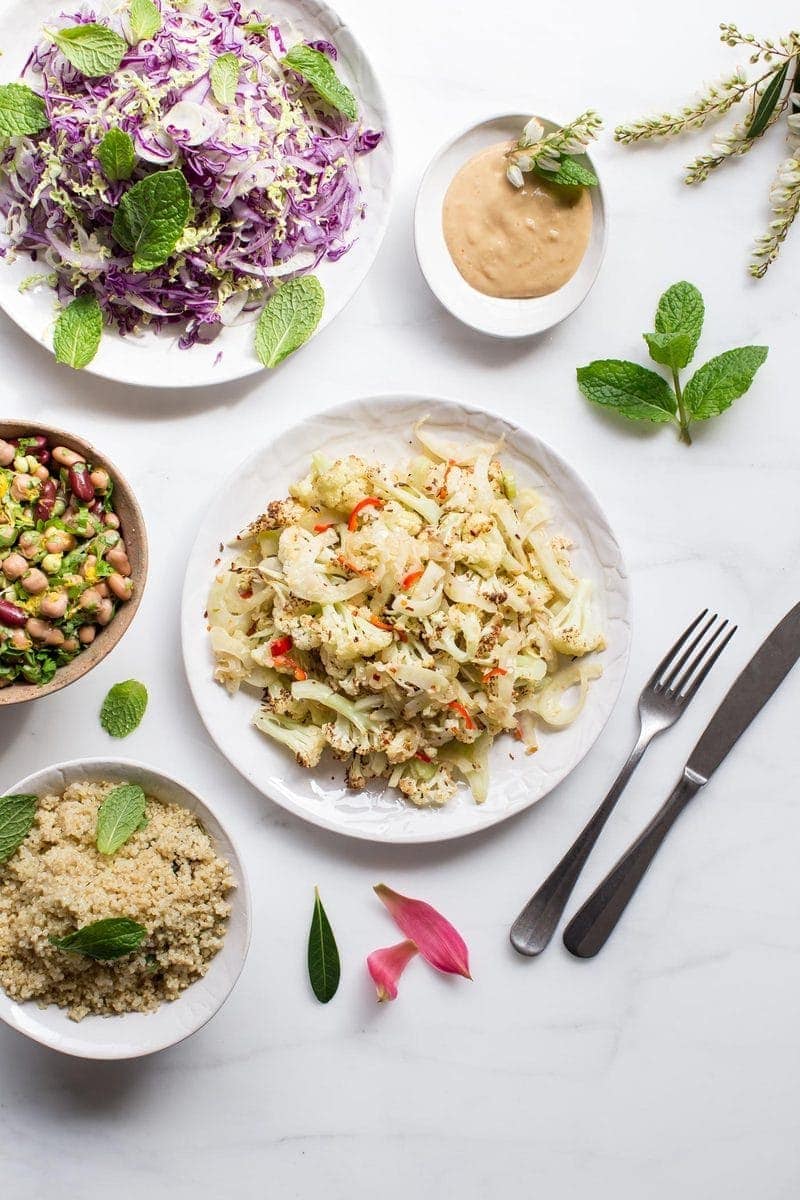 Most nights, we don't eat fancy, it's often a few simple dishes bought together and shared with plenty left over for lunch. Every now and then my man craves really full on hearty fare like pesto pasta, curry, or lasagne. But mostly, it's these simple dishes that get us through the week.
So I thought I'd share this yummy roasted cauliflower number, I make this regularly, sometimes interchanging the cauli for Brussel's sprouts (equally as YUM). You simply cut the cauli up into tiny florets, drizzle in olive oil then roast with plenty of chilli flakes and cumin seeds. To jazz it up, I fry a little shallot with a fennel bulb, lots of garlic and more, fresh chilli. It's quick and easy and a serious taste explosion.
[bctt tweet="Quick and easy Roasted Cauliflower with Fennel and Chilli. Recipe here!" username="laurenglucina"]
To make it a complete meal, I might serve it with the following:
Mixed bean salad: organic mixed beans with some sprouts thrown in for added nutrition, as much parsley as I can muster from the garden, lemon juice and zest, a splash of chardonnay vinegar (it's slightly sweet), and a glug of olive oil. Oh, and avocado, obviously, when it's not $5 per! Nutritionally: protein, fibre and iron.

Slaw with a probiotic-rich miso tahini sauce: quick as anything, shred up some red and savoy cabbage, fennel and red onion on a mandolin, then blend equal parts miso paste, honey, tahini, sesame oil and lemon juice with ample grated ginger and serve drizzled over the top. Nutritionally: beneficial bacteria from the miso, healthy fats and calcium from the tahini, and liver-loving, cancer-protective compounds from the cabbage.
Fluffy quinoa: quinoa cooked in ample water or vegetable stock (see here for my hack to cooking perfect fluffed quinoa every time!), with fresh mint leaves and raisins folded through at the end. Nutritionally: more protein, fibre and magnesium.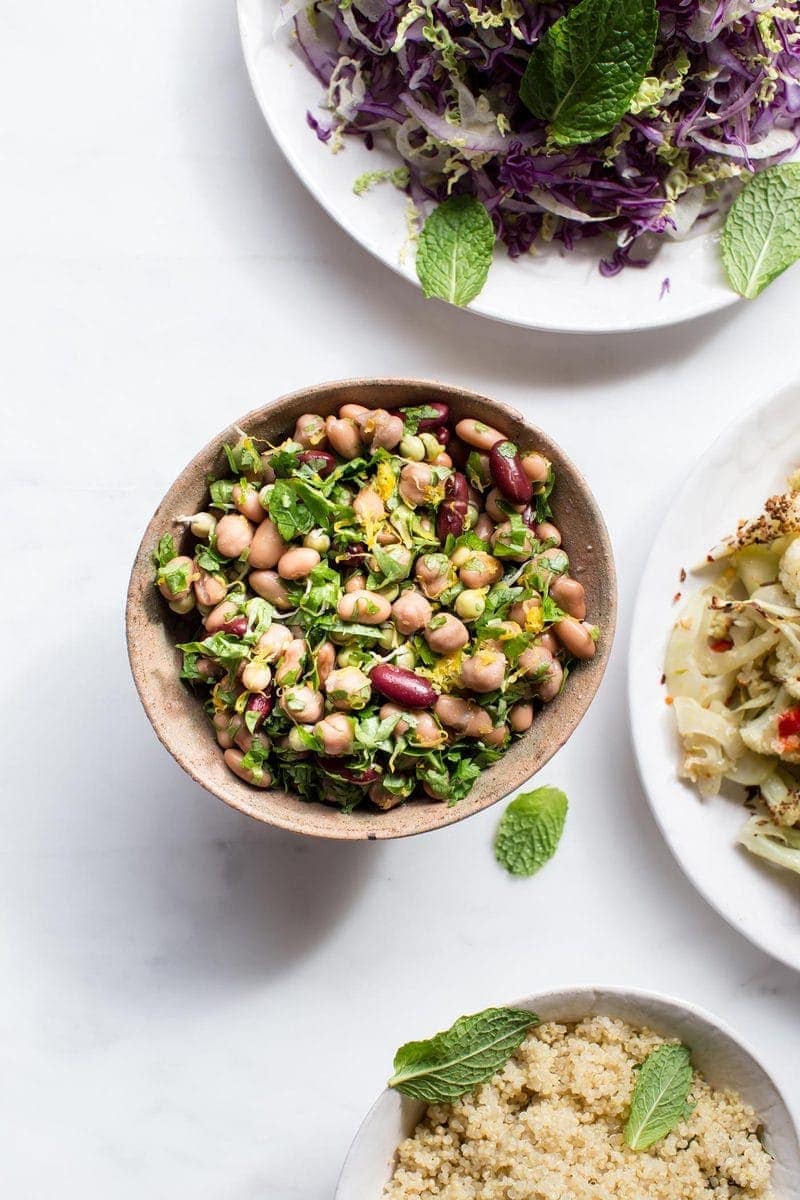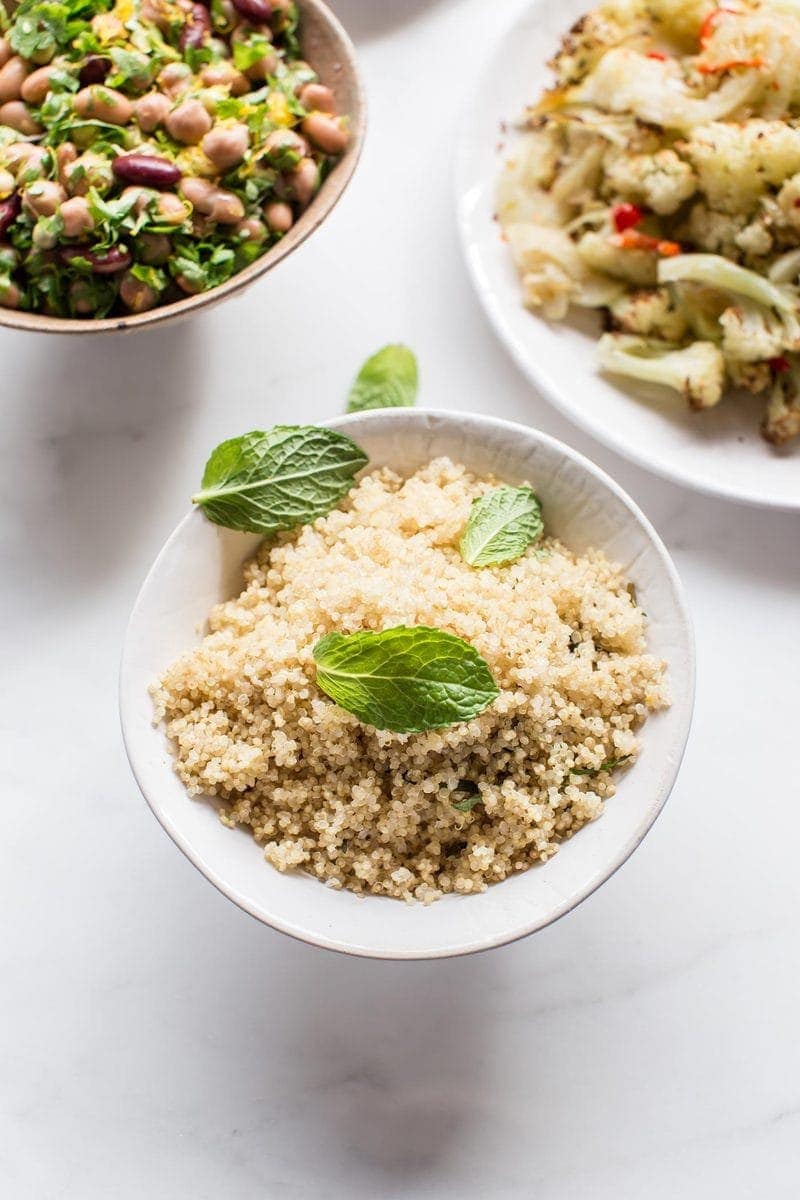 Simple right?! But so good! And all will keep well for lunch the next day. Enjoy!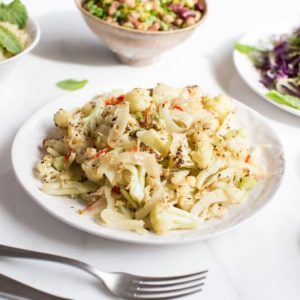 Roasted Cauliflower with Fennel and Chilli
Quick and easy Roasted Cauliflower with Fennel and Chilli. Equally as yum made with Brussel's sprouts when in season.
Ingredients
1

head of cauliflower

Olive oil

a drizzle

Cumin seeds

a sprinkle

Chilli flakes

a sprinkle

1

shallot

1

fennel bulb

1

inch

or more fresh red chilli

deseeded

3

large cloves garlic
Instructions
Pre-heat oven at 170˚C (338˚F). Remove leaves and tough stalks and cut the cauliflower into very small florets. Place on a baking tray lined with baking paper and drizzle with olive oil.

Sprinkle cumin seeds and chilli flakes over the top, then bake (force fan) for about 20 minutes, tossing half way through.

Meanwhile, heat a little more olive oil in a pan/skillet, and add finely diced shallot. Cook till softened and add finely sliced fennel bulb. Once soft and a little caramelised, add finely minced garlic and sliced fresh chilli. Cook till fragrant.

Combine the roasted cauliflower with the shallot, fennel and chilli mixture and serve.
Nutrition
Calories:
76
kcal
Carbohydrates:
14
g
Protein:
4
g
Fat:
2
g
Sodium:
75
mg
Fiber:
5
g
Sugar:
6
g
Calcium:
70
mg
Iron:
1.3
mg
Nutrition Facts
Roasted Cauliflower with Fennel and Chilli
Amount Per Serving
Calories 76
Calories from Fat 18
% Daily Value*
Fat 2g3%
Sodium 75mg3%
Carbohydrates 14g5%
Protein 4g8%
Calcium 70mg7%
Iron 1.3mg7%
* Percent Daily Values are based on a 2000 calorie diet.
If you make and enjoy this recipe, please leave a rating!
@ascensionkitchen #ascensionkitchen
And if you'd like the recipe for the Slaw with Probiotic Miso Tahini Sauce, it's here.
LIKE THIS POST?
Sign up to my newsletter list below for weekly healthy, plant-based recipes and nutrition articles. And if you want to give back and really make my day, leave a comment below, I'd love to hear from you!
Finally, you can share this recipe on facebook or via Instagram, or pin it for later. If you try it out, make sure you tag me @ascensionkitchen and #ascensionkitchen so I can see your creations. Thank you!