Avocado and Herb Stuffed Mushrooms make possibly the simplest and most delicious meal when paired with a green salad and plant protein. 15 minutes to prep and 20 to bake - easy!
Today's recipe is a bit of a staple in our household. It never fails to dress up a simple 'throw together' type of meal. Avocados make for an unusual filling – they're not something I tend to cook – but trust me – this works – especially as they make such a nice base for that herbed crumb to adhere to.
[bctt tweet="Avocado and Herb Stuffed Portobello Mushrooms - simple delicious recipe here!" username="laurenglucina"]
Speaking of which, I tend to take a wee field trip around the garden every time I make this, and gather a little bit of everything really – thyme, parsley, sorrel, rosemary, oregano and mint. Straight into the food processor with some gluten free bread and a little chilli, and your lovely herbed crumb is done!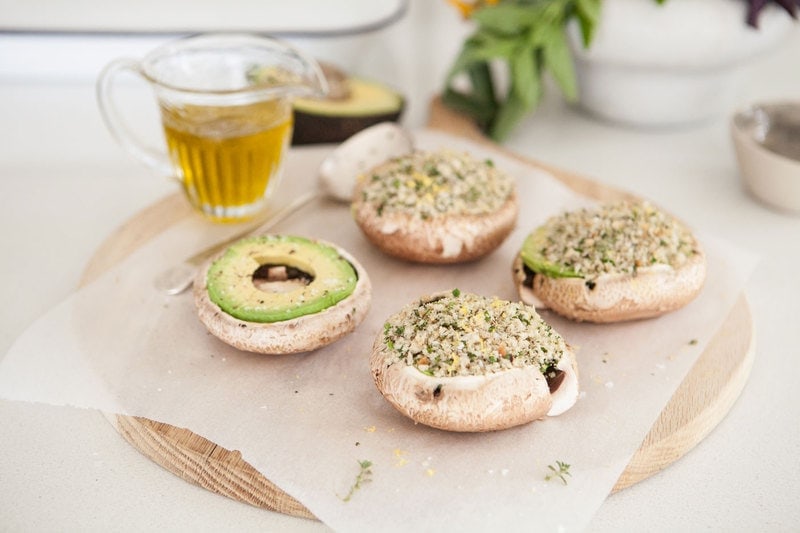 You can adapt to your liking – I have also made this a ton of times with literally a whole head of garlic cloves added to the mix.
I served this with a sprinkle of fresh lemon zest and a dash of balsamic over the top. To make a balanced meal, I also had a fresh rocket salad, slow roasted tomatoes, a tablespoon of spiced kraut, and some chickpeas tossed in lemon, garlic and olive oil.
Hope you love it!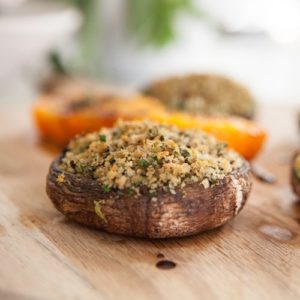 Avocado Herb Stuffed Mushrooms
Avocado and herb stuffed mushrooms make possibly the simplest and most delicious meal when paired with a green salad and a protein source. Makes 4 stuffed mushrooms as a side.
Ingredients
4

large Portobello mushrooms

½

large avocado

2

slices

gluten free bread

brown

large handful of fresh mixed garden herbs – rosemary

parsley, mint, oregano, sorrel, thyme

½

small red chilli

Zest

of one lemon

1

tablespoon

olive oil

2

teaspoons

balsamic vinegar

coarse sea salt to finish
Instructions
Pre heat the oven at 180˚C.

Slice the avocado and place two slices of each within each mushroom (as in one of the above photos).

In a food processor, tear the bread up and blitz with the herbs and chilli to make the crumb stuffing.

Fill each of the mushrooms with the mixture and sprinkle lemon zest over the top, drizzle with olive oil.

Bake for 20 minutes or until done.

When cooked, drizzle with balsamic vinegar. Great served with grilled tomatoes and rocket salad.
Notes
You can use gluten free panko crumbs and simply fold through the chopped chilli, herbs and zest if you don't have a food processor or want an easier option
A tablespoon of nutritional yeast added to the crumb mixture is yum
After making this multiple times, I much prefer using a mixture of fresh herbs to give it flavour rather than just a single herb
Nutrition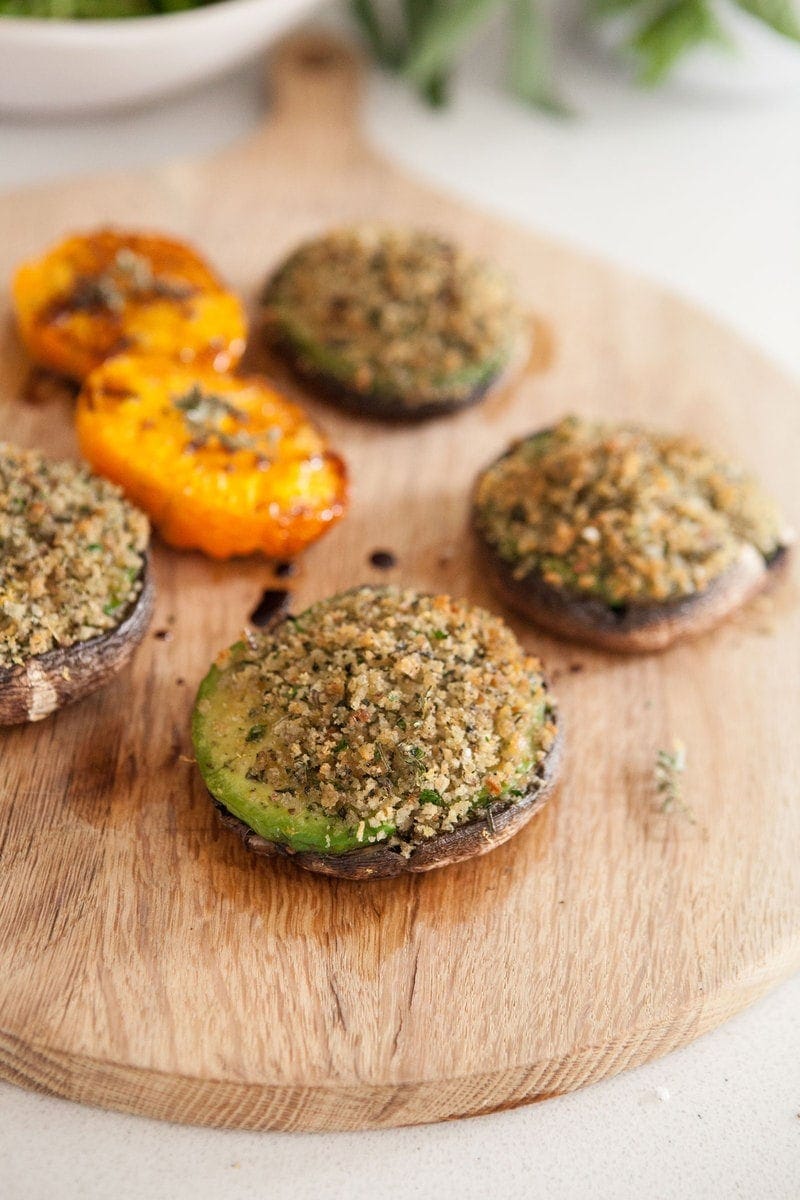 I'd love you to follow me on Instagram,
tag me @ascensionkitchen so I can see your creations!