How to make a homemade face cream for oily and acne prone skin, with soothing aloe vera, calendula, licorice and the sweet, herbaceous Manuka essential oil.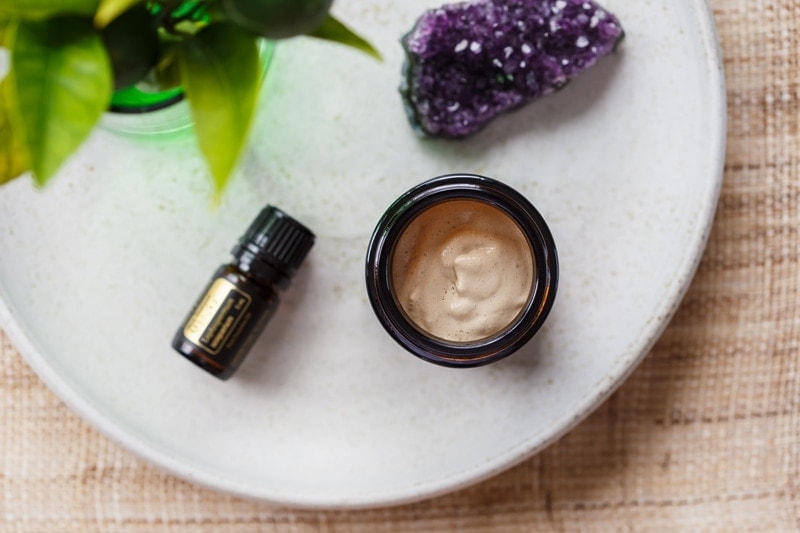 Back with another homemade face cream recipe today, and this time we're creating a cream specifically for oily and acne prone skin with some pretty incredible active ingredients.
This means we're selecting carrier oils with a lighter consistency, replacing the water component with soothing aloe vera juice, adding essential oils, and finally – incorporating licorice root extract to reduce inflammation and even out skin tone.
[lwptoc min="2" depth="6" title="Contents" hideItems="1"]
[bctt tweet="Homemade face cream for oily, acne prone skin – find the recipe here." username="laurenglucina"]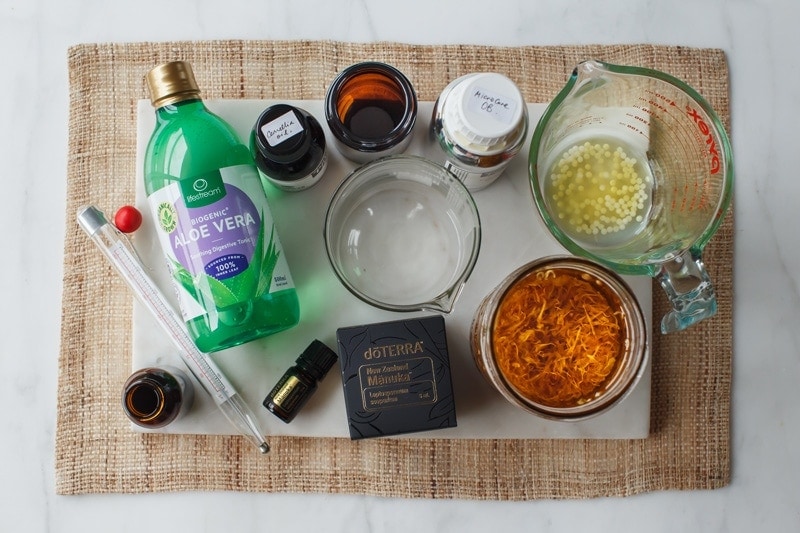 Equipment for making face cream at home
Homemade face cream ingredients
Again, these ingredients have all been chosen for their suitability to oily, problem skin.
🛢 Oil phase
Calendula infused oil Calendula officinalis
Calendula is one of THE top skin herbs, its reduces inflammation, soothes the skin, promotes healing of wounds and acne scars
Typically in herbal medicine making we use extra virgin olive oil as a carrier when making salves, and a lighter, more neutral oil when making skin care products
You can infuse calendula in any of the lighter carrier oils suited to oily skin: camellia, borage, sea buckthorn, strawberry
To make it, fill a jar with dried calendula flowers and petals, cover with carrier oil, cap, leave to infuse for a couple of weeks or more out of direct light, then strain ready for use
Camellia oil Camellia oleifera
Very light in texture
Regenerative, restorative
Suitable for all skin types, including oily and problem skin
Possesses antioxidant, disinfectant, germicidal properties
Contains squalene – a protective, emollient compound found in the skin's sebum
Shea butter Butyrospermum parki
Thick, buttery
A little goes a long way, giving a luxury feel to the end product
Rich source of antioxidants and anti-inflammatory compounds
Emulsifying wax O
A PEG-free emulsifying wax derived from olives (yes, you can use beeswax as an alternative)
Highly stable
Penetrates into the deeper layers of the skin's surface
Brings the water and oil phases together
💧 Water phase
Aloe Vera Juice Aloe barbadensis
Soothing, cooling
Anti-inflammatory
Wound healing
Rich in antioxidants

Known as the 'plant of immortality'
Once combined/emulsified
Microcare DB
This is a preservative – a blend of an organic acid with benzyl alcohol
Preservatives are recommended to prevent microbial growth, and promote shelf life
doTERRA manuka essential oil Leptospermum scoparium
Promotes the appearance of smooth, healthy skin
Rich, spicy, sweet, herbaceous aroma
Licorice root extract Glycyrrhiza glabra
Optional – it's likely this will be tricky to source, we're talking an alcohol fluid extract/tincture. Try a trip to a local herbal dispensary. For external use only, in the recommended amounts
Anti-inflammatory
Brightens skin, reduces hyperpigmentation and evens out skin tone
Mildly anti-androgenic
Making face cream, step by step
First - use your alcohol based sanitiser to sterilise all your equipment - from utensils to jugs to glass jars - everything!
Next, use the precision scales to weigh out all the ingredients for the oil phase, and place in a glass pyrex jug or similar.
Weigh out the aloe vera juice for the water phase - you may need regular kitchen digital scales for this.
Rest both jugs in a large saucepan, then add boiling water - until it just reaches the same height as the ingredients.
You'll want to keep a candy thermometer or two on hand - we're going to bring the temperature up to 65-70˚C (149-158˚F) so the emulsifying wax completely melts. Go any higher and you'll start to damage the properties in the oils.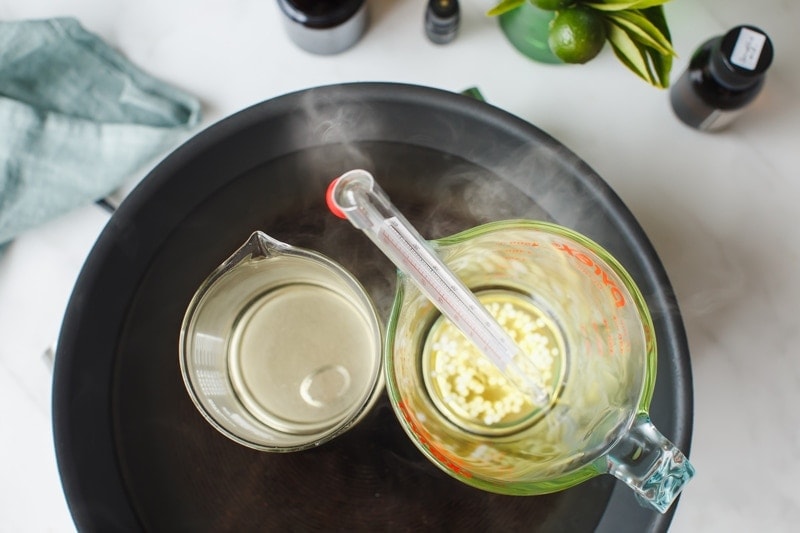 Once you've reached that temperature, remove the jugs and slowly pour the water phase into the oil phase, while you blend on low speed with an immersion blender.
The mixture should emulsify within 30 seconds to a minute. At this point, stop, let it cool a little, blend again - you'll notice it really starts to thicken and fluff up. Great!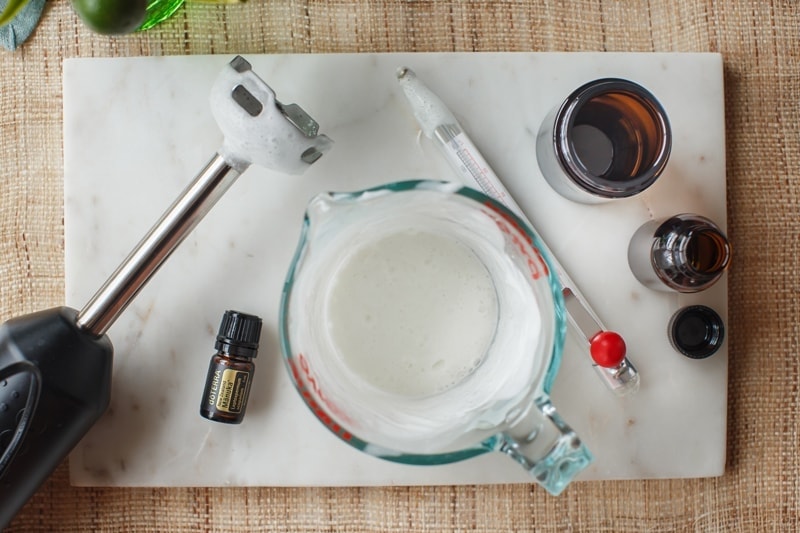 Clean your thermometer and measure the temperature again, we want to cool it to about 45˚C (113˚F). At this point, add the Microcare DB (preservative), and essential oils and blend again.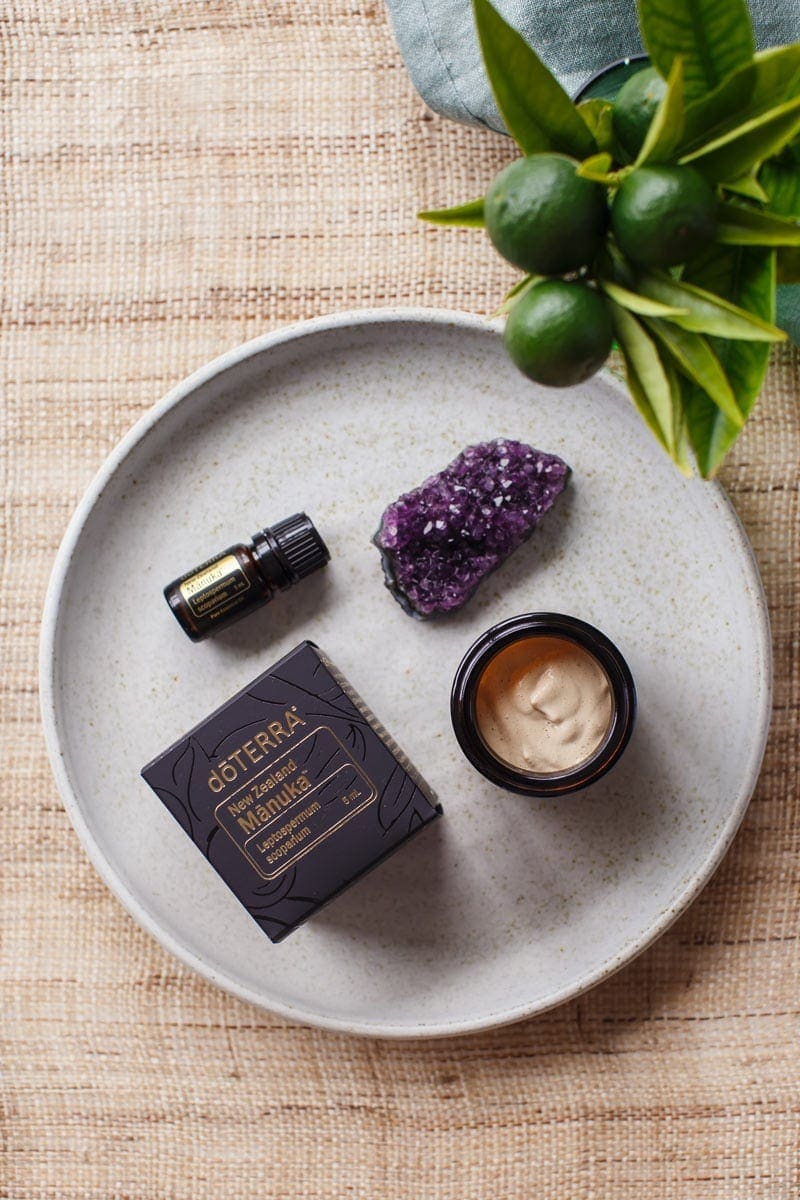 Now, this last part is optional - you're actually good to go now, but if you've been able to source the licorce root extract, this is where you add it.
7ml - blend it quickly through.
This will make the consistency of the cream considerably thinner (although, more potent!). It will also take on a slight tan colour.
Ok - all done and ready to bottle, label and date!

Sourcing essential oils
Your skin is your largest organ, and about 10% of the essential oils you apply, will end up in systemic circulation. Only the very best quality and potency will do!
I trust doTERRA immensely as they are the only company to provide complete transparency to the consumer, by publicly publishing their quality control reports (which are third-party tested).
Opening a wholesale account means you have access to their entire range for 25% off retail. You also get nestled into my thriving team, and will have me as you go-to oily support person for continued resources, education and inspiration.
Ready dive in? You can open an account with doTERRA following my simple instructions here.
I highly recommend starting with the Nature's Solutions kit, as it literally has everything you need to give your entire home and body a toxin free make over.
More DIY beauty recipes
If you make and enjoy this recipe, please leave a rating below. And better yet – leave me a comment to tell me how you got on, or just say hi – I LOVE hearing from you. Follow me on Instagram, Facebook or Pinterest to see more of my everyday recipes and wellness tips.
If you'd like to chat with me about essential oils, or book in a class, you can do that here. If you're after a Naturopathic consult, read more here.
As an Amazon Associate I earn from qualifying purchases. I only recommend products I use and love – thank's for your support!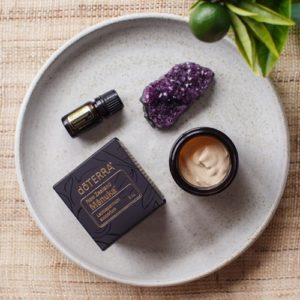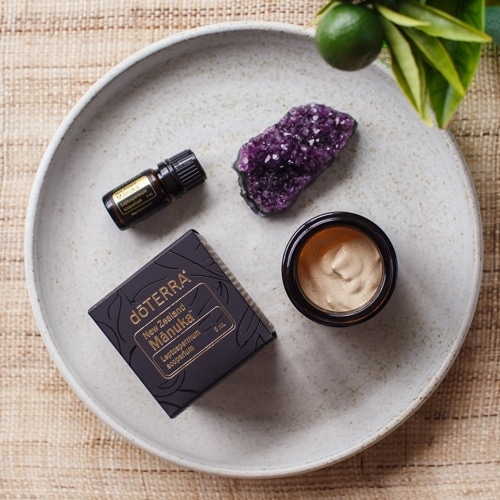 Homemade Face Cream Recipe
A natural face cream recipe for oily and acne prone skin, with soothing aloe vera, calendula, licorice and Manuka essential oil. Naturopath formulated.
Equipment
alcohol based sanitising spray

2x 100ml amber glass jars with lid

2 pyrex jugs or glass measuring cylinders

Candy thermometers

precision scales

Regular kitchen digital scales

several teaspoons

immersion blender
Ingredients
Oil Phase
12g

emulsifying wax O

6g

shea butter

14g

calendula infused oil

14g

camellia oil
Water Phase
154g

aloe vera juice

pure
Once Combined
1.6g

Microcare DB

preservative

60

drops

Manuka essential oil

5

ml

licorice root extract/tincture

optional
Instructions
Sterilise all equipment with the alcohol based sanitiser.

Measure out ingredients for the oil phase with the precision scales, and place in a pyrex jug.

Measure out the aloe vera juice for the water phase - you may need to switch to kitchen digital scales for this. Place in a seperate pyrex jug.

Stand both jugs in a saucepan with boiling water - enough water to reach the level of the ingredients. Use thermometer to bring the temperature up to 65-70˚C (149-158˚F).

Remove jugs from the pan, then gradually pour the aloe juice into the oil phase, blending with an immersion stick blender on low (for about one minute).

Let cool a little, then blend again - the mixture will thicken. Bring the temperature down to 45˚C (113˚F), then add the Microcare DB and essential oils. Blend once more to combine.

Stop here, or if you've managed to source the licorice - add and blend once more.

Once entirely cool, spoon into jars, label, date and enjoy!