Fermented garlic honey is a simple home remedy to keep on hand for cold and flu season. Don't worry - it's oddly delicious! The recipe is as old as time - combining garlic (poor man's penicillin) with raw honey for double the antimicrobial punch. Read on - I'll cover medicinal benefits, culinary uses and show you how to make it.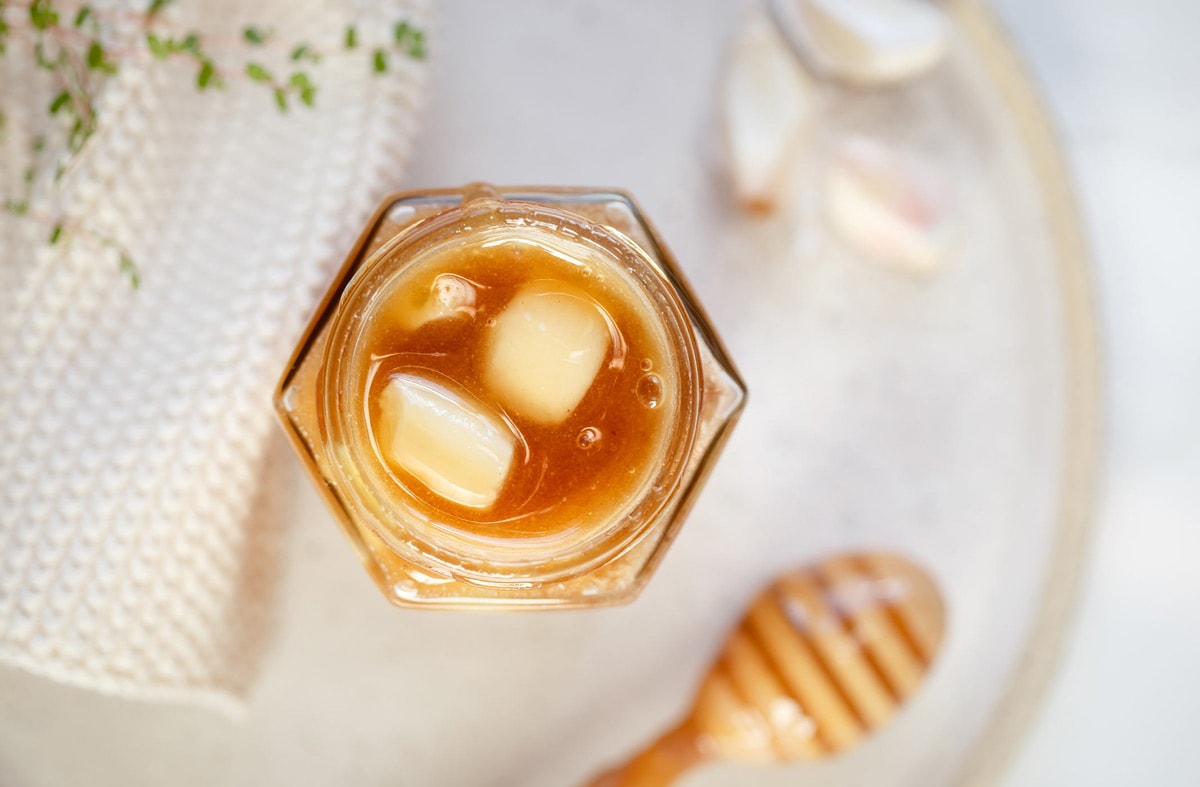 When you combine raw honey with fresh peeled and bruised garlic cloves, the natural yeasts in the honey begin to ferment, totally transforming the harsh pungency of garlic to a soft and mellow taste, resulting in a smooth flowing liquid remedy that can be taken daily by the spoonful for wonderful health benefits.
Fermented garlic in honey is the ultimate food as medicine, helping you keep well over winter while soothing sore throats and irritating coughs when you do fall sick.
It's a staple in your home apothecary alongside the likes of elderberry syrup and fire cider.
Not only is garlic with honey highly therapeutic, it's also strangely delicious. From a culinary perspective, garlic infused honey has a sweet yet savoury taste, with a runny texture. This makes it ideal to fold through dressings and marinades, or simply drizzle over your favourite dish.
Jump to:
🐝Garlic and honey benefits
Individually, both honey and garlic have some wonderful properties, and together – they have a synergistic effect.
Honey – particularly raw and unpasteurised (bonus points for Manuka!), is well-regarded for its antioxidant, anti-inflammatory, antimicrobial, anti-fungal and wound healing effects. It is also an antiseptic and natural cough suppressant.
Honey is rich in oligosaccharides – a prebiotic that selectively stimulates the beneficial lactobacilli and bifidobacteria in the gut.
Garlic is also a fantastic prebiotic, and contains an organosulfur compound with a pungent smell by the name of allicin, activated when the raw cloves are bruised and exposed to oxygen.
Garlic, like honey, has strong anti-inflammatory, antimicrobial and anti-fungal effects. It also benefits the cardiovascular system, supports healthy blood sugar levels and is cancer protective [1].
Taking garlic prophylactically significantly reduces your chances of catching the common cold, and reduces the severity and length of illness if you do get sick! [2].
There is not much in the way of literature to support the therapeutic benefits of fermented garlic honey itself, however I did stumble across one study that found the two had synergistic antibacterial activity against a range of pathogenic bacteria such as Salmonella, Staphylococcus aureus and Streptococcus pneumonia (the bug responsible for pneumonia, bronchitis, and ear infections) [3].
Honey fermented garlic is ideal for soothing seasonal cold and flu symptoms such as a scratchy throat and irritating cough.
👩‍🍳Expert tips
Honey infused garlic is the most simple recipe but there are a few key things to note for success:
Choose a high quality, raw honey. From a medicinal standpoint, you want to seek out a raw, unpasteurised honey – anything heated will have damaged the beneficial enzymes and antioxidants (this is also why you add it to warm, not hot water when making lemon, honey and ginger drinks). Additionally, raw honey will ensure we have plenty of wild yeasts available for fermentation. I love and use a brand called Beagles Bees here in NZ, and yes they ship internationally (not sponsored - just love it!)
Choose local, organic garlic. Imported garlic will not be as fresh
Use a sterile glass jar. You don't want the phthalates and other endocrine disrupting chemicals in plastic to leech into your medicinal preparation
Leave a little headspace at the top. The garlic in honey will quickly ferment due to the presence of beneficial yeasts and enzymes - creating foamy bubbles at the surface. Leaving headspace is a good idea to prevent overflow
3-4 weeks is a good length of time to ferment your garlic honey, but you can dip in and enjoy whenever you like really
Don't refrigerate it! Store out of direct sun and it will last you all winter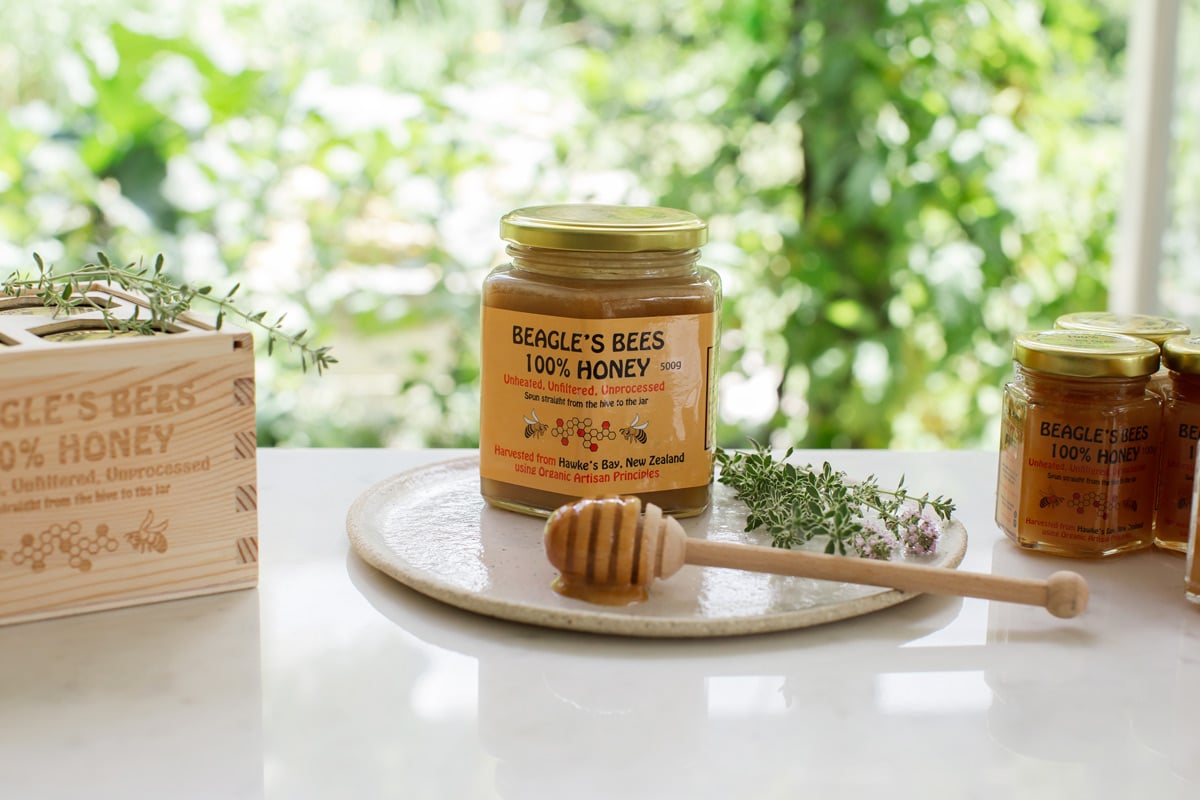 🌿Ingredients
To make this recipe you will need a glass jar, several heads of garlic, and about a cup of raw honey.
You might also like to add a sprig or two of fresh but dry thyme to the jar, the essential oil content will add further anti-microbial properties.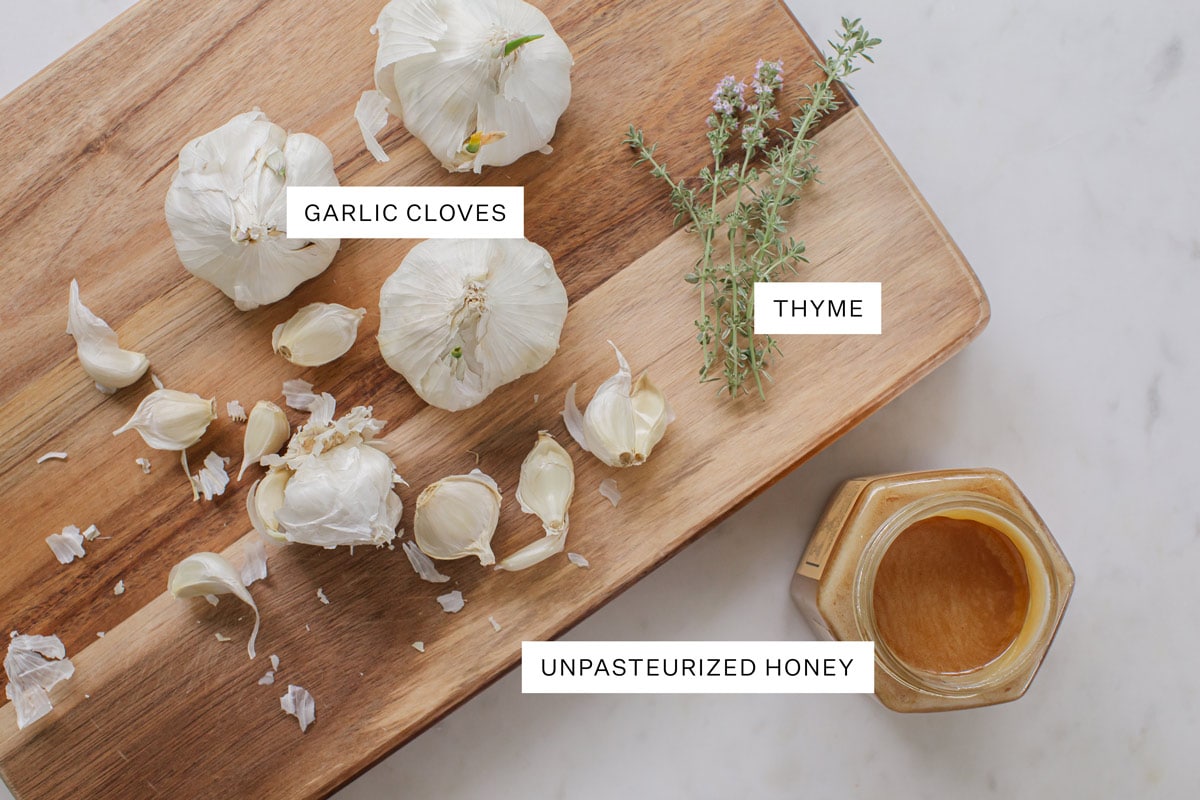 🧄How to make this recipe
1. Prep the garlic. Lightly crush and peal each garlic clove, you'll need at least two full heads of garlic. By lightly crushing or bruising the garlic cloves, natural juices are released which will aid the fermentation process.
Fill a sterilised glass jar – leaving an inch at the top.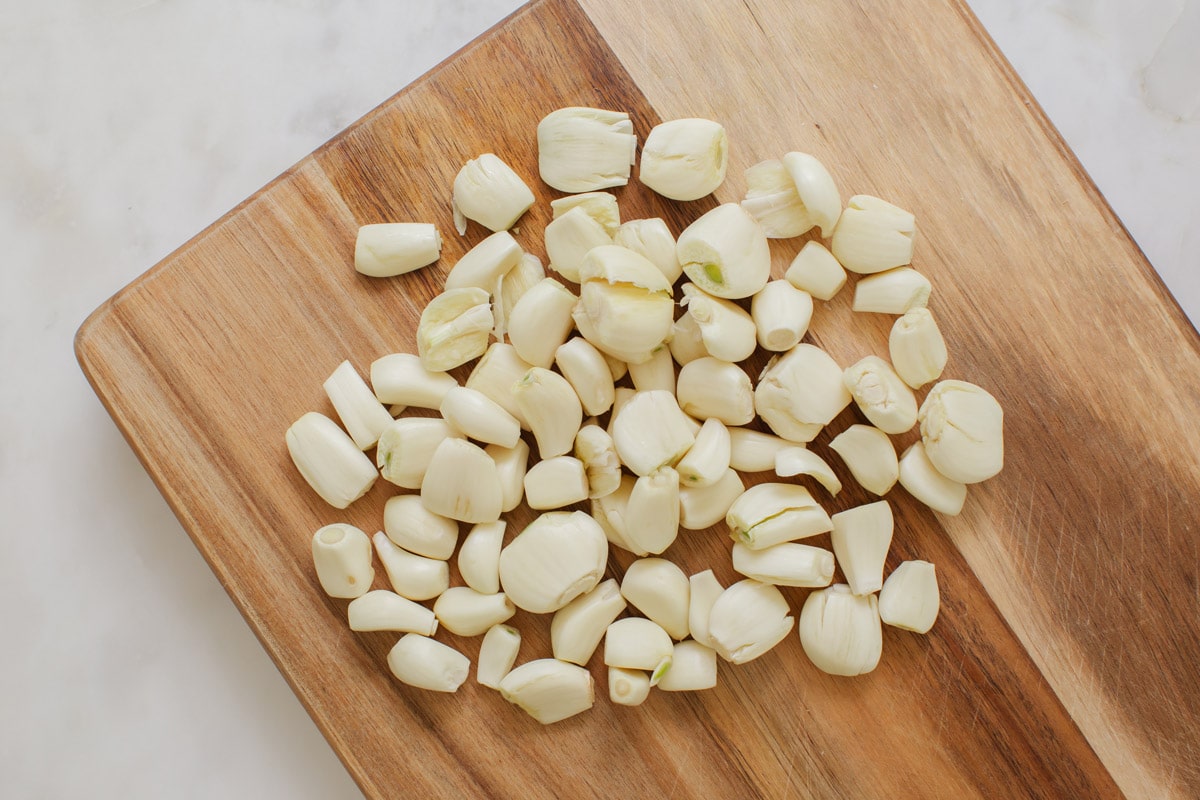 2. Soften and pour honey over garlic. Quality, raw honey can be quite viscous, so it's helpful to stand the jar (ensure it is glass and not plastic!) in warm water to soften.
Pour over the garlic – submerge the cloves entirely in honey but leave a tiny bit at the top for bubbles to build and gas to escape as they ferment.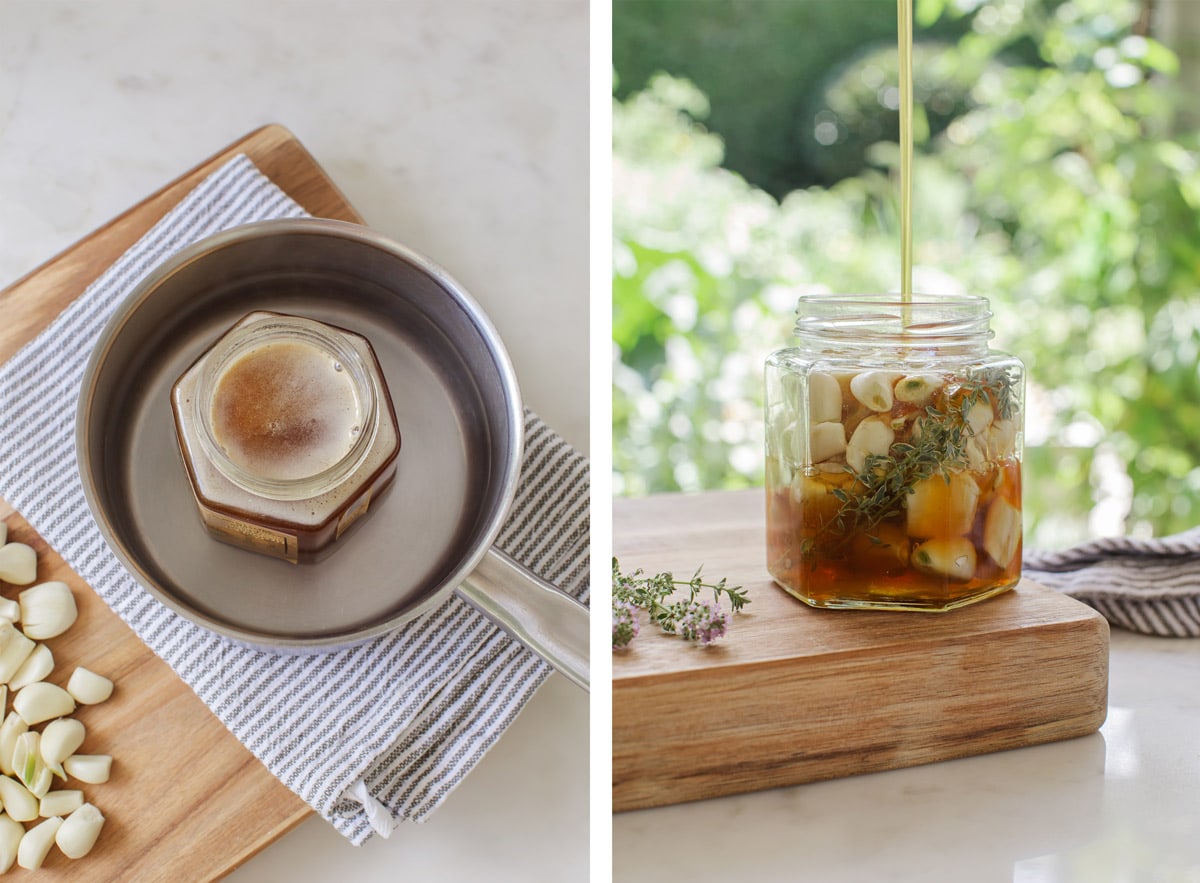 The garlic cloves will bob up to the surface – just use a clean knife or chopstick to poke them back down. It's important to keep them submerged to prevent mould growth.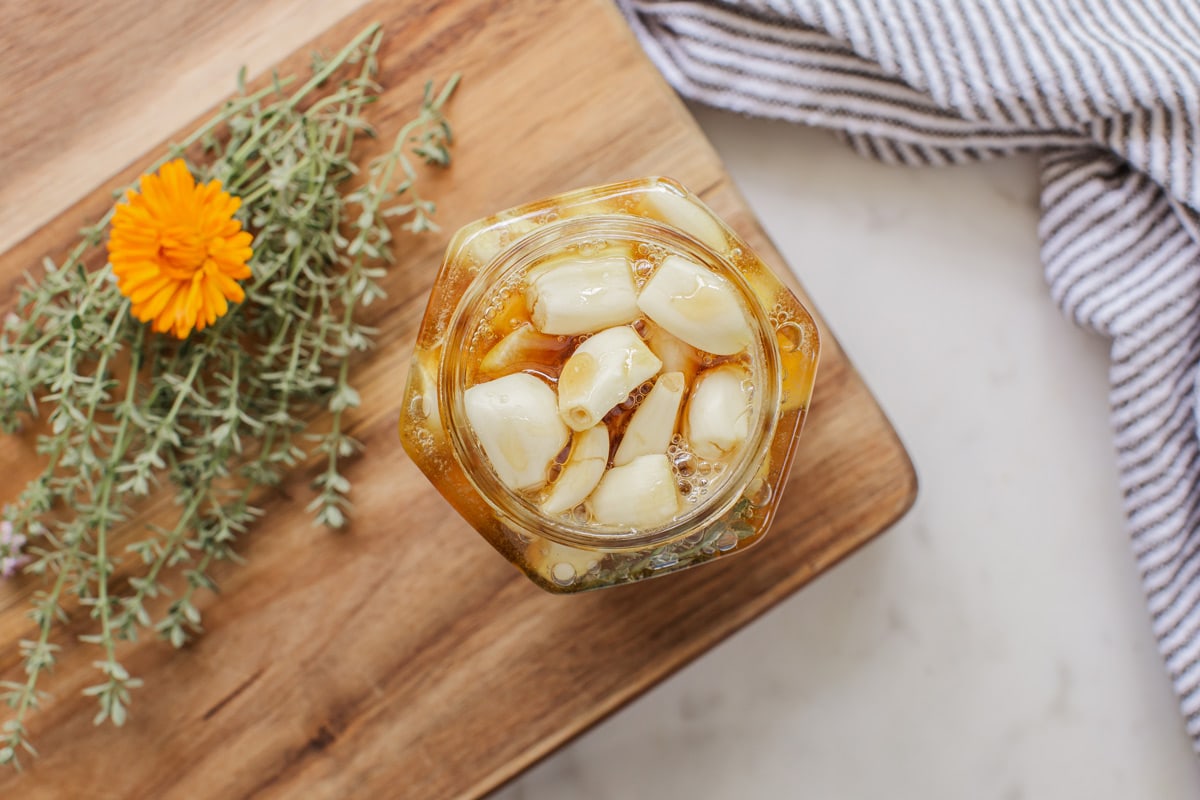 3. Cap, ferment and flip. Cap and store somewhere out of direct sunlight to ferment for up to a month. It's a good idea to flip the jar occasionally to ensure the cloves are fully coated in honey.
The garlic and honey will start to form lots of little bubbles at the surface, which of course is a perfectly healthy sign of successful fermentation. You can loosen the cap to release the build-up of CO2 when this happens, and perhaps keep a plate underneath to catch any spillage.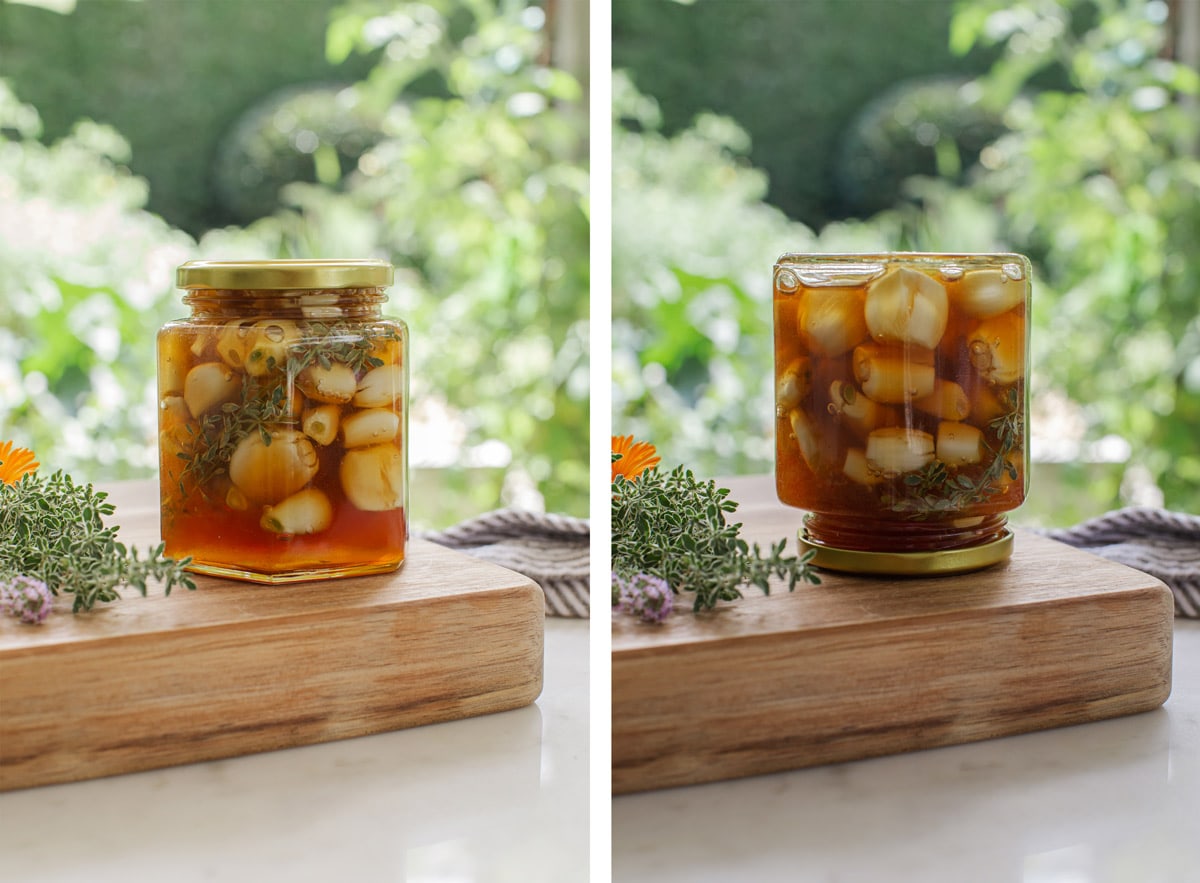 After 3-4 weeks of fermentation time, the honey's consistency will have changed, becoming thinner due to the garlic cloves releasing moisture.
Leave it even longer still, and you may notice the colour of the honey starts to darken, which is also perfectly normal.
You can enjoy your honey ferment at this point, but don't forget to label and date the jar!
🌡️Storage
Garlic preserved in honey is one ferment you don't need to move to the refrigerator to store. Honey is a natural preservative rich in beneficial microbes – so you're fine to leave it in the pantry.
If stored in at room temperature like this, it will last for a least a year.
🥄How to take it medicinally
How to use your fermented garlic honey? Daily as a preventative over winter is a great idea to help keep your immune system robust. A single teaspoon straight down the hatch, easy!
During an acute cold, you might like to try making a hot tea with lemon and ginger then allow to cool slightly before stirring in a clove of garlic honey (mince it first).
🍝Garlic honey culinary uses
The whole peeled garlic cloves mellow out during fermentation and become beautifully soft and sweet, you can chop them up and use in dressings, marinades or pasta sauces
The honey meanwhile loses viscosity and becomes runny, making a sweet and garlicky syrup ideal to drizzle over pizza (this is DELICIOUS!), roasted vegetables, bruschetta, or even over stir fry
🙋‍♀️FAQ's
Is fermented honey garlic safe?
This is a safe home remedy as it is simply food as medicine, however since it contains honey, it isn't suitable for infants (age 0-12 months)[4].
Is botulism an issue?
The proliferation of friendly bacteria during fermentation help acidify (lower the pH) of the honey. This protects against the growth of Clostridium botulinum – the toxin responsible for botulism. Clostridium can thrive in a pH greater than 4.6 [5], if you are concerned, used pH strips to test your ferment before consuming.
Can I use pastuerised honey?
No – raw honey is required as it contains natural yeasts that facilitate the fermentation process.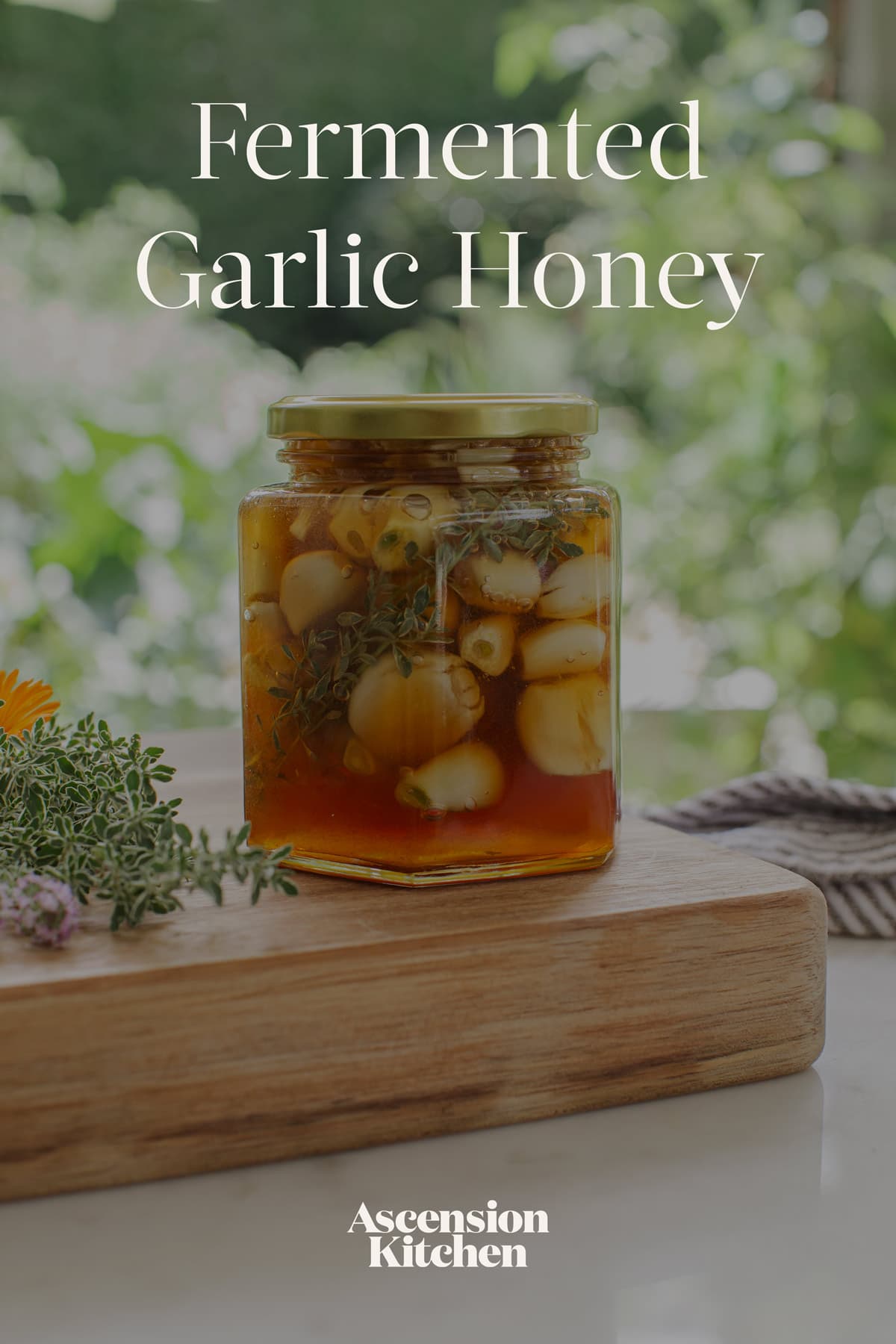 🌿Enjoyed this recipe? Leave a comment below, better yet - share a snap with me on instagram @ascensionkitchen. If you're after personalised health and nutrition advice, contact my clinic, I'd be happy to work with you.
📖Recipe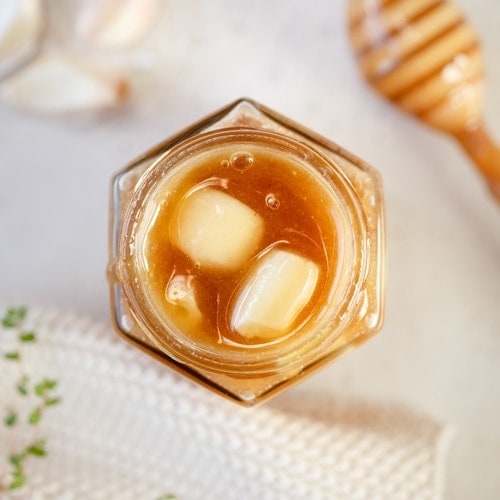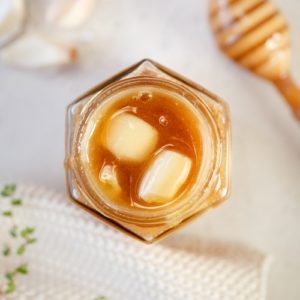 Fermented Garlic Honey Recipe
Fermented garlic honey is an age old immune tonic to fight winter ailments! Prep time excludes the 3-4 weeks fermentation time.
Ingredients
1-4

heads

of garlic

this depends on the size of your honey jar of course

1

jar

raw honey (Manuka would be ideal)
Instructions
Purchase a good quality honey in a glass jar, then let stand in a bath of warm water till it is soft enough to pour.

Pour the honey out into a sterilised jug and set aside.

Peel ample garlic cloves, and gently bruise or crush each one. Add to the original honey jar, leaving about an inch or two at the top.

Pour the honey over the garlic, until completely covered - you want to avoid the garlic being exposed to oxygen. Poke floaters down with a chopstick if need be. Save any leftover honey for later use.

Fasten the lid and let infuse for at least three weeks, burping every so often.

Enjoy a teaspoon/clove of fermented garlic honey daily.
Notes
Raw unpastuerized honey is essential for the fermentation due to the presence of natural yeasts and enzymes.
This ferment will naturally produce a lot of gas bubbles, you will need to burp the jar daily to release the build up.
Rest the jar on a plate in case there is spillage as you burp.
The thyme is optional, but lends some great anti-microbial compounds.
Not suitable for infants.
Educate yourself on botulism and safety. Briefly, the proliferation of friendly bacteria during fermentation help acidify (lower the pH) of the honey. This protects against the growth of Clostridium botulinum – the toxin responsible for botulism. Clostridium can thrive in a pH greater than 4.6 [5], if you are concerned, use a pH meter to test your ferment before consuming.
Nutrition panel is an estimate only
Nutrition
Calories:
58
kcal
Carbohydrates:
15
g
Sugar:
14
g
Calcium:
20
mg