Harness the magic of the moon by making moon water – a simple way to bring you blessings, awareness and heightened intuition, while energetically cleansing your body, environment or sacred objects.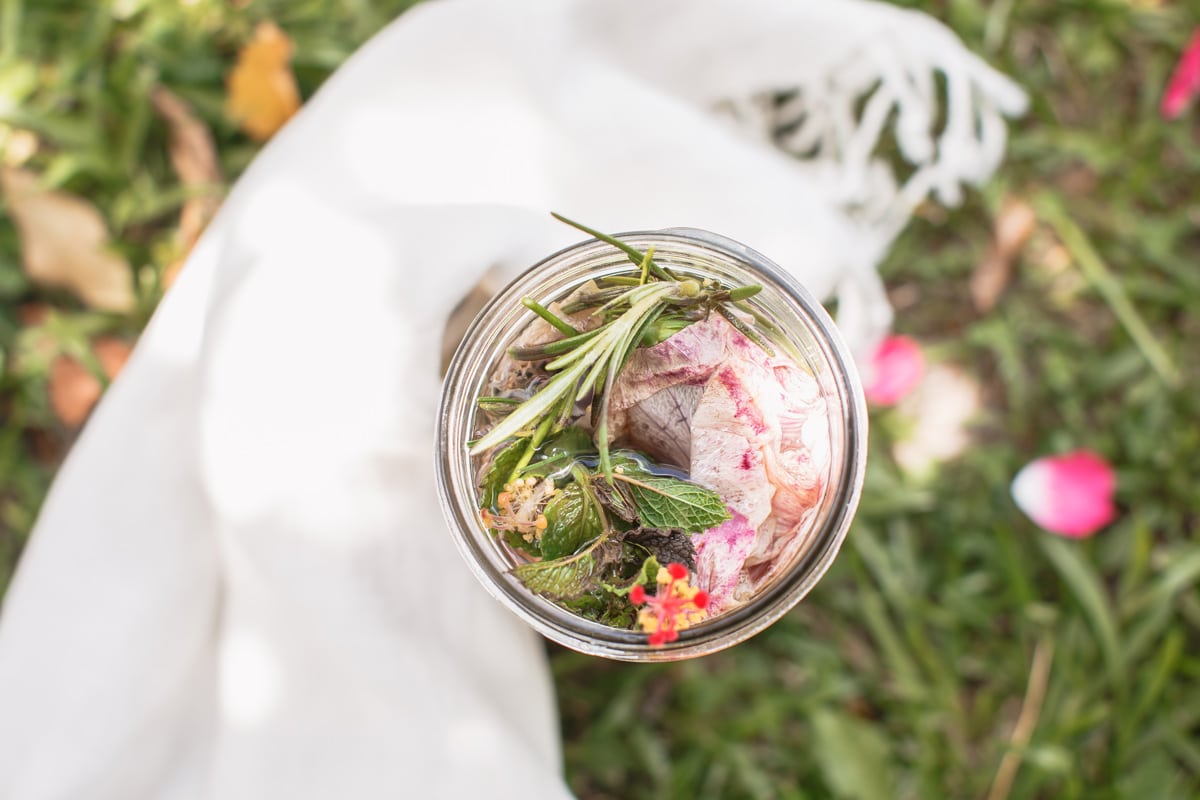 Making moon water is a powerful way to tap into the energy of the full moon. Read on to learn about this ancient practice and how to prepare it.
You'll need water, a glass jar, a powerful intention, and the light of a full moon. Herbs, flowers and crystals optional!
Jump to:
🌝What is moon water?
Moon water is a traditional magical practice with a long history. It is simply a vessel of water left under the light of the full moon, upon which it is energetically cleansed and charged, ready to imbibe or use in ritual the following morning.
🌝 Moon water is used to bring one immense blessings, illuminate and clear hidden emotions and beliefs, bring wisdom and heighten intuition, and to energetically cleanse the body or environment. It can be used in preparing herbal teas, vibrational essences, and other elixirs.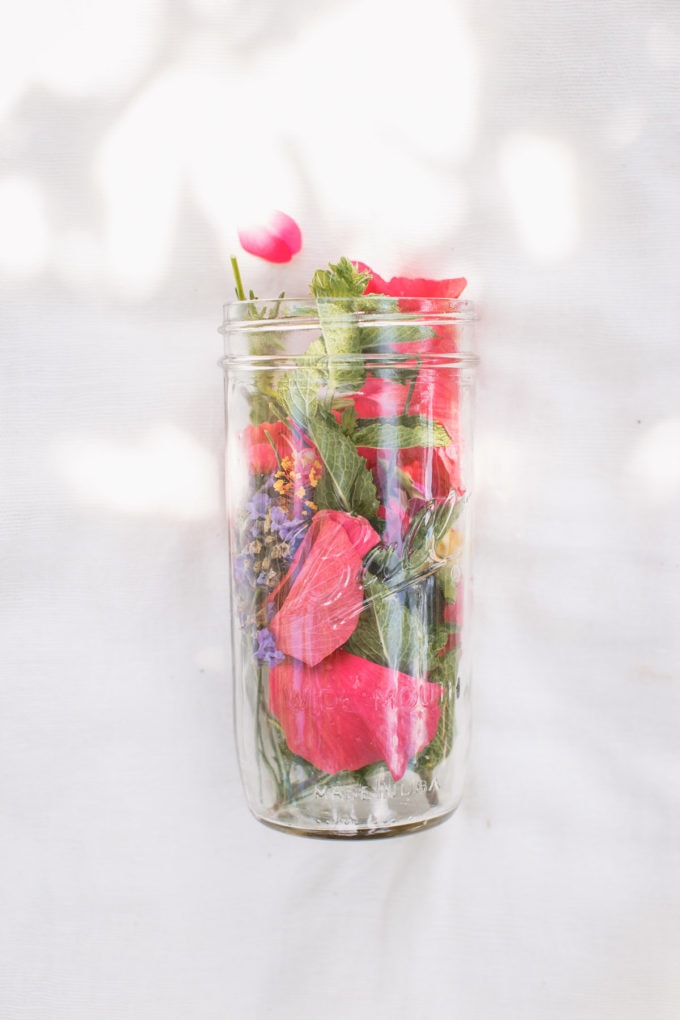 🌙The energy of the moon
The moon has a powerful relationship to both the waters and the fertile nature of our Earth. The Moon's gravitational pull causes the ocean's tides to rise and fall, while moderating the degree of wobble in Earth's axial tilt – which has effectively stabilised our climate over billions of years, allowing life on Earth to flourish [1].
Similarly, the moon affects our internal waters, including blood, lymphatic fluid and gastric juices, and has a strong effect on the womb, menstrual cycle and fertility.
For example – the length of the menstrual cycle is comparable with the length of the lunar cycle (both are around 28 days), and many report the onset of menses with either the new or full moon.
It is also said a woman may be more fertile at a new moon, when the night is darkest, while midwives and doulas often comment they see an increase in births on the full moon.
A full moon occurs when the moon is positioned directly opposite the sun, reflecting back its light.
Its energy is powerful, and I'm sure you will have noticed your intuition, emotions and dreams (well, if you're lucky enough to sleep!) all seem heightened under the influence of the full moon.
The moon is seen in many cultures and spiritual practices as influencing our emotional body, deep psyche and intuition, with the full moon pulling strong emotions right to the surface, illuminating them ready for transformation.
The tarot card that corresponds to the Moon is the High Priestess, the mysterious, feminine, receptive archetype associated with intuition, wisdom and higher knowledge.
Finally, animals associated with the lunar energy are owls, the wolf, crow and frogs.
Knowing the above, you can now see that the moon's energy is deeply receptive and feminine, associated with fertility, fluidity, movement, change, cleansing, purification, moods, emotions, intuition, illumination, clarity and enlightenment.
💧Water - the universal medium
Now that we understand the energetics of the moon, it's time to capture them in the element of water!
Water, as the universal medium, becomes attuned with the celestial force of the moon (and herbs or crystals, if you choose to add them) as the infusion sits out all night. In the morning, you're left with an energetically potent, healing, spiritual tea ready to strain and enjoy.
If you'd like to dive deeper into understanding how water acts as a 'psychic sponge' so to speak, look into the work of the late Dr Masaru Emoto.
🌝When to prepare it
Traditionally, moon water is prepared on a full moon. Just be aware that making moon water during a lunar eclipse is not a good time, as eclipse energy can be quite disruptive and therefore imprint this negative energy onto your lunar infusion.
🧙‍♀️How to make moon water
Making your own moon water can be as simple as leaving a glass container filled with water under the light of the moon.
However, charging water with prayer, a specific intention and certain herbs and crystals can help potentise the lunar water for your next ritual.
I like to make mine with fresh herbs and flowers. You can call on plants for their magical and spiritual properties rather than therapeutic effects, for example;
Herbs for manifestation include dandelion, cinnamon and clover
Herbs associated with the moon are marshmallow, passionflower and chickweed
Herbs to enhance intuition include clary sage, cinnamon, gotu kola
Herbs to increase prophetic dreams include rose, mugwort, jasmine
If using crystals to add extra positive energy, select those that are water-safe, such as clear quartz, rose quartz, citrine and amethyst.
To add an intention, meditate over your vessel for a few minutes, then label it with your intent – for example: lunar blessings, clarity, emotional healing.
Leave your vessel under the full moon overnight, you may want to cap it with a clear glass lid or cover with fine muslin to keep any critters out.
In the morning, if you intend on drinking moon water, strain out the plant material and filter first.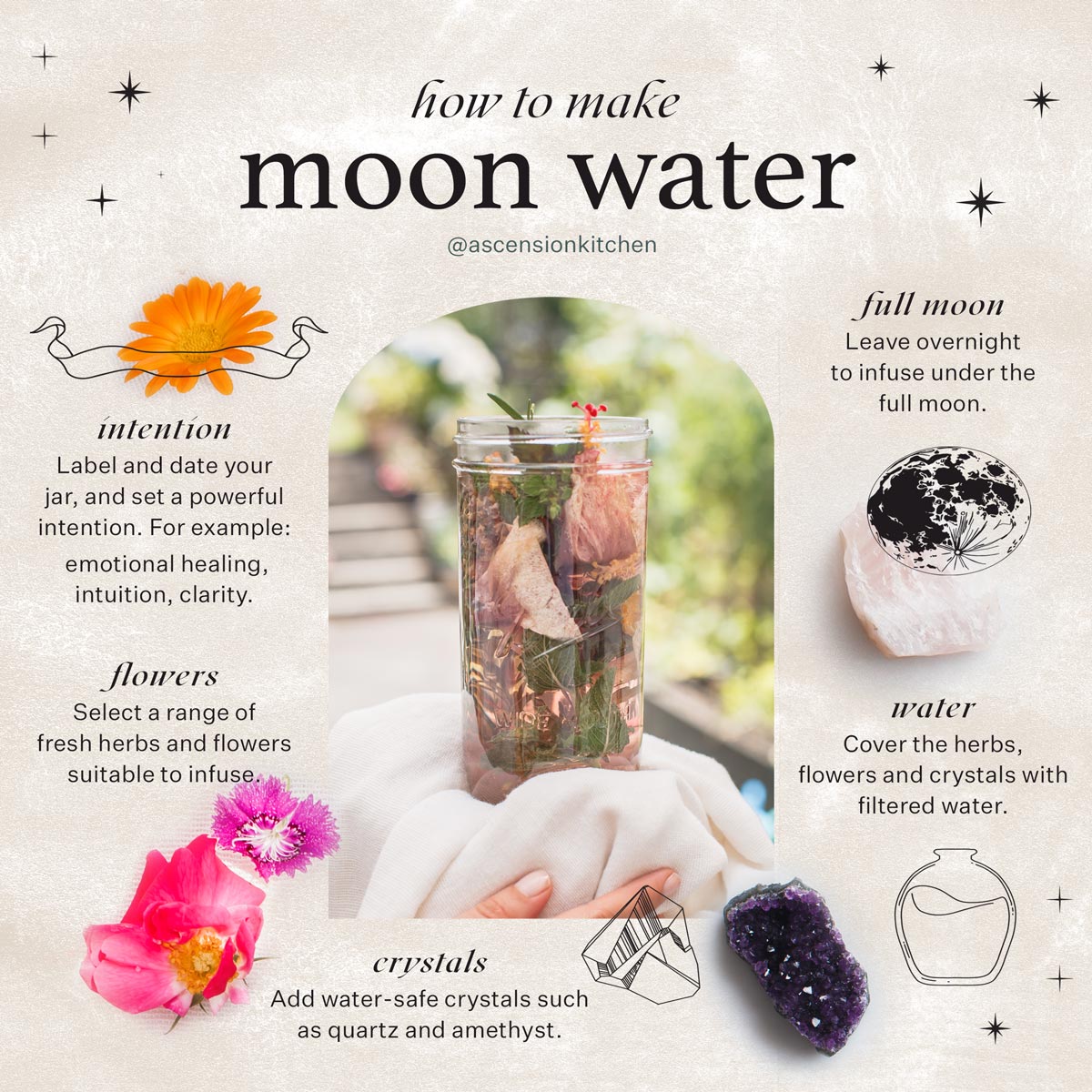 💫Moon water benefits
Moon water can –
Bless your body, and bring all creative and vocational projects to fruition
Bring buried emotions to the surface, illuminate them, then help shift them (this is known as shadow work)
Bring awareness to that which is hidden, helping understand more of your unconscious patterning
Cleanse your body, auric field, home or spiritual tools
Enhance your intuition
🛀Creative uses for moon water
Imbibe your moon tea to bless your body
Add to a bath
Use as a base to make flower or gem essences
Use in spell work
Use a spray bottle to mist the moon water over your face
Create a cleansing spray to clear and shift stagnant energy around the home
Water your plants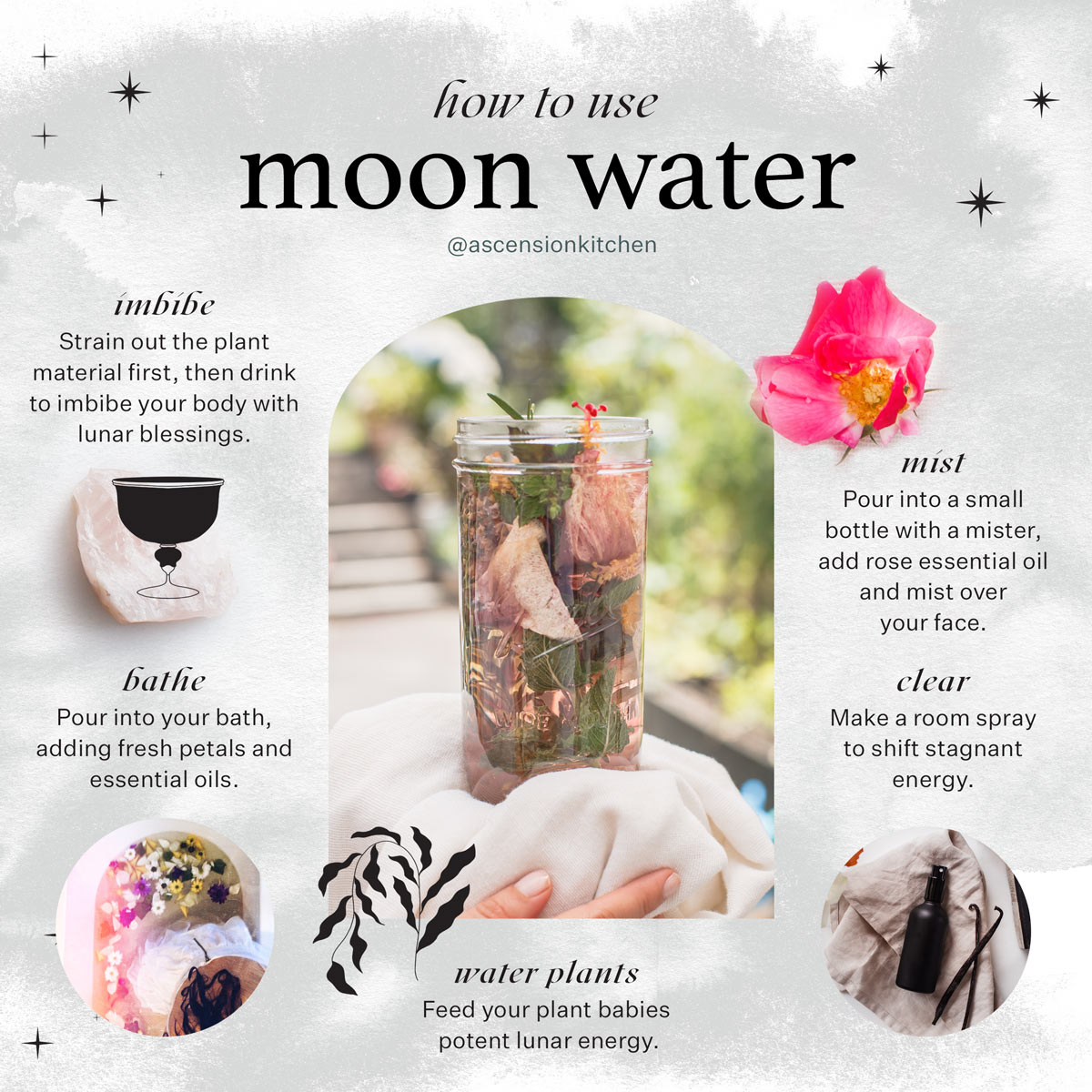 That's it! Enjoy friends, and may you be blessed with lunar magic 🙂
Lauren.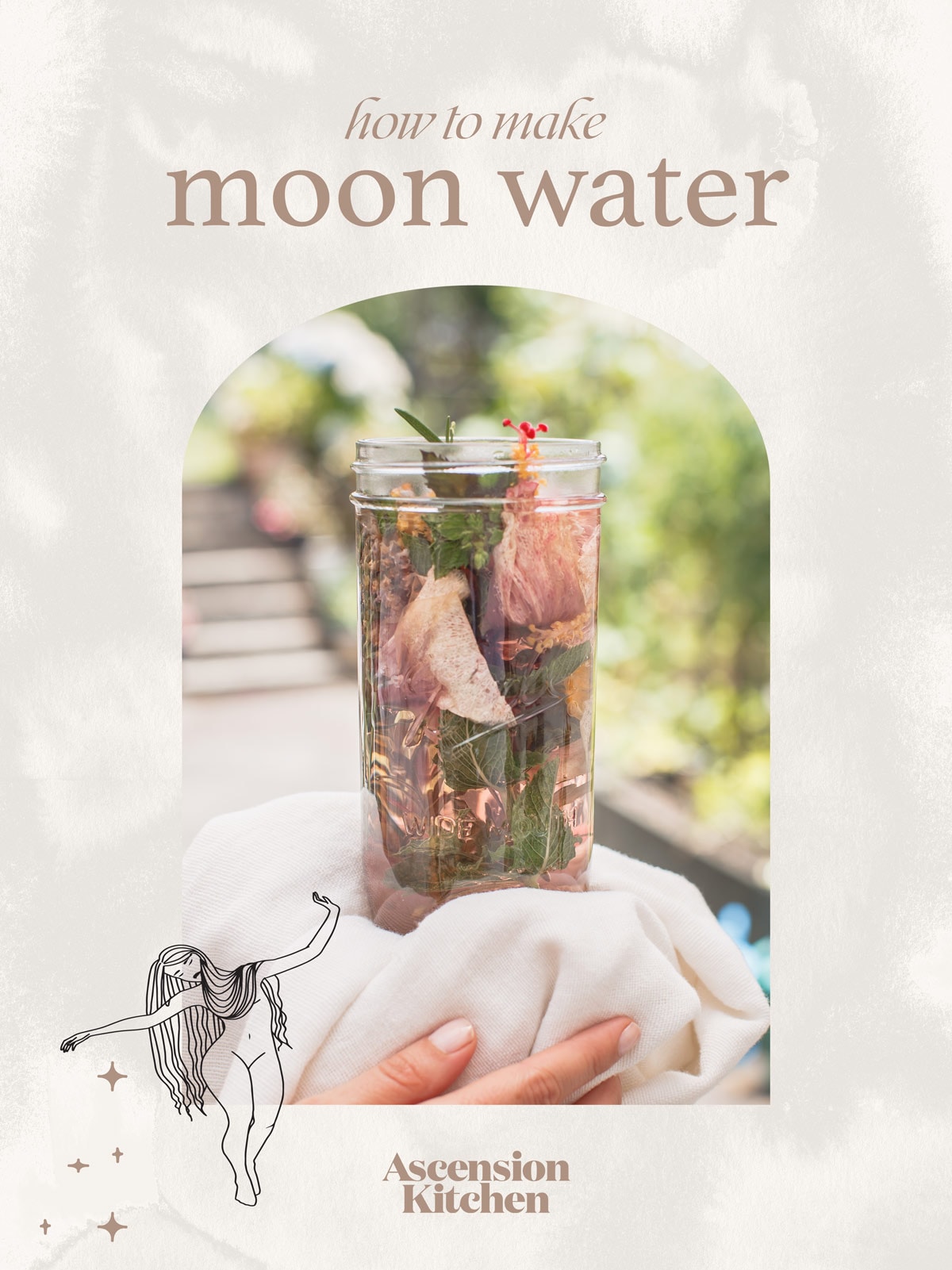 🌿Enjoyed this recipe? Leave a comment below, better yet - share a snap with me on instagram @ascensionkitchen. If you're after personalised health and nutrition advice, contact my clinic, I'd be happy to work with you.
📖Recipe
Moon Water
Capture the full moon energy by making moon water – an ancient practice involving charging water in a glass vessel under the full moonlight. Adding a positive intention, herbs and crystals are optional but can potentise your lunar infusion.
Equipment
500ml (16oz) clear glass jar with either a clear glass lid, or fine muslin to cover the mouth

Masking tape or similar to label the jar with an intent
Ingredients
Flower and herbs of your choice

optional

Water-safe crystals such as quartz, amethyst

optional

Spring water
Instructions
Place a crystal in the jar, then add fresh herbs and flowers (if you choose to add either of these).

Add spring water, then cap or cover the mouth of the jar with a fine muslin, securing with a rubber band. This keep critters and fairies out of your infusion.

Meditate over your infusion for a short time, then write a clear intention on a label and adhere it to the jar (for example, emotional healing, wisdom, clarity).

Place somewhere outside where it will get bathed in the moonlight from dusk to dawn.

Strain, compost the plant material, and enjoy as a chilled tea in the morning, or re-heat and add honey to sweeten. See notes for more magical uses.
Notes
The benefits of moon water include blessing your body, bringing hidden emotions to the surface for healing, aiding manifestation, enhancing intuition and energetic cleansing,
Aside from straining and drinking, you can use moon water to water your plants, spritz over your face, mist your space, or use as a base for tisanes, potions or vibrational essences.
Be sure to use only water safe crystals as some can leech toxic compounds into water.
Use fresh herbs or flowers that are suitable for teas/consumption.
Add ice for a cool tea.
Do this ritual with your children, they will love it!
Nutrition
Calories:
21
kcal
Carbohydrates:
6
g