A cheap and simple homemade dry shampoo for light and dark hair – scented with lavender and ylang ylang essential oils to promote healthy locks.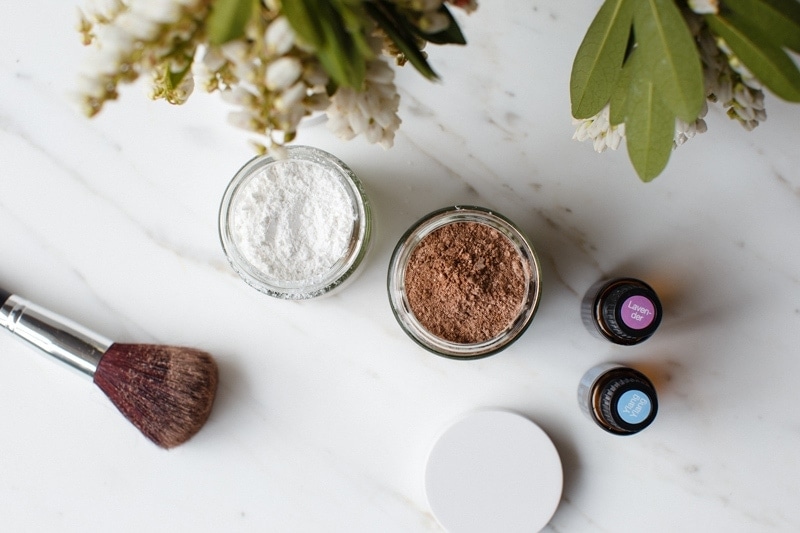 I honestly cringe when I think back to my teenage years (and even beyond) at the multitude of hair sins I committed. I used to have the most beautiful, healthy, long, straight, dark blonde locks. But then I decided to take up karate, and I cut it all off. As in ALL – super short and spiky!
That was just the beginning – I had a habit of cutting my own hair from that point forth (as I did, piercing my own ears), and dying it every which colour. Bleach blonde. Red. Purple. Orange (quite by error). You name it, my poor hair suffered through it.
Even of recent years, I've constantly had highlights through it, or the tips lightened ombré style.
But my hair crimes extend beyond myself to some poor, unsuspecting teenage boyfriends. One trusting young thing let me dye his very fair hair black, and we (I) got inky coloured hair dye all over his forehead.
The most sensible thing to do at the time, was to tackle it with a cotton pad soaked in nail polish remover! We're talking pure acetone – tough enough to remove acrylic nails – on his soft, sensitive, fair skin!
I don't need to tell you what happened next – it was an absolute disaster!
These days, I'm all about embracing my natural look. I don't feel the need to change anything at all – though I will refrain from trimming it myself in future.
Last week I shared a simple recipe on hair oiling – which helps add nutrition to the hair and scalp and promote healthy locks.
But what about those occasions where you just don't have time for a full on hair mask, or your hair desperately needs a wash but you can't shower for whatever reason?
Cue today's DIY dry shampoo
A natural powder applied topically and tousled into the roots to soak up the hair's oils and add volume without the need for a shower, shampoo and blow dry (sans the questionable chemicals found in most store bought counterparts, of course).
[bctt tweet="DIY Dry Shampoo with Lavender & Ylang Ylang - five minutes to make - find it here!" username="laurenglucina"]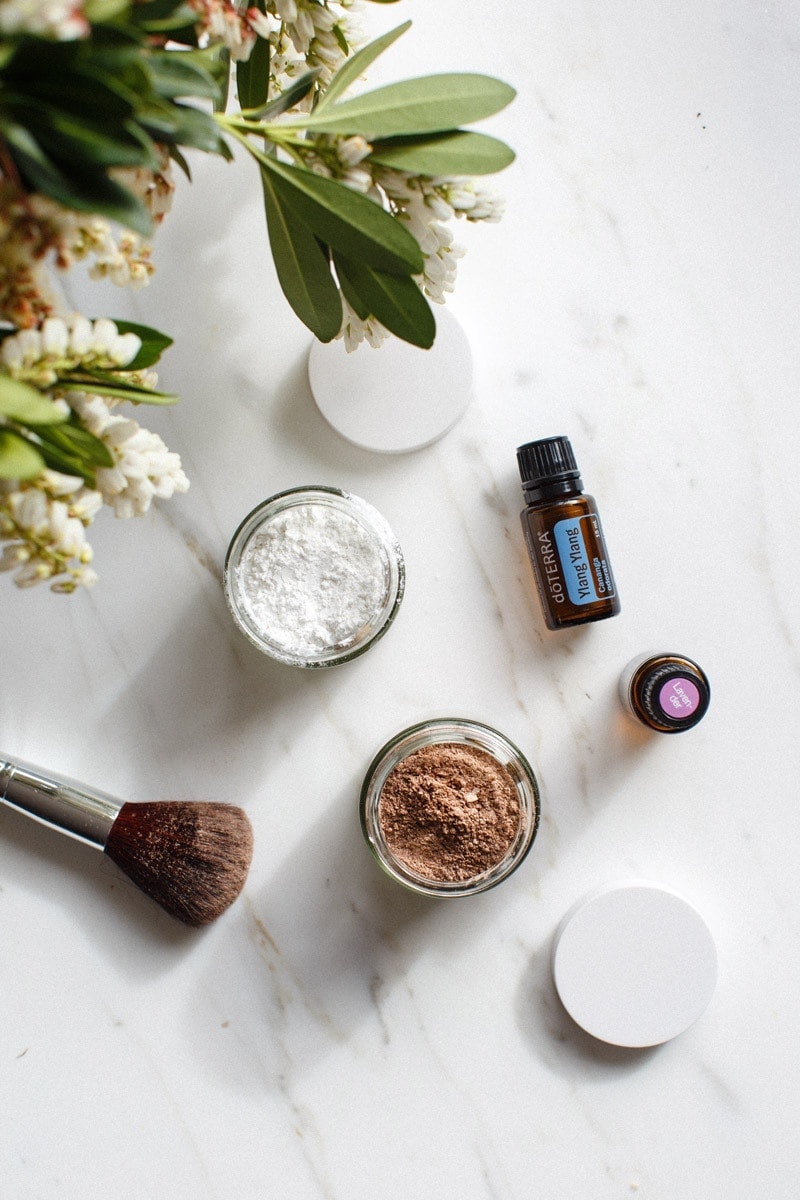 The hero ingredient is arrowroot powder, which is so effective at absorbing oil, that regular use can dry the hair and scalp, making you prone to dandruff or itching. So just bear that in mind – this is a sometimes thing – as it counteracts the whole point of the hair oiling - but is still incredibly useful to have up your sleeve for those emergency situations (ie, on holiday / out camping / racing from the gym to the office). I'm a solutions gal after all.
DIY Dry Shampoo ingredients:
Arrowroot is a starch from the rhizome of tropical plants, and it's often use as a thickener in gluten free baking. Used for centuries to disguise greasy hair
Cacao powder: to cut with the arrowroot powder for those with darker hair
Lavender essential oil: to provide a light and floral scent, it's also very soothing to the scalp
Ylang Ylang: a sweet, rich and spicy scent that promotes the appearance of healthy skin and hair when applied topically
I've chosen essential oils that smell yummy (in addition to their calming and beautifying properties), but if you tend to dandruff, then you may like to sub the ylang ylang for tea tree or peppermint.
DIY Dry shampoo for Light hair:
1 small glass pottle, to hold ½ cup / 118ml
1 make up brush
6 tablespoons arrowroot powder
4 drops doTERRA lavender essential oil
4 drops doTERRA ylang ylang essential oil
DIY Dry Shampoo for dark hair:
1 small glass pottle, to hold ½ cup / 118ml
1 make up brush
3 tablespoons arrowroot powder
3 tablespoons cacao powder
4 drops doTERRA lavender essential oil
4 drops doTERRA ylang ylang essential oil
How to:
Whisk the arrowroot powder, and cacao powder if using, with the essential oils in a bowl, then spoon into the glass pottle
Dust the brush in the powder and apply over the roots of your hair, then tousle with your fingers
Brush well – you'll need to do this to avoid looking like you're covered in chalk board dust!
Enjoy how miraculously oil free and full your hair feels!
Amazing!
SOURCING ESSENTIAL OILS
The essential oils I use are doTERRA, because quite simply, they are the absolute best quality. If you'd like to get started with your own account, you can either book a complementary consult with me to learn more first, or join with doTERRA right away.
If you know you'd love to get on them right away,
I'll guide you through how to purchase them here.
If you'd like to chat further,
you can book a free consult with me here.
And if you're local to me in Auckland and would like to come along to a class,
have a look at my timetable here.
See you again next week - ciao!
Lauren.