A delicious, filling winter soup with immune supportive shiitake mushrooms, warming ginger and garlic, fresh greens and mineral-rich wakame fronds.
Boom. Another one-pot wonder filled with nutritional goodies, well, almost – if you exclude the crispy tofu – though I'm of the mind to keep those little puffed cubes of goodness in there purely for the comfort factor. So, continuing on from last week's immune-supportive theme, this soup is sure to help keep you well and strong over winter, here's why:
Shiitake mushrooms (Lentinus edodes)
Several species of mushrooms have been revered as a tonic and their ability to promote longevity in Traditional Chinese Medicine for centuries. Recent literature demonstrates their ability to help maintain a healthy immune system and inhibit tumour growth. The agents responsible are the beta-glucans, especially beta-1, 3-D-glucans, which are complex chains of sugars known as polysaccharides. They have been found to help reduce cholesterol levels, and favourably influence the metabolism of fats and sugars in the body. The biologically active beta-glucan in shiitake is lentinan [1].
It seems that the beta-glucans interact with receptors present on the membranes of leukocytes (white bloods cells – part of the immune system). Once they have attached, the cells are activated and produce various bactericidal compounds, in addition to cytokines that then mediate and regulate immunity and inflammation [1].
The glucans inherent in shiitake also appear to increase the number of Th 1 and Th2 lymphocytes in the blood – these are the cells that help protect against pathogens inside and outside of the cell respectively [1].
Another variety of mushroom with similar actions is the Oyster mushroom - I think a combo of both would be great in this dish! One of my absolute favourite functional foods as they are both delicious and easy to find.
By the way – glucans are also present in yeasts, oats and barely.
[bctt tweet="Shiitake Immuno-Soup! Full of minerals, greens, fibre and warming spices. Recipe here." username="laurenglucina"]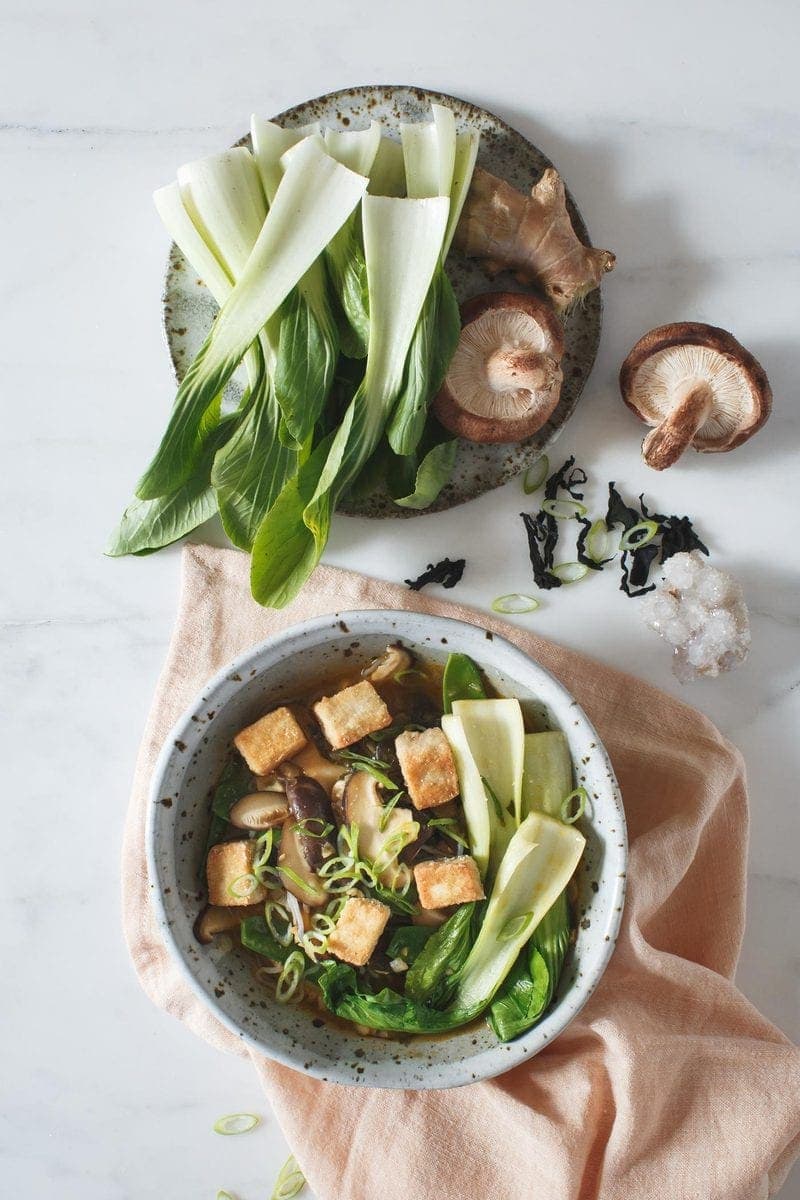 Konjac noodles
Konjac noodles are pretty cool, and you may not have heard of them even as they seem to be relatively new. These are made from the vegetable fibre of the konjac plant. They have no discernible taste but easily take on the flavours of your dish. I quite like them as they are a great low carbohydrate and low GI alternative to grain based pasta and noodles, and are an excellent source of dietary fibre – 6g per serve is fairly decent.
Actually, the type of fibre they contain, glucomannan, has been shown to have prebiotic effects, meaning it is going to be providing a fuel source to the lovely bacteria in the bowel – increasing counts of the beneficial bifidobacteria and lactobacilli [2]. A thriving microbiome is essential to our immune health since up to 75% of our immune system resides in the gut!
These noodles are also promoted a fair bit as being ideal for those wanting to lose weight – the fibre swells in the digestive tract making you feel fuller, and also works as a bulk-forming laxative.
They are clear and look a bit like kelp noodles. They come pre-cooked, so you simply drain and rinse, submerge in boiling water for a minute, rinse and drain again, then add to your dish. Super. Easy.
Wakame fronds
Wakame is a mild tasting type of seaweed common in Japanese cuisine. Seaweeds are a great source of minerals; in particular, iodine. Iodine is a critical nutrient for thyroid health, consequently playing a role in your metabolism. They best way to include them in your diet is to have a little, often. A scant tablespoon in this recipe was plenty. Note, hyperthyroid types, you may want to omit this.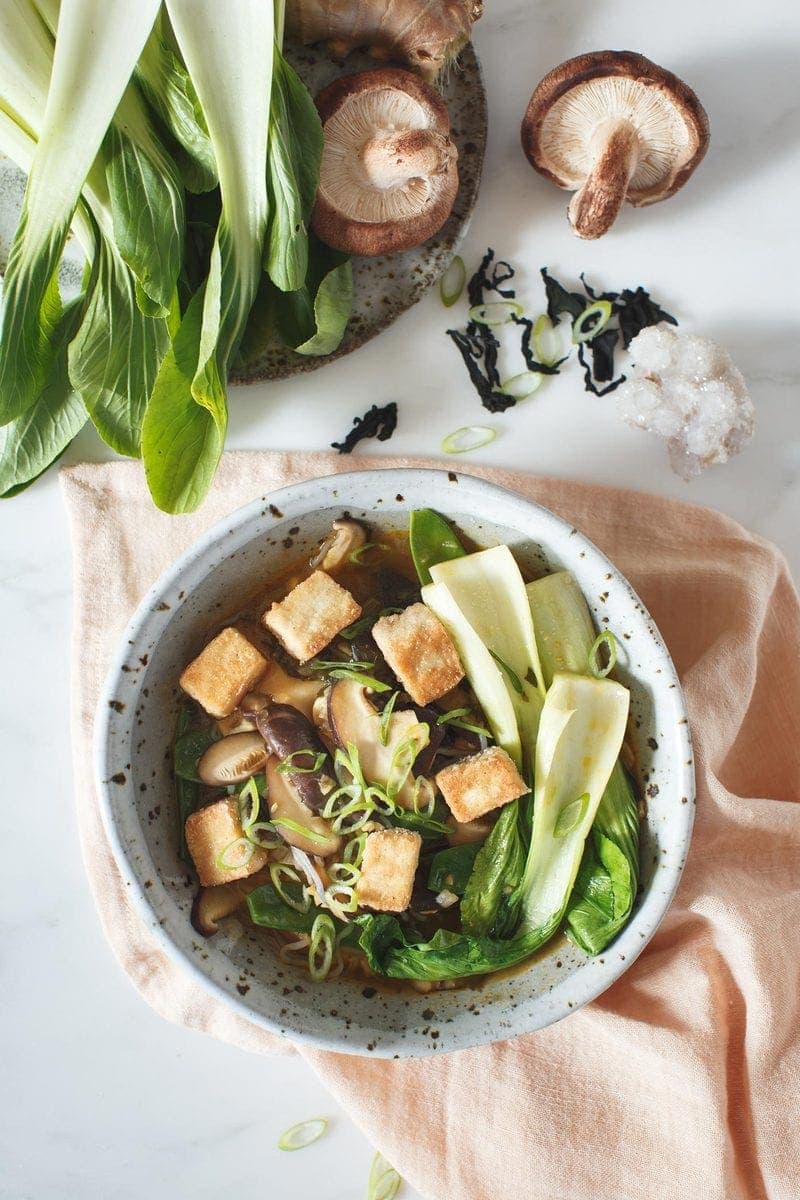 Ginger & Garlic
Warming winter spices to stimulate circulation and warm a cool constitution! Garlic of course would be best raw from a therapeutic standpoint, but hey, what's a soup without garlic?!
Tofu
I am personally more a fan of fermented or cultured soy as in tempeh and miso than tofu, but don't mind to have a few little cubes added to a meal every once in a while. I've also managed to crack the crispy tofu code: lightly coat in sorghum flour then shallow fry in coconut oil. Delish! (I think the high-starch content of the sorghum is what makes this really work).
Sounds pretty good, right? Enjoy friends – and stay well!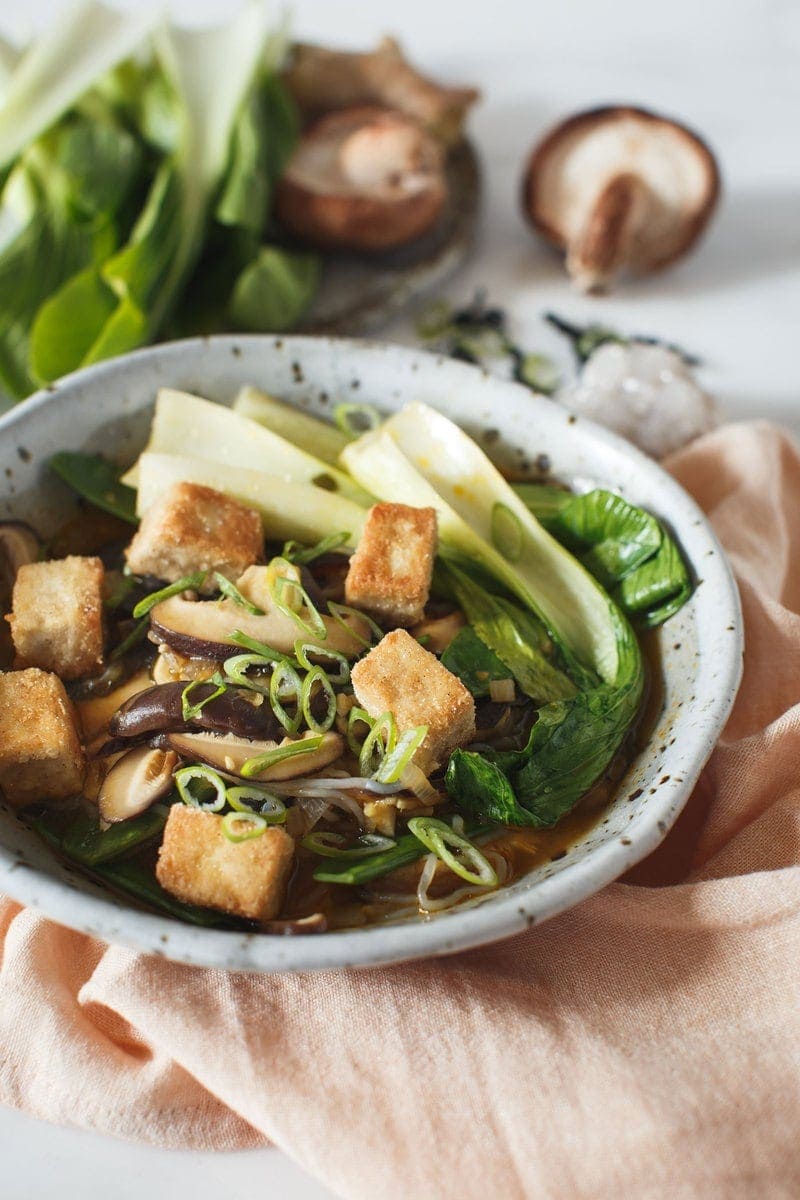 Shiitake Mushroom Soup
A delicious, filling winter soup with immune supportive shiitake mushrooms, warming ginger and garlic, fresh greens and mineral-rich wakame fronds.


Ingredients
SOUP:
400

g

konjac noodles

1

shallot

2

cups

vegetable stock

1

cup

water

6

shiitake mushrooms

1

inch

fresh ginger

6

cloves

garlic

1

tablespoon

wakame fronds

2

teaspoons

tamari

2

teaspoons

brown rice vinegar

1/2

cup

snow peas (small handful)

2

bok choy

1

spring onion
CRISPY TOFU:
1/3

block of tofu

cubed (100g)

Few tablespoons of sorghum flour

Coconut oil
Instructions
Rinse and drain the konjac noodles, then cover in boiling water and let sit for a minute. Drain and set aside.

Prep the vegetables: remove the tough stalks and finely slice the shiitake, finely mince the shallot and ginger, peel and finely slice the garlic, remove base of the boy choy and rinse.

Heat a blob of coconut oil in a large pot then fry shallot till golden. Add mushrooms, ginger, garlic, wakame, tamari, vinegar, 2 cups stock and one cup water. Bring to a boil then reduce to a simmer. Cook, covered, for up to 15 minutes.

Meanwhile, press tofu between a paper towel to remove excess liquid, then coat in sorghum flour. Heat a few teaspoons (or more) of coconut oil in a fry pan, and fry till golden.

After 15 minutes of cooking time for the soup, add greens and let cook another minute or two. Remove from pot and serve with the tofu and finely sliced spring onion.
Nutrition
Calories:
320
kcal
Carbohydrates:
51
g
Protein:
19
g
Fat:
7
g
Saturated Fat:
4
g
Sodium:
1062
mg
Fiber:
16
g
Sugar:
15
g
Vitamin C:
79.2
mg
Calcium:
960
mg
Iron:
9.9
mg
Nutrition Facts
Shiitake Mushroom Soup
Amount Per Serving
Calories 320
Calories from Fat 63
% Daily Value*
Fat 7g11%
Sodium 1062mg46%
Carbohydrates 51g17%
Protein 19g38%
Vitamin C 79.2mg96%
Calcium 960mg96%
Iron 9.9mg55%
* Percent Daily Values are based on a 2000 calorie diet.
If you make and enjoy this recipe, please leave a rating!
@ascensionkitchen #ascensionkitchen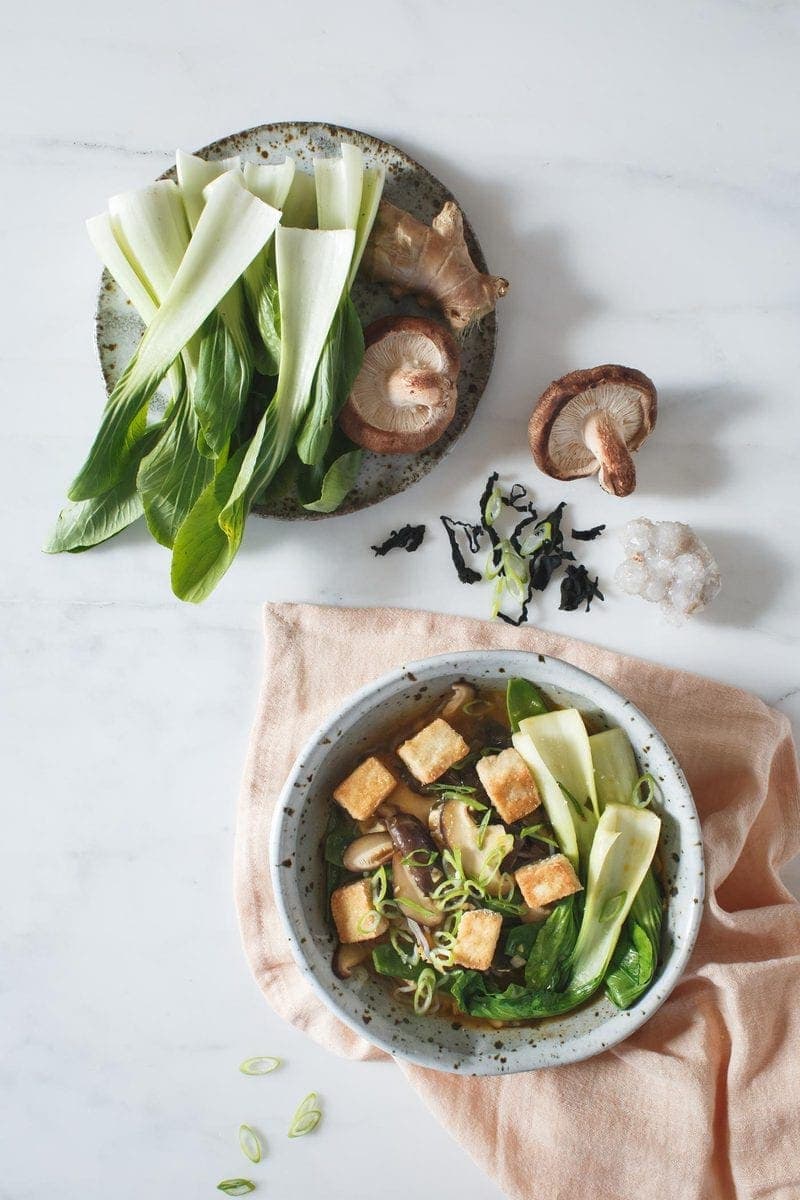 References:
Rop, O., Mlcek, J., & Jurikova, T. (2009). Beta-glucans in higher fungi and their health effects. Nutrition Reviews, 67(11), 624-631.
Chen, H-L., Cheng, H-C., Wu, W-T., Liu, Y-J., & Liu, S-Y. (2006). Supplementation of konjac glucomannan into a low-fiber Chinese diet promoted bowel movement and improved colonic ecology in constipated adults: A placebo-controlled, diet-controlled trial. Journal of the American College of Nutrition, 27, 102-108.