Beat the heat with these antioxidant-packed Rainbow Summer Rolls and one seriously delicious Spicy Peanut Lime Dipping Sauce.
Things I've done this summer: narrowly avoided sunburn, taken almost daily walks, had far too many coffees, swung on the playground swings for a good half hour every other morning even though the seat hurt my butt, had never ending family dinners and picnics, watched the new Star Wars (with only two pee-breaks), planted some new passionfruit, harvested my chamomile, calendula and peppermint (and dried them ready for tea blends and cream-making), put on a few (whoops, damn you Christmas fruit cake), introduced my 14-month old neice to the art of drawing on oneself (soz, sis), dipped a toe in the ocean (water wimp right here), and made multiple summer rice paper rolls for dinner. A holiday well spent!
Today's recipe may not be revolutionary – the classic summer roll – but the dipping sauce certainly is. And in my opinion, it's always the sauces and dressings that take a meal from yum to HOLY YUM.
I'm also going to share the art of rolling said summer rolls, because let me tell you, there most certainly is a knack to it.
Before we begin, I'm sure I don't have to extoll the virtues of this recipe, but I'm going to anyway – because mine are rainbow summer rolls and they are packed full of goodies.
[bctt tweet="Antioxidant-packed Rainbow Summer Rolls with a Spicy Peanut Lime Dipping Sauce - find them here!" username="laurenglucina"]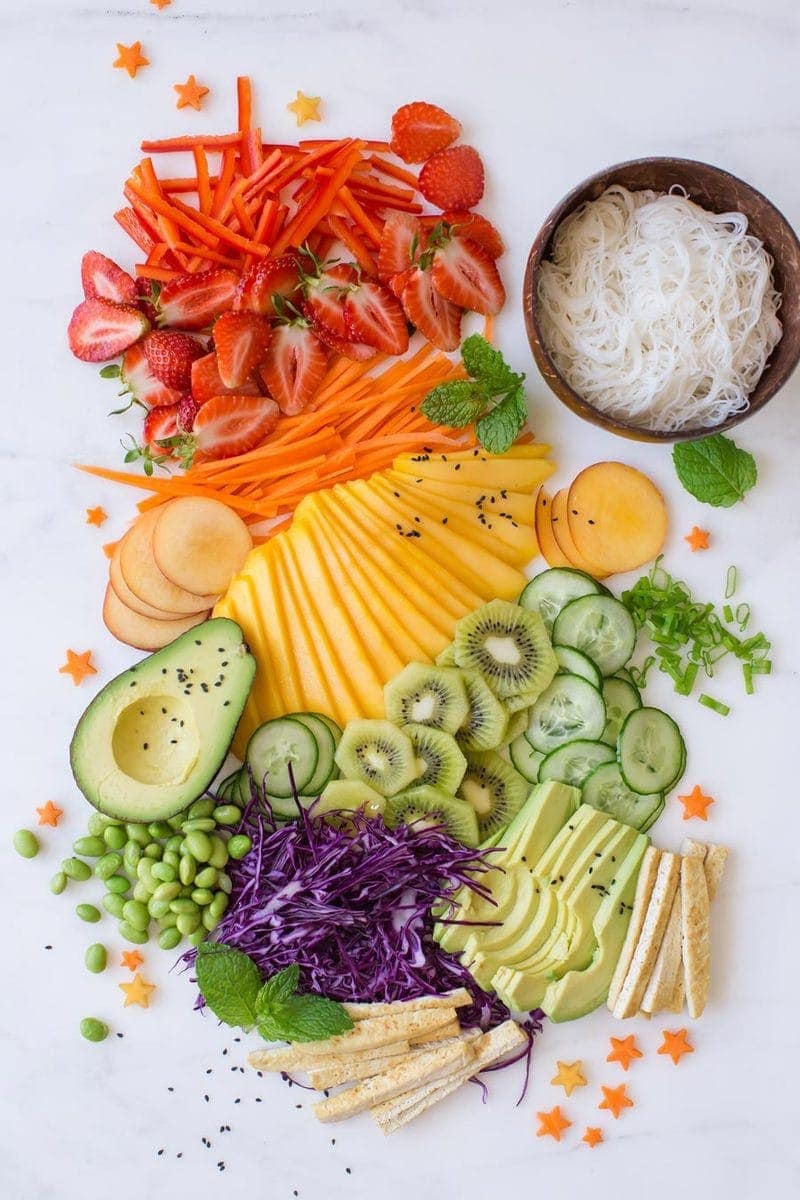 Nutritional Highlights
Eat the rainbow! It is the phytonutrient content of brightly coloured raw fruits and vegetables that help protect us against disease (and cancer), fight oxidative stress and inflammation and promote longevity
The darker the colour the better – and where possible – leave the skin on. The skins of fresh raw fruits and vegetables are by far greater concentrated in these phytonutrients (for example, a cucumber is quite pale, yet the skin is dark, so you want to wash well and leave it on for maximum benefit)
Being packed full of raw goodness, these rolls are naturally fibre-rich
Vitamins: whilst minerals are heat stable (they come from the earth's crust, after all), vitamins are not. Vitamin C is particularly sensitive to heat so consuming raw fruits and vegetables is the way to go to ensure you are meeting your daily quota
Plant protein: you don't need to rely on chicken or prawns for your summer rolls, tofu and edamame beans are great alternatives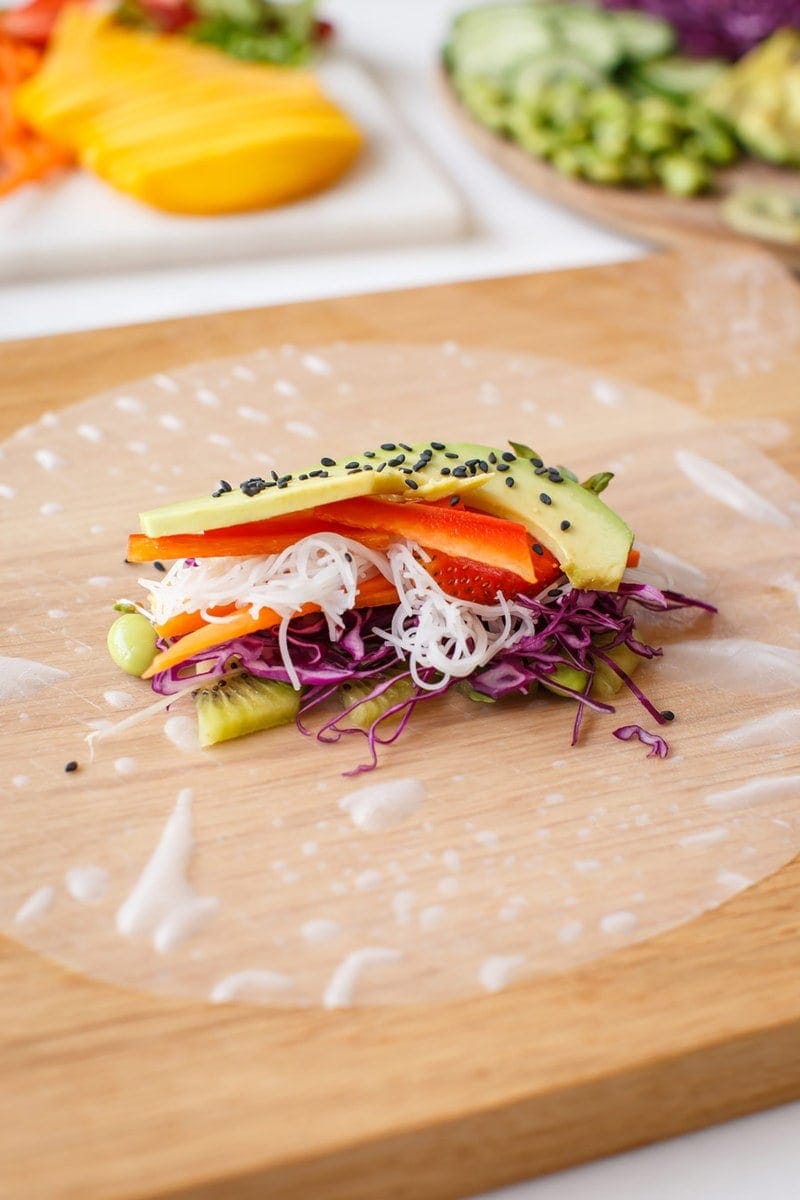 So how about that Spicy Peanut Lime dipping sauce?
The dipping sauce is a complex mix of flavours: olive oil, sesame oil, sesame seeds and peanut butter lend the creaminess. Tamari give it a bit of salty. Apple cider vinegar and fresh lime juice add the tanginess. Red chilli and ginger gives it kick. The absolute perfect match for these Rainbow Summer Rolls.
How to Roll Rainbow Summer Rolls
Fill a dinner plate with warm water and soak the rice paper wrapper for a couple of minutes until soft
Transfer to a clean surface
Place 2-3 tablespoons worth of filling just a little below centre
Fold up the lower edge
Fold the sides over
Roll up like a cigar
Resist the urge to be greedy and stuff your roll to the brim – it will be a nightmare to roll!
That's all from me today my friends. I wish you all a magical year ahead. Thanks for reading, see you next week,
Lauren.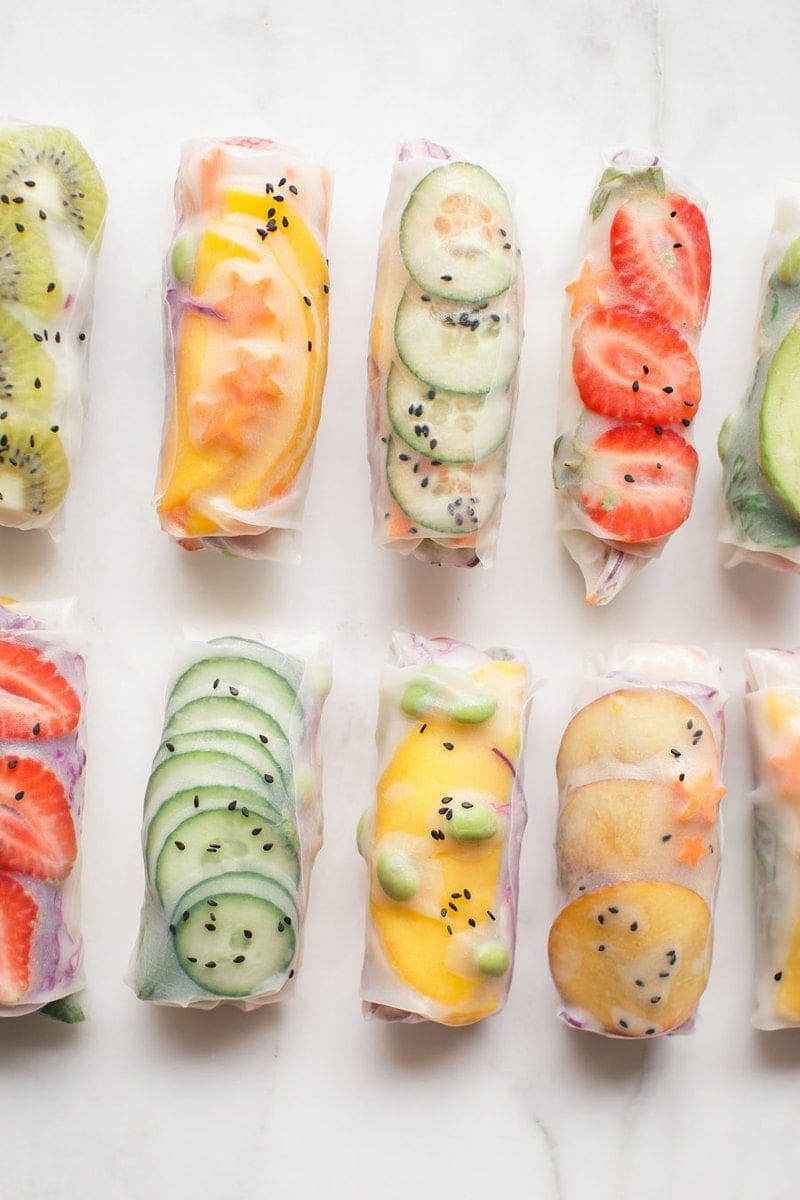 If you make and enjoy this recipe, please leave a rating below. And better yet – leave me a comment to tell me how you got on, or just say hi – I LOVE hearing from you. Follow me on Instagram, Facebook or Pinterest to see more of my everyday recipes and wellness tips.
If you'd like to chat with me about essential oils, or book in a class, you can do that here. If you're after a Naturopathic consult, read more here.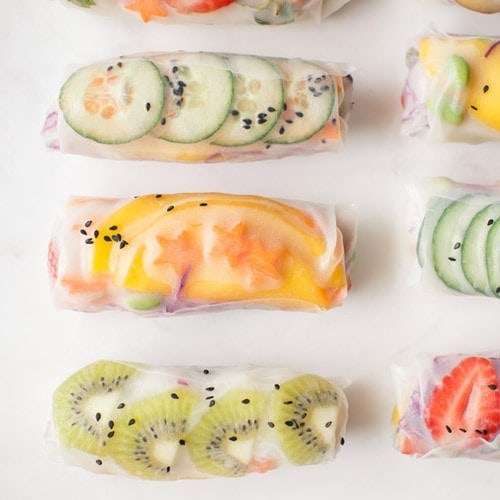 Rainbow Summer Rolls with Spicy Peanut Lime Sauce
Antioxidant-packed Vietnamese rice paper rolls and a tangy peanut sauce – the perfect summer fare! Makes 12 rice paper rolls (serves 3 people) and yields 1 cup sauce which should serve around 12 (4 teaspoons sauce per 4 rolls).

Ingredients
Rainbow Summer Rolls
50

g

rice vermicelli noodles

¾

block firm tofu

about 200g

12

rice paper wrappers

1

medium red capsicum

5

strawberries

1

medium carrot

1

large mango cheek

1

kiwifruit

¼

cup

shelled edamame

½

medium cucumber

about 85g

1 ½

cups

red cabbage

shredded

24

mint leaves

1

large avocado

1

spring onion/green onion

Black sesame seeds to sprinkle
Spicy Peanut Sauce
2

tablespoons

olive oil

2

tablespoons

sesame oil

2

tablespoons

tamari

2

tablespoons

raw apple cider vinegar

2

tablespoons

sesame seeds

1

tablespoon

peanut butter

4

teaspoons

pure maple syrup

2

tablespoons

ginger

peeled + minced

Juice of two limes

2

inch

piece of red chilli

de-seeded
Instructions
Rainbow Summer Rolls
Cut the tofu into thick slices, pat dry with a paper towel, and cook in a little oil on low-medium heat in a frying pan till done one both sides, about five minutes. Once cooked, cut into batons/matchsticks.

Meanwhile, cook the rice noodles in a pot of boiling water for two minutes, drain and set aside. Add fresh water to the pot, and boil edamame beans for five minutes, drain and set aside.

Prep all fruits and vegetables – wash and slice thinly or use a mandolin to speed the process up (about 20 minutes prep here).

One by one, take a rice paper wrapper and place on a dinner plate filled with water. Let soften. Transfer to a wooden board and add 2-3 tablespoons of filling in the centre.

Fold over one edge, then wrap up the sides, and roll.
Spicy Peanut Sauce
Peel and mince the ginger, then add all ingredients to a blender and blend till smooth. You may like to add a tablespoon of water for a thinner consistency. Enjoy!
Nutrition
LIKE THIS POST?
Sign up to my newsletter list below for weekly healthy, plant-based recipes and nutrition articles. And if you want to give back and really make my day, leave a comment below, I'd love to hear from you!
Finally, you can share this recipe on facebook or via Instagram, or pin it for later. If you try it out, make sure you tag me @ascensionkitchen and #ascensionkitchen so I can see your creations. Thank you!