About 6 weeks ago I prepared a herbal infused oil, with organic olive oil and dried comfrey leaf and root. Today, I'm sharing how to turn that lovely, rich green infused oil into a healing, antibacterial, antiseptic ointment to keep in your home apothecary, aka, my simple Homemade Comfrey Ointment.
Health and wellness extends far beyond the diet, so I love to make these simple, natural remedies free from parabens and other nasties, so I'm not adding to the toxic load on the body. Sometimes there are things that are hard to avoid – pollution, bus fumes and the like, but at least we can be mindful of what we put in our bodies, on our bodies (eg. organic and natural clothing rather than synthetic), and on our skin. What we put on our skin is particularly important – it is our largest organ after all.
Part 1 to this post can be found here: Homemade Comfrey Ointment for Minor Bruises, Bumps and Scrapes Part 1.
The first step in making a herbal salve is to prepare a lovely, rich, herbal infused oil. In this process, the constituents of the plant are passed on to the oil, we then discard the plant material and make our salve.
Making the infused oil can be done by what is known as the short or long method. An example of the short (stove-top) method can be seen in this post here;
It involves heating the plant material in your oil over a double boiler, for a minimum of two hours. In a way, I consider this the long way really – because you have to stand there and babysit the oil as it simmers.
The long version involves filling a jar with your chosen herb, then covering it with oil, and leaving it to infuse for six weeks. But when you think about it, all you do is prepare your herbs and oil then leave it to do its thing, so if you're good at planning in advance, this is such a simple way. For a step by step, read Part 1 here.
I was really happy with how the finished ointment came out – you'll see in this recipe that I added a few drops of essential oils (which you must do once the ointment has cooled slightly – they evaporate with heat). I only had tee tree on hand, but lavender is equally as nice. Tea tree oil has a broad spectrum antibacterial activity, it is a great antifungal and also useful for acne and cold sores [1].
So, what to do with your comfrey infused oil?
Once it has infused over the course of six weeks, uncap the jar and pour the entire mixture into a fine cheesecloth bag, or similar, resting over a bowl or jug, then press the plant material as best you can to get all of the oil out. You really need a little muscle here, herbs get thirsty and absorb a lot of the oil. For this reason, you'll notice you don't get as much of the finished product out compared to the amount of oil you started with. That's totally fine. You might like to repeat this straining process, sometimes a little gritty residue slips past, not ideal if you want a nice smooth finished product. Discard the plant material when you're finished. Right, you're good to make that ointment now!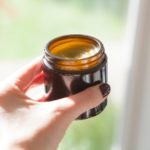 Print Recipe
Homemade Comfrey Ointment
For minor cuts, bumps and sprains. To make things easy, use one cup infused oil.
Ingredients
1

cup

comfrey infused oil

see notes

30

g

shaved organic beeswax

or beeswax pellets

½

teaspoon

vitamin E oil

10

drops tea tree or lavender essential oil

optional
Instructions
Melt the beeswax over a double boiler.

Warm the infused oil gently so it is just warm to touch.

Pour the melted beeswax into the comfrey oil and stir well.

Remove from heat and let cool till it is warm to touch again.

Add the vitamin E and your choice of essential oils (vitamin E is a preservative).

Pour into glass jars and leave to set.

Date and label, ready for use!
1. Bone, K., & Mills, S. (2013). Principles and Practices of Phytotherapy (2nd ed.). China: Elsevier.