This raw cake is summer in a mouthful - fresh mango and passionfruit with a hint of papaya, coconut and lime. Top with a drizzle of pure fruit purée and freshly cut strawberries with mint.
I'm sure I mentioned in my last post, that I've become obsessed with gardening lately. Aside from the usual vegetables and herbs, my partner and I bought two little passionfruit vines. We named them after ourselves (Lauren and Stipe), and planted them side by side. It's been a bit of a competition to see whose thrives the most. I secretly sneak out and tell mine I love it in the afternoons. Well, this morning we went out to check on them, and it appears that little Stipe has spread his feelers out and twirled his vines all over Lauren. Talk about plants imitating life! Not even the plant version can keep his mits to himself!
Anyway, they aren't bearing any fruit yet, but they did inspire me to create this recipe. A girlfriend asked me to bring one of my specialty raw desserts to her Christmas party, and when I saw my little passionfruit babies this morning, I thought there could be nothing better than a spoonful of summer in your mouth.
And so, I scribbled down all the summery yumness I could think of, and threw it together in a cake. Lime, coconut, mango, passionfruit, papaya. It turned out absolutely divine. Decorate it with some sliced strawberries, mint, coloured roses and papaya slices and it's a Christmas winner.
[bctt tweet="Celebrate Summer with this Raw Mango and Passionfruit Cake."]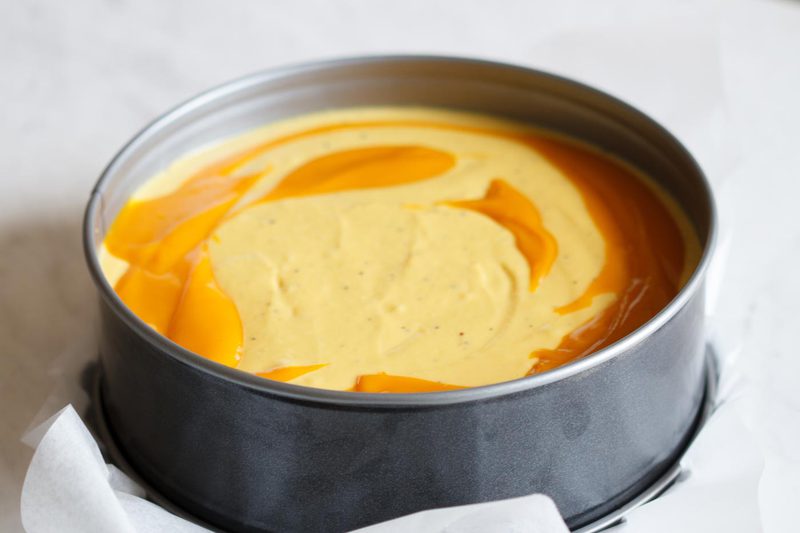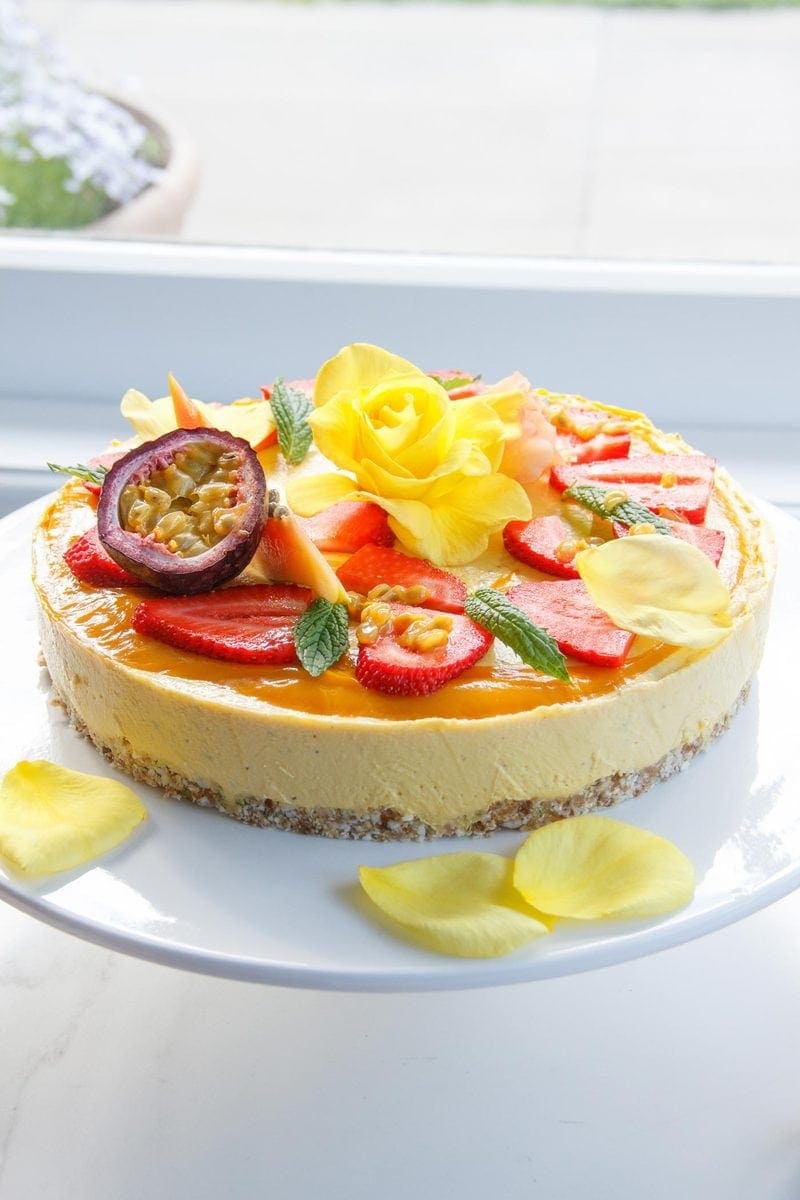 I always say, that delicious treats like this are a conversation starter. It's a way to start talking about foods that are healthy and nourish your body, about foods that are gentle on the earth, and about a more compassionate way of eating.
While I'm such a believer in the plant-based lifestyle, I don't like to take the approach of preaching in order to enact change. However, lately, I've seen so many heart wrenching videos on the suffering of animals pop up in my social news feeds. I've been in a really good groove with my meditation practice recently, so I laid this out there as something to think over. How can I make a difference, how can I enact change when there is so much suffering? After a while, the most beautiful yet unexpected metaphor popped into my mind. A pearly white flower, blooming over and over and over again, then the words,
First, you must bloom.
Ah, the universe makes me smile sometimes. I took this to mean, that you can make a difference just by being yourself. By expressing your truth, and by leading by example. Just be you in all your wonderfulness and shine, and you will inspire others. I'm sure this sentiment can be applied to any and everyone really. But its simplicity is just beautiful.
So yes, a piece of cake can make a positive change in the world. Who would have thought?
There's a revolution that needs to happen and it starts from inside each one of us. We need to wake up and fall in love with the Earth. Our personal & collective happiness & survival depends on it.
– Thich Nhat Hanh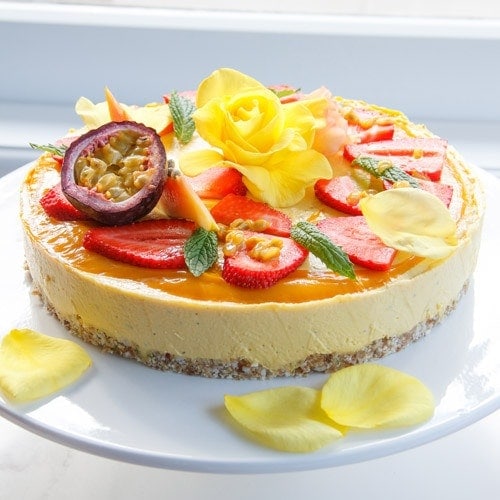 Raw Mango and Passionfruit Cake
This raw Mango and Passionfruit Celebration Cake is like summer in your mouth. Vegan and refined sugar free. Fills a 9 inch cake tin. Please note the active prep time excludes the 2 hours soaking required for the cashews.
Ingredients
Base:
1¼

cups

coconut flakes

¾

cup

rolled oats

almonds or cashews as a substitute

8

soft Medjool dates

pitted (mine came to 133g)

2

tablespoons

coconut oil

liquefied

Zest of 1 lime

Pinch

of coarse sea salt
Filling:
2½

cups

cashews

soaked in water for 2 hours then drained*

½

cup

lime juice

¾

cup

rice malt syrup

or preferred liquid sweetener (start with half a cup - then add more to taste, this really depends on the sweetness of your fruit)

1½

cups

fresh mango

pack the cups super tightly or use heaped cups

¼

cup

fresh passionfruit pulp

½

cup

coconut oil

liquefied

2

tablespoons

cacao butter

liquefied

Pinch

of coarse sea salt*The longer you soak the cashews

the softer and easier they are to blend, 2 hours in the minimum, you can soak up to 8 hours.
Topping:
Fresh mango

papaya, passionfruit
Instructions
Base:
Blitz the coconut flakes, oats, lime zest and sea salt in a food processor till crumbly, then add the dates one by one as the motor is running, followed by the coconut oil. Pulse till the dates have blended in and the mixture holds its shape when pressed together.

Line the base of a 9 inch cake tin (spring-form) with baking paper, and press the base mixture evenly into the bottom. Set aside.

Filling:
In a large, high powered blender, blend the drained cashews with the lime juice and rice malt.

Add all other ingredients and blend till smooth – you will have to stop to scrape the edges as you go. Pour over the base once done.

To make the topping, blend any leftover fruit (I added papaya to the mix and it was delicious) then use a spoon to dollop it over the surface of the cake. Bang the cake on a hard surface to flatten out and set in the freezer. Let thaw a little before serving to bring out the taste.
Nutrition
Calories:
400
kcal
Carbohydrates:
42
g
Protein:
4.4
g
Fat:
24
g
Saturated Fat:
13.6
g
Fiber:
4.4
g
Sugar:
26
g
If you make and enjoy this recipe, please leave a rating!
LIKE THIS POST?
Sign up to my newsletter list below for weekly healthy, plant-based recipes and nutrition articles. And if you want to give back and really make my day, leave a comment below, I'd love to hear from you!
Finally, you can share this recipe on facebook or via Instagram, or pin it for later. If you try it out, make sure you tag me @ascensionkitchen and #ascensionkitchen so I can see your creations. Thank you!