Quick, easy, healthy dinners are my kind of dinners. Last week I shared one of my favourite ways to prepare tempeh – marinated in a mixture of ginger, garlic, lemongrass, tamari, maple, sesame and fresh lime juice.
I make this often and usually serve it with a whole grain, some salad or vegetables, and a side of ferments. This warm quinoa salad with kale and mushrooms dish is the perfect accompaniment. It's a fairly basic recipe, but can be dressed up by adding a few extra flavours in there – such as sun-dried tomatoes (a bit of salty/tangy) and braised fennel (a bit of sweet). Added bonus – it tastes even better the next day for lunch.
[bctt tweet="Simple, quick and healthy dinner - Warm Quinoa Salad with Kale and Mushrooms. Recipe here."]
The only thing to note about quinoa is that sometimes it can taste a little bit bitter. This is just due to the natural saponins they contain, though washing them well under running water whilst rubbing through your fingers will help to remove them and improve the taste. I generally find the red and black varieties a little more bitter, and they certainly take a little longer to cook.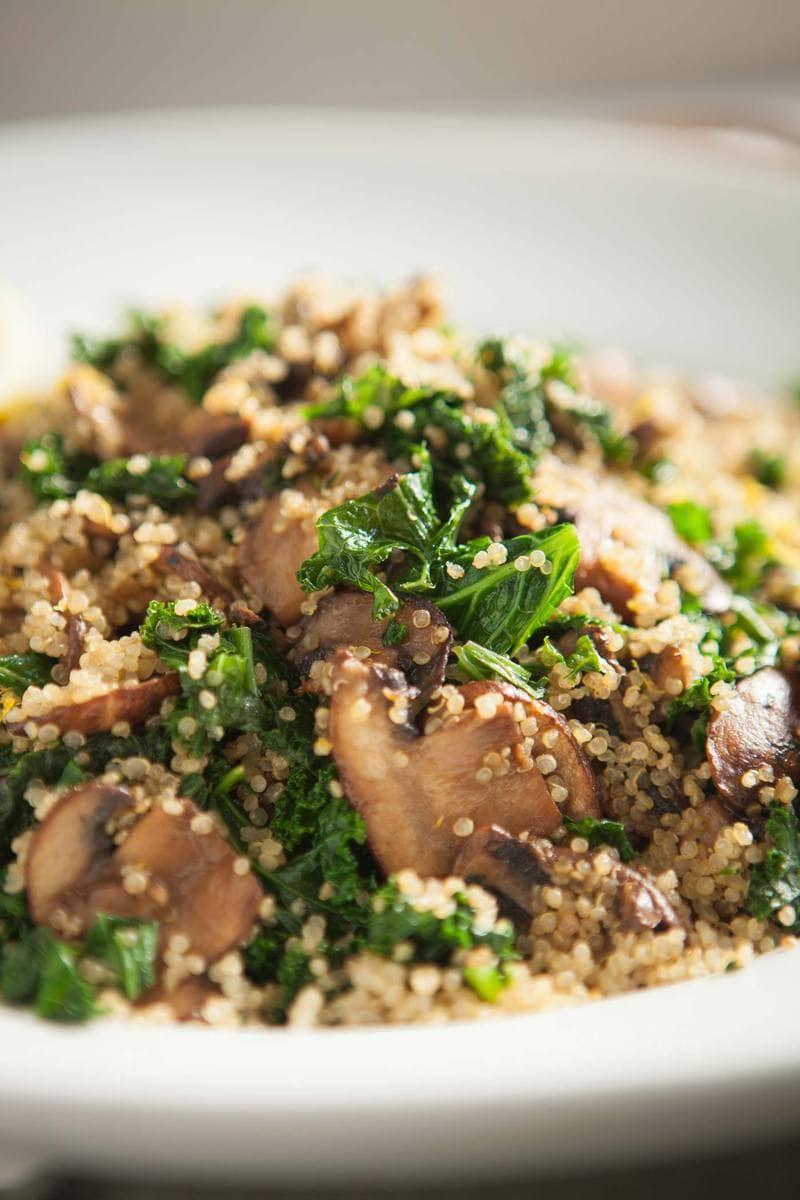 Quinoa Nutritional Highlights
Quinoa is a great plant based source of protein, in fact, unlike most whole grains, it is a complete protein, offering all essential amino acids
It is particularly rich in the trace mineral manganese, needed for healthy bone formation and in various metabolic processes. Other sources are nuts, leafy vegetables and tea
It is a good source of copper, another trace mineral, required by the body to help form haemoglobin, the protein in red blood cells that helps transport oxygen and carbon dioxide around the body
It provides phosphorus, one of the most abundant minerals in the body, used with calcium in bone formation
It is a good source of fibre, for healthy digestive function and keeping cholesterol in check
It is a good source of zinc, an important trace mineral needed for over 100 enzymatic reactions in the body. It plays an important role in all living human cells, and is essential for growth and development, healthy skin, a healthy immune system, the structure and function of your digestive tract, neurological function, fertility, pregnancy and lactation, and as an antioxidant. Many people that come into clinic for the zinc taste test appear to be deficient.
You can buy organic, Australian grown quinoa! I'm all about reducing the food miles wherever I can, so locally grown makes for a great choice over those imported from South America.
Delissimo!
More delicious quinoa salads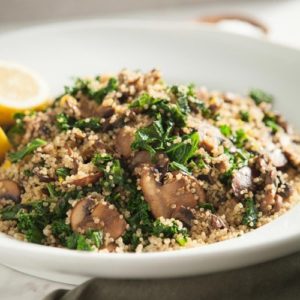 Quinoa Kale Mushroom Salad
Warm Quinoa Kale Mushroom Salad – a quick and healthy, protein rich dinner that taste better the next day for lunch.
Serves 4.
Ingredients
1

cup

quinoa

200

gm wild spinach or Cavelo Nero

variety of kale

400

gm mushrooms brushed clean and sliced

Coconut or olive oil

A little crushed garlic

Zest of 1 lemon

Himalayan salt

Pepper
OPTIONAL, TO FOLD THROUGH:
1/3

cup

organic sundried tomatoes
Instructions
If using spinach, wash and finely chop, if using kale, remove the hard stems then wash and finely chop. Set aside in a colander to drain the excess water off.

Rinse quinoa well and drain. Add to a pot and cover with about double the amount in water (or vegetable stock for a lovely rich flavour). Bring to the boil, reduce to a simmer, cook till soft. When done, turn off the heat and leave the lid on to keep warm.

Meanwhile heat a large pan over medium heat, add a little oil and throw in the spinach or Cavelo Nero and toss around till wilted down, sprinkle over pinch of pink Himalayan salt and when done set aside in a serving dish.

Next pan fry mushrooms in same pan with a drizzle of oil till a bit of colour develops and squeeze over a little garlic.

You will need to do this in two batches. When done add to the serving dish.

Now add the cooked quinoa and gently mix through, sprinkle over the zest and serve.
Notes
As a delicious variant, try folding through sundried tomatoes and braised fennel. There is a simple recipe for braised fennel here (bottom of the post).
Nutrition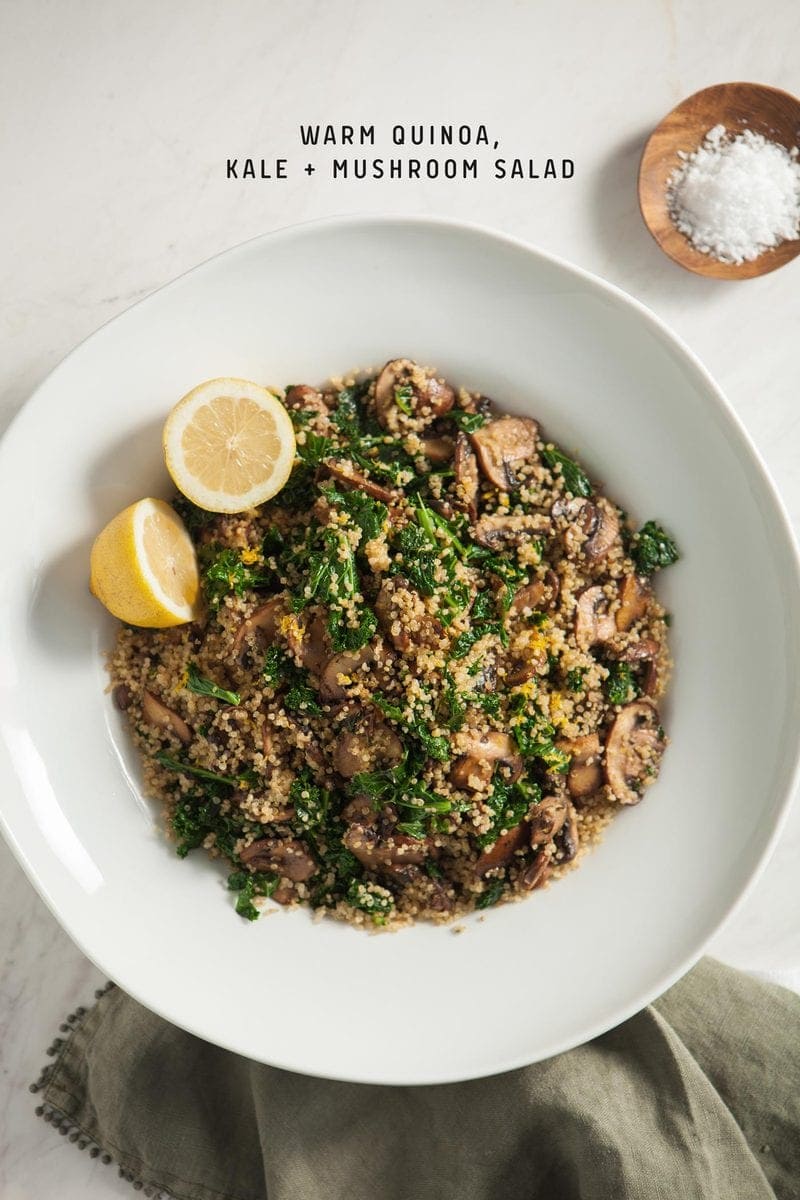 I'd love you to follow me on Instagram,
tag me @ascensionkitchen so I can see your creations!
References:
Braun, L, & Cohen, M. (2015). Herbs & natural supplements. An evidence-based guide (4th ed., Vol. 2). Sydney, Australia: Churchill Livingstone

Murray, M., Pizzorno, J., & Pizzorno, L. (2005). The encyclopedia of healing foods. New York: Atria Books

Whitney, E., Rolfes, S., Crowe, T., Cameron-Smith, D., Walsh, A. (2014). Understanding nutrition. Australia and New Zealand edition (2nd ed.). Melbourne, Victoria: Cengage Learning

The George Mateljan Foundation. (2001-2016). Quinoa. Retrieved from http://www.whfoods.com/genpage.php?tname=foodspice&dbid=142

USDA National Nutrient Database. (2016). Basic report: 20137, quinoa, cooked. Retrieved from https://ndb.nal.usda.gov/ndb/foods/show/6587?fgcd=&manu=&lfacet=&format=&count=&max=35&offset=&sort=&qlookup=quinoa