Some of the best essential oils for energy, with 6 gorgeous diffuser blends to uplift and invigorate.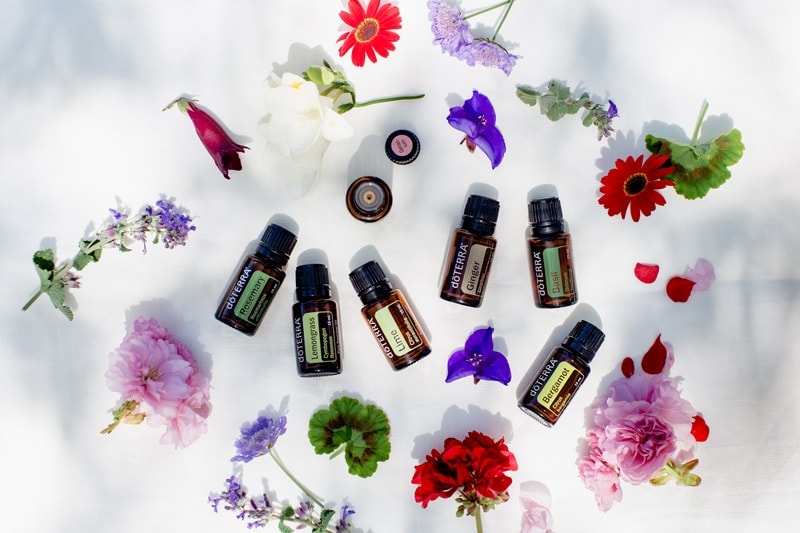 Energising, uplifting and invigorating oils - which ones to use and how to blend them?
Of the diverse range of essential oils available to us, there are some categories in particular that provide noticeable energising, uplifting and stimulating effects. These include the citrus and mint categories, with some herbs and spices as helpful supporting acts.
This post will introduce you to the best oils to turn to for a natural pick me up, with 6 gorgeous diffuser blends to get you on your way.
[bctt tweet="Feel energised, refreshed and uplifted - top essential oils for energy with diffuser recipes, more here!" username="laurenglucina"]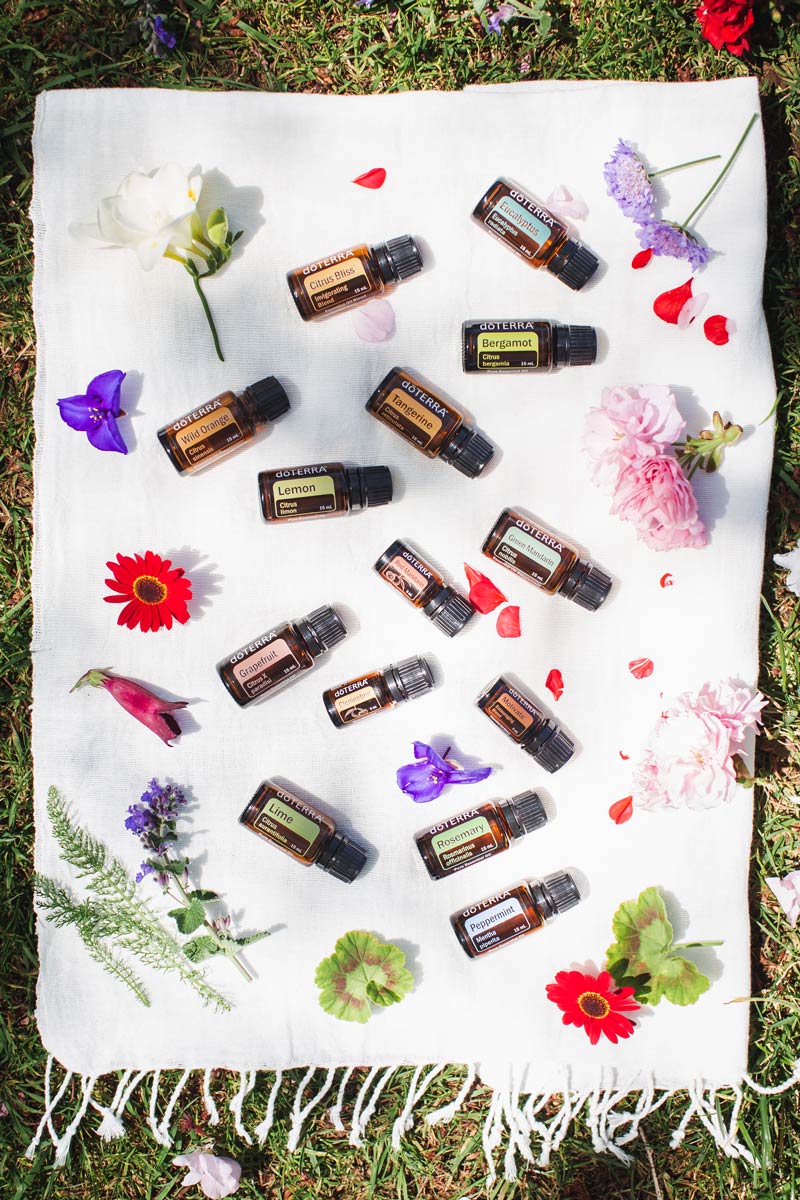 The Citrus Family
The citrus family contain compounds called monoterpenes, which are well known for their energising effects. As a family, this group are energising, refreshing and uplifting. They are well known to boost moods naturally.
Safety note: Citrus generally are phototoxic, meaning they have the ability to cause damage to the skin when applied topically and are exposed to UV light. Green Mandarin is the exception to this rule, though if you're using these on your skin – apply under clothing to enjoy the benefits, or avoid the sun for 12 hours after use.
Bergamot – uplifting and calming
Grapefruit – energising, invigorating, uplifting, motivating
Green & Red Mandarin – energising, uplifting
Lemon – energising, invigorating, purifying
Lime – energising, refreshing
Tangerine – energising, uplifting, invigorating
Wild Orange – uplifting, stimulating, refreshing
Mint Family
The mint category also contain monoterpene backbones, and their effect is slightly different to the citrus – they are noticeably stimulating as well as energising. Further – the mints are helpful in supporting clear breathing, so it makes sense that they will help provide a boost of energy, as typically we shallow breathe when we're stressed and fatigued.
Peppermint – stimulating, energising
Spearmint – stimulating, energising
Others
The following oils are a mix of herbs, spices and myrtles. Great supporting acts when paired with citrus and mints. Many of the oils in this list are also middle notes – this means they'll add substance to a citrus-based blend. The citrus oils are all very light weight molecules, known as top notes – they'll be the first to evaporate off when used in a diffuser or on the skin.
Basil – uplifting, helps you feel calm and alert
Black Pepper – stimulating, vitalising
Eucalyptus – stimulating, promotes vitality, to clear the mind (personal favourite!)
Ginger – stimulating, for an afternoon energy boost
Lemongrass – invigorating, refreshing, gives a sense of heightened awareness and positivity
Rosemary - stimulating, to help maintain concentration and lessen stress
Energising Essential Oil Blends
doTERRA have a few exquisite blends available to give that little pick me up. Motivate is my signature scent – it oddly smells like chocolate mint – it always draws comments when I wear it out.
Adaptiv – Wild Orange, Lavender, Copaiba, Spearmint, Magnolia, Rosemary, Neroli, Sweetgum
Citrus Bliss – Wild Orange, Lemon, Grapefruit, Mandarin, Bergamot, Tangerine, Clementine, Vanilla
Motivate – Peppermint, Clementine, Coriander, Basil, Yuzu, Melissa, Rosemary, Vanilla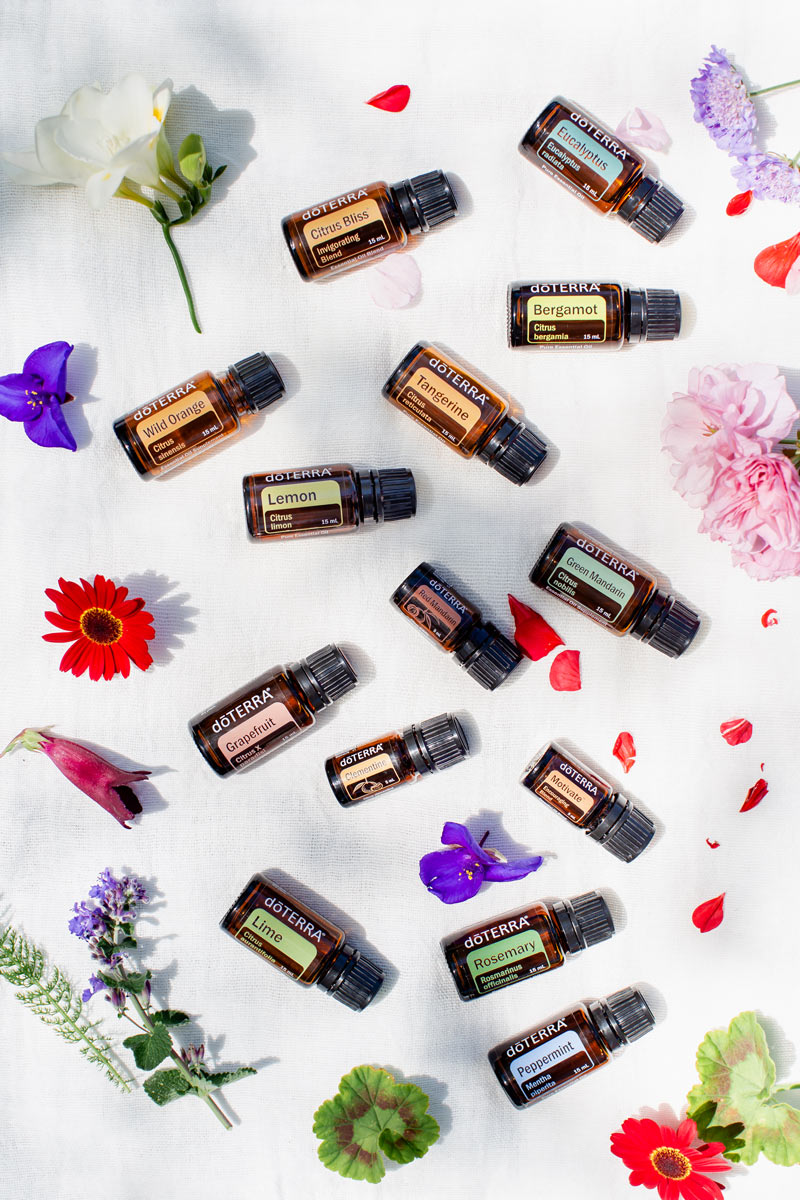 How to use Essential Oils for Energy
Use these oils both aromatically and topically. I love using an energy diffuser blend in my home office – as soon as I walk in I immediately feel uplifted and motivated to get to work.
To use them topically, add your oils to a glass roller bottle following safe dilution guidelines, the top with a carrier and roll over your pulse points or temples.
Here's a recipe I've been rocking lately: 5 drops Eucalyptus, 3 drops Lemon, 2 drops Lime, 5 drops Peppermint – in a 10ml roller topped with Fractionated Coconut Oil (5% dilution).
Energy Diffuser Blends
6 of my favourite energy diffuser blends to help you put that coffee to the side.
1 / Energiser
5 drops Bergamot
1 drop Ginger
2 drops Lemongrass
2 drops Rosemary
2 / Motivation
4 drops Grapefruit
3 drops Coriander
1 drop Lemon
2 drops Wild Orange
3 / Uplifting
5 drops Green Mandarin
2 drops Grapefruit
3 drops Black Pepper
4 / High Vibes
3 drops Peppermint
3 drops Black Pepper
1 drop Lemon
3 drops Grapefruit
5 / Life Force
5 drops Eucalyptus
2 drops Lemon
1 drop Lime
2 drops Peppermint
6 / Speed of Light
1 drop Spearmint
3 drops Wild Orange
2 drops Lime
4 drops Bergamot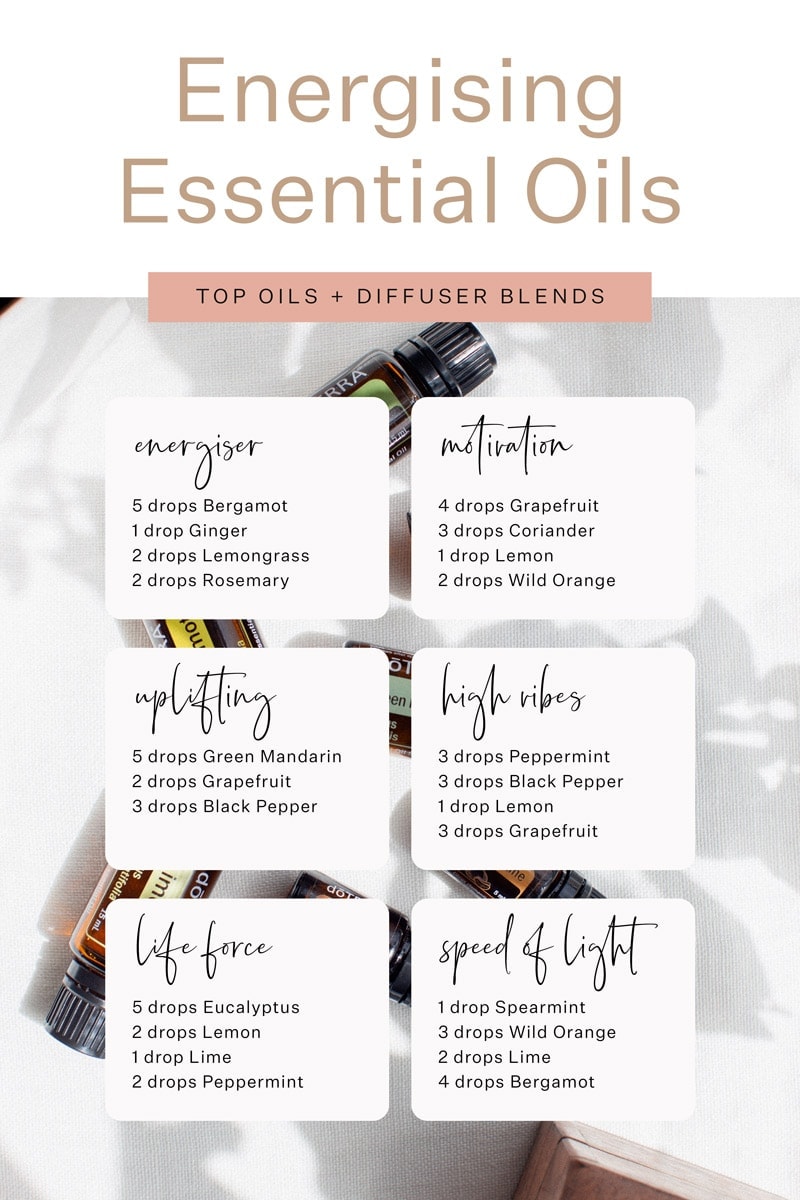 How to Purchase Essential Oils
If you'd like to get started with essential oils, you can set yourself up a wholesale account in minutes here. Purchasing a kit will always be the better value way to go – with the membership fee waived ($40 here in NZ), and a further cost savings.
Be sure to email me directly to find out what the monthly specials are, or to arrange a chat if you'd like to learn more first.
Lauren.