Beets. Ginger. Organic extra virgin olive oil. Berries. Avocado. Raw Cacao. All of these everyday superfoods come together in a delicious gluten free and vegan Chocolate Beet Cake with Avocado Frosting.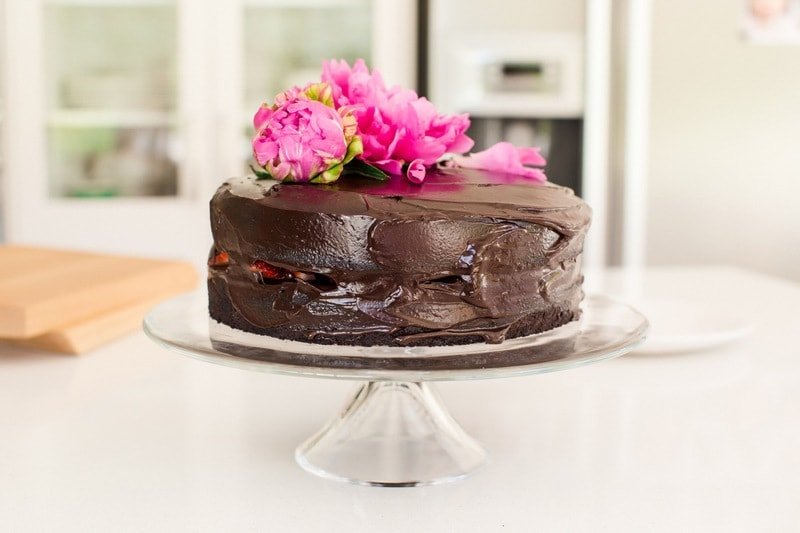 Last week I said I'd be sharing some simple, larger than life, healthy, plant-based recipes that could potentially feature on your Christmas menu.
This cake is a pimped up version of the classic chocolate cake shared some time ago here on the blog, and it certainly fits the above brief.
Easy to make
Full of everyday superfoods
Les sugar (and no refined sugar) than a conventional chocolate cake
Family sized (if you follow the suggestions to double the recipe, layer it with berries and frosting, then ice the whole thing)
Can be enjoyed by all, no matter their dietary preferences
De-licious!
The cake itself is softy and moist, made with a blend of buckwheat flour and almond meal. Your traditional chocolate cake will have between 1½ to 2 cups of refined sugar, whereas this recipe uses just over half a cup of pure maple syrup, and a ½ cup of Medjool dates.
The dates of course are a whole food wrapped up in fibre, helping slow the release of sugars into the bloodstream. Both natural sweeteners contain some minerals as an added bonus.
[bctt tweet="Gluten free, vegan Chocolate Beet Cake with Avocado Frosting: delicious recipe here!" username="laurenglucina"]
How to Make Chocolate Beet Cake
Start by soaking pitted Medjool dates in water to soften for easy blending. The grate two medium beets and press between paper towels to remove excess juice. Peel and mince a thumb of ginger.
Sift all your dry ingredients directly into a food processor (I mean, you could do this is a cake mixer - but the food processor is less bulky and easier to manage IMO).
Add sea salt, vanilla, olive oil, maple syrup, beet and ginger - blend to combine.
Now - in a blender - combine the coconut milk and psyllium husks and blitz for just ten seconds. No longer peeps - or the mixture will thicken too much and make the cake a disaster!
Pour the coconut milk into the food processor, the blitz - adding the soaked and drained dates down the chute one by one.
Transfer cake batter to a cake tin - then bake at 180˚C / 356˚F for up to 40 minutes or until a skewer comes out clean. Let cool entirely before removing from the cake tin.
Chocolate Beet Cake Frosting
The frosting is next level - and it uses avocados with raw cacao! It perfectly mimics the texture of your regular chocolate icing. No need to chill this baby prior to using – it's ready to spread thick and rustic over your chocolate beet cake as soon as it is made (and it will stay that way too!). A wee hint – soft but not overly ripe avocados are the best here.
To make and spread the frosting:
Scoop out the flesh of a ripe avocado and add to a blender
Add raw cacao powder, pure maple syrup, coconut oil, vanilla and sea salt
Blend till combined - done!
Use an icing spatula to spread the frosting over the cake - rustic looks great - don't worry about it being too perfect. Step back and admire your handy work.
Lick. The. Spatula.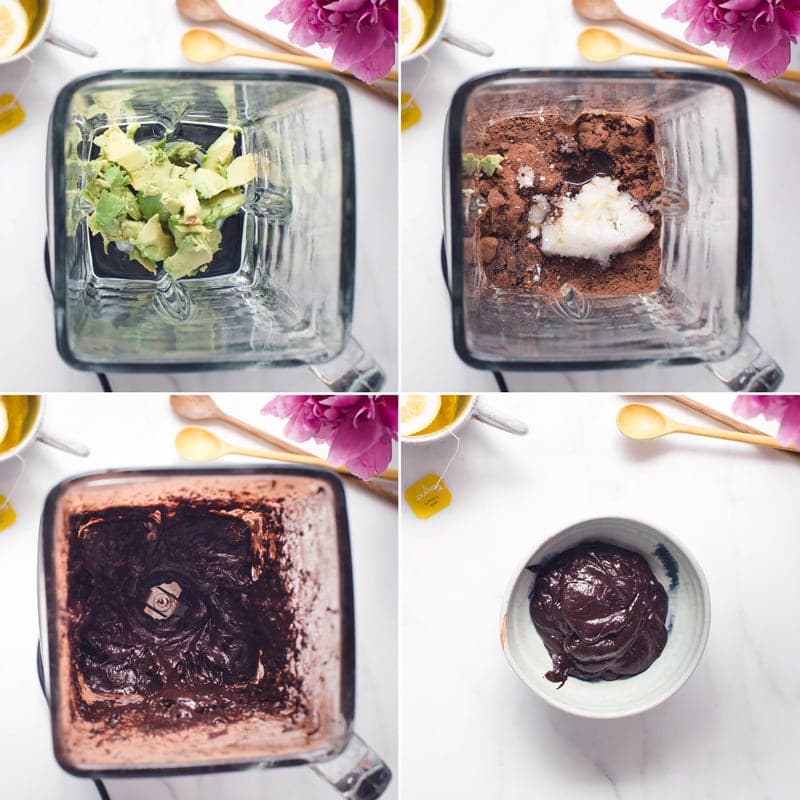 Super Ingredients
This chocolate beetroot cake is not just entirely gluten free and vegan - but healthy too. It's all those hidden everyday superfoods:
Beetroot – a source of natural sweetness, it is a great functional food for cardiovascular health. It contains compounds called nitrates, which the body converts into nitric oxide – a potent vasodilator, meaning it helps to expand the blood vessels and consequently promote healthy blood pressure. Tip: don't throw away the beet leaves – wash them, remove the tough inner stalk, and add them to your smoothies.
Ginger is perhaps my most favourite ingredient – this aromatic is warming and promotes circulation. It is a fantastic remedy for digestive ailments and promotes gut motility.
Extra virgin olive oil is often overlooked but in my books it is an absolute superstar. It is rich in anti-inflammatory phenolic compounds that can down-regulate production of inflammatory cytokines, such as C-reactive protein and interleukin-6. There is also evidence to suggest that olive oil might exert beneficial effects on the lining of the blood vessels. It is possibly a key contributor to the cardio-protective effects of the Mediterranean Diet.
Raw cacao powder contains antioxidants that help neutralise free radical damage, is rich in minerals – particularly magnesium, and may even act as a prebiotic in the gut
Berries are another everyday superstar – low in sugar and packed full of antioxidants. I try and buy organic strawberries when budget allows as they tend to be highly sprayed and feature at the top of the Environmental Working Group's 'Dirty Dozen'
Avocado is a fantastic source of heart healthy mono-unsaturated fats and believe it or not is a good source of dietary fibre. Because avocados are a rich source of fat, eating them with plant foods that contain fat-soluble vitamins and nutrients (such as vitamin A, E, K and carotenoids) will help with their absorption. Try and scoop out the flesh as close to the skin as possible – this is where some of the nutrients in avocado are most concentrated.
Pretty cool right? All hiding in one scrummy cake!
Mastering this Masterpiece: Q&As
What can I use in place of almonds? Tough question - almonds help give the cake a soft and springy texture. You could *possibly* substitute for ground sunflower seeds - however - I haven't tried it - so can't be responsible if a disaster occurs!
Where can I find psyllium husks? Try your local health food store.
What can I substitute for psyllium husks? *Possibly* ground flax seeds - but because I haven't tried it - no guarantees.
Do I really need the psyllium husks? Yes - they help bind the ingredients in lieu of eggs.
What type of coconut milk do I use? Canned coconut milk - full fat. The tetra pack coconut milk is just too watery in texture. For this reason - no, you can't use another plant milk as an alternative (you may be thinking oat, almond, cashew milk).
What can I use as an alternative to buckwheat flour? Sorghum flour is my next pick - or spelt if you don't need it to be gluten free.
Can I make this entirely sugar free? N0 - I've used products like xylitol and erythritol before in some recipes, but we really need a liquid sweetener here, so the maple needs to stay. Please read the label to ensure you have a 100% pure maple syrup, as often they contain added sugar.
Why does my cake sink? A few reasons - either your baking soda and powder weren't fresh, or you left the cake batter out too long before putting it in the oven, or you opened the oven door to peak (I know, it's hard).
Supersize the recipe to feed a crowd
Before you go on to read the recipe – note that the cake in the photos is actually two batches of the same recipe made in a larger tin, with frosting and fresh berries in between layers, and a thick lick of frosting over the whole thing to finish.
The recipe itself is for one smaller (but taller) cake, which is enough to serve a family. But definitely go ahead and make two batches if it's for a larger gathering – it looks super impressive!
Enjoy – and please share your creations with me I'd love to see how they turn out!
If you make and enjoy this recipe, please leave a rating below. And better yet – leave me a comment to tell me how you got on, or just say hi – I LOVE hearing from you. Follow me on Instagram, Facebook or Pinterest to see more of my everyday recipes and wellness tips.
If you'd like to chat with me about essential oils, or book in a class, you can do that here. If you're after a Naturopathic consult, read more here.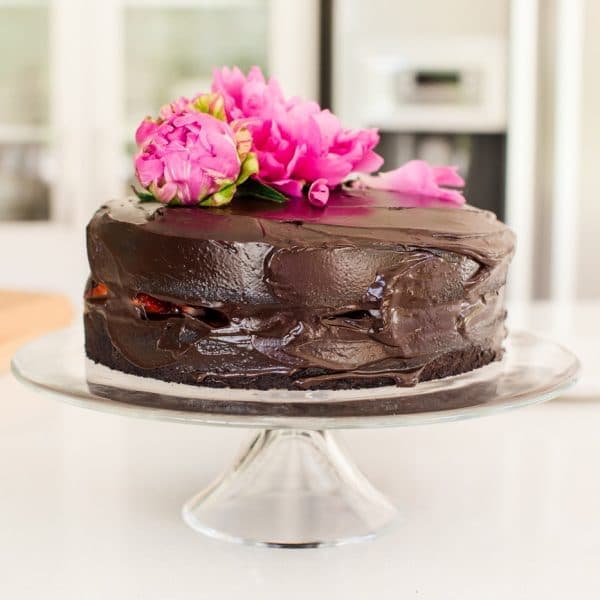 Chocolate Beet Cake with Avocado Frosting
Chocolate Beet Cake with a thick and creamy Chocolate Avocado Frosting.
Equipment
Food processor

Blender

7 inch cake tin

Oven
Ingredients
1

cup

buckwheat flour

1

cup

almond meal

1/3

cup

+ 1 tablespoon raw cacao powder

1½

teaspoons

baking powder

source a gluten free brand

½

teaspoon

baking soda

½

teaspoon

coarse sea salt

1/3

cup

extra virgin olive oil

2

teaspoons

vanilla extract

½

cup

+ 2 tablespoons pure maple syrup

200

g

grated beetroot

about 2 cups – 2 medium beets

2

inch

piece of ginger

peeled and finely minced

½

cup

Medjool dates, pitted

100g

2

scant tablespoons

psyllium husks

1¾

cups

coconut milk

canned – full fat
CHOCOLATE AVOCADO FROSTING:
½

cup

avocado

½

cup

raw cacao powder

½

cup

pure maple syrup

¼

cup

coconut oil

melted

½

teaspoon

vanilla extract

2

pinches

coarse sea salt
Instructions
Pre-heat oven at 180˚C, lightly grease a 7½ inch spring-form cake tin and give it a dusting of cacao powder to prevent sticking. Place baking paper over the bottom.

Soak pitted dates in hot water for at least 15 minutes to soften, then drain ready for use. Grate beetroot and press between a paper towel to remove excess juice. Peel and mince the ginger.

Sift the buckwheat flour, almond meal, cacao powder baking powder and baking soda directly into a food processor.

Add sea salt, vanilla, olive oil, maple syrup, beet and ginger.

In a blender, whiz the psyllium husks and coconut for ten seconds and no longer. Pour this mixture into the food processor.

Blitz everything together – dropping the dates down the chute one at a time. The mixture won't be completely smooth due to the beets.

Pour into cake tin and bake for 40 minutes (skewer should come out clean), then remove and let cool in tin for 10 minutes, before turning onto a wire rack. Add frosting once 100% cooled.

CHOCOLATE AVOCADO FROSTING:
Add all ingredients to a blender and blend till thick and creamy. No need to chill - use right away! Will keep in the fridge for a few days in an airtight container.
Notes
This recipe makes a small 7½ inch cake. To make it big enough to feed a large crowd, make two batches and bake them separately, in a larger, 9 inch cake tin. You will only need to cook the larger size for 35 minutes.
Sorghum flour can be used in place of buckwheat, or spelt if you don't need this to be gluten free
There is no ideal substitute for almond meal, you could try ground sunflowers, but I haven't - so can't promise it will turn out
Psyllium husks help bind the cake, find them at your local health store or health isle of supermarket
Be sure to use full fat, canned coconut milk - we need the thick and creamy texture
If the cake sinks - check that both baking powder and soda are fresh, ensure you get the cake into the oven right away, and resist opening the oven door before the cake is ready
Nutrition panel is a rough estimate only - you likely won't need the entire batch of icing but I've included the full amount in my calculations
Nutrition
Calories:
426
kcal
Carbohydrates:
38
g
Protein:
8
g
Fat:
29
g
Saturated Fat:
14
g
Fiber:
9
g
Sugar:
17
g
Vitamin C:
2
mg
Calcium:
87
mg
Iron:
3.8
mg