These no-bake Apricot Chocolate Popped Quinoa Bars are a breeze to make and packed full of plant protein. Pumpkin seed butter holds them together – giving a pop of green whilst providing some zinc. A delicious afternoon snack.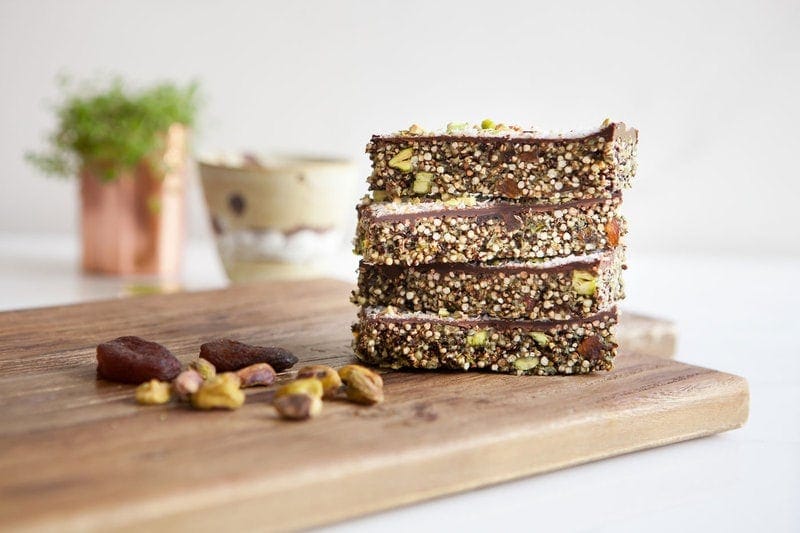 Life is good – it's Sunday after all, my favourite day of the week. I've slept in, done a fabulous meditation, pulled a daily tarot card (The Star: Life is about to get brighter!) and enjoyed a healthy cooked breakfast, smugly staring out at my lounge from my comfy vantage point, pleased as punch for a neat-as-a-pin house (its been a week of chaotic mess, so this is a huge win).
I think a big nature walk and a wee kip in the sun are in order, to really top things off.
This is a day worth celebrating, because: the busier life gets, the easier it is to put self-care on the back-burner in order to free up more time to do the stuff. Let me tell you from past experience: this simply doesn't work.
The busier you are, the more you absolutely need this quiet time to de-compress and re-fill that cup. You'll come back to work energised, with a renewed sense of creativity, clarity and focus, and an increase in productivity. Take care of you, is all I'm sayin'.
Now, today's recipe was a success-disaster. A success, because it turned out absolutely delish – the perfect protein-packed snack to take to work for an afternoon pick-me-up, yet, a disaster, because the batch is gone, it's only Sunday, and there will be no such bars for the week ahead.
Is this a good problem to have I wonder? I'm undecided. But let's look at what they're made of…
[bctt tweet="No-bake Apricot Chocolate Popped Quinoa Bars: delicious & protein packed. Recipe here!" username="laurenglucina"]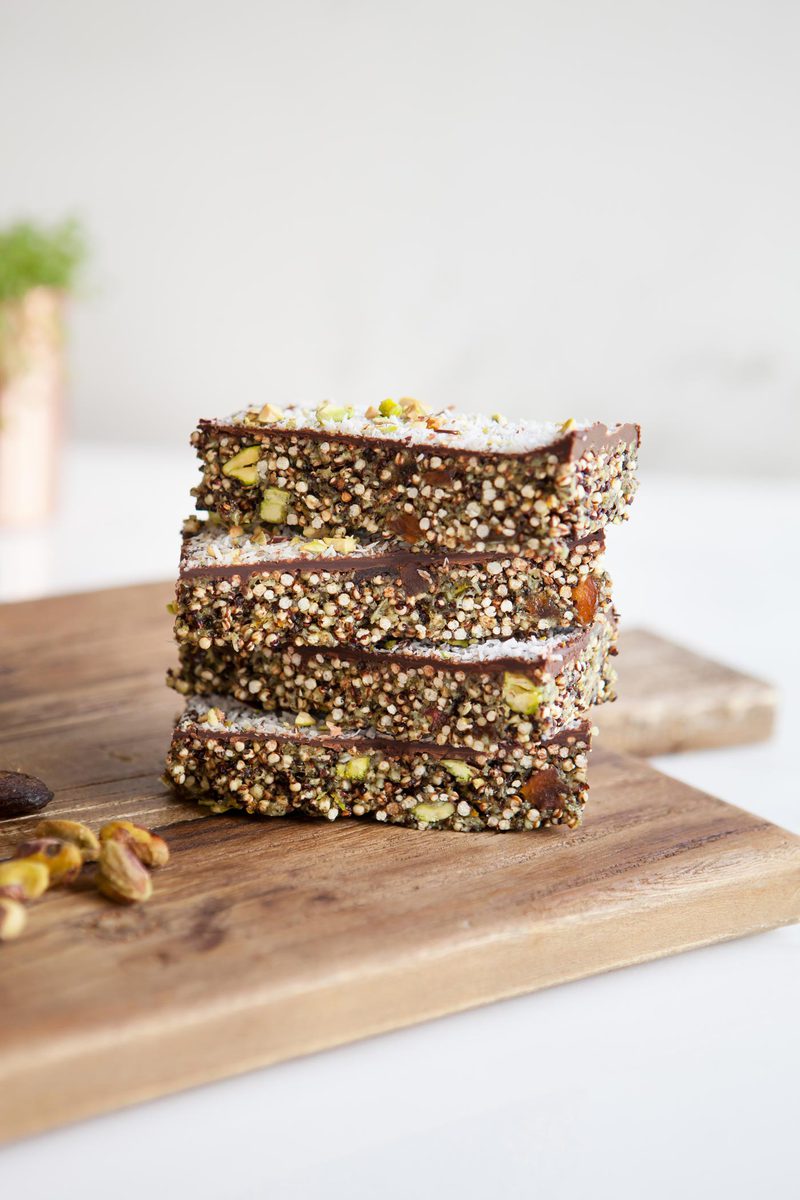 Apricot Chocolate Popped Quinoa Bars
Popped quinoa is a real treat – and although you can prepare it yourself at home (shake a pot filled with organic dry quinoa over medium heat till they pop), I prefer to buy them ready made, given my history of pot-burning.
I find they have the crunchiest texture when compared to other puffed grains (millet, amaranth, rice, sorghum, buckwheat), which makes them a great pick for these snack bars.
Nutritionally, they're packed full of protein, providing all essential amino acids. They are a good source of fibre and the minerals magnesium, iron and zinc.
Pumpkin seed butter caught my eye this week – it is the most luscious mossy green colour. Ashamedly, I purchased this also – but only because my food processor is out of action.
To make a batch yourself, simply blend 4-6 cups of either raw and activated or roasted pumpkin seeds in a food processor for up to 20 minutes, till smooth and buttery. Add salt to taste and you're done.
Pumpkin seeds are one of the most concentrated plant sources of the mineral zinc, needed for healthy immune function, wound healing, healthy skin and gut repair. They also contain the antioxidant vitamin E, in numerous forms.
Organic dried apricots provide some juicy sweetness. What a contrast when you put a conventional dried apricot side by side with an organic one – the conventional dried apricots are bright orange, whilst the organic ones are dark brown (and far softer).
Conventional dried fruits are preserved with sulphites (in the form of sulfur dioxide), which are also widely used in alcoholic beverages.
Sulphites can trigger allergy-like symptoms in people with underlying asthma or hay fever. But they can also adversely affect gut health.
Sulphites are broken down by bacteria in the colon, producing a potentially toxic compound called hydrogen sulphide, which can contribute to abdominal distension.
This compound can damage the mucosa of the intestinal wall, as it competes with beneficial short-chain fatty acids. It can also contribute to increased intestinal permeability (leaky gut) [1,2].
They may be a little more expensive, but organic dried apricots are always my preferred choice.
I very roughly entered the recipe into one of my nutrition apps – per bar, we have approximately 9g protein (not bad!), 4g fibre, 3g iron (great!), and 1mg zinc.
The sugars are sitting at around 10g – due to the dried apricots, brown rice syrup and dark chocolate. I'm not too concerned about this (particularly not when in the context of a balanced, whole foods diet) – the dietary fat, fibre and protein in the bar all slow the release of sugar into the bloodstream, effectively reducing the glycemic index of the bar.
You could always opt for a stevia-sweetened dark chocolate as a topping, or use a bit more pumpkin seed butter in place of the brown rice syrup. Happy days.
Enjoy my friends, these are truly delicious – and come with a 9.5 out of 10 rating from my partner (it could never be a perfect 10, as its 'not pizza').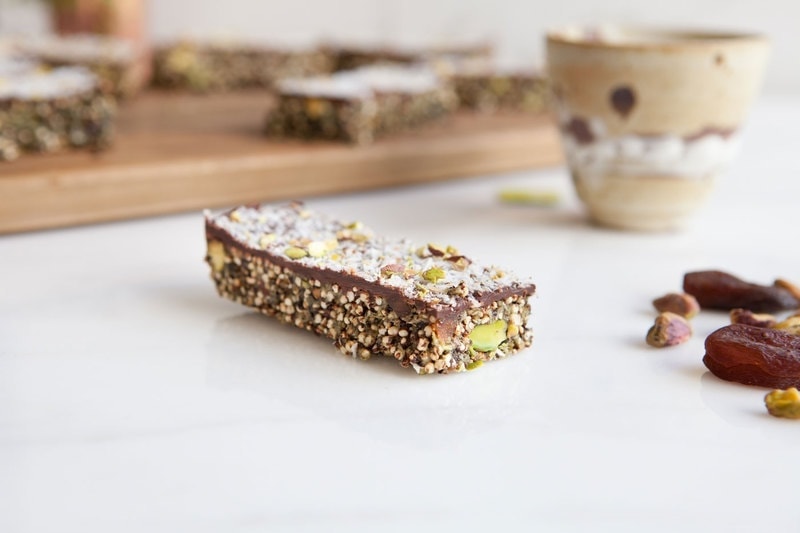 More plant-powered treats
No-Bake Apricot Chocolate Popped Quinoa Bars
These no-bake Apricot Chocolate Popped Quinoa Bars are a breeze to make and packed full of plant protein. Pumpkin seed butter holds them together – giving a pop of green whilst providing some zinc.
Makes 10 Bars, in an 8x8 inch baking tin.
Ingredients
2

cups

popped quinoa

½

cup

coconut

desiccated

½

cup

pumpkin seed butter

or other nut/seed butter + an extra few tablespoons

¼

cup

organic brown rice syrup

¼

cup

pistachios

roughly chopped

¼

cup

organic

sulfur dioxide free dried apricots, chopped

1

tablespoon

coconut oil

melted

Zest of half a large orange

½

teaspoon

vanilla extract

Pinch

of fine sea salt

100

g

quality

dark chocolate
TO DECORATE:
Extra coconut

desiccated

Extra pistachios

chopped
Instructions
In a large bowl, mix together the pumpkin seed butter, brown rice syrup, coconut oil and vanilla.

Add remaining ingredients (quinoa, pistachios, apricots, zest, sea salt) – except for chocolate – mix to combine, you may like to get your hands in there.

Transfer mixture to a square baking tin lined with baking paper, press it down and even out the surface.

Melt the dark chocolate over low heat, then use a spatula to spread a thin layer over the top of the mixture in the baking tin.

Sprinkle with coconut and pistachios, set in the freezer, then cut into even bars to serve.

Store in the fridge.
Nutrition
Calories:
294
kcal
Carbohydrates:
26
g
Protein:
9
g
Fat:
19
g
Sodium:
19
mg
Fiber:
4
g
Sugar:
8
g
Calcium:
20
mg
Iron:
3.4
mg
Nutrition Facts
No-Bake Apricot Chocolate Popped Quinoa Bars
Amount Per Serving
Calories 294
Calories from Fat 171
% Daily Value*
Fat 19g29%
Sodium 19mg1%
Carbohydrates 26g9%
Protein 9g18%
Calcium 20mg2%
Iron 3.4mg19%
* Percent Daily Values are based on a 2000 calorie diet.
If you make and enjoy this recipe, please leave a rating!
@ascensionkitchen #ascensionkitchen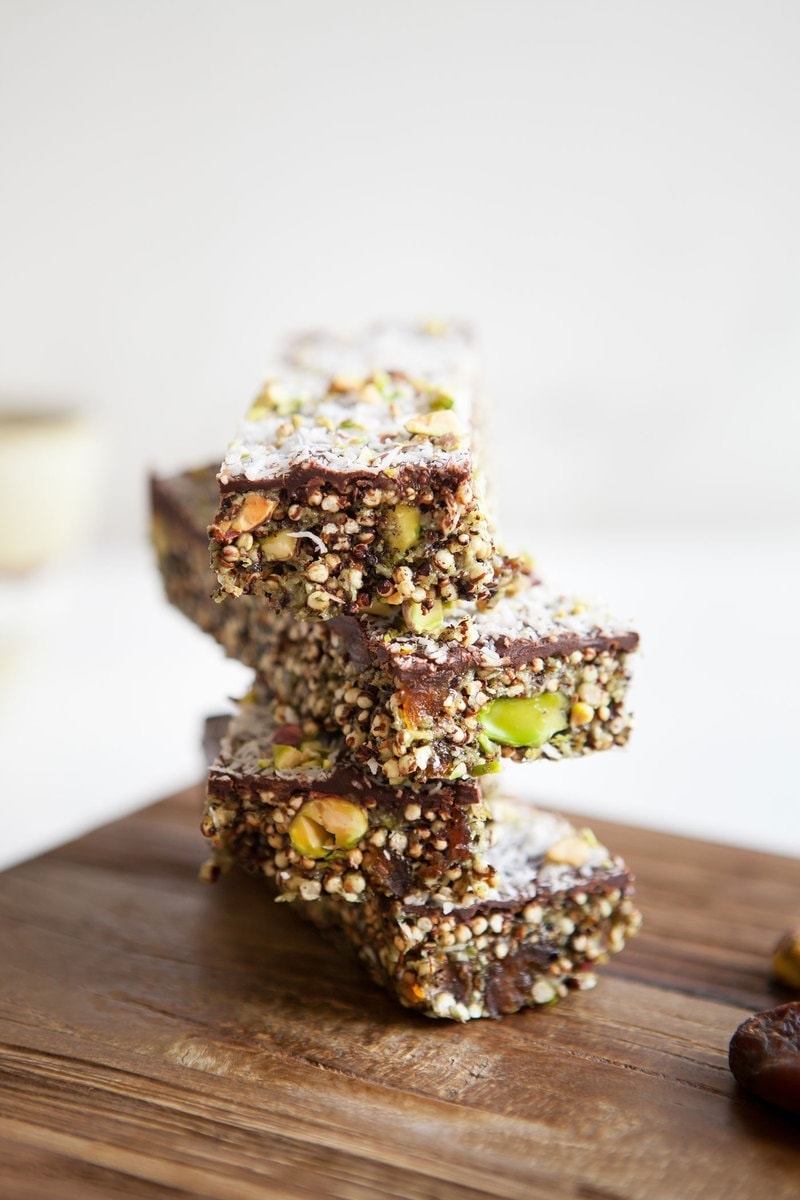 References:
Hawrelak, J.A. (2004). The cause of intestinal dysbiosis: A review. Alternative Medicine Review, 9(2), 180-197

Hechtman, L., Harris, K., & Bridgeman, K. (2012). The immune system. In L. Hechtman (Ed). Clinical naturopathic medicine (pp. 280-417). Sydney, Australia: Elsevier Australia