A raw chai cake with creamy lacuma, citrus and coconut.
Oh yes. This cake is quite delicious. The theme for this recipe was inspired by yoga. I have only just discovered myyogaonline.com thanks to a lovely friend, whose name is Nuran which means Light (I love that). I know, I know – what?! How could I not know about this, right? Well there I was, missing out on all this yogic-amazing-ness, because it is SO expensive in Sydney – when I could have been practicing at home all along for the tiniest fraction of the price! This has changed my world!
This also meant that I could get bendy in the lounge in my daggy trackies and not care because no one was there to see! So great. Anyway, I now have sore muscles and a bulging belly to completely negate all that good work after eating my share and then some of this cake.
Ayurvedic Chai spices are some of my absolute favourite things in the world so don't be put off by the length of ingredients here because it is actually very simple to make.
The base can really be eaten on its own, just turn it into a slice or roll it into some balls – it is that tasty. I had some left over licorice root powder from the smoothie I made the other day, so that went in there. The fresh ginger gives it a nice zing.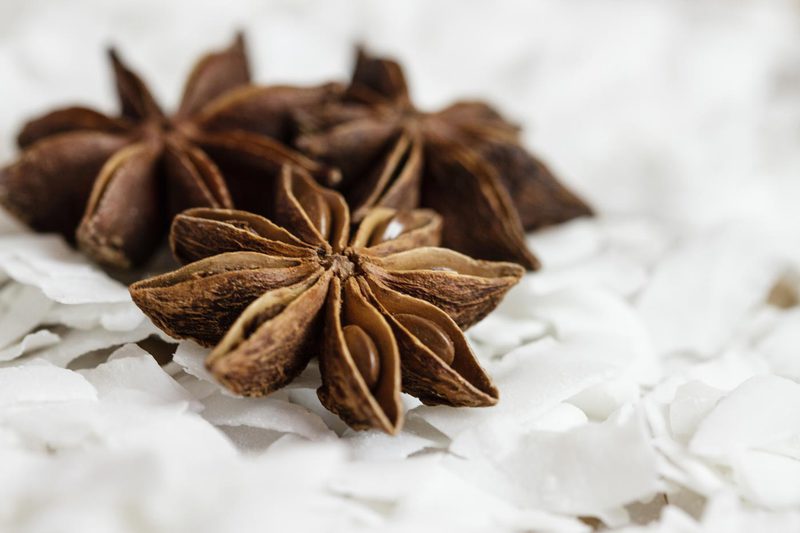 I think adding some freshly ground star anise would take it to the next level – there is no better smell in the world than fresh star anise! I didn't see them in my pantry till post-cake making unfortunately.
Yogi Cake Stars
Lacuma
Lacuma is a funny character. It tastes creamy and citrusy so I thought I'd try it out with the chai spices and it really works. A great alternative sweetener to use in desserts as it is low GI and easy on the blood sugar levels.
Ginger
Is a natural remedy for digestive ailments such as gas, indigestion and nausea. It is warming and stimulates circulation. It is also anti-inflammatory.
Cinnamon
Helps to regulate blood sugar levels. It is anti-fungal, anti-bacterial, a carminative and eases gastrointestinal spasms, indigestion and flatulence.
Cardamom
Is one of the oldest spices in the world, and was even used to make perfumes in Egypt. Cardamom pods are beautiful to look at – and they too act as a carminative, calming upset tummies. This warming spice can also heat things up in the bedroom – it has a bit of a reputation as an aphrodisiac.
Now back to the yoga – I just wanted to say that I am really loving how it is complimenting my recently renewed but long abandoned spiritual practice – and it is extremely nourishing – just as much as good nutrition is – I feel like writing a post on this soon, so stay tuned if it interests you
Lx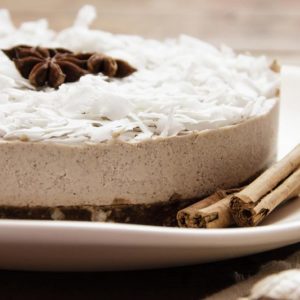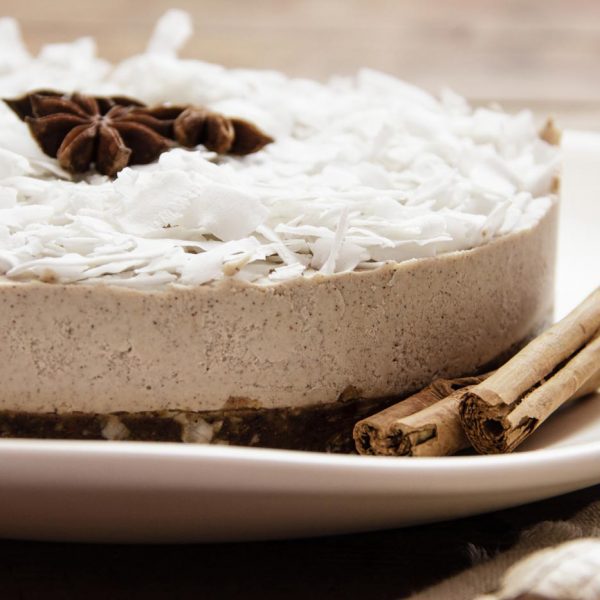 Yogi Cake
A raw, citrus, lucuma and coconut cake infused with Ayurvedic Chai spices.
Ingredients
BASE:
1

cup

pecans

activated

1

cup

coconut flakes

8

Medjool dates

pitted

¼

cup

lucuma powder

¼

teaspoon

coarse sea salt

1

tablespoon

ginger

freshly grated

2

teaspoons

licorice root powder*

A few good grinds of black pepper

Zest of one orange

*Please avoid if pregnant or breastfeeding.
FILLING:
1½

cups

cashews

soaked 8 hours

½

cup

freshly brewed chai tea

liquid

½

cup

nut milk

1/3

cup

100% pure maple syrup

¼

cup

lucuma powder

1/3

cup

coconut butter

1/3

cup

coconut oil

1

vanilla bean

chopped

1½

teaspoons

cinnamon powder

½

teaspoon

nutmeg powder

½

teaspoon

ginger powder

¼

teaspoon

cardamom powder

Zest of one orange

½

cup

or more coconut flakes to decorate
Instructions
BASE:
Whiz the pecans in a food processor till crumbly.

Add the lucuma, ginger, licorice root powder, salt and pepper and blitz again till combined.

Now add the dates, one at a time, you'll start to get a nice dough.

Add the coconut flakes and orange zest last for a quick final whiz.

Press the mixture firmly into the base of an 8 inch cake tin lined with baking paper, use the back of a spoon to flatten the surface. Set aside.

You could actually just roll this mixture into balls and call it a day if you didn't want to go to the effort of making the whole cake – this base is delicious.

FILLING:
If your coconut butter and oil is cold and hard, warm it gently over a bowl of hot water till it becomes soft/liquid.

Blend everything except the orange zest well, till nice and creamy.

Fold through the zest.

Pour the mixture over the cake base and sprinkle liberally with coconut flakes – don't skip this part – the crunchy texture on top adds to the wow factor.

Set in the freezer for three hours, then transfer to the fridge to soften before serving.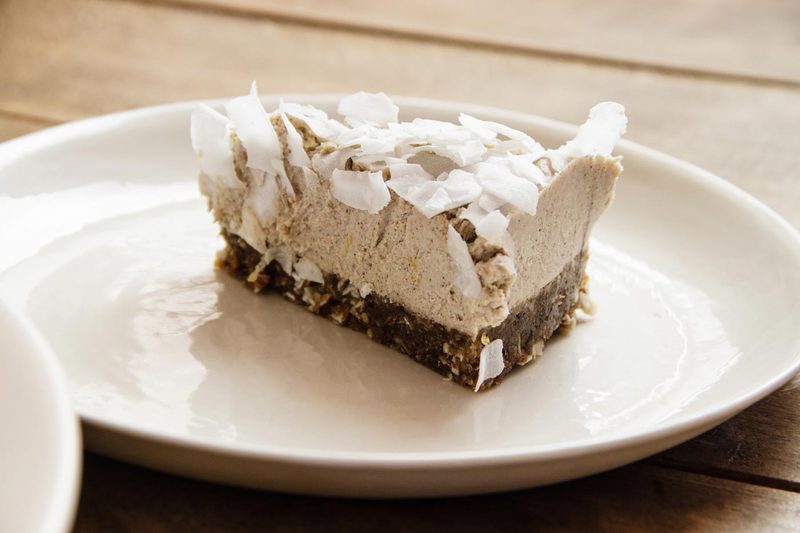 I'd love you to follow me on Instagram,
tag me @ascensionkitchen so I can see your creations!