Raw Chocolate Peppermint Slice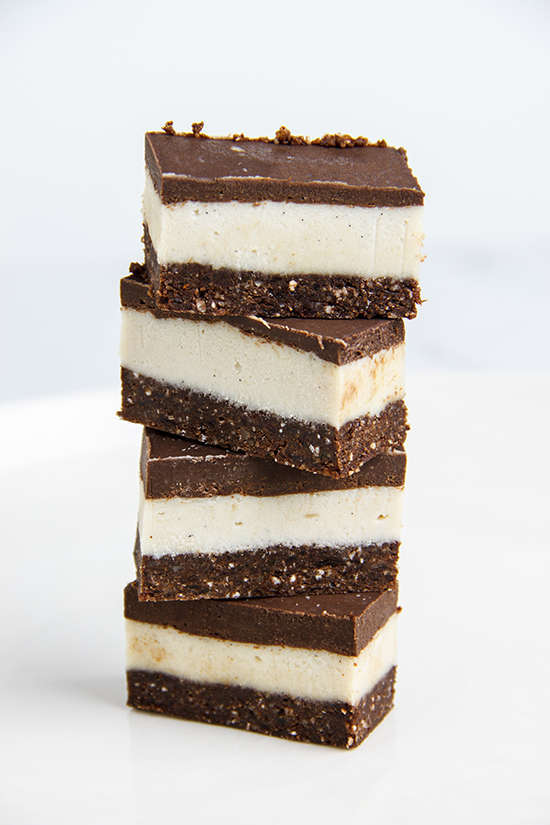 8 June 2013
|
21 comments
I think this could quite possibly be the bestest tasting raw plant-based gluten free chocolate peppermint slice in the universe. The chocolate-biscuit base has a nice little crunch to it, the peppermint cream is flavoured with vanilla and pure peppermint essential oil, and the chocolate layer on top is divinely rich and creamy. The use of coconut butter in the recipe helps it to set and keep its firmness.
I recently posted an easy recipe on how to make your own coconut butter here, for only a few dollars.
The only trick for the recipe is to allow each layer to set for a moment before you apply the next, so that when you cut slice it, it looks lovely and even inside.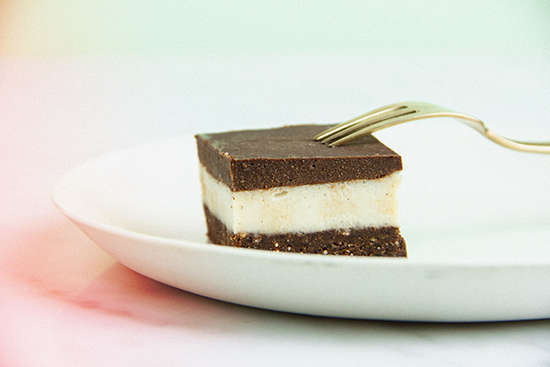 Peppermint oil is one of my favourite oils. Apart from it smelling divine, it has long been used as a remedy for digestion, and is even sold commercially to relive symptoms of irritable bowel syndrome. It is antispasmodic and carminative, and has shown to be successful in alleviating colic, flatulence, gastrointestinal cramps, and diarrhoea. Brewing yourself a nice cup of fresh peppermint tea can be a useful aid to digestive distress especially after a heavy meal.
Peppermint oil also has antimicrobial and antiviral properties.
It is useful in treating sore throats and respiratory ailments thanks to its main active ingredient, menthol.
I sourced a lovely food-grade oil for this recipe.
Raw Chocolate Peppermint Slice

VEGAN • REFINED SUGAR FREE • GLUTEN FREE
| makes 16 squares piggy sized squares or 32 smaller ones. But let's face it, you'll have more than one so you may as well cut them big! |
Biscuit base:
½ cup roughly processed buckwheat flour
¼ cup + 2 tablespoons cacao powder
1 cup pecans
15 medjool dates, pitted
2 teaspoons coconut oil
½ teaspoon salt
Mint cream:
1 heaped cup of cashews, soaked overnight
½ cup coconut oil
½ cup maple syrup
¼ cup coconut butter*
4 drops of peppermint essential oil
1 teaspoon vanilla paste
2 pinches of salt
*Check out my cheap and easy recipe for homemade coconut butter here.
Chocolate Spread:
¾ cup cashews, soaked overnight
½ cup coconut oil
½ cup cacao powder
¼ cup maple syrup
½ teaspoon vanilla paste
METHOD:
Biscuit Base:
Blitz the pecans in a food processor till crumbly.
Add the buckwheat flour, salt and cacao and process till nicely combined.
Add the coconut oil, then the Medjool dates, one by one.
You should end up with a doughy texture that will hold together nicely when pressed together.
Press the mixture firmly into the base of an 8 inch cake tin lined with baking paper, use the back of a spoon to flatten the surface. Set aside
Mint Cream:
Drain the cashews well, blend everything till nice and creamy.
Spread evenly over the biscuit layer and set in the freezer
Chocolate Layer:
Drain the cashews, blend everything till nice and creamy.
Spread the chocolate over the top of the peppermint cream layer, but only once the cream layer has set.
Set in the freezer, then cut into 32 equal rectangles to serve
PS: This and 60 other healthy raw recipes are now all on my new Raw Desserts app, 
Lx
I'd love you to follow me on Instagram, 
tag me @ascensionkitchen so I can see your creations!  
HTTP://WWW.WEBMD.COM/A-TO-Z-GUIDES/PEPPERMINT-OIL-USES-BENEFITS-EFFECTSHTTP://WWW.UMM.EDU/ALTMED/ARTICLES/PEPPERMINT-000269.HTM
Want more?
Sign up to the newsletter and Get Your Free One Day Detox Ebook.