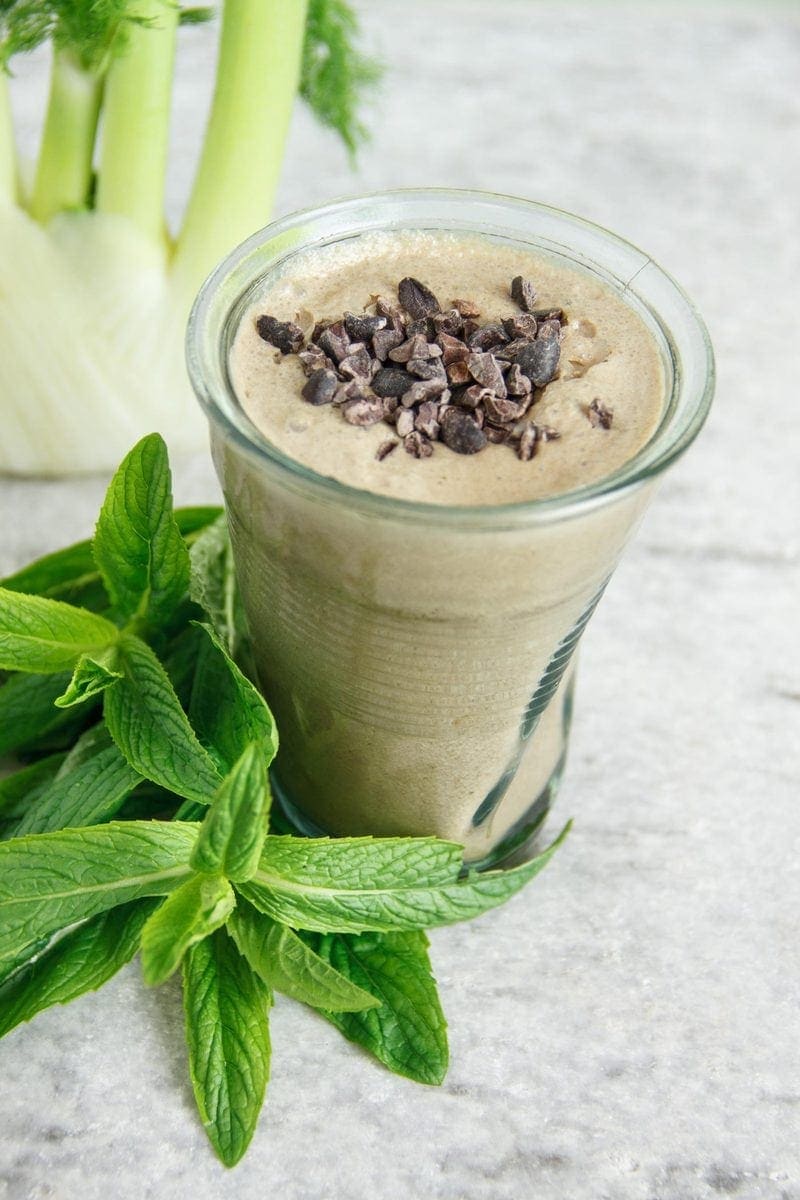 A simple smoothie rich in probiotics, with fresh fennel and mint to calm the gut and help dispel gas.
This is the ultimate de-bloating smoothie! But first, a true story...
Many moons ago, I worked in the corporate environment, as an Art Director at a big ad agency. At one particular point, we had Weight Watchers as a client. I was new to the account, and although I had been furiously working on a big campaign for them, I had not met their marketing team. One day, I was finally to present all my hard work, at a very formal meeting. There I was, at the head of the boardroom table, looking at 10 unfamiliar faces, about to give my big speech.
And then, just as I was about to start, in slow motion, the top button of my jeans popped right off, ricocheted across the room, and rolled under the wheelie chair of the head of marketing! So that's how my first ever presentation went to Weight Watchers – of all clients – me standing there with a bloated tummy, an awkward red face and a rogue top button! That's what stress, late nights and cheap take out do to a girl!
[bctt tweet="The Anti-Bloat Smoothie: with coconut, fresh fennel and mint. Gut-calming recipe here." username="laurenglucina"]
Luckily I am a little wiser now in terms of what to eat. I have lovingly named this smoothie The Anti Bloat. It's the anti-dote to a popped top button! It has a few special ingredients in it that are known carminatives and help to settle digestive distress:
Coconut yoghurt
Coconut yoghurt is full of live probiotics such as lactobacillus acidophilus, which help to re-establish the good bacteria that live in our digestive tracts. Their presence helps to suppress the growth of bad bacteria, and aids in digestion. Think of them as the good guys that keep the peace in our tummies, so we don't get gas or bloating. You can try making your own coconut yogurt at home, by blending the meat of a few coconuts with a teaspoon of probiotic powder, then leaving it in a bowl, covered, at room temperature to culture overnight (follow this recipe here).
Fennel
Fennel is one of my favourite additions to smoothies. The light, fresh, licorice-like taste is refreshing and goes well with coconut and mint. It is traditionally used to relieve boating, expel gas, calm spasms and settle the stomach. You can even chew the seeds after a meal to freshen the breath.
Mint
Mint is helpful in soothing symptoms of Irritable Bowel Syndrome such as gas and spasms in the gastrointestinal tract. It assists in the elimination of toxins and adds a great dimension to the taste, but you can also enjoy it as a simple tea after a meal for the same effects.
Finally, avoiding things like refined sugars, artificial sweeteners, chewing gum, fried and spicy foods, dairy, and legumes will also help keep your belly nice and calm.
The Anti Bloat Smoothie: Coconut Yoghurt, Fennel, Mint and Cacao
The Anti Bloat Smoothie - for digestive SOS!
Ingredients
½

cup

coconut water

½

cup

coconut yoghurt

½

cup

chopped fennel

fresh

2

tablespoons

chopped mint

fresh

1

teaspoon

100% pure maple syrup

or use one pitted Medjool date, or a few drops of liquid stevia

2

teaspoons

raw cacao powder

A few ice cubes
Instructions
Blend everything well, enjoy.
Nutrition
LIKE THIS POST?
Sign up to my newsletter list below for weekly healthy, plant-based recipes and nutrition articles. And if you want to give back and really make my day, leave a comment below, I'd love to hear from you!
Finally, you can share this recipe on facebook or via Instagram, or pin it for later. If you try it out, make sure you tag me @ascensionkitchen and #ascensionkitchen so I can see your creations. Thank you!