A cleansing spring soup packed with the nutrient dense watercress, kale and dandelion greens, to stimulate digestion and support the liver.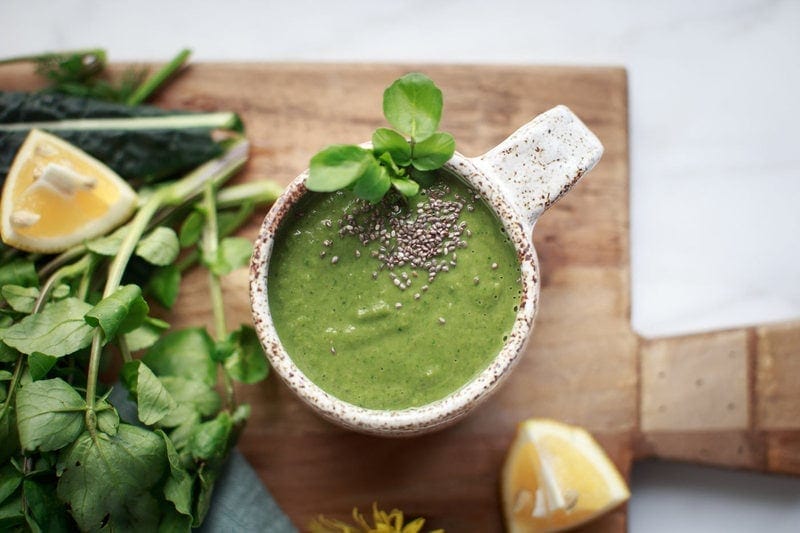 A seriously nutrient dense soup today kids. But first, I had to laugh at myself this morning – my partner was trying to hustle me out the door early this morning with him to grab a coffee and have a quick stroll along the beach – but I was lost in a fascinating webinar so called back at him '15 more minutes! I'm listening to the Parasite Summit online!'. Ah, Naturopath life! #nerd.
Anyway. In celebration of ever so slightly warmer temperatures, I thought it time to start sharing some lighter meals. To me, spring is all about re-emerging, and that wonderful feeling of energy that has been so downward and tightly coiled, finally releasing, expanding and spiralling upward and out.
Time for more nature walks, time in the very early morning sun (this is great to help re-set your circadian rhythm), greens, raw and sprouted foods. It's also time to change methods of food preparation – from long, slow cooking (of stews, roasts and hearty soups) to lighter methods such as steaming.
Cue this wonderful cleansing spring soup: Wild Watercress, no less.
[bctt tweet="Wild Watercress Soup: to stimulate digestion and support the liver and gallbladder." username="laurenglucina"]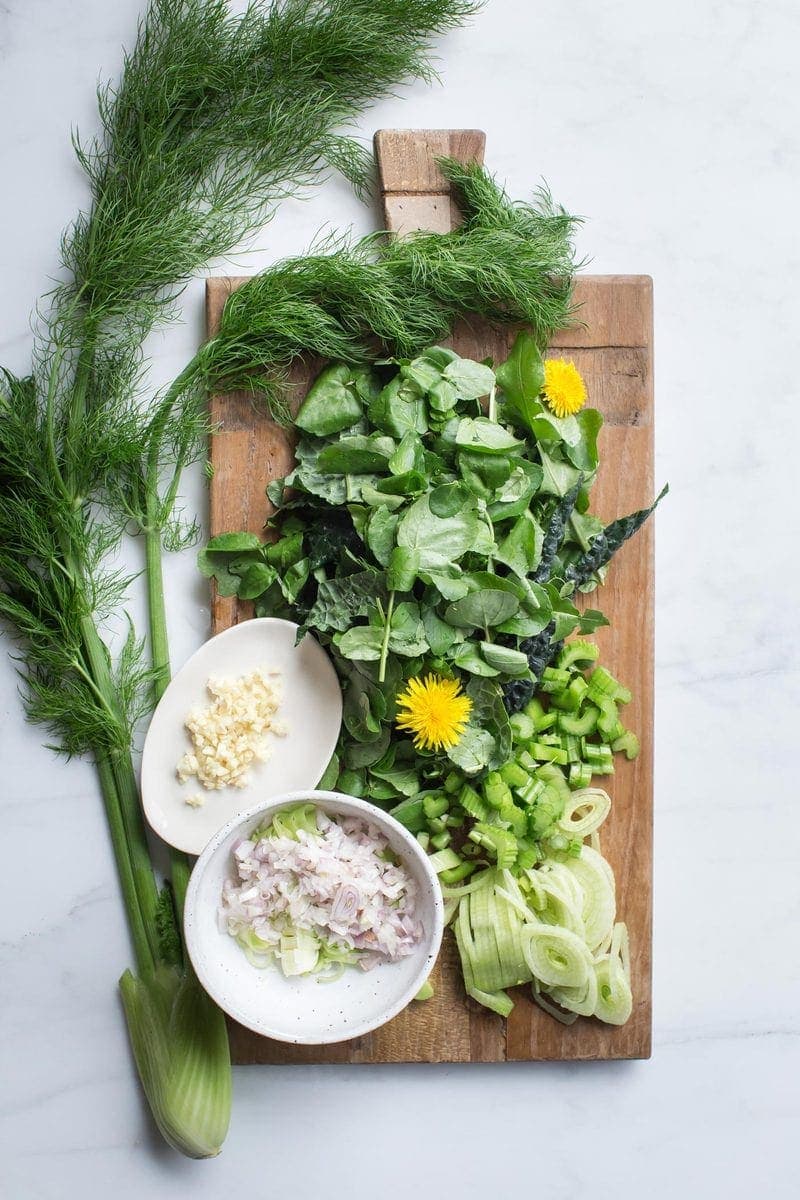 Watercress is abundant at the moment and it just happens to be the number one nutrient dense vegetable on the planet (well, according this 2014 study anyway) – with a perfect score of 100! [1]. Here is a list of the top 20 according to the same study:
Watercress
Chinese cabbage
Chard
Beet greens
Spinach
Chicory
Leaf lettuce
Parsely
Romaine lettuce
Collard greens
Turnip greens
Mustard greens
Endive
Chive
Kale
Dandelion greens
Red pepper
Rocket/arugula
Broccoli
Pumpkin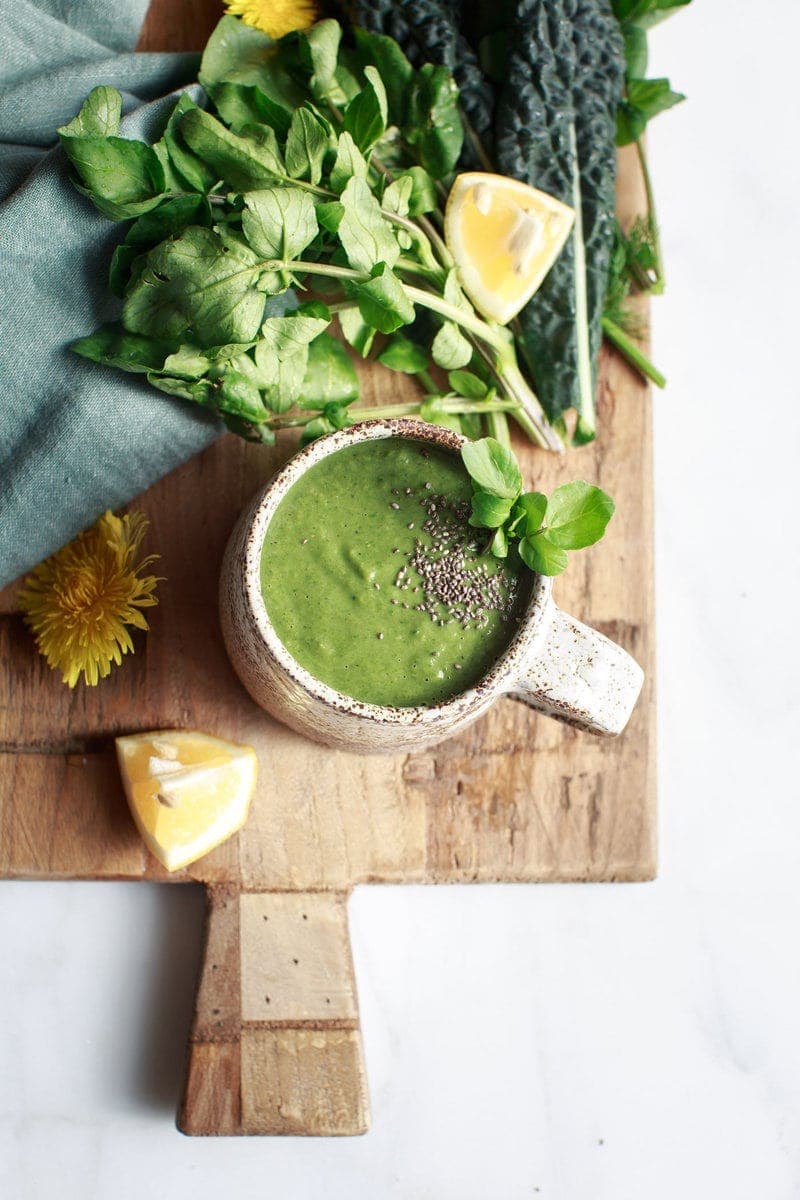 Watercress has a lovely pungent, peppery yet sweet taste, it is a mild diuretic and is energetically cooling. As a bitter green, it helps stimulate the production of gastric acid, enzymes and the secretion of bile from the gallbladder (the body's endogenous laxative) – qualities shared by the bitter dandelion leaves. Like kale, it is a member of the cruciferous family, its sulfur compounds being incredibly supportive of liver detoxification pathways.
The major nutrients it contains are vitamins K, A, and C, and the minerals calcium and manganese.
The watercress I used in this recipe was pilfered straight from the parent's vege patch – it was a slightly woodier variety than what is on the supermarket shelf at the moment, so I had to spend a bit of time picking off the leaves.
In the name of variety, I also added a cup of mixed greens to the soup – kale and dandelion leaves from my wildly overgrown garden. Fennel, leek, celery, garlic and shallots add flavour, a potato to thicken, and a generous cup of peas to add some quality plant protein.
If you'd like to add a more herbal touch – I suggest a few tablespoons of dried nettle leaves – I keep a jar on the bench top to make tea with, but often add a sprinkle to soups or stews as they cook. Nettle adds valuable minerals such as iron, calcium and magnesium.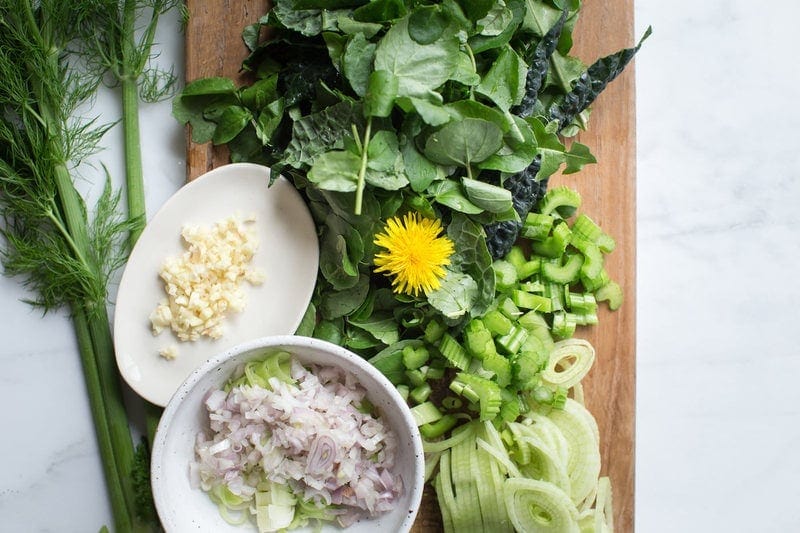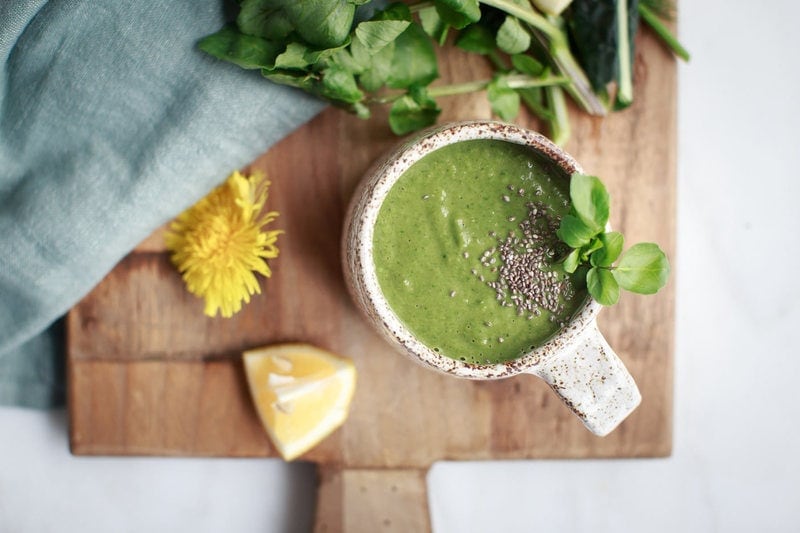 I loved the end result – light but flavoursome – and I couldn't help but feel healthier after a big mug of something that bright green!
I hope you enjoy!
PS: I'm speaking on a panel about work life balance at the Be Pure Live Well Festival next month - the festival will be a whole weekend jam-packed with healthy food, fitness, nutrition and wellbeing, more on that soon, but pencil Oct 15-16th in your calendar!
More of my fave soup recipes
If you make and enjoy this recipe, please leave a rating below. And better yet – leave me a comment to tell me how you got on, or just say hi – I LOVE hearing from you. Follow me on Instagram, Facebook or Pinterest to see more of my everyday recipes and wellness tips.
If you'd like to chat with me about essential oils, or book in a class, you can do that here. If you're after a Naturopathic consult, read more here.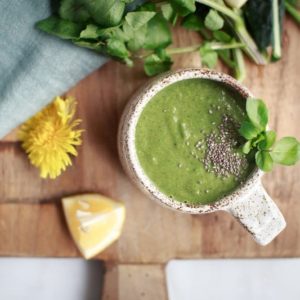 Wild Watercress Soup
Wild Watercress Soup: a cleansing spring soup packed with the nutrient dense kale and dandelion greens, to stimulate digestion and support the liver.
Ingredients
2

cups

packed watercress (woody stems removed)

1

cup

other greens (I used kale, dandelion leaves)

2

tablespoons

dried nettle root powder (optional)

1

cup

peas

1

small

fennel bulb

1

small

leek (white part)

1

stalk

celery

4

cloves

garlic, peeled

2

tablespoons

olive oil

1

medium

potato

3.5

cups

vegetable stock
Instructions
Prep: rinse greens and remove any tough/woody stems. Rinse peas under hot water if frozen. Finely slice the fennel bulb, leek, celery and shallot. Mince garlic, wash peel and chop the potato.

Heat olive oil in a large pot then add shallots, fennel and leek, cook till softened. Add garlic, cook another minute, then add peas, potato and stock. Bring to a boil, reduce to a simmer, and cook (covered) for 10 minutes.

After 10 mins, remove the lid and add greens, cook for a further five minutes then remove from heat and blend till smooth.

Serve with a sprinkle of chia seeds and a sprig of fresh watercress.
Nutrition
Calories:
334
kcal
Carbohydrates:
44
g
Protein:
10
g
Fat:
15
g
Saturated Fat:
2
g
Sodium:
320
mg
Fiber:
9
g
Sugar:
13
g
Calcium:
210
mg
Iron:
3.8
mg
Nutrition Facts
Wild Watercress Soup
Amount Per Serving
Calories 334
Calories from Fat 135
% Daily Value*
Fat 15g23%
Sodium 320mg14%
Carbohydrates 44g15%
Protein 10g20%
Calcium 210mg21%
Iron 3.8mg21%
* Percent Daily Values are based on a 2000 calorie diet.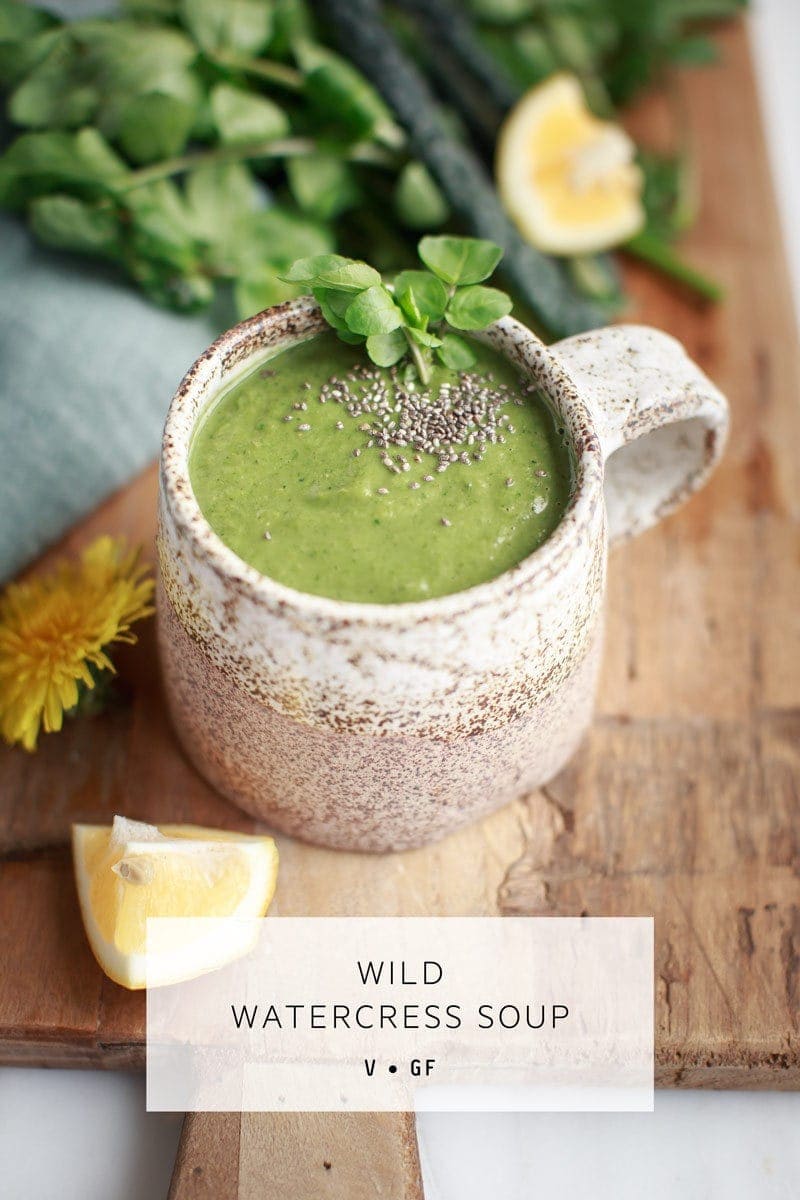 Reference:
Di Noia, J. (2014). Defining powerhouse fruits and vegetables: A nutrient density approach. Centers for Disease Control and Prevention, 11, 130390.