Discover the top 10 essential oils you will find the most use for in your home. This carefully curated range will provide you with physical, emotional, environmental and spiritual support.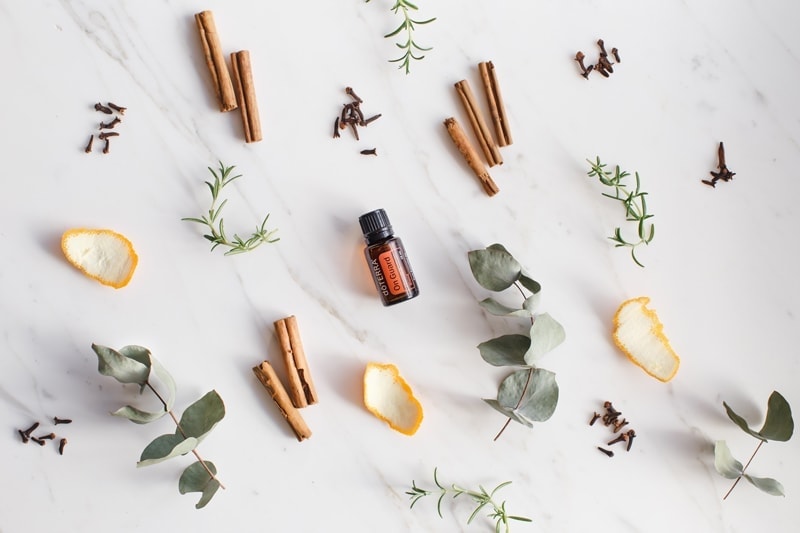 Let's have a look today at the top 10 essential oils you will want to welcome into your life, simply because they are just so versatile, and support nearly all of your body systems either directly or indirectly.
These oils all feature in doTERRA's incredible Home Essentials Kit. Collated by experts with over 150 years' experience between them, the oils in this kit contain natural solutions to provide physical, emotional, environmental and spiritual support.
I've given a very brief introduction to each of them below – just a few key points for each (though their versatility and applications far extend what I have summarised here).
Are you ready to meet them?!
[bctt tweet="Discover the top 10 essential oils you will find the most use for in your home. Read more here!" username="laurenglucina"]
1. Lemon
Lemon is known as the oil of focus. It is a super versatile oil and can be used in your own no-tox cleaning products. It indirectly is supportive of healthy hormonal function, as environmental toxins and chemicals act as endocrine disruptors in the body, interfering with your body's own hormone signals. Anything that contributes in even a small way to reduce your overall toxic load is going to be hugely beneficial to your health and wellbeing.
No-tox cleaning: use alone or pair with doTERRA's OnGuard blend, eucalyptus, thyme, lavender, oregano, orange or rosemary for antimicrobial activity in an all-natural cleaner. Add a few drops of each to a glass spray bottle (essential oils will eventually erode plastics) with water, white vinegar and a few tablespoons of Dr Bronner's liquid soap
Focus and concentration: all of the citrus family are so uplifting and energising - simply diffuse and enjoy, I like to pair lemon with wild orange and rosemary to help stimulate cognition and focus on the task at hand
Cooking with lemon: lemon essential oil is lovely in an olive oil balsamic dressing (just a few drops is all that's needed), in a smoothie (as long as it contains some fat such as coconut, nut butters, avocado) or frosting for cakes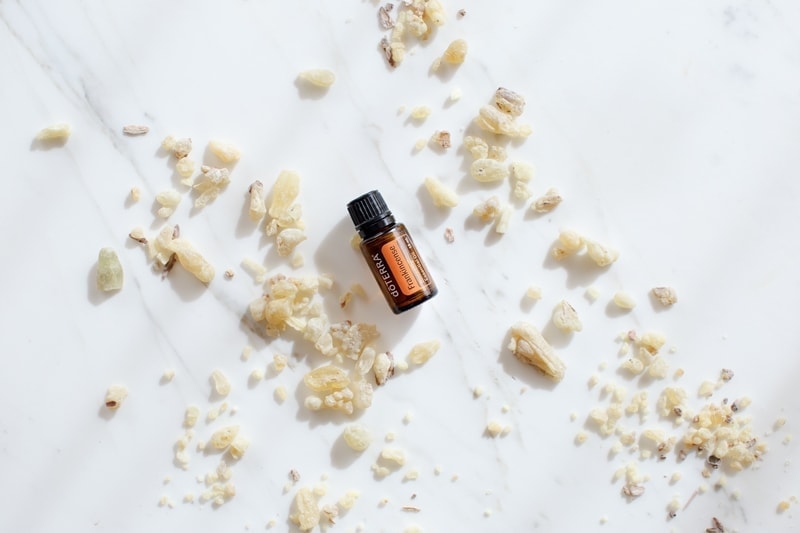 2. Frankincense
Frankincense is known as the King of Oils, or oil of truth and light. It is extracted from the resin (pictured above) from the Boswellia tree. A unique ability to be both grounding yet raise your frequency as it is one of the highest vibrational oils (along with rose, helichrysum, myrhh, ravensara). Frankincense has such a diverse array of applications (I've only picked three here) that when in doubt, get Franky out!
Supports healthy immune function: a healthy immune system is able to properly regulate the inflammatory response. Try a drop of the essential oil diluted in a teaspoon of carrier oil, massaged onto the soles of the feet
Nervous system support: diffuse around the home to induce a sense of calm, or add a drop to the palms of your hands and vigorously rub together – inhaling the aroma. The friction generated will cause the oil to quickly evaporate so you can inhale it, very little if any will be absorbed through the skin (avoid neat application with children)
Supercharge your skincare regime: frankincense is soothing, reduces appearance of blemishes and promotes regeneration of skin cells. Add a drop or two to your face cream before you apply it. Pairs well here with sandalwood
3. Peppermint
Peppermint is both energetically cooling and warming. Sharp and minty, it is known as the oil of a buoyant heart.
Digestive support: as a carminative, peppermint is helpful in relieving distention and gas - add a drop to a teaspoon of carrier oil and massage over the abdomen in a clockwise direction
Respiratory support: diffuse alone or in combination with Easy Air
Natural pick me up: add a drop to the palms of your hands, rub together vigorously and inhale
Spike your afternoon chocolate fix: a few drops of peppermint in bliss balls or a homemade chocolate bark make for a delicious treat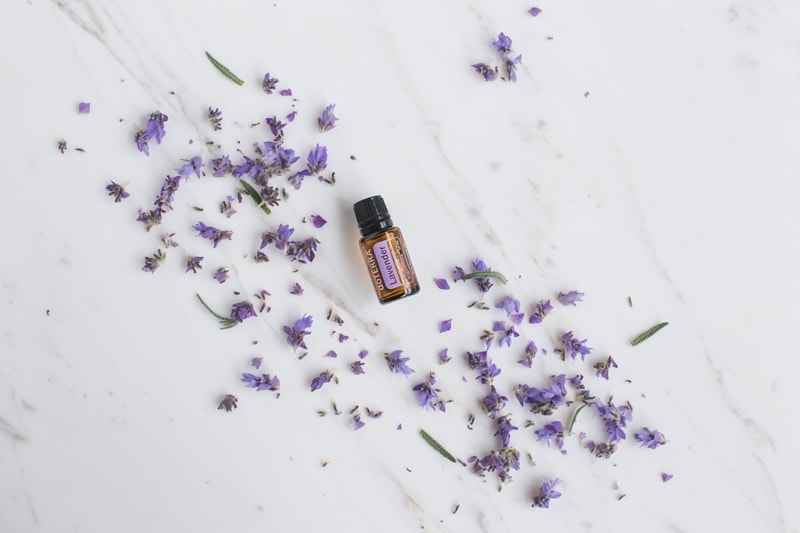 4. Lavender
Energetically cooling, ruled by the planet Mercury, it is no surprise this oil is known as the oil of communication. It does indeed have such a profound effect on the nervous system (the highway of communication between your brain and body).
The medicinal lavender is Lavendula angustifolia. It is commonly known as English lavender in garden centres. Unfortunately, it is an ornamental lavender I've used in the photo - no English lavender to be found anywhere at the moment.
You might be pleasantly surprised when you first crack open a bottle of doTERRA lavender, as this is the species they use - and it smells very different to most other types! (Not at all like Grandma's underwear drawer!).
Support for restlessness and sleep (regarded as a mild sedative): diffuse before bed
Stress support, particularly if you are tired and wired, feeling on edge or are over thinking things: diffuse throughout the day, or dilute in a carrier oil and apply topically to your inner wrists. Dilute in a little carrier oil and add to a bath with Epsom salts
Headache support, particularly when combined with peppermint: add 3 drops of each to 10ml carrier oil (a 2% dilution) in a roller bottle, and apply at the back of your neck
Digestive support: add a drop to a teaspoon of carrier oil and massage over the abdomen
Skin support – due to its soothing effects: add a drop to a teaspoon of carrier oil or face cream and apply, avoiding sensitive areas
Bites and stings: apply neat to bug, mozzie or bee stings
5. Tea Tree
Tea tree (Melaleuca alternifolia) is native to Australia but it has cousins here in New Zealand – Manuka and Kanuka. Tea tree smells incredibly antiseptic, and can be a useful ally in basic first aid. It is the oil of healthy boundaries.
Energetic boundaries: add a few drops to a small spray bottle with water, shake well and spritz around your space to repel negative energy
Environmental boundaries: diffuse as an insect repellent to keep bugs at bay
Basic first aid: great used topically for minor scrapes and scratches
Nail and skin support: add a few drops to a cotton tip and apply to fungal nails, dab neat onto skin spots, or use in a shampoo for dandruff
6. Oregano
This spicy Mediterranean herb is the oil of humility and non-attachment. It won't be something you use on the daily, but can provide potent immune support when needed.
Immune support: dilute just one drop or less in a carrier oil and apply to the soles of the feet acutely (oregano is a hot oil, it can be irritating to sensitive skin)
For viral infections: apply to a cotton tip and dab onto warts (warts are viral)
For fungal infections: can use with tea tree for fungal nails
Cleaning: a few drops in a glass spray bottle to clear mould build up in the shower (the OnGuard blend, tea tree and thyme are great here too)
7. On Guard
This potent blend (pictured at the very top) contains wild orange, clove, cinnamon, eucalyptus and rosemary. Known as the oil of protection, this blend can be used for energetic protection as much as it can for immune support.
Immune support: make up a roller bottle (6 drops to 10mls carrier oil) and apply to the soles of your feet acutely
Clear the air: airborne pathogens can potentially be neutralised simply by diffusing this blend at home if you have a loved one coughing, spluttering and generally going about spreading germs!
Force field: to protect energetic boundaries from people or situations that drain you, add a few drops to a small spray bottle with water, shake well and spritz around your space before you meet with them (great with tea tree here)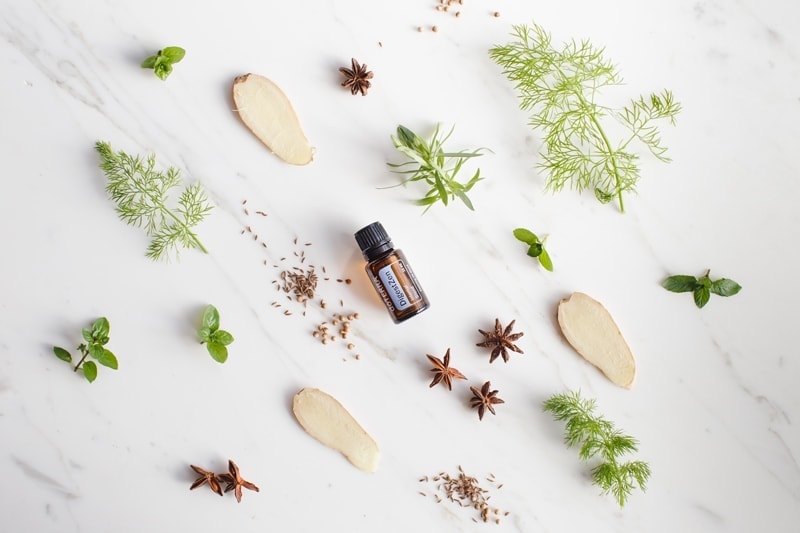 8. Digest Zen
This is a blend of essential oils with carminative actions and so are all soothing to the gut and help relieve gas and distention: anise, peppermint, ginger, caraway, coriander, tarragon and fennel. All common garden herbs.
Digestive support: add a drop to a teaspoon of carrier oil and massage the abdomen in a clockwise motion, or make up a roller bottle; diluting it in fractionated coconut oil, to roll along the spine, belly or soles of the feet if you are out and about
This is a great one to have handy in your bag while travelling or dining out, food baby be gone!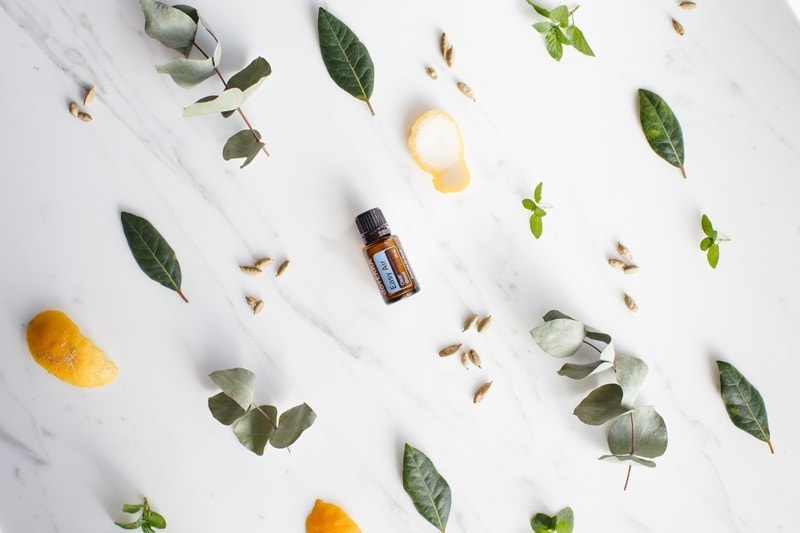 9. Easy Air
Aromatics by their very nature shift stagnation, create movement and help things come unstuck. This blend contains laurel leaf, eucalyptus, peppermint, tea tree, lemon, cardamom, ravintsara and ravensara essential oils, and can be used to shift stuckness when it comes to the sinuses and lungs.
Respiratory support: diffuse or use as a steam inhalation (eye mask advised!) to help clear the air and open the airways during congestion
Sleep support: clear airways during sleep will enhance sleep quality due to less interruptions (snoring, sleep apnoea), simply diffuse for a couple of hours before bed
10. Ice Blue
Ice Blue is a blend of wintergreen, camphor, peppermint, ylang ylang, helichrysum, blue tansy, german chamomile and osmanthus essential oils. The star of the formula is certainly the wintergreen (Gaultheria fragrantissima), which is sourced from Nepal. doTERRA have a beautiful video on their co-impact partnership with the growers there, and generously donated over $700,000 to help provide relief after the 2015 earthquake, via their Healing Hands Foundation.
Wintergreen contains a chemical called Methyl salicylate, and this is the main active in the muscle rub Deep Heat.
For muscular tension: dilute a drop of this blend in a teaspoon of carrier oil, and massage into tense areas.
Would you like to learn more?
This was but a small taster of what these potent plant extracts can offer you. If you would like to attend a class to find out more, please take a look at my upcoming timetable here and connect with me to make a booking, I'd love to see you!
Do not self-prescribe essential oils internally as there may be contraindications or interactions with medications. Always dilute essential oils for children and the elderly, and avoid topical use in infants. Always read the label and use as directed. If symptoms persist, see your healthcare professional.