A raw version of the classic banoffee pie, made without dairy. A malty, biscuit-like based holds a thick date and almond 'toffee', and fresh banana with coconut whipped cream tops it off. Totally indulgent!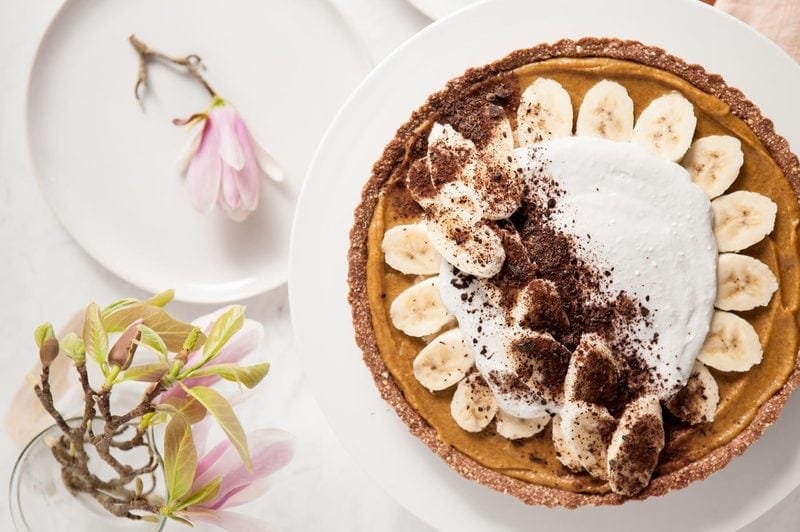 I had my 34th birthday a few weeks ago, and quietly celebrated a bit of a personal win. This was the first year, in a very long time, that I haven't woken at 2am the morning of, mentally berating myself for not ticking off the milestones on my Life Plan.
I can't tell you the number of times I have used up all ten fingers counting the things I haven't achieved (haven't started a family / bought a house / taken a proper holiday / finished my education, and so on).
This shift in mindset has been such a welcome one, making past anxieties seem so trivial and unnecessary. I guess the year has slowly stripped away the 'A-type' personality I once defined myself as.
And with that, all the harsh criticisms of myself. I feel perfectly comfortable with my slower pace, my twisting, organic journey, and all the deviations that have taught me so much. Gratitude has re-wired my thinking.
I'm sure I've mentioned my love of Oracle and Tarot cards before – well this excerpt is from a new deck I received as a gift and just adore;
"Sometimes we are at the top of the mountain and can see where we have come and where we are going very clearly. At other times, we are doing the hard yards on the journey, and have to keep going through what feels like a dark night where we aren't really sure where we are going or even if we are getting anywhere at all! This is an essential part of the journey that leads us to the top of the mountain and a clearer view in due course. Keep going, because your perspective will soon become a happier and more informed one."
– Divine Circus Oracle, by Alana Fairchild
I think that just sums things up nicely for me at the moment, especially with the end of my studies on the horizon.
Now, inner reflection aside, I am finally sharing the birthday Banoffee Pie I made for myself, since all the tech difficulties of last week are resolved.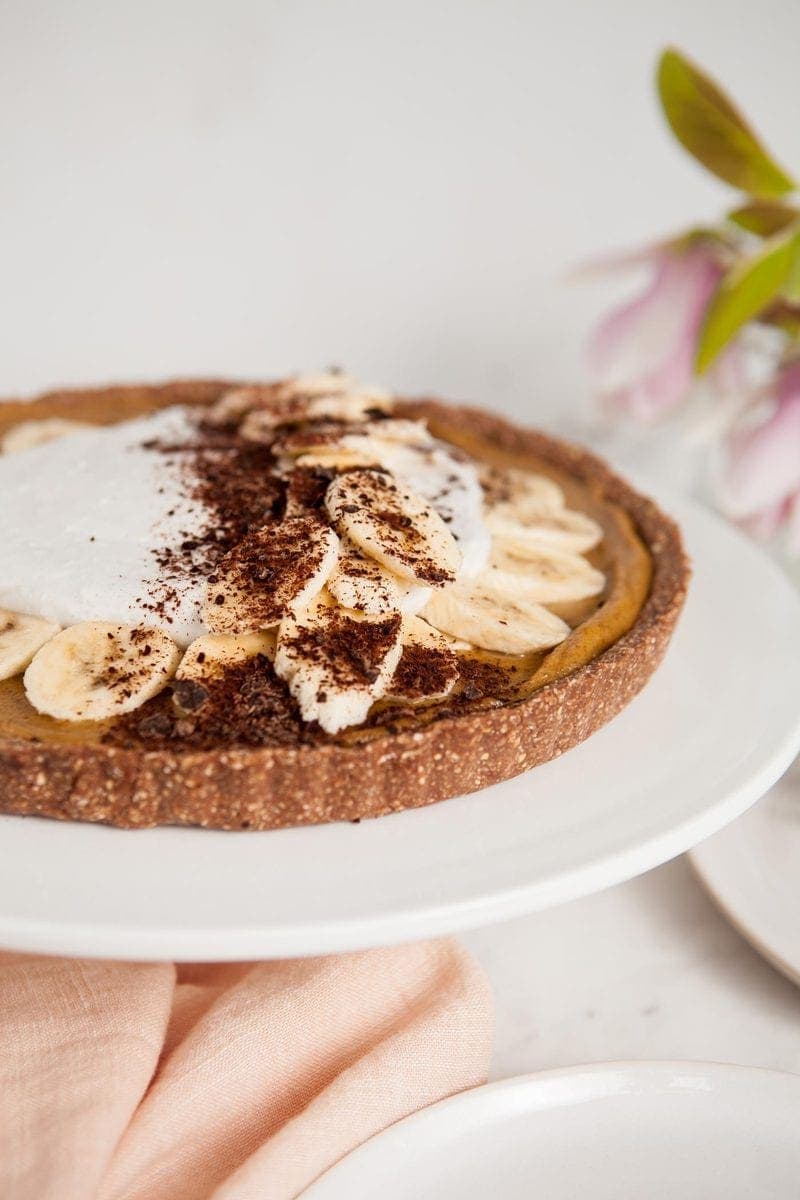 This is a relatively quick (ok, disclaimer: messy) treat to whip up. The base is a little malty and biscuit-like with the use of buckwheat and oats, and the 'toffee' is a delicious thick blend of softened Medjool dates with almond butter, lemon juice, turmeric and mesquite.
Chilled coconut cream tops it all off, and it would be rude not to have dark chocolate shavings. I'm a big believer in doing something nice for yourself on your birthday, and cake-making, herbal tea and Oracle cards are my way of doing this.
If you're a fellow Virgo babe, I wish you a very magical and love-filled year ahead.
Hope you enjoy, L.
[bctt tweet="Quick and easy Raw Banoffee Pie topped with whipped coconut cream. Recipe here."]
If you make and enjoy this recipe, please leave a rating below. And better yet – leave me a comment to tell me how you got on, or just say hi – I LOVE hearing from you. Follow me on Instagram, Facebook or Pinterest to see more of my everyday recipes and wellness tips.
Raw Banoffee Pie
A raw version of the classic banoffee pie made without dairy. A malty, biscuit-like base holds a thick date and almond toffee, and fresh banana with coconut whipped cream tops it off. Totally indulgent! Note: you'll need to prep in advance for this one - the coconut cream needs chilling overnight.
Ingredients
BASE:
1

cup

raw buckwheat

whole groats

1

cup

rolled oats

½

cup

coconut butter

softened/melted

¼

cup

brown rice syrup

¼

cup

water

1

tablespoon

cacao powder

1

teaspoon

mesquite powder

1

teaspoon

cinnamon powder

2

pinches

sea salt

coarse
TOFFEE:
20

large Medjool dates

pitted

½

cup

oat milk/almond milk

¼

cup

homemade almond butter

if store bought, omit the extra salt

Juice and zest of ½ a lemon

½

small ripe banana

½

teaspoon

mesquite powder

¼

teaspoon

turmeric powder

¼

teaspoon

sea salt

coarse
TO TOP:
2

large bananas

sliced

2x

270ml cans coconut cream – no additives/gums

dark plant based chocolate bar – to grate and sprinkle
Instructions
The night before – chill the two cans of coconut cream in the fridge.

First, prepare a pie tin by lining it with plastic wrap.

Place buckwheat in a blender and whiz for a few seconds till it has powdered – a few whole bits in there is fine and will add to the biscuit-like texture.

In a food processor, combine all base ingredients and pulse till combined and dough-like. Press mixture evenly into prepared tin, then set in the freezer.

To make the toffee, soften dates by placing in a cup covered with hot water for ten minutes. Drain, then add all toffee ingredients to a blender and blitz till smooth. Spread evenly over pie base.

To prepare coconut cream – open chilled cans, drain any liquid out, then whip in a cake mixer for a short while till nice and creamy. I often add a teaspoon or two of maple to sweeten.

Peel and slice bananas, arrange over toffee layer, spread whipped coconut over the middle, then sprinkle with grated chocolate.
Notes
I used activated buckwheat groats, which gave the base a lovely biscuit texture. To activate - you soak the buckwheat in water for about an hour, drain and rinse, then sprout (optional), and dehydrate till dry and crispy. I often do a large batch and keep jars ready to go in the pantry. If using plain groats, I'm not sure that the texture would be nearly as nice.
For a sweeter base, you can use maple syrup in place of both the rice malt and water.
For a slightly richer, chocolatey taste, add a tablespoon of melted cacao butter to the base.
The coconut cream I use is 100% pure, with no added gums or additives. It is not raw. You could also try making a light cashew cream sweetened with maple in place of the coconut cream.
Nutrition