Lucuma is a nutritious South American superfruit that benefits the gut, skin and more.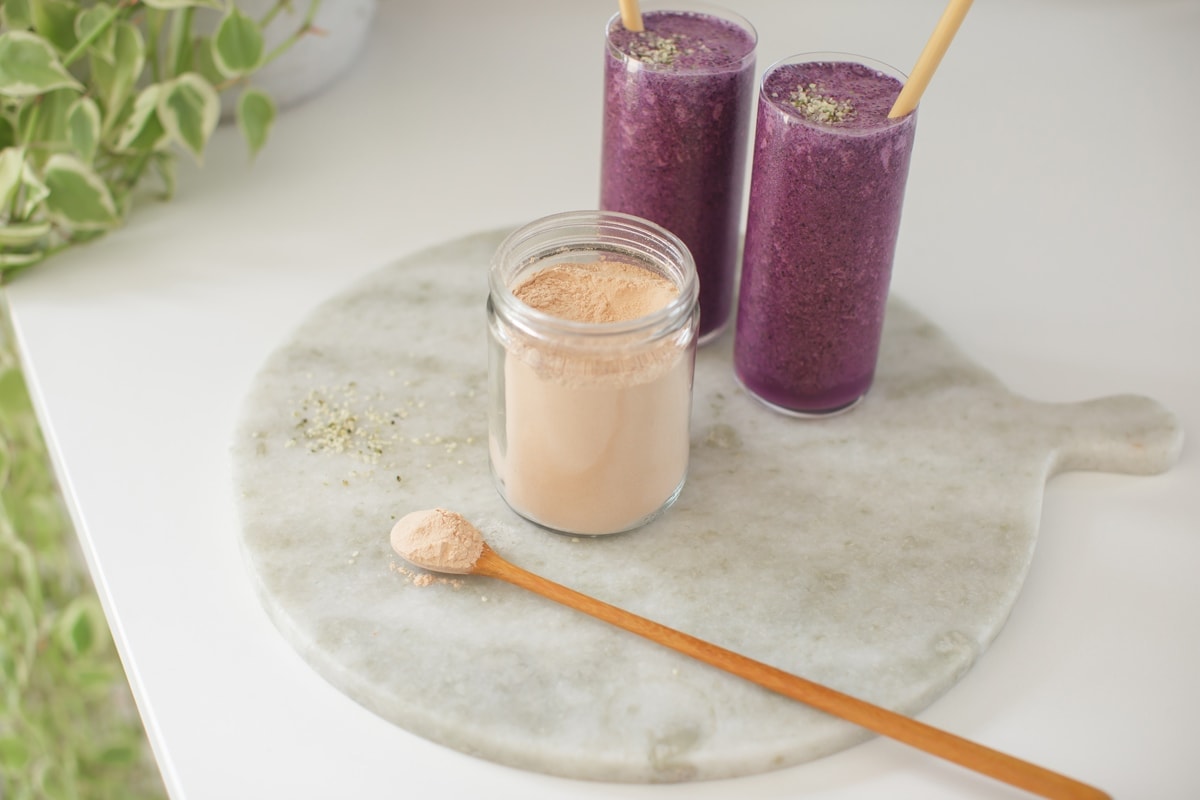 Summer is on the horizon, time to start experimenting with some delicious smoothies! The star of which today, is the South American superfruit, lucuma.
Jump to:
🌳What is lucuma?
Lucuma (Pouteria lucuma) – pronounced 'luke-mah' – is a common, sub-tropical evergreen fruit tree from the Andean region.
The lucuma tree is a bit of a stunner, with hard fruits that look a little like golden-green persimmons. The pulp of the fruit is relatively dry like pumpkin, bright yellow-orange, typically blended into other foods – think smoothies, shakes, cakes and puddings.
And the taste? Maple syrup-esque. Creamy, and I'm going to say, with even a slight citrusy note. Divine.
Despite its South American origins, it can actually be grown here in New Zealand! Particularly so in the upper parts of the northern island.
👩‍🍳Lucuma powder
Lucuma fruit are unusual in that they're fairly solid – and rich in complex carbohydrates. The ripe pulp can be dried and milled into a flour. Nutritious, rich, satisfying and versatile.
Lucuma has been enjoyed for millennia, regarded as one of the 'lost crops of the Incas', alongside roots and tubers such as maca and yacon, grains such as quinoa and kaniwa, and fruits such as cherimoya and goldenberry.
While most of these crops pre-date the beginning of the Inca Empire, 1400 AD, the Incas were responsible for cultivating and spreading these plants throughout the Andean region (National Research Council, 1989).
There is very little research on this beautiful fruit, but we do know a little about its nutritional content, and potential use as a functional food.
💗Lucuma benefits
1. Nutritious – rich in vitamins, minerals and antioxidants. Lucuma is considered a good source of complex carbs, dietary fibre, alkalizing minerals, niacin (vitamin B3), carotendoids and phenolic compounds (both containing antioxidants) [1, 2, 3].
2. Supports gut health. Lucuma contains both soluble and (mostly) insoluble fibres [4], helping to add bulk to the stool, attract water and soften for easy bowel motions, relieving constipation.
3. May help lower blood glucose. A water-based extract of lucuma fruit pulp was found to have a high alpha-glucosidase inhibitory activity [5].
Alpha-glucosidase inhibitors are drugs used in the treatment of type 2 diabetes, they delay the absorption of carbohydrates in the gut, therefore lowering the blood glucose and insulin spikes that would occur after a meal [6].
Lucuma then, as a natural alpha-glucosidase inhibitor, without the side effects, is an attractive dietary approach to diabetic care worthy of further research. Watch this space!
4. May help lower blood pressure. Polyphenols, of which lucuma is rich in, are preventative of hypertension and help normalise blood pressure.
An in vitro (test-tube) study found the fruit had ACE inhibitory activity [7], another exciting area of research to explore.
5. Wound-healing and skin regeneration effects. Though the seed of the lucuma fruit is inedible, its oil is sought after in the beauty industry for its regenerative effects.
Lucuma nut oil has been found it to exert anti-inflammatory and wound-healing effects [8].
Its fatty acid profile includes linoleic acid, oleic acid, and gamma-linoleic acid, the latter of which has shown to support skin conditions such as eczema and psoriasis – this star fatty acid is also found evening primrose and borage.
6. Natural, low GI sweetener. Lucuma powder tastes creamy and sweet, like maple syrup. It's a much healthier substitute to sugar, depending on the recipe.
I don't think the glycemic index (GI) of lucuma has actually been measured anywhere, but we can make an educated guess it's sitting on the lower side given its rich in complex carbohydrates and natural alpha-glucosidase inhibitors [8].
7. A great addition to desserts. Traditionally, lucuma is mainly consumed in desserts, smoothies, shakes and baked goods. Lucuma ice cream is a South American favourite.
I adore it by the heaping tablespoon, added to my smoothies, have a play with this recipe – it's delicious:
📖Recipe
Blue Lucuma Smoothie
A lush, sweet and satisfying blueberry smoothie supercharged with lucuma, hemp and almond butter.
Ingredients
1

cup

frozen blueberries

1

tablespoon

lucuma powder

1

tablespoon

hemp seeds

1

teaspoon

vanilla paste or extract

1

tablespoon

almond or cashew butter

pinch

of cinnamon powder

pinch

of fine pink Himalayan rock salt

water from one whole young coconut

about 1 cup's worth
Instructions
Blend everything well, enjoy.
Notes
If using fresh blueberries, add ice
Recipe yields one smoothie
Nutrition panel is based on one serve - one smoothie
Nutrition
Calories:
293
kcal
Carbohydrates:
35
g
Protein:
9
g
Fat:
13
g
Saturated Fat:
2
g
Fiber:
7
g
Sugar:
22
g
Vitamin C:
20
mg
Calcium:
79
mg
Iron:
2.6
mg
🍦A few more ways to enjoy it
That's all today, something new for you to try? Let me know what you think,
Lauren.