Lucuma is a Peruvian fruit that can be dehydrated and milled into a nutritious powder. It's a fabulous alternative sweetener that tastes like a combination of creamy citrus with maple syrup, making it incredibly versatile in recipes! Read on - I'll cover taste, nutrition, benefits and creative ways to use both the lucuma fruit and powder.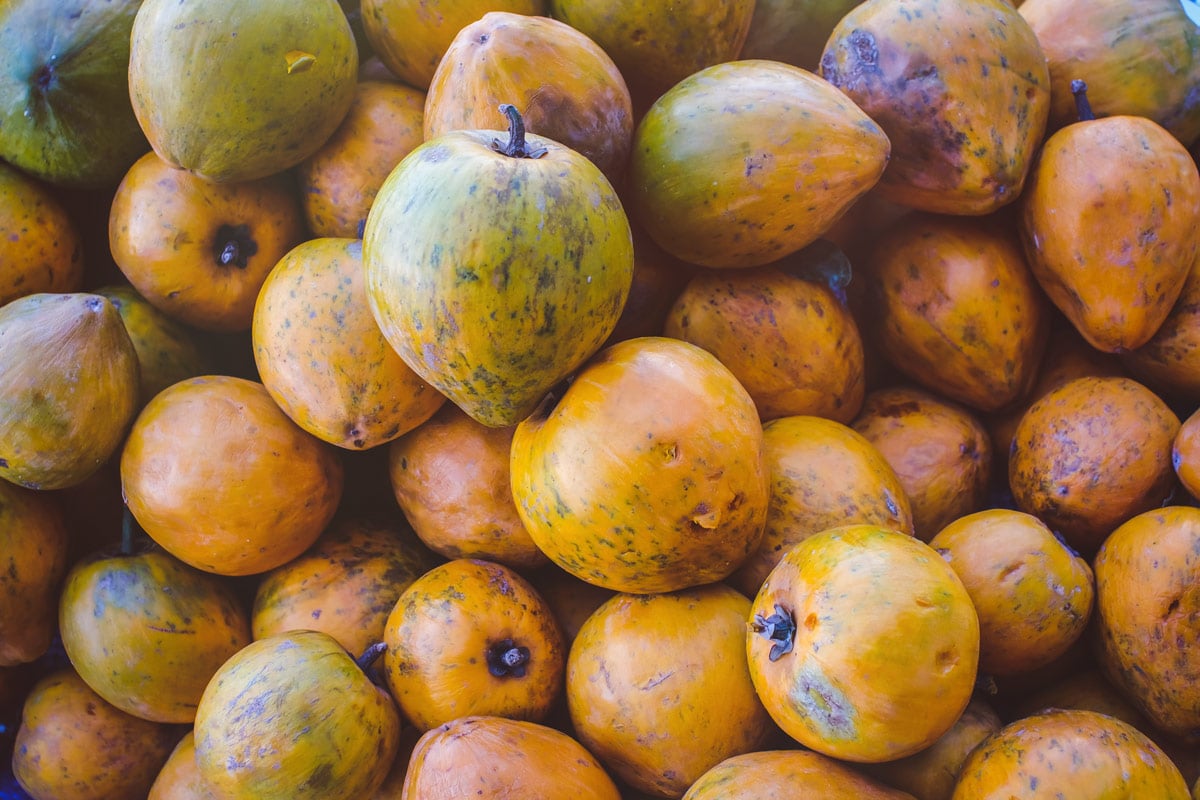 Pouteria lucuma, known as the "gold of the Incas" or lucuma (pronounced 'luke-mah') is a sub-tropical evergreen fruit tree from the Andean region with superfood status.
The lucuma tree is a bit of a stunner, with hard fruits that look like rounded golden-green mangos. The pulp of the fruit is bright yellow-orange and relatively dry like a hard-boiled egg, earning it the name "eggfruit" in English.
Jump to:
Lucuma has been enjoyed for millennia, regarded as one of the 'lost crops of the Incas', alongside maca, yacon, quinoa, kaniwa, cherimoya and goldenberry (National Research Council, 1989).
Famed as an alternative sweetener with added health benefits, the fresh fruit, frozen pulp or dried powder can be added to smoothies, ice creams, cakes, desserts and more.
Lucuma fruit tastes like a blend of creamy citrus with maple syrup, sweet potato and apricot. It has a divine aroma, I just LOVE it and turn to it often when preparing raw food cuisine.
🌳 What is lucuma powder?
Raw lucuma powder is made from carefully dehydrated and finely milled Peruvian lucuma fruit, retaining an abundance of vitamins and minerals and its delicious flavour profile.
While whole lucuma fruit and the frozen pulp are readily available at Latin food markets, for us international lovers – lucuma powder is a convenient alternative and can be found in natural health food stores.
There is very little research on this beautiful fruit, but we do know a little about its nutritional content and potential use as a functional food.
Here are a few key lucuma powder benefits and uses to tickle your taste buds…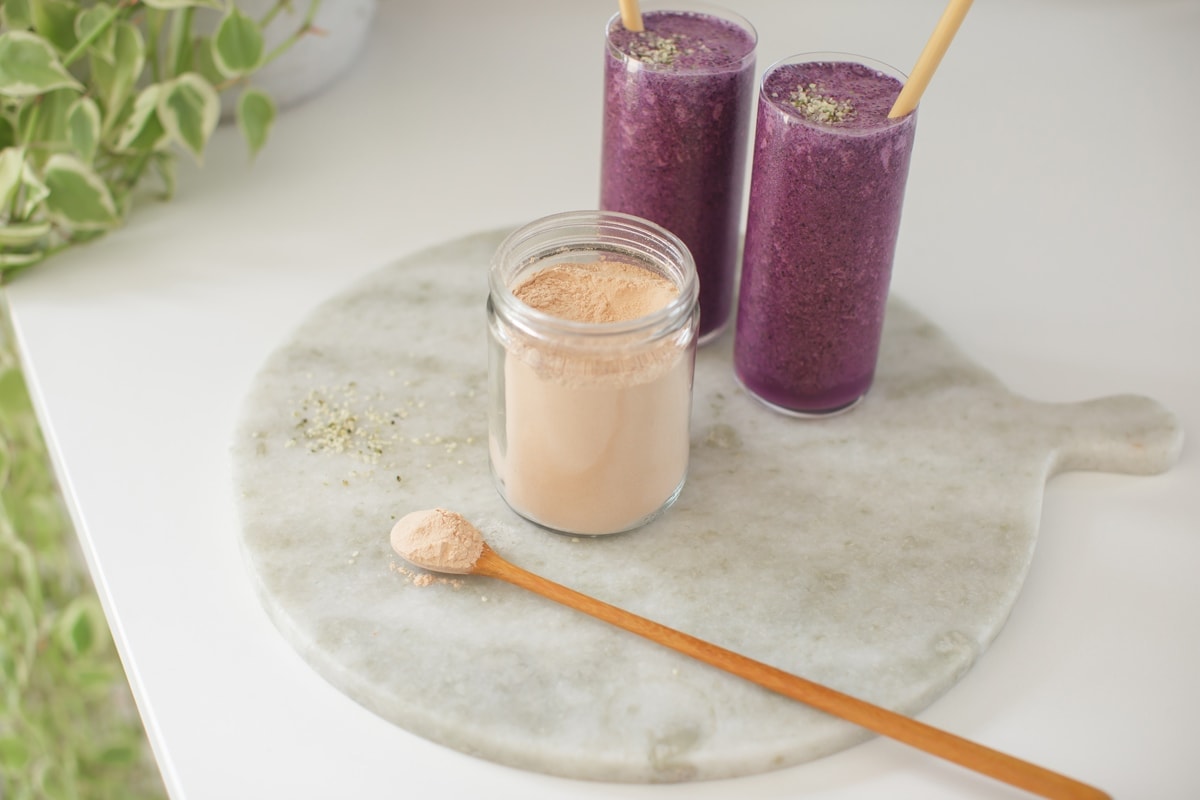 🍦 Uses
1. Delicious alternative sweetener
Lucuma has a sweet and creamy taste without being loaded with sugar. Here's how to use lucuma powder as a sugar substitute –

In baking, use twice as much lucuma as you would sugar. You may need to reduce the amount of flour to accommodate the sheer volume of lucuma powder needed to add sweetness, and may need a little extra liquid
Use a blend of lucuma with another low GI sweetener like coconut nectar if you're needing to increase the overall sweetness further
Add to raw cheesecakes enabling you to crowd out the sugar, like this fabulously chai spiced dessert
Lucuma powder pairs well with rich flavours like chocolate, caramel, cinnamon and vanilla, and with fruits such as bananas, mango, apricots and berries.
2. Elevates drinks and smoothies
Nourish your body from the inside out by adding a heaped tablespoon of lucuma powder to your hot chocolate or smoothies.
Try this insanely delicious lucuma powder smoothie recipe –

1 cup frozen blueberries
1 tablespoon lucuma powder
1 tablespoon hemp seeds
1 teaspoon vanilla paste or extract
1 tablespoon almond or cashew butter
Pinch each of cinnamon powder and fine pink Himalayan rock salt
Water from one whole young coconut, about 1 cup's worth

Blend until smooth and enjoy!
3. Makes an exotic ice cream
Lucuma flavour ice cream is wildly popular in Peru – and can be made with the fruit pulp or milled powder. If you're feeling adventurous, try making your own instant lucuma ice cream at home, by blending frozen bananas with lucuma powder, vanilla and a dash of maple syrup in the food processor - yum!
💓 Benefits
4. Antioxidant rich
Lucuma fruits and powder are rich in a diverse range of antioxidants – such as flavonoids, polyphenols and carotenoids.
Carotenoids are a class of antioxidants derived from yellow and orange pigments in plants. They protect against disease, enhance your immune system and fight free radical damage.
Lucuma is particularly rich in xanthophylls, a carotenoid that promotes eye health and clear vision while protecting against too much sunlight [1, 2].
The polyphenols are well regarded for their protective effect on the heart and vasculature, while the flavonoids include those also found in green tea (think gallocatechin, epigallocatechin, catechin and epicatechin) [3].
5. Source of key nutrients
Lucuma is considered a good source of complex (slow release) carbohydrates for sustained energy, dietary fibre, alkalizing minerals and niacin (vitamin B3) – an essential nutrient for energy production and brain function [4, 5, 6].
6. No blood sugar spikes
In addition to being rich in complex carbs, lucuma fruit pulp has been found to have a high alpha-glucosidase inhibitory activity [7].
Why is this interesting? Because alpha-glucosidase inhibitors are drugs used in the treatment of type 2 diabetes. They delay the absorption of carbohydrates in the gut, therefore lowering the blood glucose and insulin spikes that would occur after a meal [8].
Lucuma then, with its sweet taste and natural alpha-glucosidase inhibitors (without the side effects), gives it huge potential as a food-based intervention to keep blood sugar levels in check.
7. Heart healthy
Lucuma may have potential to protect against heart disease and high blood pressure, due to the cardio-protective effects of its polyphenol and micronutrient content [9].
8. Supports gut health
Lucuma contains both soluble and (mostly) insoluble fibres [10], helping to add bulk to the stool, attract water and soften for easy bowel motions, aiding constipation. In contrast, most sweeteners (such as table sugar, maple syrup and agave nectar) are virtually devoid of fibre.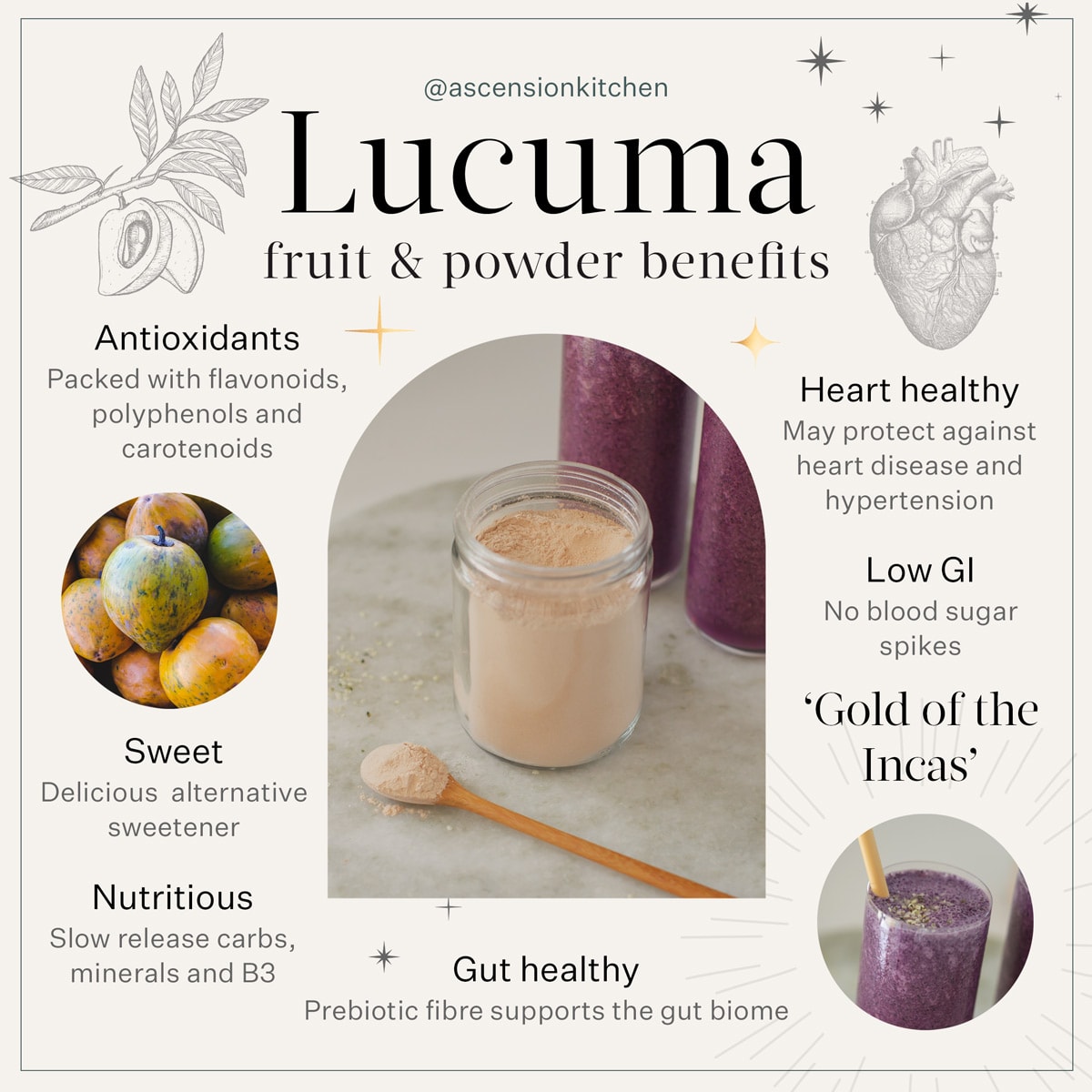 👛 Where to buy lucuma powder
For those of us who can't access the fresh or frozen fruit pulp, look for an organic lucuma powder in a natural health store. Raw is ideal, meaning it has been dehydrated at low temperatures to retain vital nutrients.
I hope you have enjoyed learning a bit about this exotic super fruit. With its versatility in recipes, ample health benefits and no known lucuma side effects, this is a great addition to your daily diet to add sweetness and more.