A naturally sweet and creamy smoothie made from the flesh and water of a whole, young coconut, antioxidant rich blueberries, and raw cacao powder.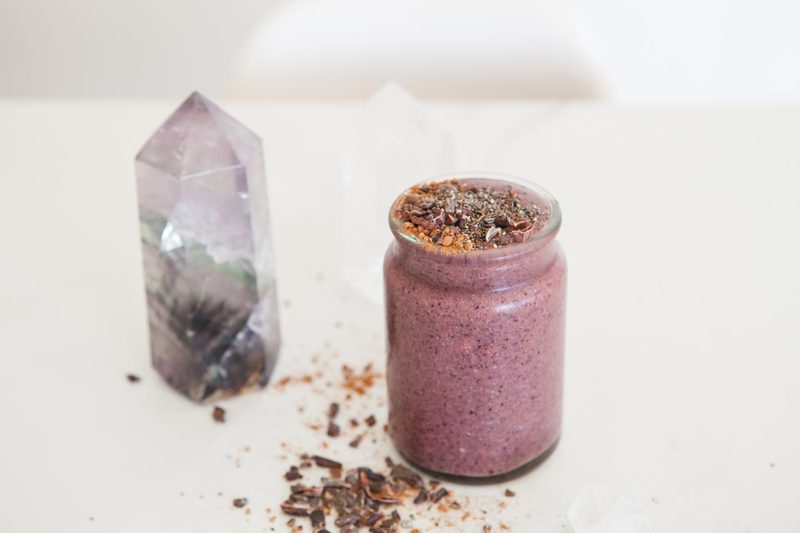 I usually start my day with a nourishing green smoothie - however - thanks to this strange Summer we're having, my plants don't know what they're doing - they've all gone to seed so quickly. So until I can make it back to the Farmer's Market to collect some more plant babies, I have to mix things up a little.
I decided to post this on a whim - I whipped it up this morning and it was particularly good so how could I not share it with you? I had a fresh young coconut in the fridge, so used that as a base. I have a nifty little gadget called a Coco Tap which pokes a tidy hole in the coconut, enabling you to easily drain the water out. A cleaver will then make some cuts around the pointed top to create a lid, from there you simply lift it off and scoop out the soft coconut flesh with a spoon. The flesh will be covered in a little debris, so you just rinse that off under running water and you're good to go.
[bctt tweet="Coconut Cacao Smoothie – full of antioxidants, magnesium and essential fatty acids. Find it here."]
I'm quite a fan of using a scoop of sprouted plant protein powder in my smoothies also, as I find that protein with breakfast keeps you feeling fuller longer, and combined with a little cinnamon, helps keep those blood sugar levels stable [1].
Cacao of course is a great source of iron, magnesium and flavonoid antioxidants. I much prefer using whole cacao nibs in a smoothie than the cacao powder - it is insane - the texture and the taste. Finally, a spoon of chia is always a good idea, both for fibre and those fab omega-3 fatty acids.
Hope you enjoy!
Lauren.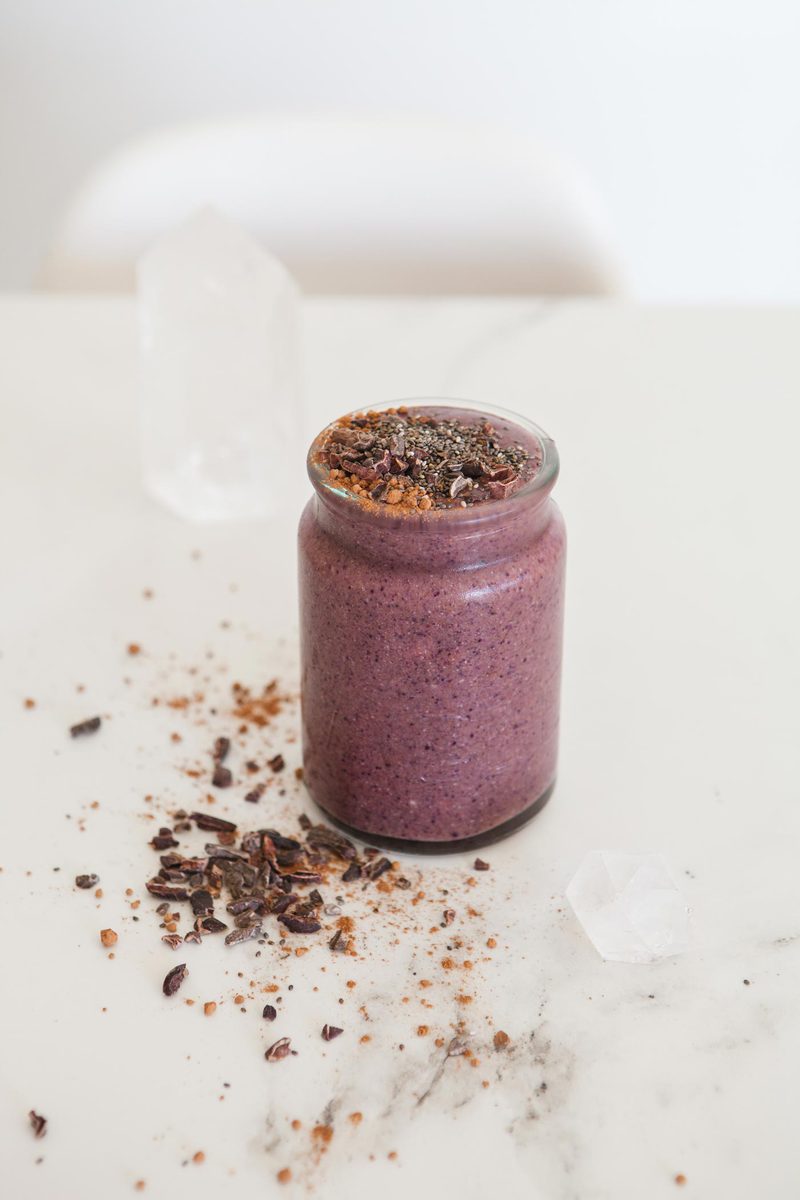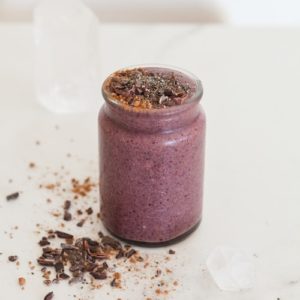 Coconut Cacao Smoothie
A naturally sweet and creamy dairy-free smoothie, made with coconut flesh and raw cacao. Serves 1-2.
Ingredients
1

whole young coconut

1/2

cup

blueberries/strawberries or other

1

scoop sprouted plant protein

1

tablespoon

chia seeds

2

tablespoons

cacao nibs

1/4 - 1/2

teaspoon

cinnamon - depending on your taste

1

teaspoon

probiotic powder for a happy tummy

Coconut yoghurt - optional

to serve
Instructions
Open the young coconut, and pour out 1 cup of the water to use in the smoothie, if there is a little left over, keep in the fridge.

Scoop the flesh out, rinse it to remove any debris, and add to a blender with the coconut water.

Add all other ingredients and blend well.
Nutrition
Calories:
529
kcal
Carbohydrates:
70
g
Protein:
29
g
Fat:
19
g
Saturated Fat:
7
g
Fiber:
20
g
Sugar:
10
g
Vitamin C:
5.8
mg
Calcium:
1860
mg
Iron:
0.5
mg