An indulgent, rich chocolate granola that is gluten and grain free. Add homemade almond milk and you'll be rewarded with pools of chocolatey goodness!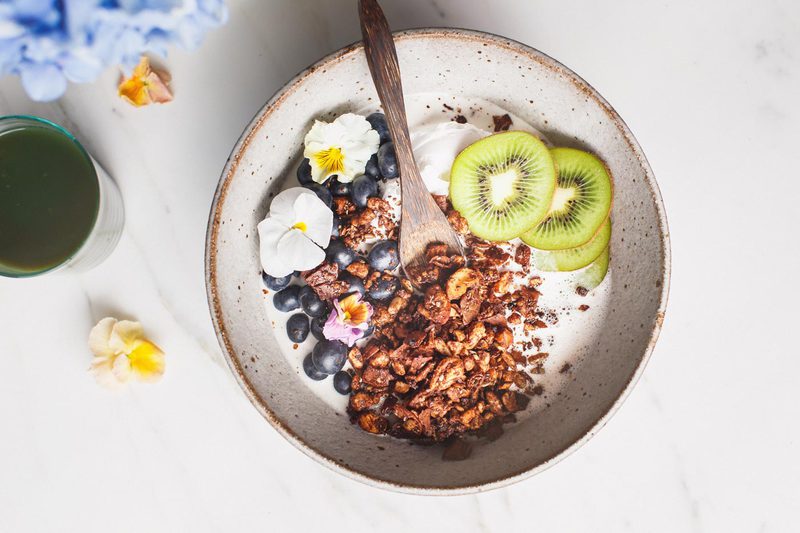 This is my last recipe before Christmas. And this is not only totally yum (and good for you!), it makes a great gift for the person you can't buy for. There's something quite special about gifting something homemade: it supersedes a bought present in my opinion – I love knowing that someone has held you in their thoughts and intentions while spending time to create something from scratch.
I have a few 'grawnola' recipes here on the blog, which are lovely but involve the soaking and sprouting of the buckwheat before you can make it. This recipe is not raw, but it is quick, which is the vibe I'm after at this time of year.
It's also grain free, a nice change from my regular oats!
[bctt tweet="Rich, Chocolate Grain-Free Granola - whip up the recipe here!" username="laurenglucina"]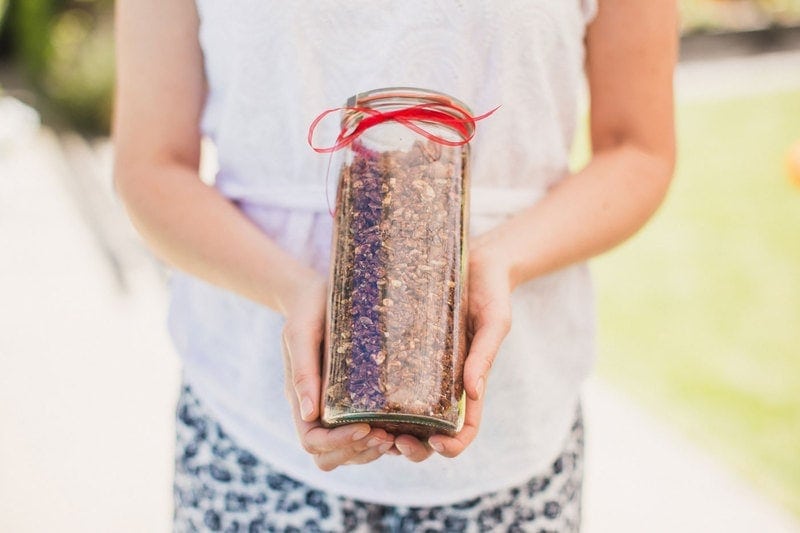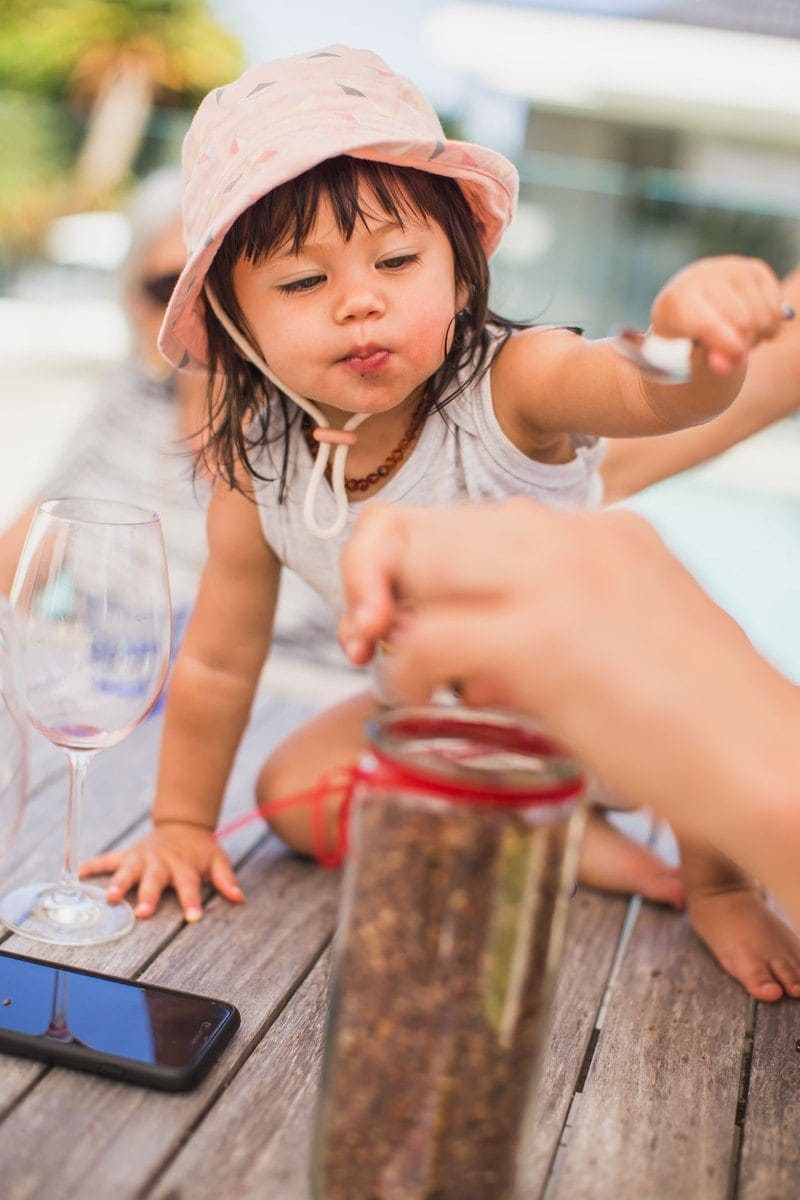 My beautiful niece enjoying the sweet stuff!
Chocolate Grain Free Granola
Ok so what have we got in here. Almonds, cashews, walnuts, sunflower seeds, flax, chia and hemp make up the base – so plenty of healthy fats and protein. To flavour, some crunchy cacao nibs, a handful of freeze dried berries or banana if you feel fancy, and the best part – a rich chocolate sauce that gets folded throughout the granola prior to baking.
The sauce is made from raw cacao powder, pure maple syrup, coconut oil, vanilla and nut butter. It's pretty easy to whip up, but I'll lend just one little tip – make sure the nut butter you choose is fairly soft, liquidy even – if it is firm and chunky you'll have a hard time mixing it in. I went with a store-bought cashew-coconut butter blend, which was absolutely divine.
For those with sensitive or inflamed guts (and therefore, impaired absorption of nutrients), I would highly recommend soaking, rinsing and dehydrating the nuts and seeds (aka activating) before you use them. I like to do this in large batches once a month. This process somewhat neutralises the anti-nutrients in the skins of the nuts and seeds, which are problematic as they bind with minerals and prevent their absorption.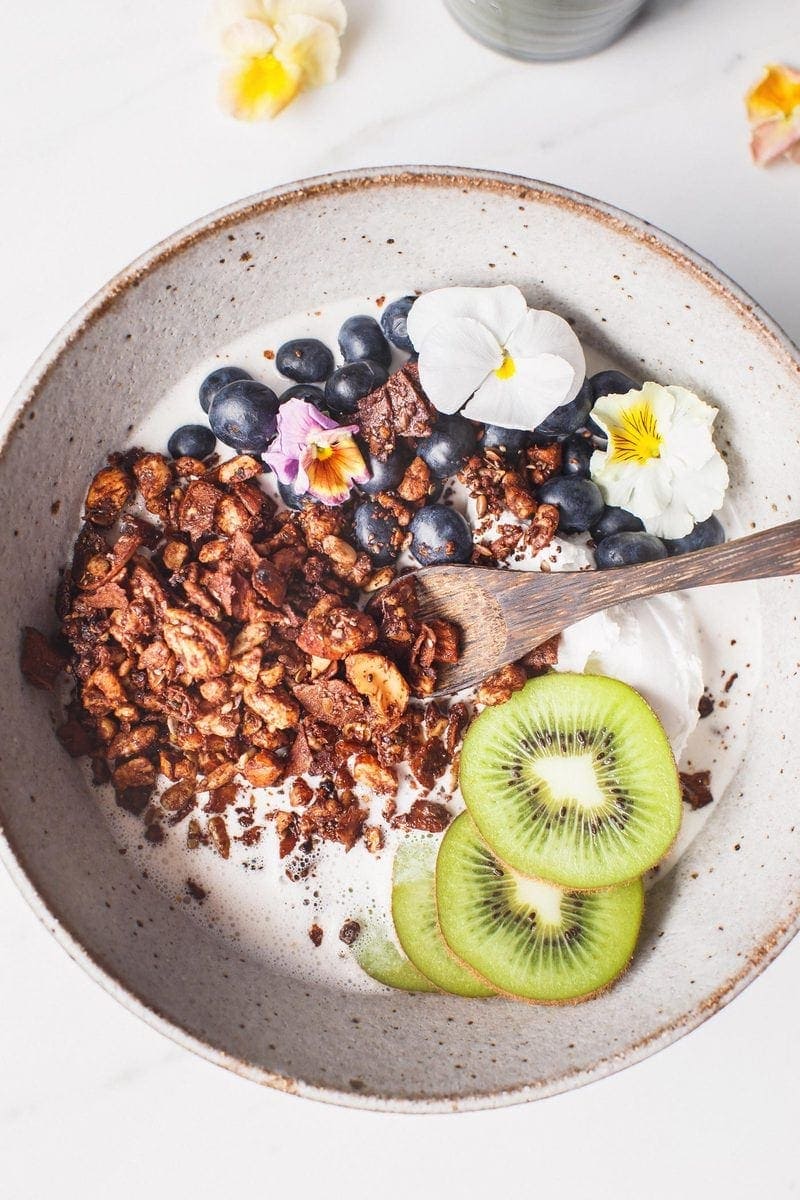 This recipe makes around 6-7 generous cups, you'll be able to fill a large jar or two slightly smaller ones – again, perfect Christmas gifts! Best served with fresh fruit and a homemade nut milk - I love this Macadamia & Hemp number here.
Big Christmas love to you all, I hope it's filled with joy on the day. Look after each other, relax, breathe, let it all go, enjoy!
Lauren.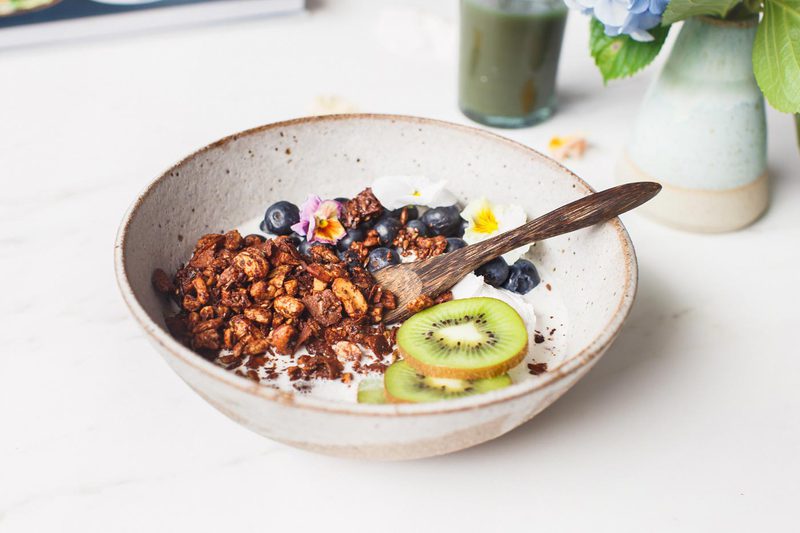 Nutrition highlights
Nuts and seeds contain heart-healthy monounsaturated fats
Flax, chia and hemp standout as sources of quality plant protein
Because this is a grain free breakfast, it is suitable for those sensitive to starches
If using activated nuts and seeds, the bioavailability of the minerals they contain increases
Cacao powder and nibs are incredibly rich in magnesium – a nutrient most of need more of while under stress!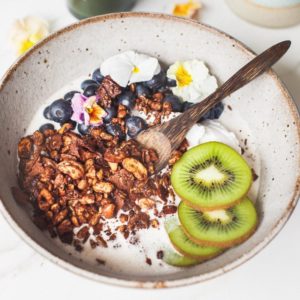 Chocolate Grain-Free Granola
A delicious chocolate grain-free granola. Super quick and easy to make. Makes about 7 cups (21 serves at 1/3 cup per).
Ingredients
1

cup

almonds

1

cup

cashews

1

cup

walnuts

1

cup

sunflower seeds

1

cup

coconut flakes/chips

1/2

cup

desiccated coconut

2

tablespoons

chia seeds

2

tablespoons

flax seeds

2

tablespoons

hemp seeds

1/4

cup

raw cacao nibs

1/4

teaspoon (or just over)

coarse sea salt
Wet ingredients
1/3

cup

coconut oil

1/3

cup

pure maple syrup

1/3

cup

raw cacao powder

4

tablespoons

cashew butter (I used a cashew-coconut blend)

1

teaspoon

vanilla extract
Optional
1

handful

freeze dried raspberries/banana
Instructions
Pre-heat oven at 135˚C (275˚F).

Add almonds, cashews, walnuts, sunflower seeds and cacao nibs to a food processor. Pulse for around 10 seconds, then transfer 1/3 of the mixture to a large mixing bowl. Give it another quick pulse, then remove another third. Pulse the remainder quickly then add that to the bowl too. This gives a varied consistency to the granola.

Add the remaining coconut, flax, chia, hemp and sea salt, set aside.

In a small pot over a low heat, combine the wet ingredients and stir vigorously till the mixture is liquid without any lumps. Pour chocolate mixture over the granola and mix well to combine. If using freeze dried fruit, fold a handful or two through now.

Spread granola evenly over a tray lined with baking paper. Place it in the middle shelf of the oven and bake for around 25 minutes, giving it a good stir after 10 minutes of bake time. Remove from oven and let cool – it will harden as it cools.

Store in a glass jar, makes 6-7 cups.
Nutrition
LIKE THIS POST?
Sign up to my newsletter list below for weekly healthy, plant-based recipes and nutrition articles. And if you want to give back and really make my day, leave a comment below, I'd love to hear from you!
Finally, you can share this recipe on facebook or via Instagram, or pin it for later. If you try it out, make sure you tag me @ascensionkitchen and #ascensionkitchen so I can see your creations. Thank you!