Today my friends, we are making healthy samosas. No pastry, no deep frying!
The wrappers for these are made with pure, raw coconut flesh, cleverly blended to a smooth paste and evenly dried into a pliable wrapper. I first discovered them on my Raw Foods Training in Bali, and have been dreaming about them ever since.
There is so much you can do with the humble coconut – it just blew my mind that you could make soft wraps with the fresh flesh! They make 'samosas' soft in texture, slightly sweet, and a lovely muted pink tone. Stuff them with the turmeric potatoes from last week's recipe and you're onto a winner - especially when you consider these are a totally healthy, gluten free alternative to the traditional recipe.
[bctt tweet="Make your own Raw Coconut Wraps and turn them into healthy Samosas! Recipe here."]
How to make raw coconut wraps
Although it's quite a simple recipe, it can be a bit messy and require a bit of muscle. You'll need to source a good handful of coconuts, crack them open, collect and save the liquid, then scoop out the flesh. From there, you blend the flesh with a little of the coconut water if needed, and spread evenly over a dehydrator tray to dry.
A few pointers:
Buy a couple more coconuts than you need – sometimes there is very little flesh inside so it's very much a lucky dip
If the flesh inside is very thin, watery and soft, be sure to spread a thick layer of it over the dehydrator tray, as it will evaporate as it dries and be prone to cracking
Soft, watery flesh probably won't need added coconut water to help it blend
If the flesh is mature (hard and thick inside), then use a knife to scour the meat into smaller sections, and use a spoon to separate it from the husk
Mature, hard flesh needs to be chopped into small pieces to facilitate the blending, you will also need to add coconut water
Aim for about 800g total coconut meat
Use approximately 2 cups blended coconut per dehydrator tray
If you have any mixture left over, keep it on hand – if you notice any cracking whilst they dry, add a little of the remaining mixture to patch up the tear
Remove from the dehydrator when they are still a little soft and pliable, otherwise they will crack when you fold them.
The cheat's way to open a coconut: place inside multiple plastic bags, twist, then literally take a big swing and whack it hard on a concrete flooring outside. There's no chance of reserving the liquid, but the nut will crack open fairly easily after a few good hits. Note: be prepared for a bit of mess!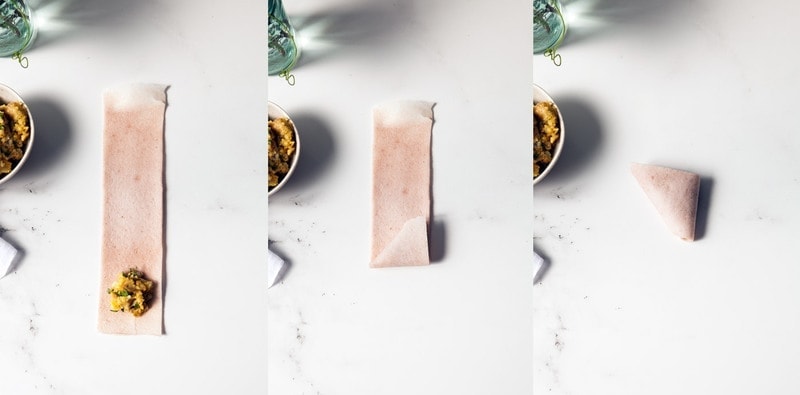 The perfect Samosa filling
Last week I shared a simple recipe for some Turmeric Roasted Potatoes. This makes for the perfect filling in these samosas, with a few little extra additions:
A sprinkle of curry powder or garam masala spice blend
A dash of cumin
Freshly chopped coriander leaves
Sea salt
The final recipe
These healthy samosas are yummy served with a simple green salad. As an alternative to the spiced and Roasted Turmeric Potato filling, you could try a raw curried cauliflower 'rice'.
I hope you enjoy experimenting – there are so many cool things you can do with these wrappers – you can even dye them naturally with a tablespoon of fresh spinach, carrot or beet juice. If you were to make sandwich wraps with them, you could also sprinkle a few fennel seeds and fresh herbs over the top before dehydrating.
Lauren x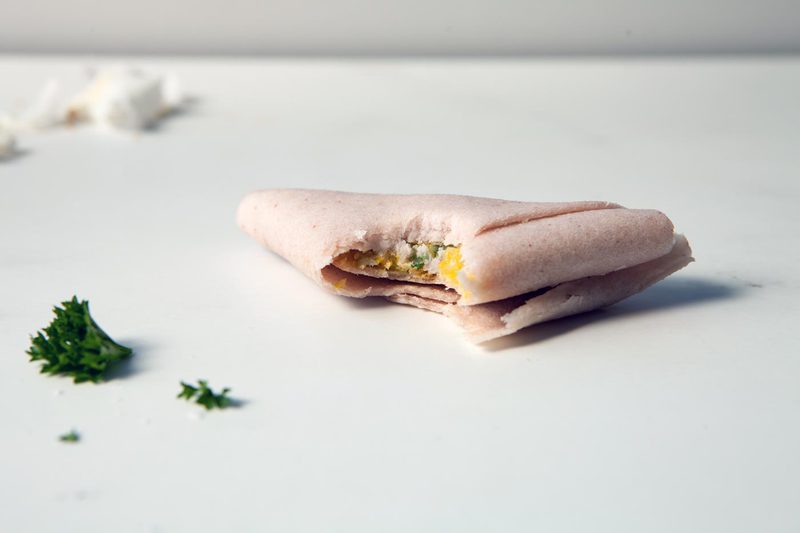 Coconut Wraps
Stuff these raw coconut wraps with spiced turmeric potatoes and you're onto a winner! Makes 8 wrappers. Note these need to dehydrate for 9 hours.
Ingredients
800

g

coconut meat/flesh

about 4 coconuts
Instructions
Crack your fresh coconuts and drain the liquid out, set aside.

Use a spoon to scoop the flesh out, placing it in a sieve.

Pick the coconut flesh over, removing any debris, then rinse well.

Add to a blender and blend till smooth, adding reserved coconut water as you go if the coconut meat was a bit hard. The mixture should end up just a little firmer than yoghurt in texture.

Scoop two cups' worth of the mixture over a dehydrator tray lined with a teflex sheet. Use a spatula to spread the coconut evenly and smoothly – be careful not to spread too thin, otherwise it will crumble and tear as some of the water eventually evaporates off.

Repeat with a second tray.

Place in dehydrator and dry for 6-7 hours at 115˚F. At this point, you'll want to carefully flip them over to dry the underside.

Once flipped, dry for another couple of hours max – the trick is to pull them out when they are still a little supple/pliable and not completely dried, otherwise they'll crack when you go to fold them.

Remove from dehydrator and cut into strips (four strips per tray, 8 in total).

Place a spoonful of cold and spiced potato mixture in the bottom centre of each strip, then roll into a triangle shaped samosa.

Serve with a fresh garden salad!
Notes
Reserve the liquid coconut water from one or two of your freshly cracked coconuts. If the flesh inside is particularly hard, you will be needing to add water to facilitate the blending.
Nutrition
I'd love you to follow me on Instagram,
tag me @ascensionkitchen so I can see your creations!