Healthy, raw Aphrodisiac Bliss Balls for Valentine's Day, infused with libido enhancing superfoods and herbs. Vegan, gluten free, delicious!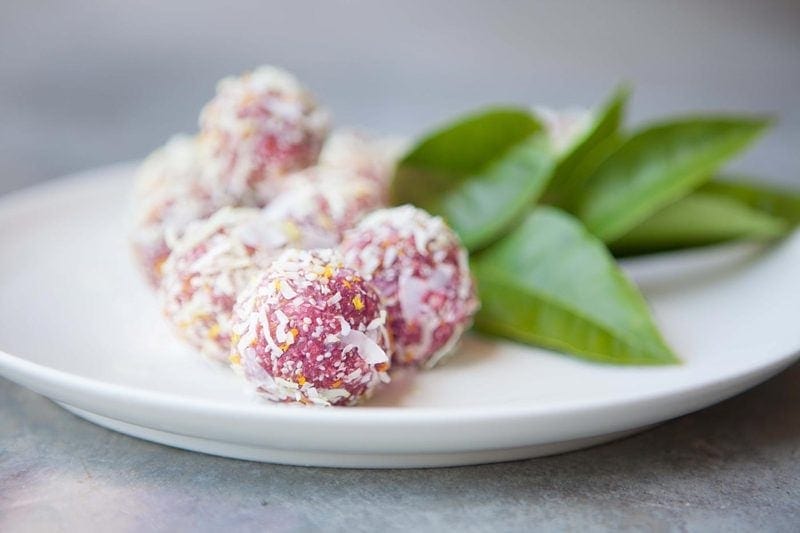 Ok lovers, a little something special for Valentine's Day. This is a pretty simple bliss ball recipe that has some special aphrodisiac and tonic herbs added to the mix. They may be nice to enjoy after dinner and before bed, wink wink.
Oh, the irony of me making these – with a long-distance love! Anyway, I'm sure you will enjoy them for me.
Damiana
Damiana (Turnera diffusa), a small shrub with yellow star shaped flowers, from Central America, is a lovely herb with a well known and ancient reputation as an aphrodisiac, despite it actually not been scientifically proven. It is perhaps best known more as a male tonic, though it enhances libido (and stamina) for both men and women, and in fact, is often found in various supplements sold in sex stores.
Damiana has also traditionally been used as a muscle relaxant and as a tonic for the nervous and endocrine systems. This means a herbalist may use it in treating conditions such as nervousness, anxiety, depression and menstrual irregularities.
I found damiana quite easily in a natural foods store, as the whole dried herb. A spice or coffee grinder will easily turn it into a fine powder (this is how it is used for this recipe), although I used a high powered blender and that worked fine too.
You can of course also enjoy it as a tea – I find it has a slightly stimulating effect so it makes it a little harder to fall asleep!
Maca
I've used maca powder in lots of my recipes – it is one of my personal favourites. A root vegetable that grows high in the Andes, it is well known as an adaptogen (a term used to describe how a plant will help a person better adapt to stress). Maca is great for balancing out your hormones (actually – this is why I love it so much – it definitely takes the edge off PMS), gives you energy, stamina, endurance, and boosts libido. I take a tablespoon in my smoothies for breakfast, but its earthy taste works great in baking (and un-baking!) too.
Chia seeds
Ok – so not an aphrodisiac at all – but these nutrient dense, protein packed seeds will give you lasting energy and endurance, not a bad thing to add to an Aphrodisiac Bliss Ball, no?
One last fun tid bit – vanilla beans come from a special variety of the orchid flower, and were believed by the Ancient Mayans to have powerful aphrodisiac qualities.
I'd say we have one pretty potent recipe right here! Hope you enjoy them,
Lauren.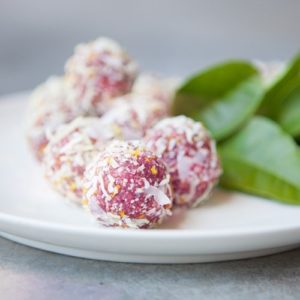 Aphrodisiac Bliss Balls
The raw bliss balls have two special ingredients in them - the libido enhancing superfood, maca, and herb, damiana.

Ingredients
1

cup

coconut

desiccated

1½

cups

almond meal

2

tablespoons

vanilla extract

1

tablespoon

coconut nectar

½

banana

about 62g

¼

cup

chia seeds

I used white

½

teaspoon

beetroot powder

optional – for a pink colour

½

teaspoon

cinnamon powder

1

tablespoon

Damiana

powdered

2

tablespoons

maca powder

1

teaspoon

orange zest

½

cup

coconut flakes

Extra orange zest and shredded coconut to roll in
Instructions
Add all ingredients except the orange zest and coconut flakes, to a food processor and blitz to combine.

Add the zest and larger coconut flakes for a quick pulse.

Roll into equal sized balls.

Cover a small plate with shredded coconut and extra orange zest, and roll the balls to coat them.

These are best kept in the fridge as they have fresh banana in them.
Nutrition
If you make and enjoy this recipe, please leave a rating!
I'd love you to follow me on Instagram,
tag me @ascensionkitchen so I can see your creations!