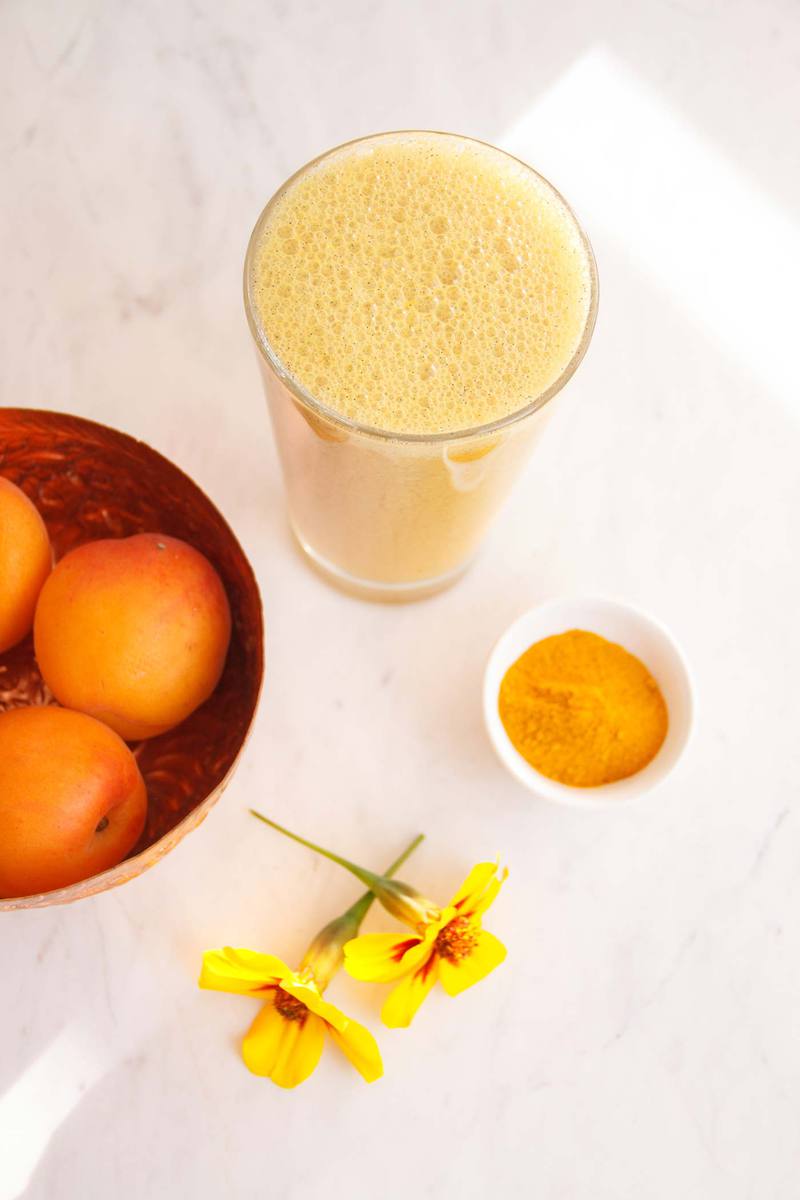 A sweet and delicious fruit smoothie with turmeric powder to bring anti-inflammatory benefits, maca and plant protein.
Have you ever thought to add a little turmeric to your smoothies? Turmeric seems to blend nicely with all things sun-coloured, think apricots, pineapples, carrots, bananas, passionfruit, mangoes…
Turmeric translates as 'The Golden Goddess', or 'Golden One' - a fitting name as it literally leaves a yellow glow on everything it touches!
Turmeric, the golden root, has many wonderful health benefits;
The active constituent curcumin within turmeric is a potent antioxidant – 10 times that of vitamin C. It also helps increase levels of the body's master endogenous antioxidant, glutathione
Turmeric is fabulous as an anti-inflammatory agent, helping inhibit arachidonic acid pathways. For this reason, it has therapeutic value in the management of inflammatory conditions such as osteoarthritis and inflammatory bowel disease
The antioxidant and anti-inflammatory activity of turmeric is thought to be chemoprotective
It may favourably alter lipid profiles
It may support endothelial function (the cells that line blood vessels)
It has liver protective effects
It may have therapeutic potential in Alzheimer's disease
Traditionally turmeric has been taken with a little ghee (clarified butter) and black pepper – both fat and the piperine in pepper aid in its absorption.
You can read more on the many benefits of turmeric here.
This smoothie is a fun way to incorporate it into your diet – the trick is to use ripe fruits, it makes it ridiculously tasty and helps to disguise the bitter, pungent taste. Enjoy!
[bctt tweet="Anti-inflammatory Sunshine Apricot Turmeric Smoothie - find it here!" username="laurenglucina"]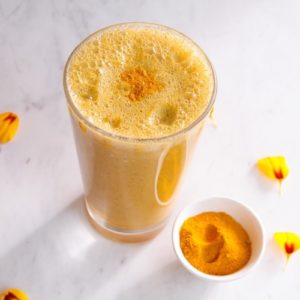 Apricot Turmeric Anti-Inflammatory Smoothie
My go-to anti-inflammatory smoothie. Sunshine in a glass!
Ingredients
1

ripe apricot

¼

cup

ripe pineapple

1/3

ripe banana

1

teaspoon

turmeric powder

½

whole vanilla bean

1

tablespoon

maca

1

tablespoon

raw sprouted brown rice protein

Water of one young coconut
Instructions
Blend all ingredients and enjoy - you may like to add a few cubes of ice at the end.
Nutrition
Calories:
230
kcal
Carbohydrates:
39
g
Protein:
17
g
Fiber:
6
g
Sugar:
23
g
Vitamin C:
50.3
mg
Calcium:
130
mg
Iron:
3.4
mg
Nutrition Facts
Apricot Turmeric Anti-Inflammatory Smoothie
Amount Per Serving
Calories 230
% Daily Value*
Carbohydrates 39g13%
Protein 17g34%
Vitamin C 50.3mg61%
Calcium 130mg13%
Iron 3.4mg19%
* Percent Daily Values are based on a 2000 calorie diet.
If you make and enjoy this recipe, please leave a rating!
LIKE THIS POST?
Sign up to my newsletter list below for weekly healthy, plant-based recipes and nutrition articles. And if you want to give back and really make my day, leave a comment below, I'd love to hear from you!
Finally, you can share this recipe on facebook or via Instagram, or pin it for later. If you try it out, make sure you tag me @ascensionkitchen and #ascensionkitchen so I can see your creations. Thank you!