I was rather miffed when my partner told me I needed to 'up my dinner game' – I think he's actually quite spoilt. To be fair, he'd had a week of pretty careless dinners from me, being side tracked with work and study and all. In fact, one night he poked around his plate with his fork in pure misery, declaring he 'drew the short end of the stick' with me. He then went to both sets of parents for refuge and a feed, because all I'd been giving him was 'twigs'!
I think I might just add over-exaggerator and sympathy-seeker to that list beginning with spoilt.
Now, poor starved man aside, I did step up to the challenge with today's recipe. It's a Macrobiotic dish inspired by a recipe from author Aveline Kushi (in her book, Aveline Kushi's Complete Guide to Macrobiotic Cooking: For Health, Harmony and Peace).
I got into Macrobiotics in a big way many years ago before my journey and love of raw foods began. Macrobiotics is a way of eating that aims to balance the mind, body and spirit. The energetics of the foods are taken into consideration, and meals are consciously made to play with the energy and nature of yin and yang.
Macrobiotics is a predominantly plant-based diet, rich in whole grains, noodles and pasta, plant-based proteins such as tempeh, tofu, natto and beans, vegetables, salads, nourishing soups, ferments, pickles and sea vegetables. There is not much in the way of fruits or sweet foods, though some of the newer Macrobiotic cook books use rice malt syrup in their desserts.
Turmeric Millet and Butternut Squash: the ingredients
Millet is the hero of this dish. Millet is an alkaline forming gluten free grain grown mostly in India, China and Africa. You cook it similar to rice, using more water for a softer texture. The tiny yellow grains fluff up and make for a light and filling dish.
If we look at the Macrobiotic theory behind the energetics of millet, we learn that it is warming to the body and best consumed in late summer or autumn. In the summer months, more raw foods are eaten in order to cool the body down. Though, come the change of season, richer tastes and slower cooking styles are used to balance the energy. Grains are eaten in abundance for their nourishing, warming and grounding energy.
According to Aveline Kushi, author and advocate of the Macrobiotic way of life, millet is therapeutic to the stomach, spleen and pancreas. This is in part due to its lovely yellow colour. In Macrobiotic theory, colour is a form of energy, and yellow is thought to nourish the organs that produce all those lovely, juicy secretions such as bile.
In Paul Pitchford's amazing Healing with Whole Foods, he states that millet's antifungal nature makes it one of the best grains for those with Candida albicans overgrowth. This is perhaps due to its polyphenol content in the outer seed coat. Polyphenols are natural substances inherent in plants to protect them against both environment and disease. They are not essential to our own diets as vitamins and minerals are, but they are thought to pass on their protective effects to us when we consume them.
Kombu
In Macrobiotic cooking, whole grains like millet are usually cooked in a pressure cooker. I have taken inspiration from several of Aveline's recipes though have cooked it over the stove in a regular pot. An inch of kombu is added while it cooks, then discarded at the end. Kombu is a dark black-brown sea vegetable gathered off southern Hokkaido, and is quintessential Japanese cuisine. It is often added to soups and broths to impart some therapeutic benefits – leaching minerals such as iodine into the water.
Turmeric
I've deviated a little from tradition here and added freshly grated turmeric root, because, we all know how much I love turmeric! Antioxidant and anti-inflammatory goodness to boot.
Pickles and Umeboshi Vinegar
Pickles as I've mentioned are also a staple in Macrobiotic, and Japanese cuisine. For this recipe, I've used a mandolin to thinly slice red onion and radish. Two types of vinegar are then poured over the top – umeboshi and brown rice vinegar. Umeboshi vinegar is made from Japanese umeboshi plums. They are very acidic and are fermented with sea salt, enzymes and bacteria for at least a year, transforming something sour, tangy and quite inedible into a medicinal condiment. They are said to remedy upset stomachs and improve digestion.
The onions and radish are marinated in these vinegars and pressed between two heavy plates for an hour or two (or more). This is known as quick pressing/pickling, and results in a beautiful tangy addition to the millet. Radish, being red, are thought to nourish the heart and small intestines.
Gomashio
Lastly, I made a traditional Japanese condiment (with a twist) to liberally season the finished dish. Gomashio is a mixture of toasted sesame seeds with sea salt. I have added a generous amount of karengo, a New Zealand seaweed, for a slightly more nutrient dense rendition. It's such a delicious staple to keep on hand in the pantry, that I made a separate post for this recipe, because you can use it over all kinds of things to dress them up – particularly, salads, grains, and rolled into sushi.
The recipe for my gomashio is here.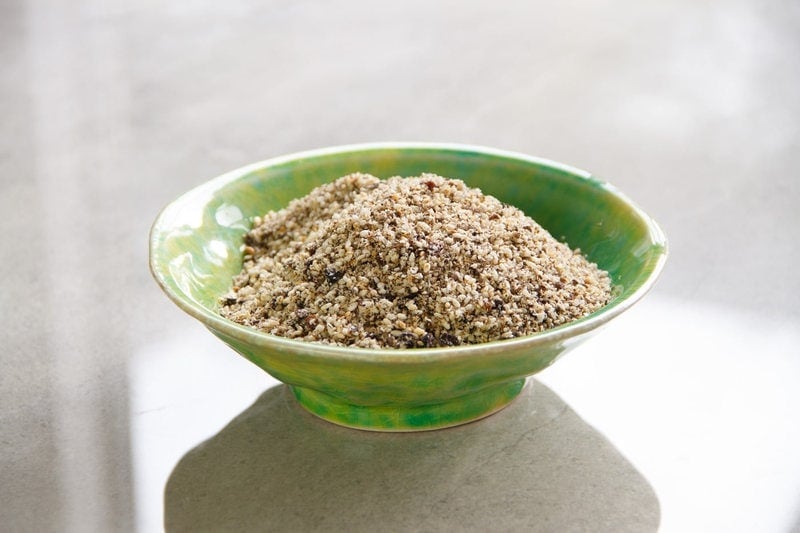 The recipe
I hope you've enjoyed this introduction to a few different new ingredients. If you make this dish, pay attention to how you feel as you eat it. It really does make you feel grounded, warm, and very full!
If you'd like to read up more on Macrobiotics, I can recommend the following books, they are well-thumbed members of my bookcase:
Aveline Kushi's Complete Guide to Macrobiotic Cooking: For Health, Harmony and Peace, by Aveline Kushi and Alex Jack (1985).
The Macrobiotic Way: The Definitive Guide to Macrobiotic Living, by Michio Kushi (3rd ed.). (2004).
The Hip Chick's Guide to Macrobiotics, by Jessica Porter (2004)*
*For a more modern take on the classic recipes.
By the way: fussy spoilt partner's verdict: 8/10 (he said it would be a 10 with chicken – typical).
[bctt tweet="Delicious gluten-free Turmeric Millet with Butternut Squash, pickles and gomashio: try it here!"]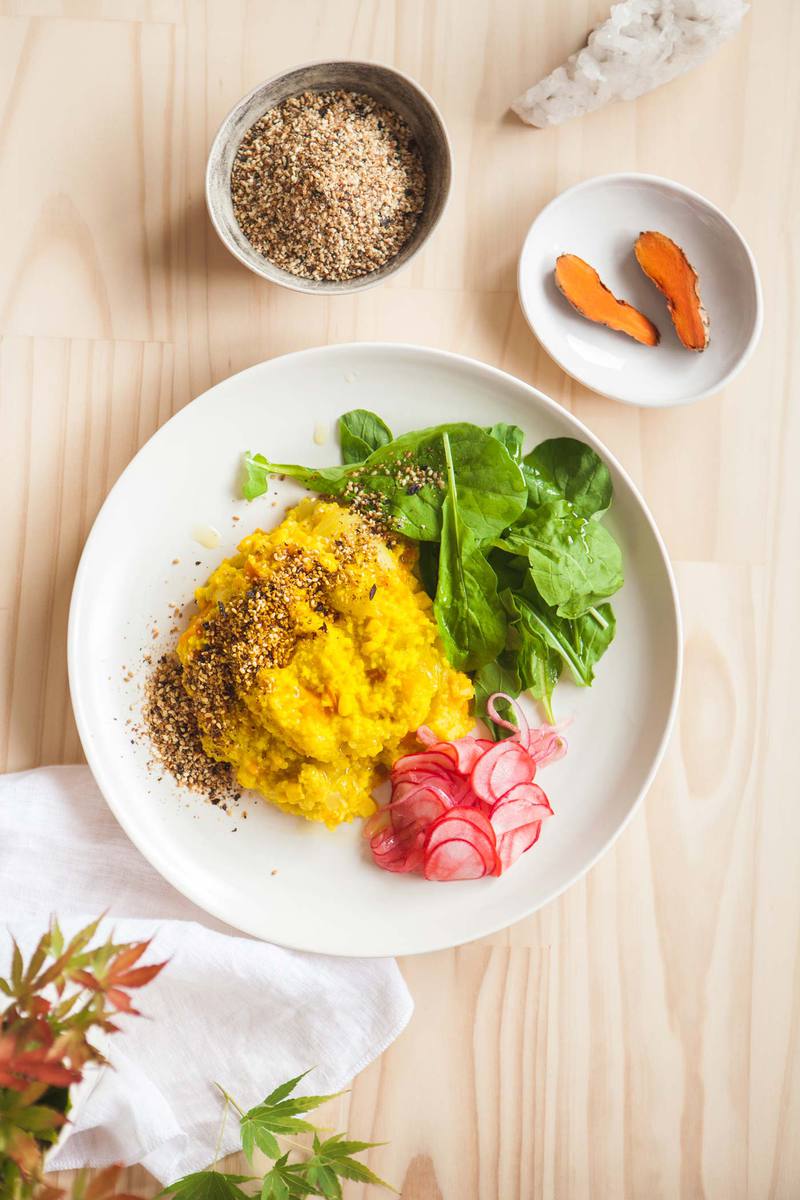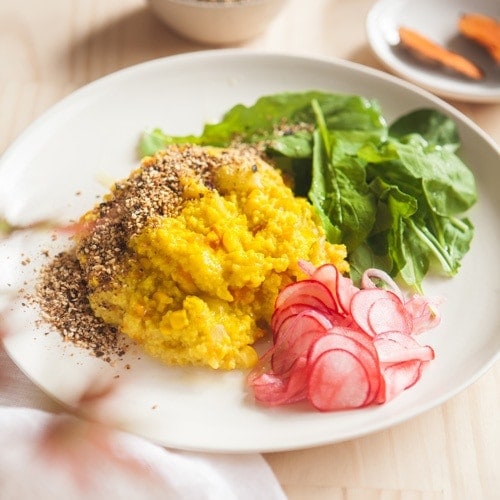 Turmeric Millet and Butternut Squash
Creamy gluten free millet with fresh turmeric, butternut squash, and quick pickled radish. Seasoned with gomashio (a Japanese sea salt condiment) and served with fresh rocket.
Serves 4-6. Note prep time excludes 8 hours of soaking the millet prior.
Ingredients
TURMERIC MILLET AND BUTTERNUT SQUASH
1

cup

millet

1

small strip kombu

about an inch

4

cups

water

2

teaspoons

organic vegetable stock powder

2

cups

butternut squash

in 1 cm cubes (about 280g)

Corn from 2 large cobs

about 250g

2

heaped tablespoons turmeric root

freshly grated

2

heaped tablespoons ginger root

freshly grated

¼

teaspoon

black pepper

1

yellow onion

cut into rough rounds
QUICK PICKLED RADISH AND ONION
1

large red onion

4

red radishes

2

tablespoons

umeboshi vinegar

2

tablespoons

brown rice vinegar
Instructions
TURMERIC MILLET AND BUTTERNUT SQUASH
Soak millet in ample spring water overnight or for 8 hours, then drain and rinse well.

Add millet, water and kombu to a large pot, then layer all other ingredients.

Bring to a boil (will take 5-8 minutes), then reduce to a simmer over low heat, cook for 25-30 minutes or until water has absorbed.

QUICK PICKLED RADISH AND ONION
Slice onion and radish on a mandolin thinly, arrange on a large plate, toss with the vinegars, place smaller plate on top, place a heavy weight on top, let to press for 1 hour.
TO SERVE:
Serve with a simple rocket salad, quick pickled raddish and red onion, and generous sprinkle of

gomashio.

Drizzle with quality olive oil to finish.
Notes
Estimated nutrition panel is for 4 serves.
Nutrition
Calories:
309
kcal
Carbohydrates:
64
g
Protein:
9
g
Fat:
3
g
Sodium:
22
mg
Fiber:
8
g
Sugar:
8
g
Calcium:
60
mg
Iron:
2.5
mg
Nutrition Facts
Turmeric Millet and Butternut Squash
Amount Per Serving
Calories 309
Calories from Fat 27
% Daily Value*
Fat 3g5%
Sodium 22mg1%
Carbohydrates 64g21%
Protein 9g18%
Calcium 60mg6%
Iron 2.5mg14%
* Percent Daily Values are based on a 2000 calorie diet.
If you make and enjoy this recipe, please leave a rating!
@ascensionkitchen #ascensionkitchen