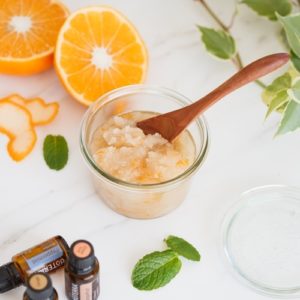 Homemade Sugar Scrub
A fresh and invigorating homemade sugar scrub for soft skin. Note: grapefruit essential oil may cause photosensitivity and phototoxicity when applied topically. Avoid going in the sun for up to 12 hours after use.
1

cup

organic sugar

½

cup

fractionated coconut oil

125ml

30

drops doTERRA grapefruit essential oil

15

drops doTERRA ginger essential oil

10

drops doTERRA peppermint essential oil

1

tablespoon

grapefruit zest

1-2

drops vitamin E
You can experiment with other carrier oils – jojoba, apricot oil, sweet almond and macadamia are all options. Don't use regular coconut oil – it will have a strong smell, and harden once it cools.
This recipe uses essential oils at a 1.5% dilution (56 drops per 125ml carrier oil).
I used vitamin E, a natural preservative, because the grapefruit zest will contain some water, and even though it is a small amount, I want to prevent bacterial growth. You could omit and leave in the fridge to keep this fresh.