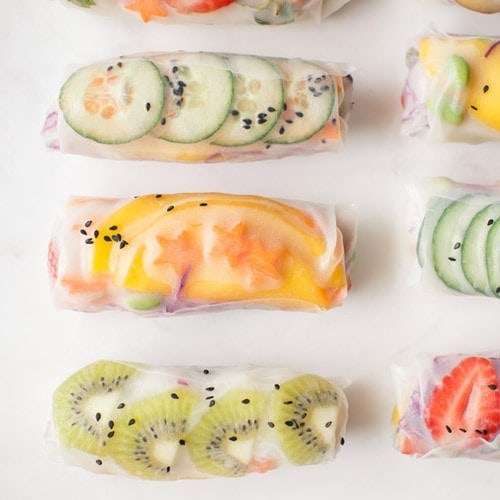 Print
Rainbow Summer Rolls with Spicy Peanut Lime Sauce
Antioxidant-packed Vietnamese rice paper rolls and a tangy peanut sauce – the perfect summer fare! Makes 12 rice paper rolls (serves 3 people) and yields 1 cup sauce which should serve around 12 (4 teaspoons sauce per 4 rolls).

Spicy Peanut Sauce
2

tablespoons

olive oil

2

tablespoons

sesame oil

2

tablespoons

tamari

2

tablespoons

raw apple cider vinegar

2

tablespoons

sesame seeds

1

tablespoon

peanut butter

4

teaspoons

pure maple syrup

2

tablespoons

ginger

peeled + minced

Juice of two limes

2

inch

piece of red chilli

de-seeded
Rainbow Summer Rolls
Cut the tofu into thick slices, pat dry with a paper towel, and cook in a little oil on low-medium heat in a frying pan till done one both sides, about five minutes. Once cooked, cut into batons/matchsticks.

Meanwhile, cook the rice noodles in a pot of boiling water for two minutes, drain and set aside. Add fresh water to the pot, and boil edamame beans for five minutes, drain and set aside.

Prep all fruits and vegetables – wash and slice thinly or use a mandolin to speed the process up (about 20 minutes prep here).

One by one, take a rice paper wrapper and place on a dinner plate filled with water. Let soften. Transfer to a wooden board and add 2-3 tablespoons of filling in the centre.

Fold over one edge, then wrap up the sides, and roll.