These easy vegan tacos are made with a perfectly spiced tempeh meat, providing quality plant protein. Nut free, gluten free. 100% delicious!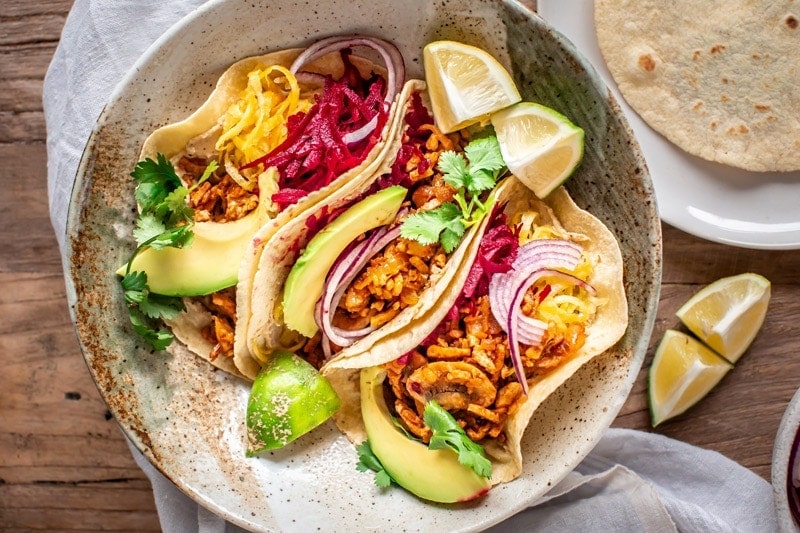 Tacos are so much fun. Messy, delicious fun. They can make for an extremely healthy meal if you do them right.
The anatomy of a good taco should include:
Something hearty
Something fresh and crunchy
Something creamy
Something tangy
So in today's recipe, we have:
Perfectly spiced tempeh taco meat
Freshly grated beets, fresh coriander
Avocado, hummus
Quick pickled onions, fresh lime
Ok, let's get into it shall we! Let's start with this infamous vegan taco meat!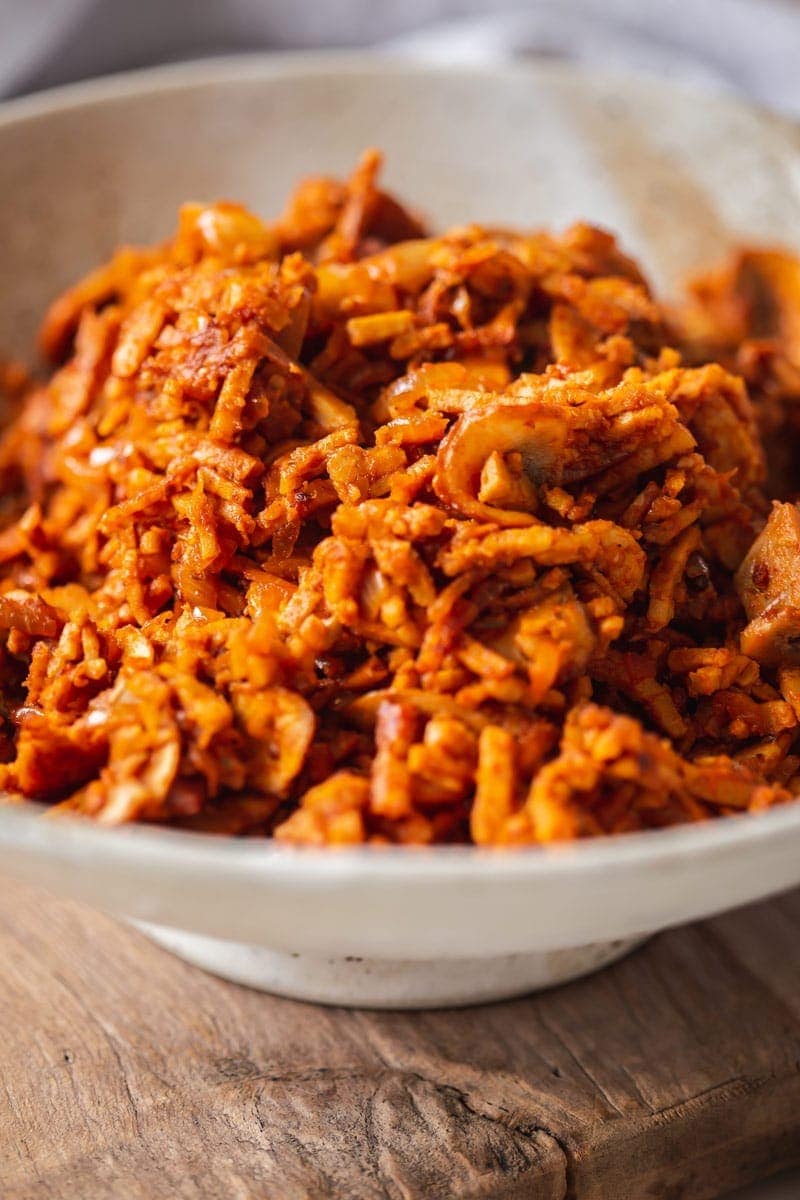 Vegan taco meat
Vegan tacos need something hearty in there to provide substance. I've made an insanely delicious walnut meat for tacos in the past, but nutritionally, tempeh wins as it's such a great source of plant protein.
The taco meat is relatively simple to prepare, as you'll see below. It contains a rich mix of spices, tomato paste, and mushrooms to thicken it up further.
How to make vegan taco meat
Start by boiling the tempeh block in a saucepan for about ten minutes. This helps soften the texture, and reduces cooking time later on.
Remove with tongs, then slice it super ridiculously fine in one direction, then again in the other, until you have what legitimately looks like beef mince!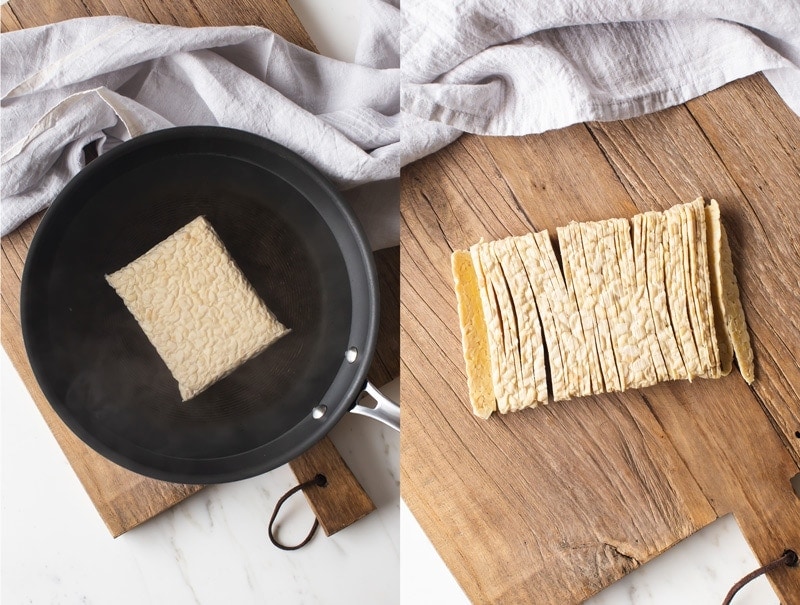 Transfer it to a bowl and add a generous tablespoon of olive oil, toss to coat.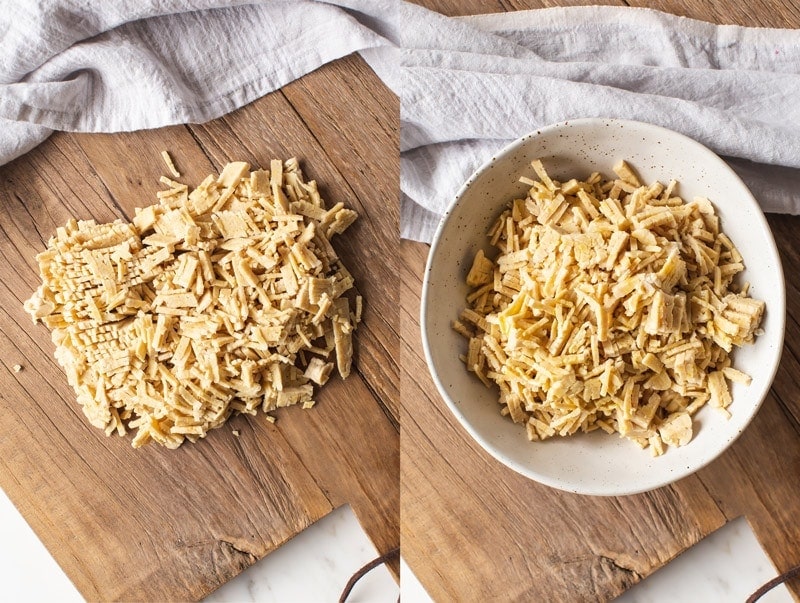 Next you want to fry a finely diced yellow onion till golden, then add garlic and spices (cumin powder, smoked paprika, oregano, thyme, chilli seasoning).
Add finely sliced mushrooms, tempeh and tomato paste, then cook for about 10 minutes until the mixture looks uniform in colour and texture.
I've found an extra glug of olive oil during this part is helpful.
That's it! Your tempeh and mushroom vegan taco meat is good to go! Doesn't it look cool?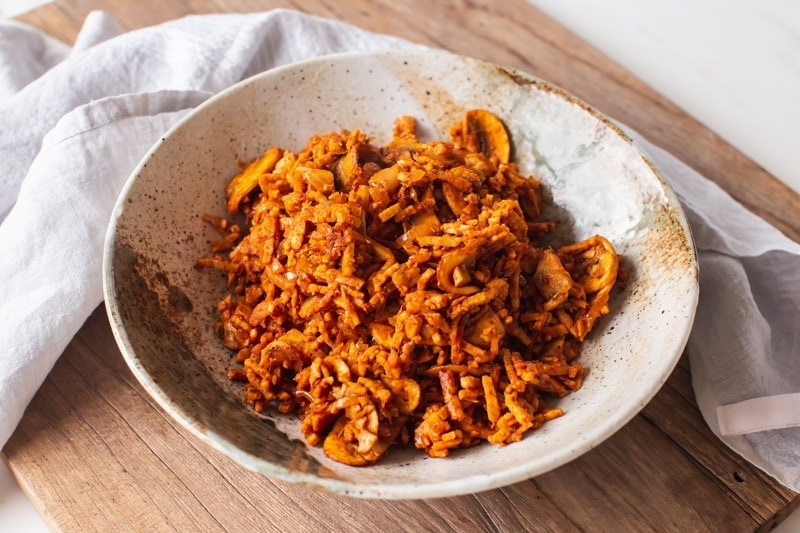 How to make vegan tacos
Really it's a matter of prepping your toppings and assembling from here on in, however I have an easy recipe to share for quick pickled onions you may like to try.
To make quick pickled onions: finely slice a large red onion and arrange over a plate. Pour over equal parts umeboshi vinegar and brown rice vinegar, then cover with a plate and rest a heavy weight over the top. Ideally leave them like this for a couple of hours, then drain and enjoy.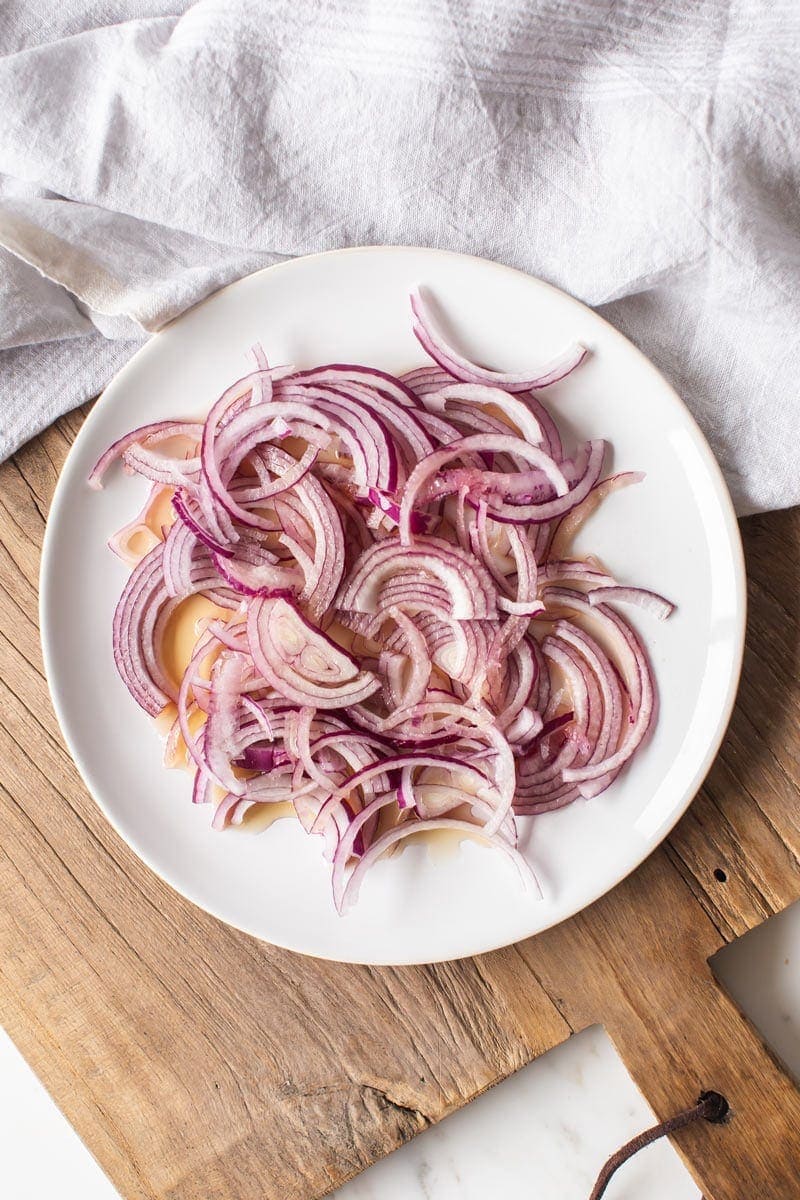 To prepare the tortillas: heat a cast iron skillet (or a fry pan if you don't have one) and toast on each side.
Now you're ready to fill your vegan tacos up with the good stuff:
A layer of hummus over the tortilla
A few spoons of tempeh taco meat
Freshly grated beets/carrots
A sprinkle of fresh coriander
Sliced avocado
Squeeze of fresh lime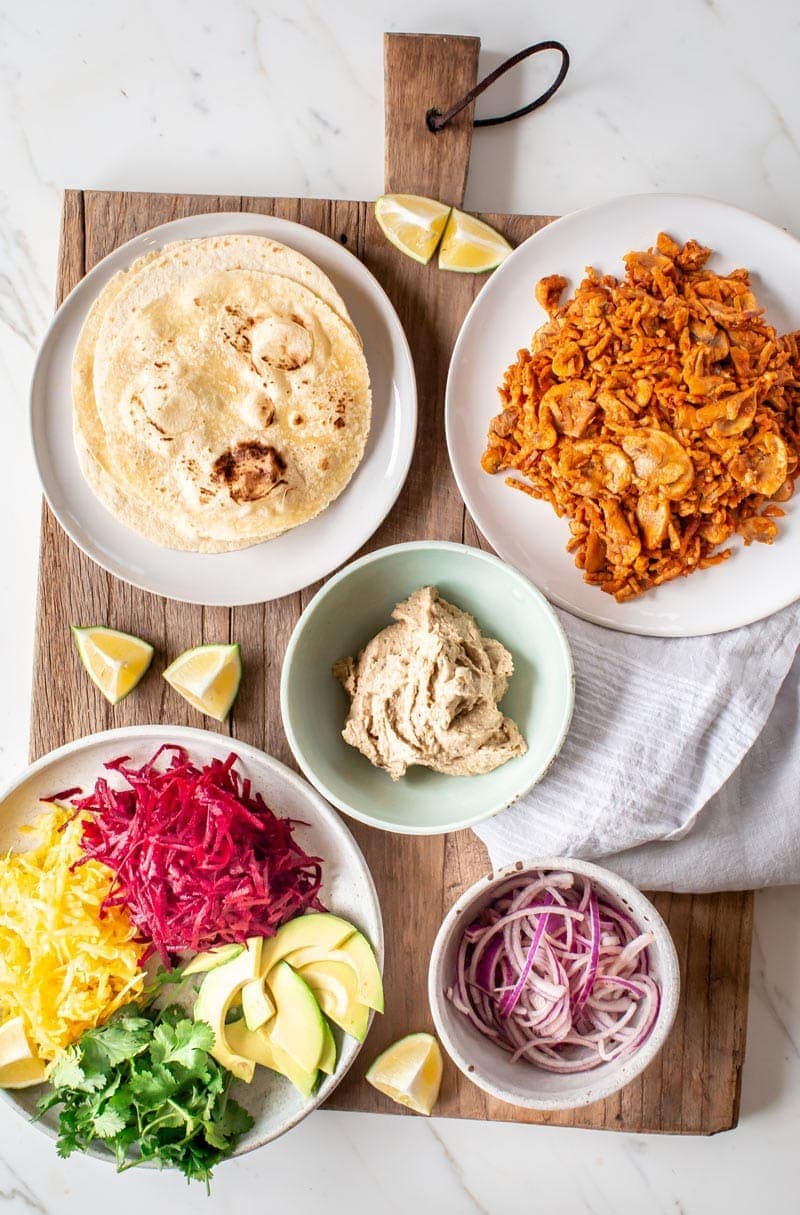 Hope you enjoy! The taco mince is epic simply served with steamed vege and a fresh salad.
More taco recipes: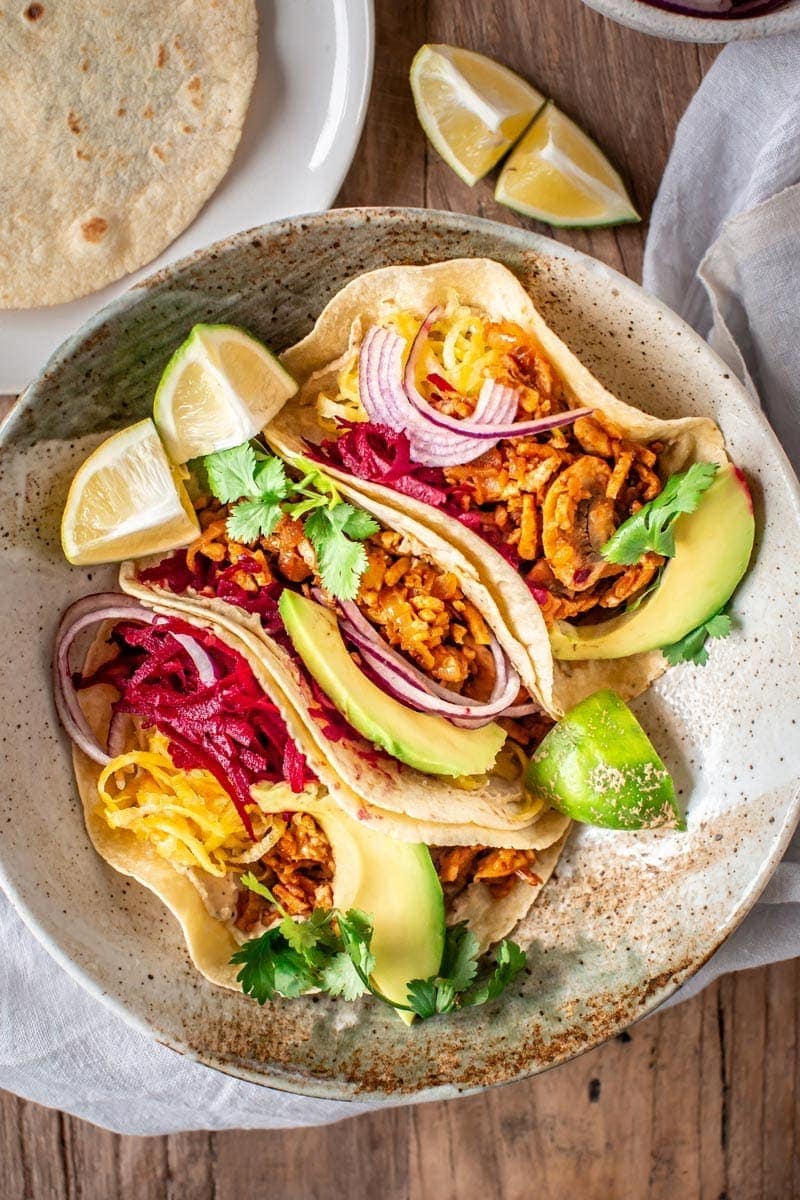 🌿Enjoyed this recipe? Leave a comment below, better yet - share a snap with me on instagram @ascensionkitchen. If you're after personalised health and nutrition advice, contact my clinic, I'd be happy to work with you.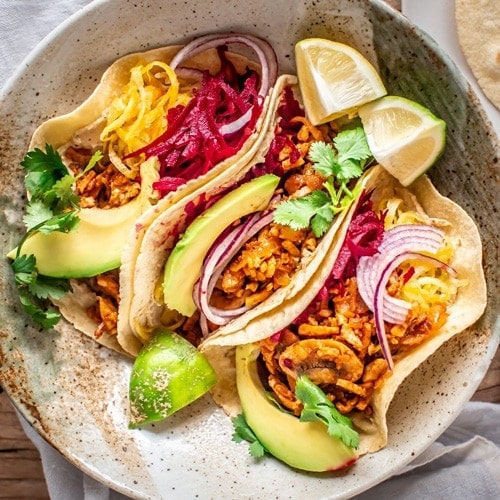 Vegan Tacos with Tempeh Meat
Vegan tacos filled with the most versatile tempeh 'meat' - protein rich, nut free, and absolutely delicious.
Ingredients
Tempeh Taco Meat
1

packet

tempeh

250g

2-3

tablespoons

olive oil

1

yellow onion

2

cloves

garlic

1

teaspoon

cumin powder

1

teaspoon

smoked paprika powder

½

teaspoon

oregano

dried

½

teaspoon

chili seasoning

¼

teaspoon

thyme

dried

2

rounded tablespoons

tomato paste

3

cups

button mushrooms

sliced (approx. 200g)
Quick Pickled Onions
1

large

red onion

2

tablespoons

umeboshi vinegar

2

tablespoons

brown rice vinegar
Tacos + Fillings
8

corn tortillas

1/3

cup

hummus

1

avocado

sliced

1

red beetroot

grated

1

yellow beetroot

grated

½

cup

fresh coriander/cilantro

2

fresh limes
Instructions
Quick Pickled Onions
Make these a few hours in advance for best results – finely slice the red onion and arrange on a plate. Add the vinegar, then cover with a second plate and weight it down with a heavy object.

Leave for up to two hours to press and pickle, then drain ready for use.
Tempeh Taco Meat
Fill a fry pan/saucepan with boiling water and boil the entire tempeh block for about 10 minutes, then remove with tongs and tip the water out.

Slice the tempeh as thin as you can lengthways, then do the same in the other direction, to create 'mince' strips. Transfer to a bowl and toss with a tablespoon of olive oil and set aside.

In a clean, dry fry pan, heat a tablespoon olive oil, and cook a finely minced yellow onion until golden.

Add 2 sliced garlic cloves and all spice, cook for a few minutes.

Finely slice the mushrooms then add to the pan with the tempeh and tomato paste, cooking for a further 5-10 minutes or until the mushrooms are done and the mixture looks uniform in colour.
Tacos
Heat a cast iron skillet or a fry pan if you don't have one, and dry toast the corn tortillas on each side.

To serve, spread each tortilla with hummus, then add taco meat, grated beet, fresh coriander, avocado slices and a squeeze of lime. Enjoy!
Notes
The vegan taco meat is incredibly versatile, you can serve as is with a garden salad and some steamed vegetables
The tortillas are best dry toasted over a cast iron pan till a little charred on each side
Mix up the fillings as you like
Nutrition panel is an estimate only
Nutrition
Calories:
213
kcal
Carbohydrates:
22
g
Protein:
9
g
Fat:
11
g
Saturated Fat:
1.75
g
Sodium:
63
mg
Fiber:
4.6
g
Sugar:
4
g
Vitamin C:
5.8
mg
Calcium:
60
mg
Iron:
2
mg