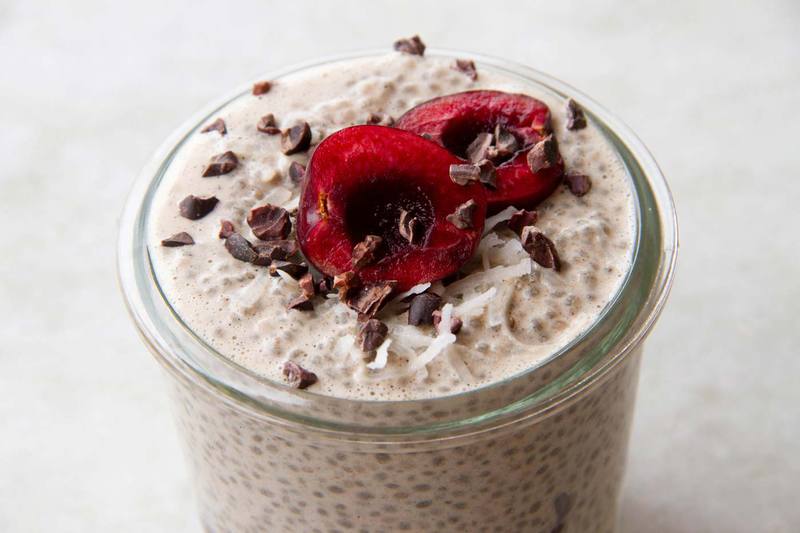 This is a sweet, innocent looking little breakfast jar to take away with you to work, that is actually a pretty serious hit of long lasting energy that will carry you through the day and back again, then tuck you up in bed at night.
Sweet Cherry Chia Breakfast Pudding
Chia seeds swell and become gelatinous in liquid which gives them a beautiful creamy texture, its sorta like having porridge but not.
| makes one generous jar |
Handful of fresh cherries, pitted
Handful of crushed pistachios
A sprinkle of raw cacao nibs
+
1 Cup of nut milk (store bought, or make your own by blending ¼ cup of cashews with 1 cup of water, then straining through a nut milk bag or cheesecloth)
2 Tablespoons of Chia Seeds
1 Medjool date
1 Teaspoon of vanilla paste
1 Teaspoon of coconut oil
½ Teaspoon of cinnamon
Pinch of nutmeg
Pinch of flaky sea salt
METHOD:
Pop the cherries, pistachios and cacao nibs into the bottom of your jar.
Blend your nut milk with the date, vanilla, coconut oil, cinnamon, nutmeg and sea salt.
Stir the chia seeds into the sweet milk and then pour the mixture into the jar over the cherries and nuts.
Let set in the fridge for 30mins so that the chia swell and thicken.