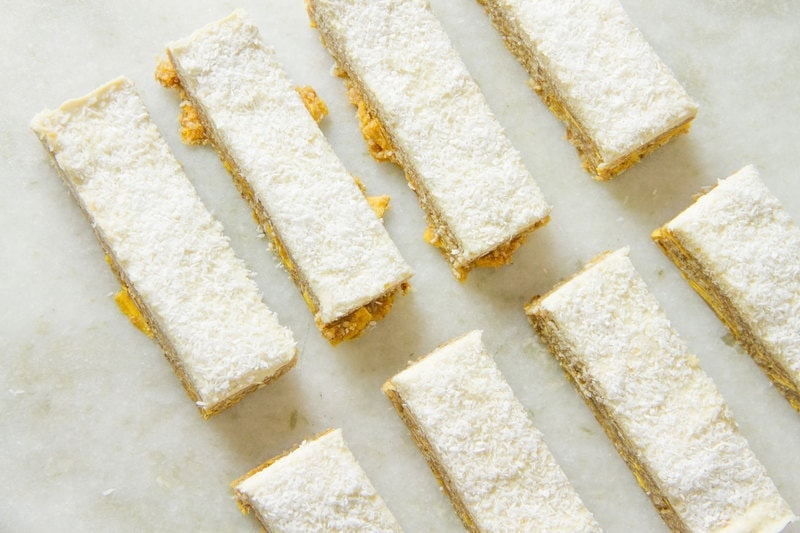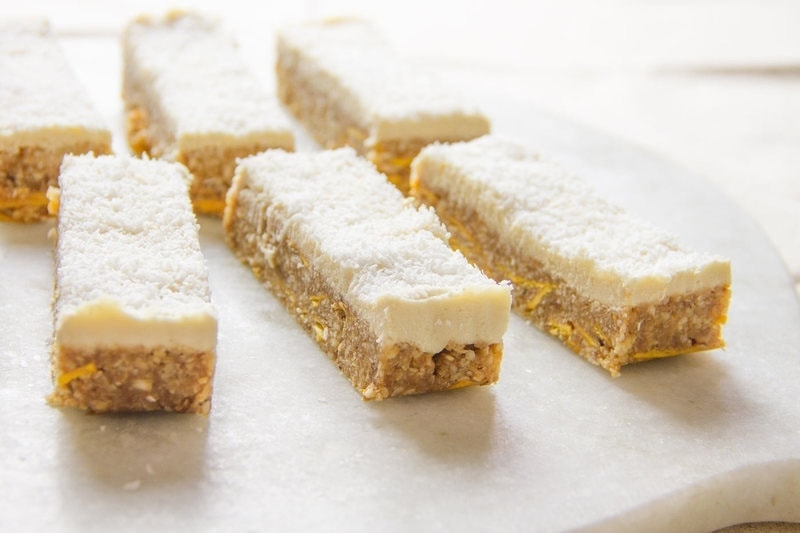 One more week and exams will be done and dusted! Until then, here is a recipe I made for Loving Earth this month. They set me a challenge to create a yummy healthy snack they could share on their blog, so I happily accepted! (Also, purely for selfish reasons, it meant I had a bounty of healthy study snacks stashed in the fridge).
I found the most amazing, sweet dried mango cheeks from the organic markets so I based the recipe around them. Hello Raw Tropicana Bars!
These bars are chewy are filling and have a yummy mix of tropical flavours in them. The frosting is my favourite part – kaffir lime and pineapple go so well together. 
Tropicana Bars
| makes 12 |
The slice:
1 ½ cups almond meal
1 ½ cups desiccated coconut
½ cup sesame seeds
½ cup activated almonds
½ cup coconut sugar
¼ cup coconut oil
¼ cup lime juice
100g dried mango cheeks
A few good pinches of freshly ground black pepper
The frosting:
1 cup raw cashews, soaked overnight
½ cup fresh pineapple
1 kaffir lime leaf
1 tablespoon lime juice
2 tablespoons maple syrup
2 tablespoons coconut oil
Pinch of coarse sea salt
1 tablespoon lecithin
Desiccated coconut to sprinkle over the top
Method:
First make the slice. Combine all ingredients except the mango and activated almonds in a food processor and blitz till you get a nice dough. You will need to stop to scrape the sides down as you go.
Next add the activated almonds and the dried mango cheeks. You will need to roughly tear the mango into small pieces before you add it to the mix.
Blitz till the nuts have been quite roughly chopped. It is nice to still have some chunky bits in there.
Transfer the mix to an 8inch baking tin lined with baking paper.
Press down firmly and use the back of a spoon to flatten the surface. Pop in the freezer to set
To make the frosting, chiffonnade the kaffir lime leaf, discarding the little stem. The finer you slice it, the easier it will blend.
Blend everything in a high speed blender till nice and creamy. Pour this mixture over the slice and even the surface out. Dust with desiccated coconut and pop back in the freezer to set for a couple of hours.
Cut into 12 equal sized bars to serve.
Best kept in the fridge or freezer.