A super easy raw fudge made with the antioxidant rich maqui berry.
Oh so I am hopeless at keeping secrets. The Raw Desserts App I have been working on – for the last eight months – has finally been submitted to Apple! Whoop whoop! In the meantime, I've already been preparing new recipes to add as updates after the initial launch. This is one of them. I totally had to share it because it was so yummy I kept sneaking back to the fridge for more. It literally melts in your mouth. Hope you enjoy x
RAW MAQUI BERRY & WHITE CHOCOLATE FUDGE
This white chocolate and maqui berry fudge is packed with antioxidants – in fact, maqui is said to have three times the antioxidants than our friend açai berry. Like other black, red and purple coloured fruits (açai berry, black grapes, black currants, blackberries, black plums, black cherries, pomegranates), the maqui berry contains a pigment called anthocyanins – which contribute to its antioxidant capacity, and are also powerfully anti-inflammatory.
Anthocyanins may enhance heart health and protect against cancer. The berries also help strengthen the immune system, protect against free radical damage, and are anti aging.
The little berries come from an evergreen tree in Chile and Argentina, they have an incredible flavour, and a little goes a long way. Cut into small squares and serve with a cup of yerba mate herbal tea – a South American favourite!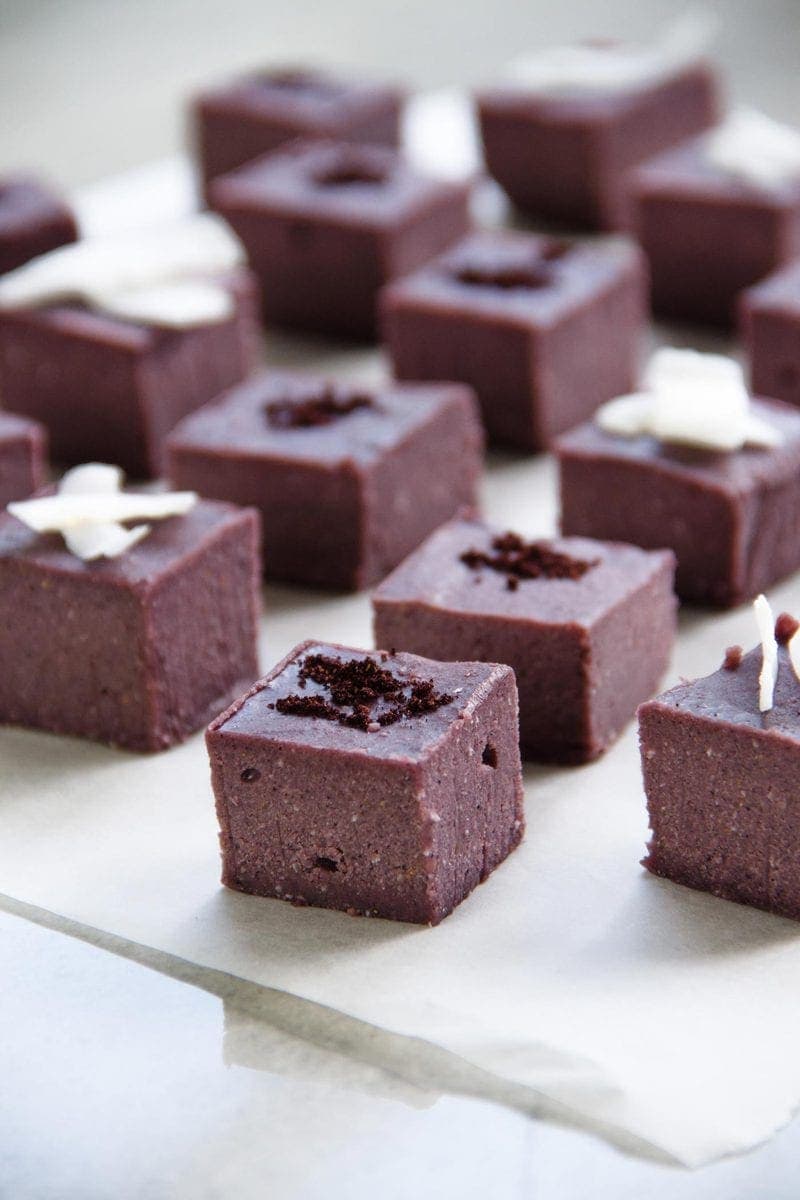 Print Recipe
Raw Maqui Berry + White Chocolate Fudge
Creamy, indulgent and antioxidant packed!
Ingredients
1½

cups

cashews

½

cup

coconut milk

1

cup

cacao butter

liquefied

½

cup

100% pure maple syrup

½

cup

coconut butter

liquefied

2

heaped tablespoons maqui berry powder

2

teaspoons

vanilla essence

1

teaspoon

lemon juice

1

good pinch of fine Himalayan rock salt
Instructions
Blend the cashews in a high speed blender till they powder into a fine flour.

If your cacao butter and/or coconut butter are firm, set them in a glass jug and rest over a bath of hot water to liquefy.

Add all ingredients to a food processor, and whiz till the mixture is very smooth.

Pour into an 8 inch square cake tin lined with baking paper, and pop in the fridge or freezer to set.

Remove from the fridge or freezer while it is still a little bit soft, so that you can easily cut into equal sized squares.
Nutrition
If you make and enjoy this recipe, please leave a rating!
Make sure you sign up at rawdessertsapp.com to be the first to know when the app goes live! You'll also get the heads up every time a new recipe is added.
Lx