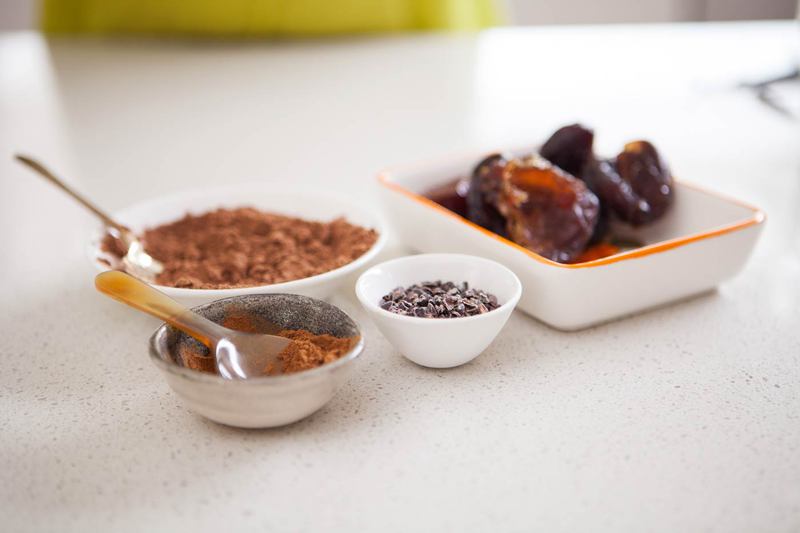 A reader sent me a message last week asking if I could put together a little list of some of my raw kitchen and pantry essentials, as she was just starting to incorporate more raw foods into her diet. So here are a few things I have on hand, but this is by no means a complete list – it's more for inspiration…
Nuts
Almonds
Brazil nuts
Walnuts
Hazelnuts


The above are best activated before consumed. Simply soak in ample spring water with a splash of lemon juice or apple cider vinegar overnight. Drain, then dehydrate at 115˚F till completely dry.

Cashews
Macadamia nuts
Pine nuts


The above do not need to be activated before eating – the white nuts do not have enzyme inhibitors in them as do the darker skinned nuts.
All of the above can be made into nut milks and stored in a sealed glass jar in the fridge for a couple of days. See my How to Make Kind Milk video here.
Seeds
Sesame seeds
Sunflower seeds
Pumpkin seeds


All of the above can be made into milk.

Flaxseeds


Store in an airtight container in the fridge, only buy a little at a time, these seeds turn rancid quickly. Grind a small amount in a coffee grinder to use as a binder in raw crackers, breads, cookies and cakes. Add the whole seeds to a smoothie to act as a mild laxative (but consume with lots of water!).

Quinoa
Buckwheat


Both of these can be sprouted for optimal nutrition and digestion, quinoa is great as a salad or in raw falafel, buckwheat is great in breads and crackers, cake bases for a bit of crunch, or simply mixed with goodies for a raw granola.
Oils, vinegars and butters
Organic, cold pressed coconut oil


Best for cooking if you do so, it is the most stable of oils. Also great for raw treats, cakes, and in dressings.

Coconut butter
To buy, coconut butter is very expensive. It is simply the flesh and the oil of a coconut blended together. A cheaper alternative is to follow this recipe here.
Organic, cold pressed olive oil


Great for dressings, in small amounts.

Apple cider vinegar


Alkalising – stimulates digestion, great in place of balsamic vinegar (which is not raw), can be taken as a tonic with water and a little raw honey before a meal to aid digestion.

Tahini
Tahini is sesame seed paste, and is super rich in calcium. Great in dressings or bliss balls/raw treats.
Almond butter
Other nut butters
You can buy nuts in bulk from a bulk bin store such as The Source. Activate them, then blend in a high speed blender or in a food processor till you get a raw nut butter. You can roast them lightly first for a richer, deeper taste, although it will no longer be raw.
Seaweeds
Dulse


Fantastic sprinkled over the top of a salad, mild tasting, mineral rich, source of iodine.

Nori sheets


Look for the untoasted variety, use to roll sushi.
Dried fruits
 Medjool dates


More expensive than Iranian dates, but worth it. Taste wise, they are rich with caramel notes. Great source of minerals and especially of iron.

Figs


Great as an alternative to dates in raw cake bases/bliss balls.
Fruits
Berries
Lemons/limes
Melons
Other seasonal fruits
(For a guide to seasonal produce, see here).
Young coconuts
You can purchase a Cocotap here to poke a hole in to get the water out, and you can learn how to open one yourself at home with a good knife here. Use the water in smoothies or as is after a workout to replace lost electrolytes. Scoop the flesh out to make raw coconut yoghurt with or use in raw cakes.
Avocados
To use in salads or as a creamy base for raw desserts or dressings.
Greens – to buy, or grow your own
Spinach


Has one of the highest oxalate content of greens – only an issue if you have kidney stones – fine to eat raw but just make sure you rotate and don't rely on spinach as your only green, day after day.

Swiss chard
Kale


Fantastic source of vitamin K.

Rocket/Arugula


This bitter green is fantastic for stimulating digestion.

Dandelion

Great diuretic

Chickweed
Nettle


Rich source of iron – careful though – she stings! A common weed, nettle can be blanched in hot water to remove the sting, blending will also do this. Look for dried nettle leaves in a health food store to take as a tea. Great iron builder and urinary tonic for women.

Sprouts – alfalfa, mung bean, sunflower


Nutritional powerhouses – grow them yourself at home – full of enzymes.

Watercress

Zucchini
Spiralise and turn into raw pasta. See my easy video here.
For Juicing
Carrots
Celery
Beets and beet greens
Kale
Spinach
Cucumber
Lemon
Fennel
Parsley
Ginger
Mint
Green apples
Citrus
Lettuce
I find simple juice combos are the best. Save all the pulp! Use it as a base for raw bread or crackers!
Herbs
Basil
Thyme
Oregano
Mint
Parsley
Coriander
All herbs really! Use in salads, raw breads/crackers, or even juices/smoothies.
Condiments
Himalayan rock salt
Coarse sea salt
Nutritional yeast


Nutritional yeast is not a raw product, but a great source of b vitamins to combat stress, and also a fantastic source of protein – 5 grams per tablespoon. It has a cheesey taste and is great in savoury breads, crackers, dips and dressings.

Miso
Not raw, but full of beneficial bacteria for the gut. Chickpea miso is the lightest and most mild tasting, and can even be used in sweet desserts, brown rice miso is far more intense, and suits more 'meaty' tasting recipes – for example, in walnut meat for a taco salad – recipe here.

Mustard

Nama Shoyu
Unpasteurised soy sauce
Spices
Cinnamon


May help balance blood glucose

Turmeric


Anti-inflammatory

Cayenne


Circulatory stimulant, anti-inflammatory

Cumin


A personal favourite in savoury crackers

Ginger


Circulation, digestion, anti-nausea

Paprika

Vanilla
Superfoods
Chia seeds
Essential fatty acids for brain and hormone health.
Goji berries
Rich in vitamins and minerals, great for skin, hair and eyes.
Maca
An adaptogen – balances out hormones (recipe here).
Bee pollen
Complete protein source, rich in B vitamins (store in a cool, air tight container).
Green powders
Barely grass is my favourite, it is full of alkalising minerals yet is mild to taste, and blends into your smoothies well
Hemp seeds


Technically not for human consumption in Australia and New Zealand, these seeds are wonderfully creamy, fantastic in a smoothie or raw bliss ball/bar, a complete protein and full of healthy omega-3 fatty acids

Spirulina


Protein



Raw, sprouted brown rice powder


To add to my smoothies for extra protein
Sweeteners
Coconut flower nectar


From the coconut palm flower – caramel tasting, divine! Low GI.

Coconut palm sugar


Also from the coconut palm flower, crystalised.

100% pure maple syrup


Not raw, but mineral rich, lovely taste.

Raw honey


Choose honey that is wild, raw and ethically harvested, pale honey is more mild and great in raw cakes.

Molasses
Not raw, but minimally processed, extremely high in iron, fantastically sweet, great in ginger and caramel-esque recipes eg gingerbread cookies – recipe here.
Agave nectar


A controversial sweetener! I have moved away from using this as it is highly refined and full of fructose
For the freezer
Ripe bananas, peeled and stashed in zip lock bags
For your gut
Probiotics


A dairy free probiotic may be beneficial for you if you have been taken antibiotics or have had any gastro upsets. It is useful to have a bottle of the powder or capsules on hand, to use to culture raw coconut meat into yoghurt, or to culture vegetables.

Vegetables for fermenting – cabbage, carrot, daikon, radish, beetroot etc.
See my Spiced Sauerkraut recipe here.
Aloe Vera plant, or a bottle of the juice
A great soothing remedy for digestive ailments, fillet an inch of leaf to drop in a smoothie, or add a tablespoon of the store-bought juice. De-bloating Aloe Vera Smoothie recipe here.
Herbal teas – licorice, peppermint, fennel


All great to promote digestion.
Other essentials
Psyillium husk


A fibre that expands and becomes gelatinous in the gut. Great to use as a binder with a little water

Shredded and desiccated coconut
Store in glass jars
Irish moss
A seaweed – used as a thickener – full of minerals – see my post on what it is and how to use it here

Lecithin




A soy based product – it is high in choline for brain health, and works as an emulsifier in raw desserts or dressings. You can also get sunflower lecithin