This decadent raw cake has a coconut and oat base, topped with two creamy layers - chocolate infused with caramelised prunes, and vanilla infused with fresh ripe cherries. An absolute show-stopper.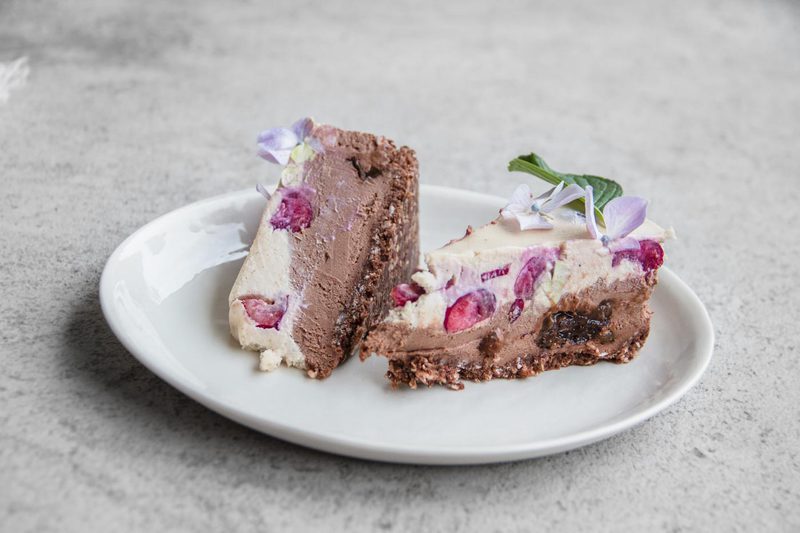 With just over a week till Christmas, I've been busy trialling recipes out for the special day, and this Raw Chocolate Cherry Cake is as festive as it gets. The addition of caramelised prunes was a genius idea (because, prunes + dark chocolate = always winning). Although incredibly indulgent, it is still made from wholesome, plant based ingredients, and as always, is entirely free from refined sugars.
[bctt tweet="RAW Chocolate and Cherry Cake with Caramelised Prunes over at Ascension Kitchen!"]
I love raw cakes because they are incredibly hard to stuff up. Take your ingredients, blend, whiz, pour, set, done. The art of it is in the quality of the raw starting ingredients and the combination of flavours. Meanwhile, my beautiful Nana whom I went to visit yesterday, was standing behind her kitchen bench with not one but five Christmas fruit puddings. She is a perfectionist like me and is on a mission to create the perfect recipe, one that doesn't see the bulk of the fruit sink to the bottom. She has tweaked the recipe to be health-ified – making it with coconut sugar and organic ingredients (go Nan!) but it still needs to be cooked and watched and fiddled with. It tastes incredible of course but not nearly as simple a feat as a raw cake. And I'm all about ease, grace and flow at the moment, especially at the end of a busy year.
But back to the cake…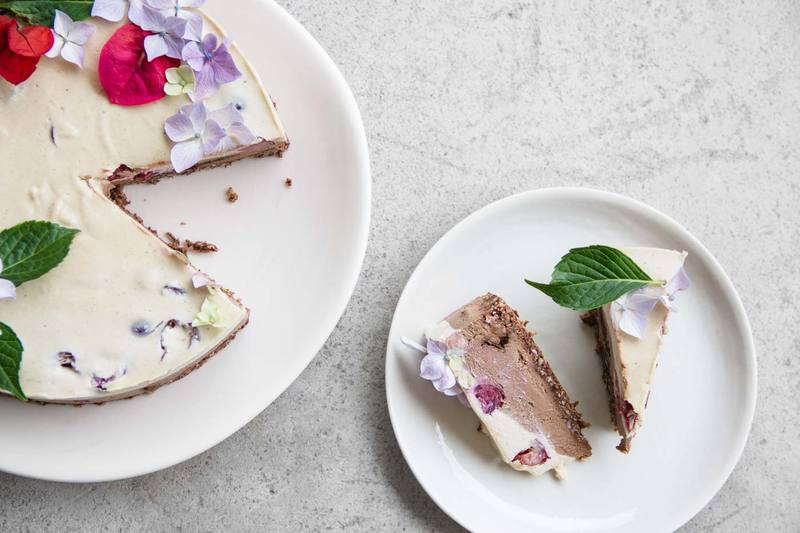 Prunes Prunes Prunes
Prunes and dark chocolate are an absolute flavour explosion. I like to sub them out for dates occasionally in recipes such as this one – Ginseng, Prune, Cacao, Star Anise and Vanilla Slice (trust me - the bestest combo!).
But for this recipe, I've decided to stew them a little in maple syrup, nut milk, cinnamon, sea salt and vanilla. The end result is a sweet, spiced and sticky caramelised creation – turns out this was the best part of the cake. And no, unfortunately, this part of the recipe means it isn't truly raw, but as we know, maple syrup isn't a truly raw product to start with (although it is certainly a great alternative to white sugar, being minimally processed and mineral rich). If you want to keep it 100% raw, just soak them a little in hot water with the vanilla and cinnamon, and perhaps a dash of the maple, then drain and use.
And oh the smells while it cooks…
Prunes are high in fibre
Prunes are also a favourite of mine as they are a great source of fibre, particularly insoluble fibre. Insoluble fibre provides food for the friendly bacteria in your colon, resulting in the creation of butyric acid, a short-chain fatty acid that is used by the enterocytes (the cells in the large intestine) as fuel (so it keeps your colon nice and healthy) [1].
Cherries – potent antioxidants
Another summer favourite are cherries. More so raw, by the handful, as a healthy snack. But today, scattered throughout the creamy vanilla layer of this cake.
Cherries are a concentrated source of flavonoids, a group of plant pigments best known for their antioxidant activity. They specifically contain anthocyanidins and proanthocyanidins, which are responsible for the beautiful deep red pigment in the skin. These molecules are both antioxidant and anti-inflammatory, so may assist in pain relief [1]. They have also been shown to be an effective anti-gout remedy. They inhibit an enzyme called xanthine oxidase, which is involved in the production of uric acid [2].
So, when you take the beautiful prunes and cherries and fold them through these creamy cake layers, you're creating something pretty magical I reckon.
Hope you enjoy, and wishing you all a slow, restorative Christmas break.
Lauren.
The body heals with play, the mind heals with laughter and the spirit heals with joy.
~ Old proverb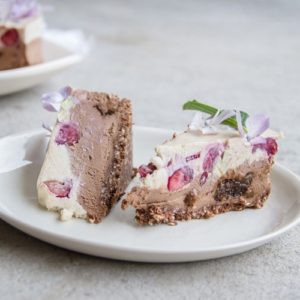 Raw Chocolate Cherry Cake with Caramelised Prunes
A raw, Chocolate Cherry Cake with Caramelised Prunes. This recipe is vegan, soy free, refined sugar free. Fills a 9 inch cake tin. Please note the active prep time excludes the 2 hour soak time required for the cashews.
Ingredients
BASE:
1¼

cups

coconut flakes

¾

cup

rolled oats

can substitute for almonds

8

large Medjool dates

pitted (mine came to 135g)

3

tablespoons

coconut oil

liquefied

2

tablespoons

cacao powder

1

tablespoon

vanilla paste or extract

Pinch

of coarse sea salt
CHOCOLATE LAYER:
1½

cups

cashews

soaked in water at least 2 hours*

1

cup

nut milk

¼

cup

100% pure maple syrup

or rice malt syrup, coconut nectar

½

cup

coconut oil

liquefied

2

tablespoons

cacao butter

liquefied

½

cup

cacao powder

1

tablespoon

vanilla paste or extract*The longer you soak them

the softer and easier they are to blend. You can even soak overnight.
CARAMELISED PRUNES:
120

g

prunes

chopped in half

¼

cup

100% pure maple syrup

½

cup

nut milk

Few good sprinkles of cinnamon or just to taste

1

good pinch coarse sea salt

1

scraped vanilla bean

optional
VANILLA CHERRY LAYER:
1½

cups

cashews

soaked in water at least 2 hours*

½

cup

nut milk

¼

cup

100% pure maple syrup

or rice malt syrup, coconut nectar

½

cup

coconut oil

liquefied

2

tablespoons

cacao butter

liquefied

1

scraped vanilla bean or a pinch or two of vanilla bean powder

1

cup

of fresh cherries

halved and pitted
Instructions
CARAMELISE THE PRUNES:
Place the prunes, maple syrup, nut milk, cinnamon, vanilla and sea salt in a small saucepan and bring to a boil. Reduce to a simmer and let the mixture slowly thicken and reduce (anywhere up to 20 minutes). Keep your eye on it and stir occasionally.

Remove from heat and let cool.

BASE:
In a food processor, blitz the coconut flakes and oats till they are fine and crumbly, then add all other ingredients and blend till the mixture forms a dough.

Line the base of a 9-inch spring-form cake tin with baking paper and press mixture evenly into the bottom. Set aside.

CHOCOLATE LAYER:
Drain the cashews and blend everything but the cacao powder (so, all liquids) in a high-powered blender till smooth. Add the cacao powder last for one last blend.

Pour some of the mixture over the base, then scatter a few of the caramelised prunes over the top. Keep doing this till you have used up both of each mixture.

Pop in the freezer while you make the next layer.

VANILLA CHERRY LAYER:
Drain the cashews and blend everything but the cherries till smooth.

Transfer mixture to a large bowl, fold through cherries. Grab cake tin from freezer and pour the vanilla cherry mix over the top. Set in the freezer. Let thaw a little before serving and decorate with fresh flowers.
Nutrition
Calories:
491
kcal
Carbohydrates:
38
g
Protein:
6
g
Fat:
36
g
Saturated Fat:
22
g
Fiber:
6
g
Sugar:
21
g
Calcium:
810
mg
Iron:
0.4
mg
If you make and enjoy this recipe, please leave a rating!
LIKE THIS POST?
Sign up to my newsletter list below for weekly healthy, plant-based recipes and nutrition articles. And if you want to give back and really make my day, leave a comment below, I'd love to hear from you!
Finally, you can share this recipe on facebook or via Instagram, or pin it for later. If you try it out, make sure you tag me @ascensionkitchen and #ascensionkitchen so I can see your creations. Thank you!
REFERENCES:
1. MURRAY, M., PIZZORNO, J., & PIZZORNO, L. (2005). THE ENCYCLOPEDIA OF HEALING FOODS. NEW YORK: ATRIA BOOKS