Raw Chocolate Caramel Slice
19 June 2013
|
10 comments
Q. How many raw chocolate caramel slices can a MAN eat in one day?
A. 9 (of those I saw, but there could in fact be more).
This is the sister slice to my raw peppermint slice recipe, on special request of my partner. I hands down prefer the dark chocolate and creamy mint and vanilla version, but piggy here prefers this salty, crunchy, caramel rendition. I wanted to take a picture of him holding the slice because he has quite spunky hands, but he got all hangry (hungry/angry) and impatient and just wanted to scuttle off and to scoff the slice! So there you go, it must be ok.
Now, your traditional caramel slice is made with less than ideal ingredients – white flour, refined sugar, butter, golden syrup, sweetened condensed milk and cooking chocolate being the usual suspects. As with all my recipes, I have stripped out all the bad guys and chosen entirely plant based, whole food ingredients. The end result is utterly delicious – and a far healthier alternative.
*Just as a wee update to this post – this has become one of my most popular recipes. It has been re-created and shared countless times over on instagram (find me @ascenionkitchen) – so if you try this for yourself then please tag me so I can bow in awe at your sweet masterpiece!* 
Now, back to the recipe, as this Raw Caramel Slice has something interesting inside…
Lecithin and Choline
A lot of raw recipes use soy lecithin to help emulsify and thicken a creamy filling such as cashew cream or icing. I have now switched to sunflower lecithin as I believe it is a more healthful alternative, and you don't have to worry about GMOs. But what is it and why use it?!
Lecithin – for cooking (or un-cooking) – is a lipid (a fat-like molecule) that is actually partially disovable in water and so is used as an emulsifier to help blend and bind ingredients that don't normally mix.
Lecithin – in dietary terms – is a type of lipid (a fat-like molecule) that is needed to keep our cell membranes in good condition. Our cell membranes (mostly made out of lecithin) are like the doors that nutrients use to enter and exit the cells.
But it not only looks after our cells, it protects our brain, muscles and nerves as well.
Lecithin is mostly made up of Choline…
Choline
Choline is a water-soluble essential nutrient that is usually grouped with the B-complex vitamins. It is crucial for brain health. It is needed to help your brain communicate with your central nervous system. It is important for hormone function and helps the liver metabolize fat and cholesterol. It helps to digest fats. It is important for a healthy cardiovascular system, and also lowers inflammation.
Good sources are egg yolk, grass-fed beef, milk and butter, and plant-based sources are broccoli, oats, lecithin (soy or sunflower), soybeans, lentils and cauliflower.
How's that for an interesting fact?
In other news, I have been totally MIA – lost in my own little world recently. I've been doing a lot of writing, specifically on my OWN healing journey – because its something I really feel compelled to share with you all. I think it will be a short while yet before its ready to share, but I just wanted to say, its coming, its in the works, its epic, and I can't wait to finally get it out there! God – I forgot how healing writing and journaling can actually be!
In the meantime, enjoy the slice!
Raw Chocolate Caramel Slice
RAW • VEGAN • REFINED SUGAR FREE
| Makes 32 slices |
Biscuit layer:
1 cup roughly processed buckwheat flour*
½ cup dessicated coconut
15 medjool dates
2 tablespoons coconut oil
½ teaspoon flakey sea salt
METHOD:
Blitz the buckwheat flour, coconut and salt in the food processor till the mix is nice and crumbly.
Add the coconut oil, then the medjool dates, one by one.
You should end up with a doughy texture that will hold together nicely when pressed together.
Line a 9 inch square baking tin with baking paper.
Press the dough evenly into the bottom of the tin.
Freeze to set.
*To make buckwheat flour, simply blend buckwheat groats in a high powered blender. Try not to over blend, so that there are still a few chunks in there. This will give it a nice biscuit texture.
Caramel:
1 heaped cup macadamia nuts, soaked
½ cup coconut oil
¼ cup maple syrup
¼ cup raw cashew butter
2 teaspoons vanilla paste
1 tablespoon sunflower lecithin
1 tablespoon lemon juice
1 teaspoon flakey sea salt
METHOD:
First soften the raw cashew butter by resting the jar in a bath of hot water.
Blend all ingredients except the lecithin till nice and creamy.
Add the lecithin last which will help the mixture thicken.
Spread evenly over the biscuit layer and pop in the freezer while you make the topping.
Lick the spatula. This step is compulsory.
Chocolate layer:
½ cup raw cashew butter
½ cup maple syrup
½ cup raw cacao powder
2 tablespoons coconut oil
1 teaspoon vanilla paste
Pinch of flakey sea salt
METHOD:
First, soften the raw cashew butter.
Blend everything well till nice and creamy.
Spread the chocolate topping over the caramel layer, which should have hardened a little, and set in the freezer.
Cut the slice into 32 equal rectangles and serve.
Best kept in the fridge or freezer.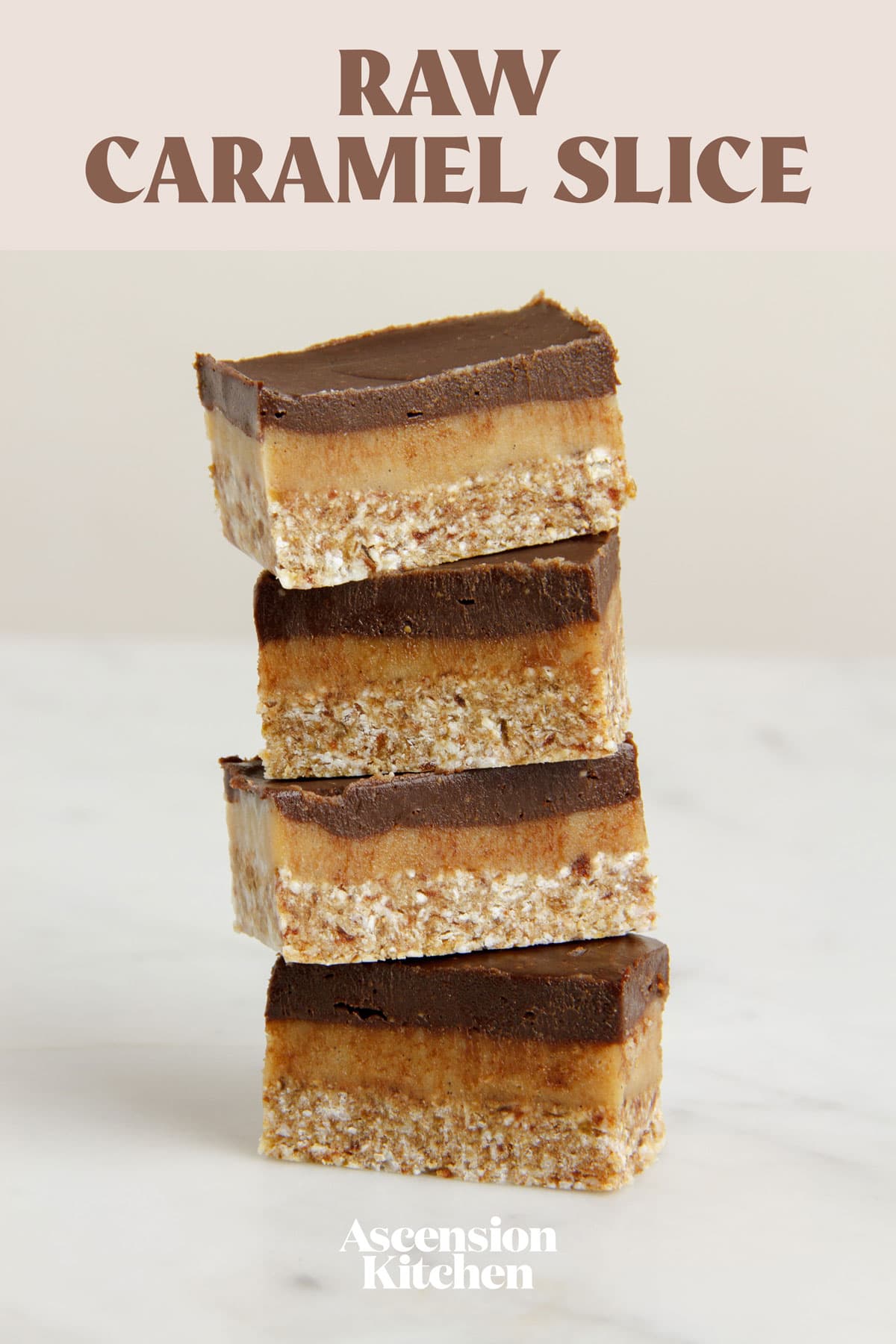 I'd love you to follow me on Instagram, 
tag me @ascensionkitchen so I can see your creations!  
Want more?
Sign up to the newsletter and Get Your Free One Day Detox Ebook.